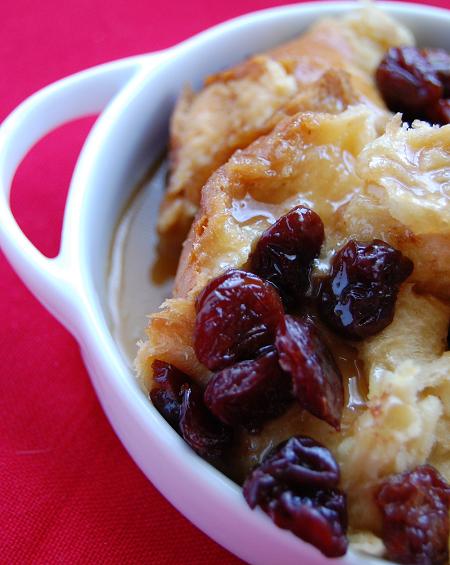 I used to be so good. I used to participate in  all the food blogging events  from SHF to HHDD. But something along the way happened. Life I suppose. And I am so out of the loop that I couldn't tell you what things were going on…except one. ..La Festa Al Fresco. Co-hosted by two of my close food blogging buddies, Lis of La Mia Cucina and Ivonne of Cream Puffs in Venice. It would be in true bad form for me to miss out. I figured I would get going on it early(we have until September 3rd…but I didn't want to press my luck lately). It's quite simple really, prepare a dish(from appetizer to dessert doesn't matter) using a fresh, seasonal ingredient(preferably from your region). I however, did not follow directions very well.
For my seasonal ingredient I chose dried cherries. Now those are not fresh I know but I really wanted some bread pudding and I didn't want real cherries, I wanted dried(they were fresh at one time). Cherries are at the end of their season here in the Pacific Northwest, but dried cherries you can get year round(luckily). Bread pudding being my favorite dessert, oddly enough has only made it on my blog one other time(my favorite comfort version using croissants). This version uses Challah bread(from a local bakery…I don't bake bread in 85F weather). This of course is really more of a Fall dish, but we all know that I have been willing for Fall to come early all Summer, so this should come as no surprise. Bread pudding to me is the ultimate comfort dessert, and with all that has been swirling around in my life lately, a big bowl of comfort sounded good to me.
If you didn't participate in La Festa Al Fresco last year, I highly recommend that you do. Head on over to either Lis or Ivonne's blogs to get the 411.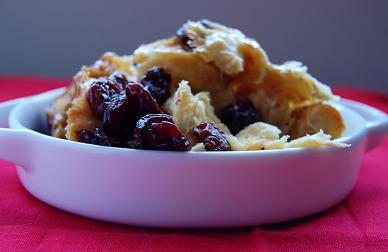 Dried Cherry Challah Bread Pudding
½ loaf of Challah bread(or more depending on what size dish you use)
1 cup heavy cream
¾  cup whole milk
4 egg yolks
1/3 cup of sugar
1/3 cup brown sugar
1 teaspoon nutmeg
½ tsp vanilla
½ tsp cinnamon
1 ½ cups dried cherries
Preheat oven to 350F.
1.Tear bread into pieces and place into baking dish. Sprinkle bread with the dried cherries. Make another layer of bread and sprinkle with dried cherries. Repeat as many times as you have indgredients and room.
2.Mix the egg yolks, sugars, vanilla, cinnamon and nutmeg together in a bowl. Then stir in the heavy cream.
3.Pour the custard over the bread. Press down the bread pieces until the bread is soaked with the custard. You will most likely have extra custard depending on how stale your bread is. Don¢â¬â"¢t feel like you have to use all the custard.
4.Place pan into another pan that will hold a water bath. Bake the bread pudding for 45-50 minutes until golden on top. Cool 10 minutes and serve warm.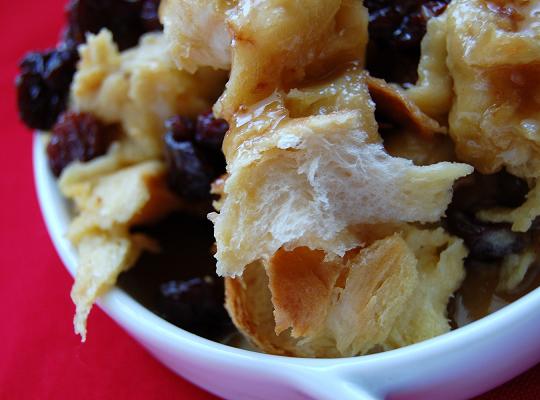 Toffee Sauce
3/4 cup packed brown sugar
1/3 cup unsalted butter
1/3 cup whipping cream
1.Stir brown sugar and butter in heavy medium saucepan over medium heat until melted and smooth, about 2 minutes.
2. Add cream bring to a simmer. Simmer for about 5 minutes and then serve on top of pudding.