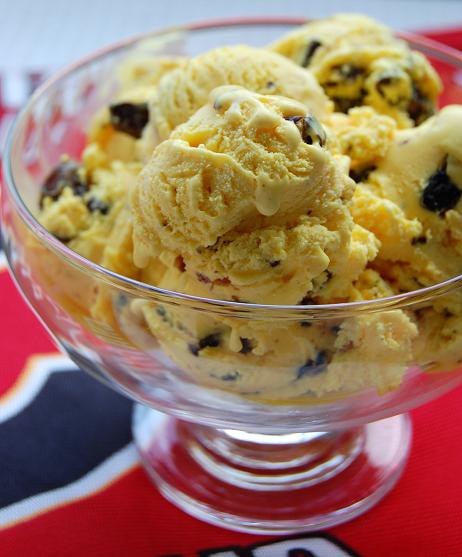 So after I made ice cream for Danny Briere(and the Flyers) I got a few comments and a few emails as to where was the love for MY hockey team, the Calgary Flames? Where was MY ice cream representing MY team?
This was actually harder than I thought it was going to be. I had quite the list going on of various flavor combinations and mix ins. But when it came down to it, I needed something simple. The Flames are a fairly simple team, rarely getting fancy, just the usual try and score and knock a few people down on the way to doing that.
If it had not been so muggy here, I would have made these cookies that are like thin brownies that I would have chopped up and thrown in there instead of the chopped semi-sweet, but the chocolate was just fine. If you make this ice cream, it will not be that neon yellow color you are seeing…that was achieved after many additions of yellow food coloring. I left that out, for as it pains me to think that people are not wanting to run out and make Flames Cup Winning Ice Cream, I am a realist and know that you will probably just be making white chocolate ice cream with dried cherries and chocolate. Sigh.
If you are a Flames fan, I am sure you are rejoicing at the fact that our Iggy has chosen to stay for another 5 years on the Red Mile. If you are not a Flames fan, I am talking about Jerome Iginla…the Flames captain and darn close to the world's most perfect hockey player and all around nice guy(off the ice :P).
There you go. I know my updates have been few and far between(sorry), but I still can't really stand on my ankle for long periods of time…so I am looking for things that I can make while sitting down. Hopefully, both the weather and my ankle will soon start to cooperate so that I can get on with my blogging.
Flames Cup Winning Ice Cream
1 1/2 cups  milk 
1-1/2 cups  whipping cream 
4 egg yolks 
1/3 cup granulated sugar 
 Pinch salt 
4 bars (100 g each) good-quality white chocolate (such as Lindt), chopped
1/4 tsp  vanilla 
mix ins:
chopped dried cherries, about ½ cup
½ cup chopped semi-sweet chocolate
In saucepan, heat together milk and cream over medium heat until tiny bubbles form around edge. Remove from heat.
In large bowl, whisk together egg yolks, sugar and salt; slowly whisk in cream mixture. Return to pan; cook over medium-low heat, stirring constantly, until thick enough to coat back of spoon, about 8 minutes.
Add white chocolate and vanilla; whisk until smooth. Strain into bowl. Place plastic wrap directly on surface; refrigerate until cold, about 1-1/2 hours. Freeze in ice-cream machine according to manufacturer's instructions. Remove from freezer bowl into a mixing bowl and fold in cherries and semi-sweet chocolate. Place into a freezer friendly container and freeze until firm, at least 4 hours.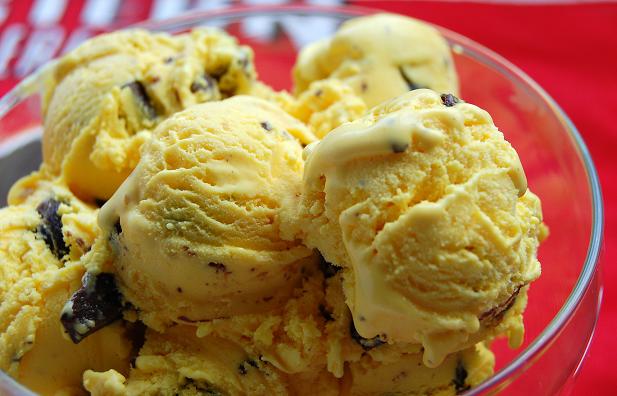 Adapted from: Canadian Living Magazine: August 2006