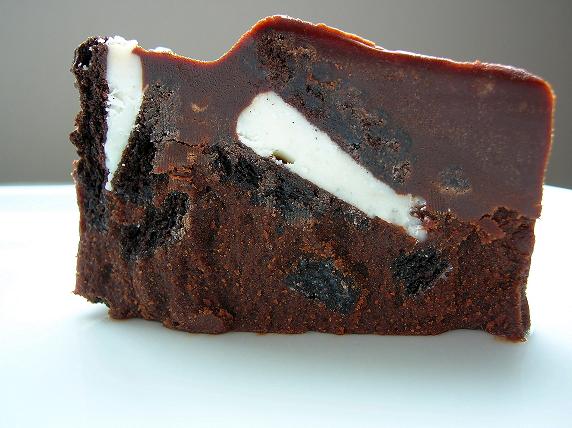 So a couple of weeks ago I got a comment left on my blog about my Snickerdoodle muffins(aka refund muffins). But this was not a comment asking for money back, in fact it was a comment asking if they could send me a gift. See, this reader(Eunice of Lemond Almond) is actually getting people to pay her to make those refund muffins for them. I politely thanked her and said it wasn't necessary but she said that she wanted to and so I said alright. I'm glad I did. She decided that since she found my site through a Donna Hay event that she would send me a Donna Hay cookbook. Well I own quite a few and so her choices were narrowed…but then she realized that one of the books wasn't even released yet in the states(she is in Singapore). So in the mail the other day arrived a package with a lovely note and a copy of Donna Hay Simple Essentials Chocolate. YUM. It is a smaller book that the ones I own(which is great because the DH are so tall they barely fit in my bookcase). I immediately wanted to make something from it…only problem was that I had baked all day and had no eggs left(it came later on in the afternoon). So frantically I went searching for a egg less recipe, and I found one. Chocolate Crunch Slice. It basically was the genius idea of crushing up biscuits(cookies) and pouring ganache over them in a loaf pan and refrigerating. Why had I never thought of this? I didn't have biscuits, but I had Jo-Jo's(Trader Joe's version of Oreos). And mine is wedge instead of a slice since my loaf pans were in use for something else. You can imagine by looking at the ingredient list that this was super rich but super good.
So I would like to give a special thanks to my reader Eunice for the very thoughtful and useful gift!!!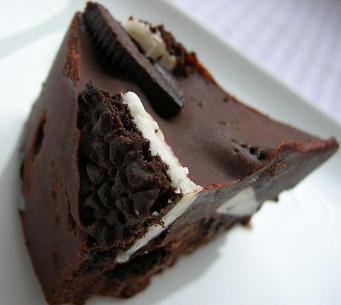 Chocolate Crunch Slice
½ cup cream
15 ¾ oz dark chocolate, chopped
4 ½ oz butter, chopped
8 oz store bought shortbread biscuits(but I used Oreos), chopped
Place cream, chocolate and butter in a saucepan over low heat and stir until melted and combined. Place biscuits in a mixing bowl and pour over two thirds of the chocolate mixture, and stir to coat. Spoon into a 12 ½ x 2 ¾ x 3 inch) bar tin lined with non-stick paper. I personally used a 4 ½ inch diameter spring from pan instead. Pour remaining chocolate mixture over and tap tin to remove any bubbles. Refrigerate for 3 hours or until set. To serve, remove from tin, dust with cocoa(if desired) and cut into slices(I did wedges). Makes 16.
Source: Adapted from Donna Hay Simple Essentials Chocolate, 2007