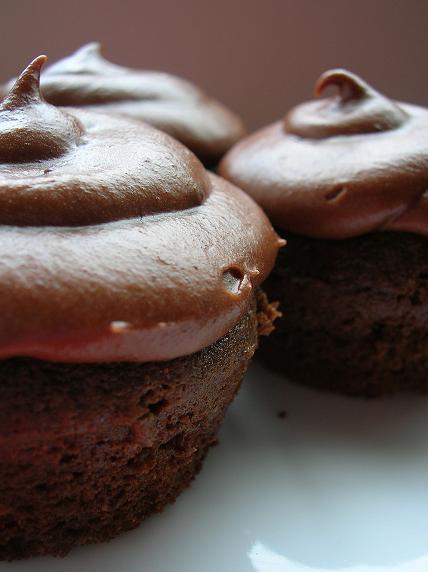 Round two of the Stanley Cup playoffs are off and running. My beloved Sabres played tonight. And though the NY Rangers talked a lot of crap…crap is about all they did. The Sabres won 5-2 tonight making our home a very happy place to be…not one cuss word flew out of my mouth!
I made these last week when my hubby found out that I would be making these with a group of ladies who were celebrating a friends birthday. Realizing that he would not be getting any of them he pouted…and I folded, making him his own. This recipe comes from the Cupcake Bakeshop, a site I really like, but unfortunately seems to be updated about only 2 or 3 times a month…boo. She comes up with really creative stuff. I did not use the cupcake she suggested, when I made those once they were so dense and they sat in my stomach like a rock…not my idea of a good cupcake. So I went to my default baking cookbook, Caprial's Desserts, for a no fail cake recipe. These are super rich and when you are half way done they tend to tip over from being top heavy…a small price to pay for peanut butter chocolate goodness. These involve using the cone method which can be used for filling just about any type of cupcake there is out there….so it is a good thing to know and learn.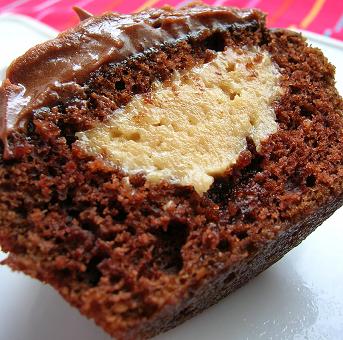 Peanut Butter Filled Chocolate Cupcakes
½ cup unsalted butter, at room temperature
2 ¼ cups lightly packed brown sugar
2 tsp vanilla extract
3 eggs
2 ounces unsweetened chocolate, melted
2 heaping TBSP cocoa powder
2 ¼ cups sifted cake flour
2 tsp baking soda
½ tsp salt
1 cup sour cream
¾ cup boiling water
Preheat oven to 350F.
Grease cupcake pans and set aside.
Place the butter, sugar and vanilla in the bowl of a mixer fitted with the paddle attachment and beat on high speed, scraping down the sides of the bowl often , until  well blended, about 3 minutes.  Add the cocoa powder. Mix until combined. With the mixer on low speed, add the eggs, on at a time, scraping down the sides of the bowl and mixing well after each addition. Continue to beat for 5 minutes, until light and fluffy. Stop the mixer, add the melted chocolate, and mix well. Combine the flour, baking soda, and salt. Add about ½ the ingredients followed by about ½ of the sour cream and beat well. Add the remaining dry ingredients followed by the remaining sour cream, scraping down the sides of the bowl and beating well after each addition. Add the boiling water and beat until smooth.
Scoop(ice cream scoop works best) batter into prepared pans. Bake for 15-20 minutes until cake springs back when touched lightly in the center. Let cool for about 10 minutes and remove from pan. Let cupcakes cool completely.
Peanut Butter Filling
4 ounces or 1/2 package of Philly cream cheese
1 cup creamy peanut butter
2 cups sifted powdered sugar
1 tablespoon vanilla extract
milk to thin out filling
Beat cream cheese and peanut butter until combined.
Add powdered sugar and vanilla and beat until combined.
Add the milk and beat until combined. Add milk until your reach desired consistency.
Chocolate Ganache
4 ounces bittersweet chocolate
5 ounces semisweet chocolate
1 cup heavy cream
1 teaspoon vanilla
1 tablespoon butter, room temperature
2-3 cups powdered sugar
Chop chocolates and transfer into a heat proof bowl.
Heat cream until bubbles form around the edge of the pan, pour cream over the chocolate.
Let sit for 1 minute then stir until combined.
Add butter and vanilla and stir until combined.
Transfer to the bowl of an electric mixture and let cool for 10 minutes.
Sift powdered sugar into the mixture and beat until combined. Add more sugar if needed.
Continue to beat with an electric mixer until lighter in color and creamy.
Assemble
Using a small pairing knife, cut off the top of the cupcake in the shape of a cone. Flip the top over and cut off the cone.
Fill the cavity with a teaspoon or so of peanut butter filling. I used a piping bag, this makes it much easier.
Replace top.
Frost with ganache.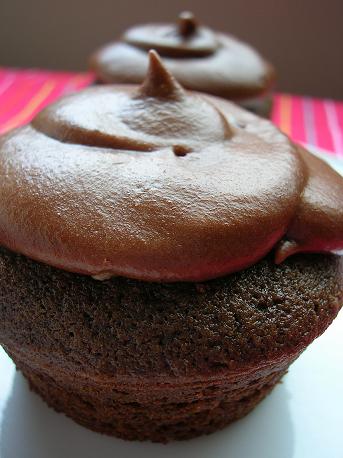 Cupcake Recipe adapted from Caprial's Desserts by Caprial Pence and Melissa Carey, 2001