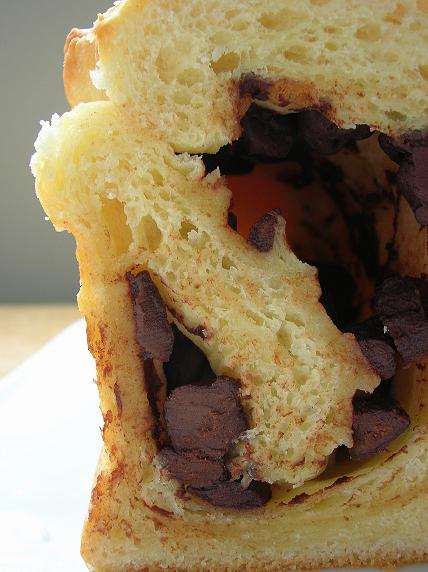 It's been a pretty somber mood around here, with my Flames making an early exit. Between that and some stress I have been dealing with lately that only means one thing….yeast breads. I don't know what it is about yeast breads that make me feel better. It's not like they remind me of my childhood, my mother is not much of a yeast baker, though she is vowing to start this year. I will gently nudge her to make sure she does. Yeast breads are one of those baking things that people really shy away from. I admit that they can sometimes be stubborn and temperamental…getting all picky about the weather and what not. I think that brioche is a great starter yeast bread for virgin bakers. I can't really think of a recipe for brioche that I have made that hasn't turned out well, if not fabulous. Seeing Helen make brioche the other day steered me in that direction. I chose to make this a sweet bread so that I could send it as a snack for my hubby at work. He was definitely a fan. You could roll just about anything you want up in this bread and it would probably be super tasty…well, maybe not duck beak, but lets be realistic here people.
Round two of the playoffs start in a couple of days and depending on how the Sabres do there could be much, much more yeast based products coming your way.
GO SABRES!!!!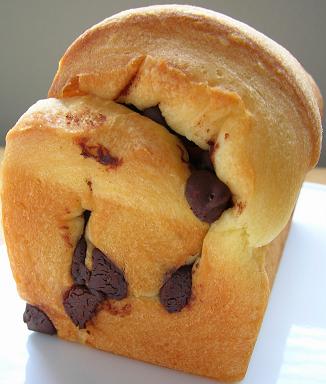 Golden Brioche
The big bowl and tireless motor of a standing mixer take the heavy work out of preparing these tender brioche loaves.
1/3 cup warm water (105°F to 115°F)
1/3 cup warm milk (105°F to 115°F)
2 envelopes dry yeast
3 3/4 cups all purpose flour
2 teaspoons salt
3 large eggs
1/4 cup sugar
1 1/2 cups (3 sticks) unsalted butter, each stick cut into 4 pieces, room temperature
1 egg, beaten to blend with 1 tablespoon water (for glaze)
Place 1/3 cup warm water, warm milk, and yeast in bowl of standing heavy-duty mixer; stir until yeast dissolves. Fit mixer with dough hook. Add flour and salt to bowl; mix on low speed just until flour is moistened, about 10 seconds. Scrape sides and bottom of bowl. Beat in 3 eggs on low speed, then add sugar. Increase speed to medium and beat until dough comes together, about 3 minutes. Reduce speed to low. Add butter, 1 piece at a time, beating until each piece is almost incorporated before adding next (dough will be soft and batter-like). Increase speed to medium-high and beat until dough pulls away from sides of bowl, about 7 minutes.
Cover bowl with plastic wrap. Let dough rise at room temperature until almost doubled in volume, about 1 hour. Lift up dough around edges and allow dough to fall and deflate in bowl. Cover bowl with plastic and chill until dough stops rising, lifting up dough around edges and allowing dough to fall and deflate in bowl every 30 minutes, about 2 hours total. Cover bowl with plastic; chill dough overnight.
Butter and flour three 7 1/2×3 1/2×2-inch loaf pans. Divide dough into 3 equal pieces. Cut each dough piece into 4 equal pieces. Roll each into 3 1/2-inch-long log, forming 12 logs total. Arrange 4 logs crosswise in bottom of each prepared loaf pan. Place loaf pans on baking sheet. Cover pans with waxed paper. Let loaves rise at room temperature until dough almost fills pans, about 2 hours.
Preheat oven to 400°F. Gently brush top of loaves with egg glaze. Bake until loaves are golden brown and sound hollow when tapped, about 30 minutes. Cool in pans on racks 15 minutes. Turn loaves out onto racks; cool at least 1 hour. (Can be made ahead. Cool completely. Wrap loaves in foil; place in resealable plastic bags and store at room temperature 1 day or freeze up to 1 month. Rewarm room-temperature or thawed loaves wrapped in foil in 350°F oven about 15 minutes, if desired.)
Makes 3 loaves.
Bon Appĩtit
February 2003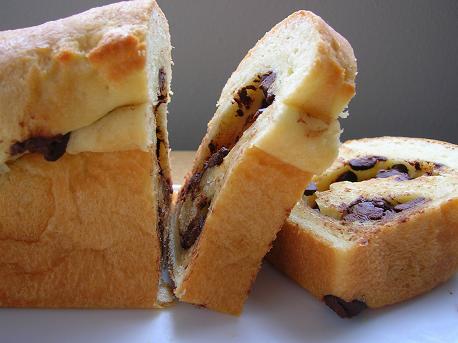 What I did different. I gave the original recipe if you want to make it that way. I left my dough in over night and did not preshape my bread. In the morning, I took out half of the batch and made cinnamon apple rolls(recipe on another post to come) and used the other half to my my hubby some chocolate chip brioche. I simply rolled my dough out, as if I were making cinnamon rolls. I sprinkled a little over a cup of semisweet chocolate chips(wasn't really paying attention). Rolled it up, cut it in half and placed it into two greased mini loaf pans. I let those rise for an hour. I bake them at 375F for about 25 minutes(it is best to watch it starting at the 15 minute mark).
Just a reminder, Livestrong Day is coming up. See what you can do to participate in this special cancer awareness day!