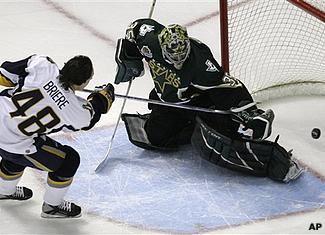 No doubt you have been saying to yourself, "I wonder how Peabody's hockey teams are doing?" I'm glad you asked. The Sabres have advanced to the 2nd round of the playoffs, with their opponent yet to be decided. My Flames however, are a different story. They are on their way out if they don't pull it together. They play in a couple of hours and if they don't win it is an early exit to the golf course. (They lost so they will be hitting the golf course early…. 🙁 ) My husband has said that I have remained amazingly calm so far this season. I might have to agree. I have actually been watching the whole game(normally I switch channels whenever it goes into our defensive "bad zone") and that is so not like me.
This is just a short post with no recipe because I still want people to be reading my Livestrong post so that it gathers more attention. I think it is a wonderful blogging event and I don't want people missing out on it!


I'll have a recipe(bread) up in a couple of days, if not sooner. Enjoy your upcoming week.
GO FLAMES!!!!!!     GO SABRES!!!!