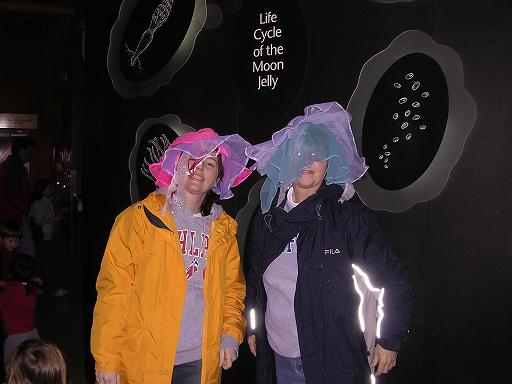 (My mother and me as Moon Jellyfish at the Seattle Aqauarium)
I was in the car and the phone rang. My mother asked me where I was and I told her I was driving to my friend L's house. She said "oh good, call me when you get there…I don't want to distract you from driving."
I arrived at L's house and called my mom back like she asked. She got really quiet and said, "I have cancer". Amazingly enough I did not cry at that moment (I am such a crier). I just sat there not knowing what to say, with an overwhelming sense of numbness that I had never felt before. She calmly explained to me that she had stage 2 breast cancer. I know she told me all the details that day but of course none of it sunk in. She assured me that all would be alright and sounded astonishingly chipper for someone telling their daughter they had cancer. My mom asked me to hand the phone over to L. She told all the details to L so that when I got over the shock, L could tell me everything when I would be more coherent to understand it.
When L hung up the phone I just started to cry. Not just crying, but sobbing crying…with streaming tears, puffy eyes, snot running down my face…uncontrollably crying. That was the first and last day I cried for her. I knew she would not want me to dwell on it and so I did not. She did not want me to come out and help her, for she lives in a small town and plenty of people were willing to help out…and of course she had my dad. Though I am sure she had her bad days, you would never know it. Throwing dinner parties and volunteering at the community center while undergoing chemo and radiation.
My mother, a now 5 (going on 6) year cancer survivor, will tell you that her cancer was a blessing. She now counsels others who have cancer(mostly breast, sometimes other forms). She feels that is why God gave her cancer in the first place, so she could survive it and help others see that it is not a death sentence. A truly remarkable woman.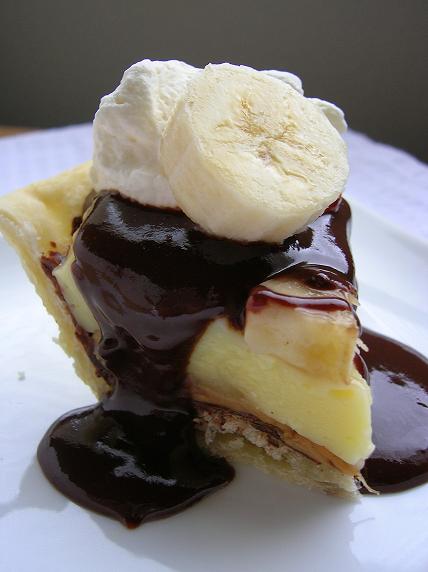 This recipe reminds me of a banana split in a pie shell. It is not made with ice cream(but pastry cream) but has many similar ingredients. I love that the pie crust in lined in chocolate…a great touch I must say. But when I bit into it, the thing I loved the most was the peanut butter on the bottom, it really gave it that something extra.
Fanny's Fave Peanut Butter Banana Cream Pie with Hot Fudge Sauce
Crust:
2 cups all purpose flour
½ tsp salt
2 TBSP sugar
2/3 cup(11 TBSP) chilled unsalted butter
4 to 5 TBSP ice water
Filling:
¼ cup banana liqueur
1 envelope plus 1.2 tsp unflavored gelatin
1 vanilla bean
2 ¾ cups milk
4 large egg yolks
¾ cups sugar
3 TBSP cornstarch
3 to 4 ounces bittersweet chocolate
2 ripe bananas
lemon-lime soda
¼ cup creamy peanut butter, at room temperature
Hot Fudge Sauce:
2 cups heavy whipping cream
½ cup firmly packed golden brown sugar
¼ cup butter
2 cups semisweet chocolate chips
12 ounces bittersweet chocolate, coarsely chopped
¼ tsp salt
3 to 4 TBSP Jack Daniel's Whiskey(I left out because I didn't have it)
To make the crust:
Using a mixer fitted with a whisk attachment, combine the flour, salt, and sugar on low speed for about 30 seconds. Cut the chilled butter into ½-inch cubes. Add the butter to the flour mixture and combine on slow speed for 1 to 1 ½ minutes, until the mixture looks crumbly. Add 4 TBSP ice water, 1 TBSP at a time, mixing on low speed for 10 seconds after each addition. After the last addition, the dough should begin to clump together in a ball. If not, continue mixing about 10 more seconds. If it looks too try add another TBSP of ice water. Gently mold the dough into a disk, wrap it in plastic wrap, and refrigerate for at least one hour.
Preheat oven to 425F. Unwrap the dough and transfer to a lightly flour flat surface. Roll it into a 1/8-inch thick circle large enough to over the bottom and sides of a 9-inch deep dish pie. Wrap the dough lightly over the rolling pin and st it in the ungreased pie pan. Press it into place. Use a fork to prick the bottom of the unbaked crust. Cover the bottom and sides of the crust with a sheet of parchment paper and fill with pie weights or dried beans.
Bake for 10 minutes. Remove the parchment paper and weights. If the crust is not golden brown, return to the oven for 1-3 minutes. Cool on a rack until the custard filling is ready.
 To make the filling:
Pour the banana liqueur into a small metal bowl, sprinkle the gelatin on top, and let it soften for 5 minutes. Set the bowl over a small saucepan with 2 inches of simmering water and warm the gelatin until it has completely dissolved and looks clear. Cut the vanilla bean pod in half lengthwise. Combine the milk and vanilla bean pod in a medium saucepan and brig to a boil. Turn off the heat, cover the saucepan, and let the vanilla steep in the mile while preparing  the yolk mixture.
In a large bowl, whisk the egg yolks. Add the sugar gradually, whisking constantly until the mixture lightens in color to a lemony hue, about 15 minutes total. Whisk in the cornstarch. Pour the milk through a strainer into a glass measuring cup or pitcher with a spout. Gradually pour the milk into the yolk mixture, whisking constantly. Pour the mixture into a clean saucepan set over medium heat ans whisk constantly until it begins to thicken and coats the back of a spoon. Reduce the heat and whisk for 2 minutes. Remove from the heat and whisk in the gelatin mixture, being sure to incorporate it throughly. Let the filling cool completely, about 30 minutes.
In the meantime, melt the chocolate in a small bowl in a microwave on medium high. Check every 30 seconds to ensure the chocolate does not burn. Using a pastry brush, evenly coat the bottom and sides of the crust with bittersweet chocolate. Refrigerate the pie crust while the chocolate hardens and sets, 10-15 minutes.
Slice the bananas diagonally and brush them with lemon lime soda(helps prevent browning). Spread peanut butter evenly over the bottom of the baked crust. Layer on half of the banana slices, add all of the filling, and then the remaining bananas.
Cover the pie with plastic wrap. Make sure that the plastic comes in direct contact with any custard not covered by bananas to totally seal it and prevent a skin from developing on the surface. Refrigerate the pie overnight before serving.
To make the fudge sauce:
Heat the cream and brown sugar in a heavy saucepan over medium heat. When the sugar is dissolved, add the butter, chocolate chips, and bittersweet chocolate and stir over medium low heat until the chocolate is melted and the mixture is smooth. Stir in the salt. Remove the fudge from the heat and stir in the Jack Daniel's. Keep warm until ready to slice and serve the pie, or cover and store in fridge for up  to 1 month. The sauce can be reheated in the microwave or in a saucepan on the stove top over low heat.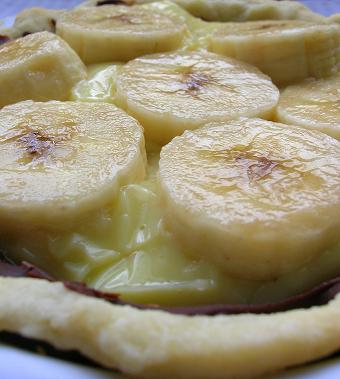 To serve the pie, cut it in wedges, add a dollop of whipped cream and top with a generous pour of hot fudge sauce.
Source: Adapted from the Pastry Queen by Rebecca Rather with Alison Oresman, 2004