Classic Cream Puffs: Classic Pate a Choux piped and filled with Diplomat Cream (whipped cream and pastry cream) all topped with a chocolate glaze.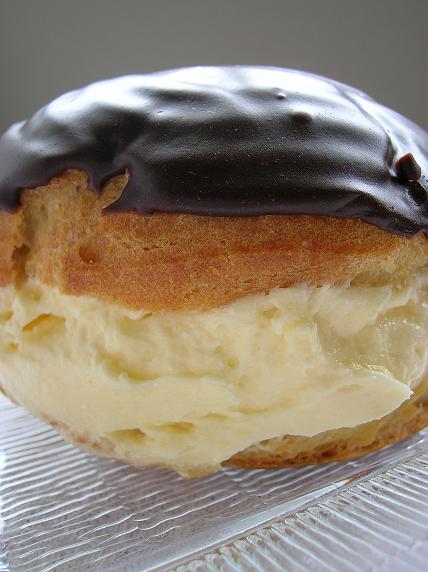 .
Sometimes being able to cook/bake is a curse.
Gone are the days when you can go to a get together and swing by and pick up something from the store on your way there(even though that is what everyone else did).
People expect a little more from you and you can often see the disappointment in their faces when you bring just cookies or something that is easy to make.
When I was fresh out of pastry schooling I seemed to be double cursed as everyone and their mother(mine included) seemed to be volunteering my services to everyone…for free.
Oh sure they would pay for the ingredients but it was always a friend or a friend of the family or such and the guilt would pile on whenever I thought of charging (I have since gotten over that :)).
The number one thing people would volunteer me for were swan cream puffs.
You know what I am talking about, those lovely little birds that get put out at fancy buffets.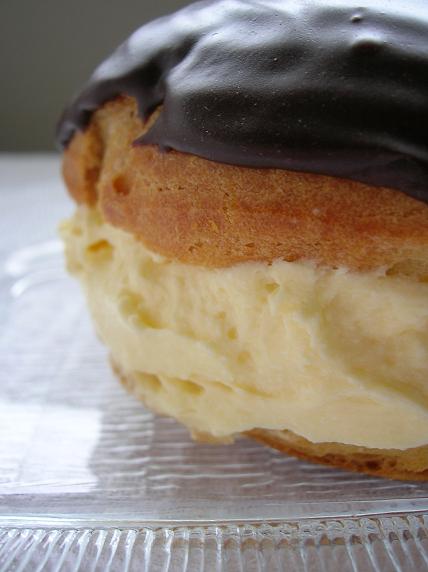 Having a baby shower, bridal shower, small wedding…no problem….Peabody is your girl.
Until I met my death, otherwise known as the day I knew I would never make another swan cream puff again…that was the day I made 1500.
Yes, 1500, you read that correctly.
So to say the least I hate, hate, hate cream puffs (sorry Ivonne)…if I have to make them.
If I don't have to make them then I don't have too much of a problem.
Except I am picky.
I am not a super pastry cream fan…especially in ƒ©clairs and cream puffs.
I prefer diplomat cream..a blend of pastry cream and whipped cream.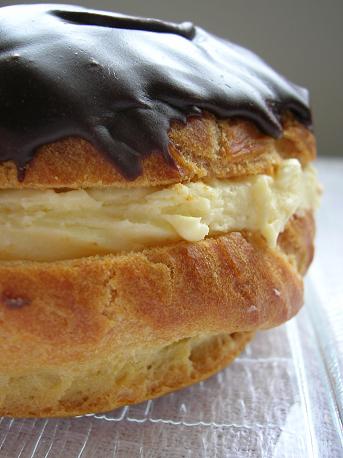 So enjoy this, because it will be QUITE some time before I make another cream puff.
And before you ask…no I wont make cream puffs for you daughters/son/friends/whoever's baby/bridal shower, birthday or wedding/anniversary. 🙂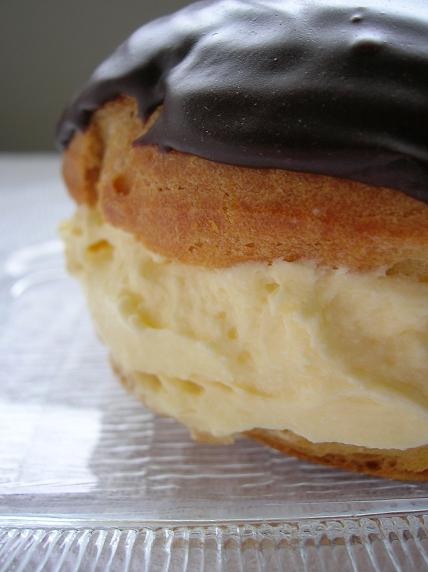 Like pastry cream? Try these Grand Marnier Napoleons with Dark Chocolate Sauce.
Or these Toasted Coconut Meringue Stacks filled with Coconut Cream Pie Filling
Eat it for breakfast with these Brioche Raisin Snails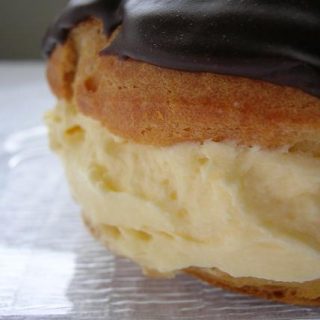 Classic Cream Puffs
Ingredients
Pate a Choux:
7 ounces water
1/2 teaspoon salt
2-3/4 ounces Unsalted Butter
5 ounces Flour – All Purpose
5 extra large eggs
Pastry Cream:
1/4 cup cornstarch
3/4 cup sugar(divided use)
2 cups whole milk(divided use)
4 large egg yolks, lightly beaten
1 pinch salt
2 tsp vanilla extract
2 TBSP unsalted butter
Diplomat Cream:
1 package(2 1/4 tsp) powdered unflavored gelatin
1/4 cup cold water
2 cups pastry cream
1 cup heavy cream
Chocolate Icing:
5 oz. semisweet Chocolate
2 oz. Butter
1/4 cup Water
Instructions
For the Pate a Choux :
Boil water, salt and butter in a heavy saucepan.
Add flour while stirring, continue stirring for several minutes, until the mixture gets very hot and uniform in consistency.
Transfer mixture to an electric mixer with a paddle attachment, and mix on Low speed for 2-3 minutes until mixture has cooled down.
Crack the eggs into a clean container.
While still mixing on Low add the eggs, one at a time. After the addition of each egg wait until the mixture absorbs it and becomes completely smooth again.
Using a pastry bag, dispense the choux paste through the desired tip onto a paper lined baking pan or non-stick pan.
Bake in a hot oven 425°(F) until they have puffed and gotten some color, then reduce the temperature to 350°(F) until they dry out inside.
Do Not Under bake or they will fall flat.
Cut one open to check the inside for wetness, before removing from oven, if you're not sure that they are done.
Make into small puffs - large puffs - small eclair - large eclair - small buchette - large buchette and riviera shells (paris brest).
This formula will yield 25 to 30 small puffs or eclairs, likewise 8 to 10 of the larger items.
For the Pastry Cream:
Combine the cornstarch with 1/4 cup of the sugar in a mixing bowl, then stir in 1/3 cup of the milk.
Blend the yolks into the cornstarch mixture, stirring with a wooden spoon until completely smooth.
Prepare an ice bath.
Combine the remaining 1 1/2 cups of milk with the remaining 1/2 cup sugar and the salt in a non-reactive saucepan over medium heat and bring to a boil.
Remove pan from the heat.
Temper the egg mixture by gradually adding about one-third of the hot milk mixture, whisking constantly.
Add the remaining milk mixture to the eggs.
Return mixture to the saucepan and continue cooking over medium heat, vigorously stirring with a whisk, until the mixture comes to a boil and whisk leaves a trail in the pastry cream, 5-7 minutes.
As soon as the pastry cream reaches this stage, remove the pan from the heat and stir in the vanilla extract and the butter.
Transfer the pan to the ice bath. Stir occasionally until the pastry cream is cool, about 30 minutes.
Transfer the pastry cream to a storage container and place parchment or waxed paper directly on the surface to prevent a skin from forming.
Cover the storage container tightly and refrigerate until needed, up to 3 days.
For the Diplomat Cream:
Sprinkle the gelatin over the cold water in a small bowl and stir to break up any clumps. Let the gelatin soften in the water for about 2 minutes. Heat the softened gelatin over simmering water or in a microwave for about 20 seconds on low power until the granules melt and the mixture is clear. Stir the gelatin into the pastry cream by hand with a rubber spatula until blended.
Whip the cream in a chilled bowl until it holds a medium peak when the whisk is turned upright. Working by hand with a spatula, fold the whipped cream into the pastry cream in 2 or 3 additions, folding just until evenly blended.
For the Chocolate Icing:
Melt chocolate with water in a small pot over a low flame.
Once melted add butter, whisking the whole time. Should look shiny and creamy!
Remove from heat.
Dip pate a choux top into the chocolate icing and smooth out with a spatula.
To assemble:
Cut the pate a choux puff into two parts with the top being bigger.
Put diplomat cream onto the bottom half of puff. You can either pipe or just spoon it on there.
Dip the choux top into the icing, waiting for icing to slightly harden.
Place it onto of the diplomat cream filled bottom.