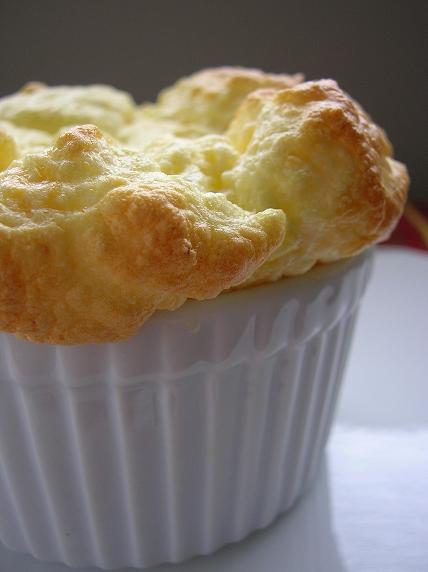 Out of the oven comes my souffles, looking puffy and lovely. Then there is a knock on the door, which I ignore, even though I know it is the UPS man. I quickly bring it to the "photo" area and set it carefully down. Then an oh too familiar sound…my dog is in the corner throwing up…I ignore this too and set up. I whip out the camera, which is already to go and get two pictures taken…and the camera freezes(which means I am out of batteries…point and shoots just take double A's). Frantically running through the house and using language that I usually only reserve for playing hockey I find two batteries and thrust them into the camera as quick as I possible can. The sinking had already begun so I just went ahead and put the sauce on and took pictures. It still had a little puff but had life not intervened(once again) I could have gotten a few more "good" ones in.
I chose to do a cheese souffle for HHDD(Hay Hay It's Donna Day), hosted this time around by Running with Tweezers… Tami is a repeat winner of HHDD so she knows how to pick a theme :). I love them so and they are such a classic. I did go cheese crazy mostly to use up the plethora of cheese that was in the fridge…gosh I love cheese. I went with the cherry sauce because I wanted a little something sweet to cut through all of the cheesy goodness.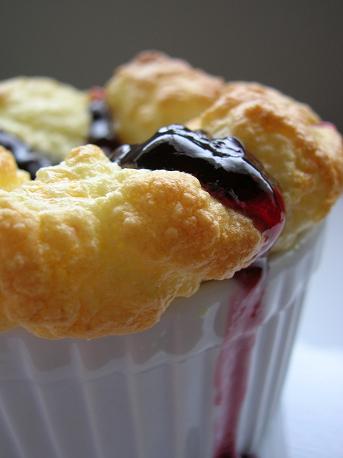 Six Cheese Souffle with Cherry Black Pepper Sauce
Souffle
1/4 cup (1/2 stick) butter
5 tablespoons all purpose flour
Pinch of ground nutmeg
1 1/4 cups whole milk
1/4 cup dry white wine
6 large eggs, seperated
1 teaspoon salt
1/4 teaspoon ground black pepper
1/4 cup coarsely grated white cheddar cheese
1/4 cup coarsely grated sharp cheddar cheese
1/4 cup coarsely grated balarina goat gouda cheese
1/4 cup coarsely grated manchego cheese
1/4 cup coarsely grated Gruyère cheese
1/4 cup finely grated Parmesan cheese
Position rack in center of oven and preheat to 400°F. Generously butter one 10-cup soufflƒ© dish or six 1 1/4-cup soufflƒ© dishes; sprinkle with Parmesan cheese to coat. (If using 1 1/4-cup dishes, place all 6 on rimmed baking sheet.) Melt butter in heavy large saucepan over medium heat. Add flour, pepper and nutmeg. Cook without browning until mixture begins to bubble, whisking constantly, about 1 minute. Gradually whisk in milk, then wine. Cook until smooth, thick and beginning to boil, whisking constantly, about 2 minutes. Remove from heat. Mix yolks, salt and pepper in small bowl. Add yolk mixture all at once to sauce and whisk quickly to blend. Fold in the cheeses (cheeses do not need to melt). Using electric mixer, beat whites in large bowl until stiff but not dry. Fold 1/4 of whites into lukewarm soufflƒ© base to lighten. Fold in remaining whites. Transfer soufflƒ© mixture to prepared dish.
Place soufflƒ© in oven; reduce heat to 375°F. Bake soufflƒ© until puffed, golden and gently set in center, about 40 minutes for large soufflƒ© (or 25 minutes for small soufflƒ©s). Using oven mitts, transfer soufflƒ© to platter and serve immediately.
Makes 4 to 6 servings.
Source: Adapted from Bon Appetit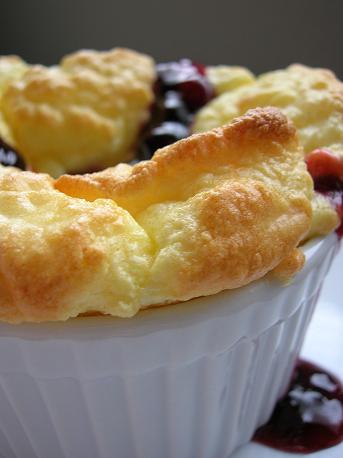 Cherry and Black Pepper Sauce
3/4 cup black cherry jam
2 tsp fresh cracked black pepper
Melt jam in a saucepan on medium heat and add pepper. Cook until it starts to bubble and has a smooth consistancy. Remove from heat.