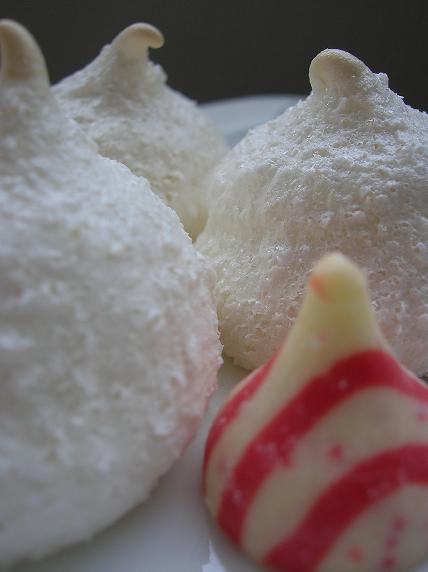 This is just a quick one as it seems life is trying to crush me with a plethora of things to do. I ran across the Hersey's candy cane kisses at the store and picked up a bag figuring I could do something with them. My mom used to make meringues at Christmas time so I thought I could do something with those. I placed the kiss on the baking sheet and piped the meringue over the top of it. If you don't have piping equipment just use a spoon.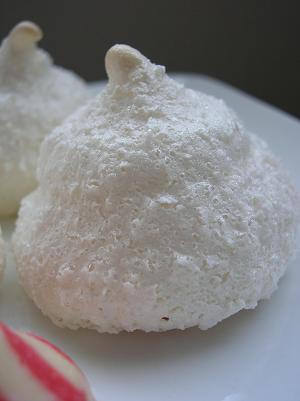 I really liked the end result, they were light and cool from the mint. These are very festive and pretty easy to make.
Candy Cane Kisses Meringues 
2 large egg whites
1/2 tsp cream of tarter
1 tsp vanilla extract
2/3 cup superfine sugar
24-36(depending on size of meringue you make) candy cane Hersey's Kisses
Preheat oven to 350F.
Line baking sheets with parchment paper. Unwrap kisses and place 12 on a baking sheet.
Using a whisk attachment, on the low speed of a stand mixer, beat the eggs whites until foamy. Add the cream of tarter and beat until fluffy(do not overbeat). Beat in the vanilla. Turn the mizer to medium and add the sugar graducally, about 4 TBSP at a time. Continue beating while adding the remaining sugar in batches unil all of the sugar is dissolved and the meringue is very glossy.
Scoop 1 tsp of meringue onto the candy cane kiss, covering it completely(I used a piping bag for this), leave about 1 inch between the cookies. Place the baking sheets in the oven and turn the oven off. Leave the meringues in the oven for at least 1 hour(even overnight…which is what I like to do), so that the cookies turn crisp.