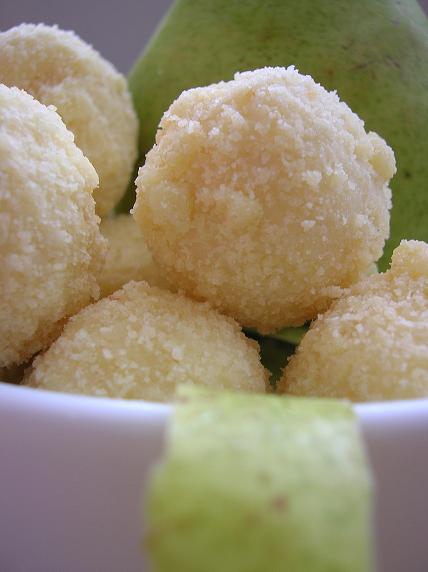 This month's Sugar High Friday is being hosted by The Passionate Cook. We couldn't have asked for a better theme with the holidays just around the corner….Truffles. Who doesn't love to make candy around this time of year? I chose to go non-traditional and do a white chocolate truffle. Let me tell you, there aren't that many recipes around and I did my best to throw together a combo of them with my own twist. I realized that I have done nothing with pears on this blog and decided to rectify that.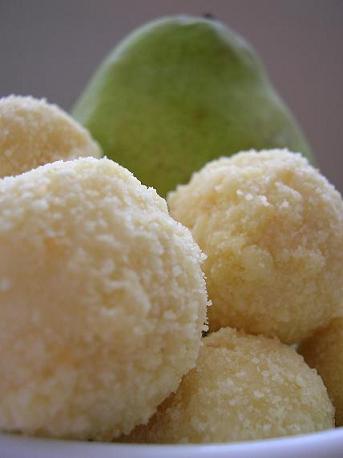 I bring to you my White Chocolate Truffle infused with Pear Skins, Wildflower Honey and Nutmeg. Say that three times fast. A tart book I own has a tart infused with pear skins so I thought why not in a truffle? White chocolate is much more temperamental than dark or milk and can sometimes be a pain to work with….but these were worth the pain to me. Nutmeg is my favorite spice and I try to use it as much as possible, and works well with pears. I threw in the honey because I got it as a gift and never use it. Last but not least I chose to roll my truffles in crushed up sugar cookies. Nuts, powdered sugar, cocoa….I've seen it all, but I have yet to see sugar cookies(I'm quite sure someone has, I just have yet to see it myself).
White Chocolate Truffles Infused with Pear Skins, Wildflower Honey and Nutmeg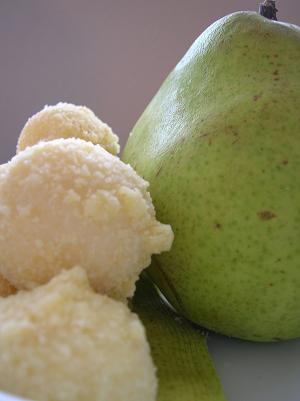 1/3 cup, plus 1 TBSP heavy cream
9 ounces white chocolate, chopped
1/4 cup (1/2 stick) unsalted butter, cut into thin slices
peels from one pear
1 TBSP wildflower honey
1/2 tsp freshy grated nutmeg
crushed sugar cookies(for rolling truffle in)
In small, heavy, nonaluminum saucepan, combine heavy cream and pear skins. Over low heat, heat until cream comes to a simmer, stirring occasionally. Remove from heat. Cover tightly; allow to stand 20 minutes at room temperature.
Shortly before cream standing period is up, combine white chocolate, nutmeg, honey, and butter pats in medium heatproof bowl. When cream has stood 20 minutes, remove cover. Reheat cream mixture over low heat, stirring occasionally, until it reaches a simmer again. Remove from heat. Strain through fine-meshed strainer into white chocolate mixture. Press down on the pear peels left in the strainer to extract all the liquid from it.
Place white chocolate mixture over warm water on low heat (water should not touch bottom of bowl). Stir frequently just until almost melted; remove from heat and hot water. Stir until melted and smooth. (Note: White chocolate, even of excellent quality, can be stubborn about melting. If there are small lumps of white chocolate in your truffle base, transfer the truffle base to a food processor fitted with a steel blade; process at high speed just until smooth.)
Transfer truffle base to small bowl. Chill at least 4 hours (overnight is fine, too), covering tightly when cold.
Form balls of about 1 inch diameter from the cold truffle base(I use a melon baller). Drop into the crushed sugar cookies. Roll in cookie crumbs until well-coated, then place in a  storage container. Continue until all base is used.
Store truffles airtight in refrigerator for up to one week; freeze for longer storage. To serve, remove from refrigerator 15 to 20 minutes prior to serving time. Let stand at room temperature, covered, until serving time.
This made about 24 truffles.