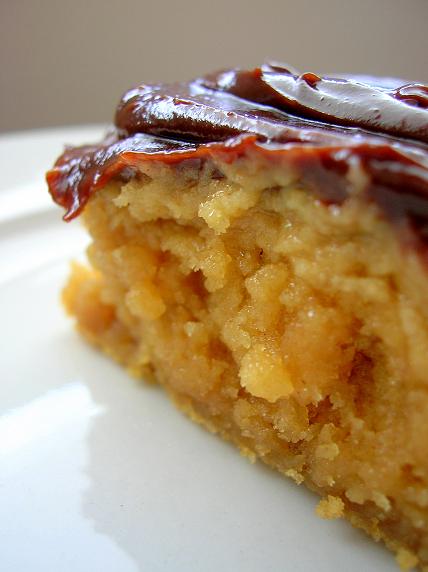 Blog party madness is upon us and though I had much fun last time making circus cookies for kid's party, I think this month's theme is just as fun. Literary Party is this month's theme and you must pick a book that you have read and make a food item inspired by it. Though my book club had recently read Julie and Julia, I had no desire to do anything in aspic, so I looked for a different option. I read a book a couple months back that I immediately fell in love with. It's called Candy and Me by Hilary Liftin. It is a overview of her life and the role that sugar and candy have played in it. I could totally relate to this book, for I am a sugar-aholic and a candy freak. Now amazing as it is to some people I prefer gummy candies and licorice to chocolate(I know, I know). But I love Red Vines and Swedish Fish. However, I didn't see that as an appeasing dessert. So in honor of my husband I once again made something with peanut butter and chocolate….though with a slight twist for me.
I love cookie dough. I am guilty on many an occasion of eating it out the bowl before it even makes it to the pan(and you have too). So I some how wanted to incorporate cookie dough into this dessert. I started by making peanut butter cookies. Instead of making them into a cookie, I spread them out on to a 9 X 13 inch pan. It makes for a pretty thick cookie bar, which is exactly what I wanted. I baked them for 20 minutes. They had a nice bottom and outside crust but were still pretty doughy in the inside(perfect for what I was going for). If you are not happy with the idea of eating cookie dough, then bake for another 10 minutes. Next I made a layer of cream cheese peanut butter frosting and finished off with a peanut butter chocolate ganache.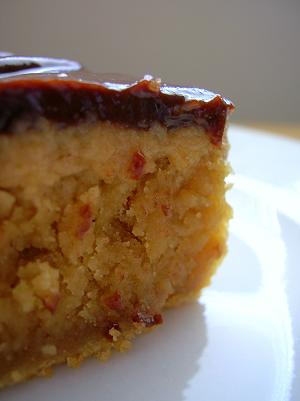 Mom's Peanut Butter Cookies(Source: Caprial's Desserts)
1 cup cold unsalted butter, diced
1 cup granulated sugar
1 cup firmly packed brown sugar
2 eggs
1 tsp vanilla extract
1 cup peanut butter
3 cups flour
2 tsp baking soda
1/2 tsp salt
Preheat Oven to 350F. Grease a sheet pan and set aside.
Place the butter and both sugars in the bowl of a mixer and beat on high speed, scraping down the sides of the bowl often, until light and fluffy, about 3 minutes. With the mixer on low speed, add the eggs and vanilla, then add the peanut butter and mix well. Add the flour, baking soda and salt and mix on low speed until the ingredients are incorporated. Increase the speed to medium and mix just until the dough is smooth.
Using a 9 X 13 spread the cookie dough evenly. Bake for 20 minutes. If you want a less doughy cookie, bake for 10 minutes longer.
Peanut Butter Cream Cheese Frosting Layer
4 oz cream cheese
1/2 cup peanut butter
1/2 cup powdered sugar
milk(for thinning)
In a mixer combine the cream cheese, peanut butter and sugar. Mix on medium speed for about 3 minutes. Add the milk slowly until it becomes a spreadable consistency.
Peanut Butter Chocolate Ganache
1 cup chocolate chips
1/2 cup cream
1/2 cup peanut butter
Place the chocolate chips and peanut butter in a bowl. Heat the cream up to a boil. Once it starts to boil, pour it over the chocolate chips and peanut butter. Let sit for 5 minutes. Stir until smooth.
Assemble: Once the cookie dough layer is out of the oven, let it cool completely. Spread the cream cheese layer. Then follow up with the ganache layer.
All text and images on this site have ALL RIGHTS RESERVED Copyright (c) 2006 by Peabody Rudd.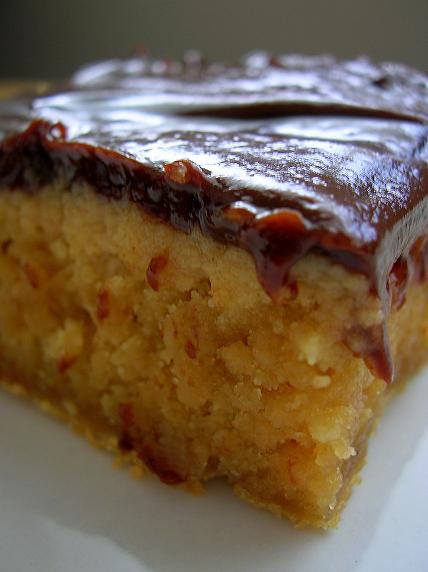 I almost forgot my drink. I do not have a picture of it, as I do not have any ingredients for it. I really don't know when it came out but we use to drink the virgin version of these when I was a kid. To make the virgin version just substitute Coca-Cola for the Kahlua.
Tootsie Roll
– 2 parts Kahlua
– 3 parts Orange juicePour ingredients over ice into martini glass and garnish with tootsie roll.