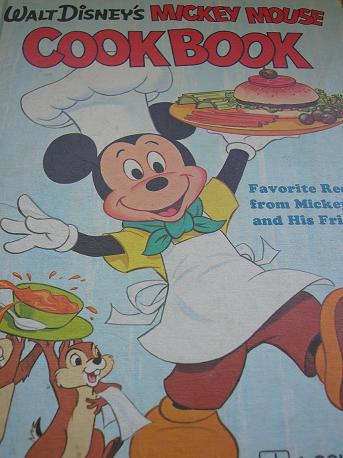 So when I saw the challenge for the Retro Recipe Challenge I thought, "what fun". We had to find a recipe from our birth year(well actually within 5 years of our birth year). All was good untll I started looking for the actual recipe. Not many recipes are readily avaiable from the 70's and those that were, we're not that appetizing….no wonder I lived off of Kraft dinner and fish sticks as a kid. But I found salvation when I ran across my very first cookbook. The Mickey Mouse Cookbook(published 1975). Oh how my poor mother was stuck making me many an item from this cookbook. Now, even though this was a cookbook, it was for kids, so the actual cooking on many things was minimal. I found The Seven Dwarfs' Cupcakes….oh good baking. An extremely easy recipe. It said it made twelve, but really only made 7(how fitting). There is one basic recipe with 7 different adaptations so I decided to make one of each. When I was younger we only made two of the seven types possible so I really wanted to make all of them. I would love to tell you which one was my favorite, but since I am dieting, you will just have to bake all 7 and find out for yourself. I can tell you they smell good, but look a little dry.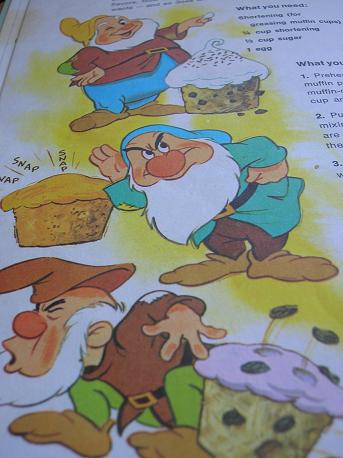 The Seven Dwarfs' Cupcakes
The Cupcake Base
 Ingredients:
1/4 cup shortening(I used butter)
1/2 cup sugar
1 egg
1/2 milk
3 tsp baking powder
1 tsp vanilla
1 cup sifted all-purpose flour
Instructions:
1. Preheat the oven to 350F. Grease a 12 cup muffin pan or use muffin liners.
2. Put the shortening and sugar in a large mixing bowl. Cream them together until they are soft and fluffy by rubbing them against the side of the bowl with a spoon.(I laughed at this and used my mixer.
3. Break the egg into the bowl and beat well with the spoon.(Again I used the mixer)
4. Sift the flour with the baking powder. Add to the shortening mixture and stir. Then add the milk and vanilla. Beat with an egg beater until the batter is smooth.(mixer)
5. Pour the batter into the muffin pan, filling each cup half way.
6. Bake for 20 to 25 minutes. Let the cupcakes cool for 5 minutes, then remove from pan to finish cooling.
Makes 12 cupcakes(made 7 for me)
The Versions:
Happy's Chocolate Chip Cupcakes: Stir 1/2 cup chocolate chips into the batter at the end of step 4.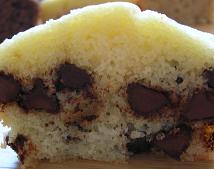 Grumpy's Gingersnap Cupcakes: Crumble 8 gingersnaps and stir them into the batter at the end of step 4.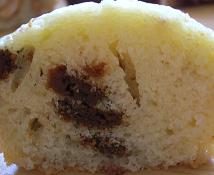 Sneezy's Raisin Cupcakes: Stir 1/2 cup raisins into the batter at the end of stage 4.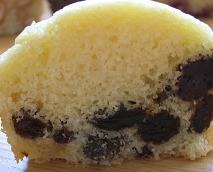 Dopey's Nutty Cupcakes: Stir 1/2 cup chopped nuts(I chose cashews) into the batter at the end of step 4.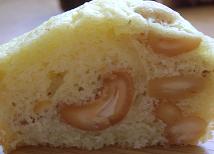 Sleepy's Cocoa Cupcakes: Beat 1/4 cup cocoa into the batter at the end of step 4.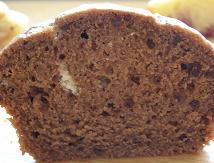 Bashful's Jelly Cupcakes: After filling the muffin cups in step 5, put 1/2 tsp jelly(I went with homemade strawberry) on top of the batter in each one.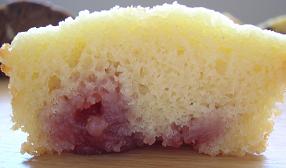 Doc's Peanut Butter Cupcakes: Add 3 TBSP peanut butter to the batter when you add the egg in step 3.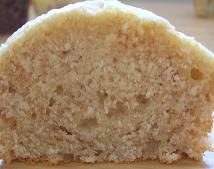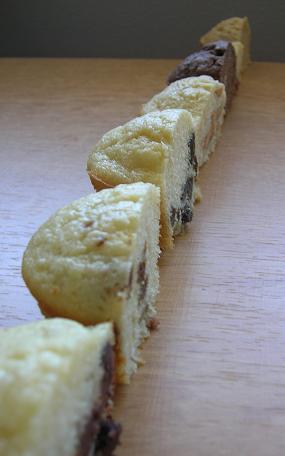 All text and images on this site have ALL RIGHTS RESERVED Copyright (c) 2006 by Peabody Rudd.