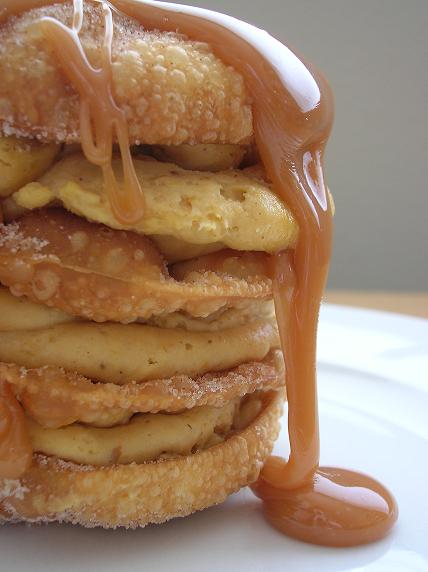 If I were ever to have my own Food Network or PBS cooking show I would want to do one about how to fix your mistakes in the kitchen. That is what I miss about Julia Child, she made mistakes and showed them. Now a days, everything turns out perfectly and nothing ever seems to need more seasoning or get dropped or have a giant crack in it. So unrealistic and what forces people I feel not to want to cook. They see the recipe, they get excited, try it, and it didn't turn out perfect and they get discouraged. What the show really needs to say is: the first time we tried this cake it spilled over, the second time it cracked down the middle the third time it sunk and on the fourth time it was perfect….but all they show you is the perfect. Sad really. I think more people would cook if they knew even the best of the best made mistakes too.
The majority of my friends who have a cooking question are usually calling me in a panic about something going wrong and how can they fix it. Last week was no exception when my friend(who broke my rule and kept opening the oven while it cooked) was making a cheesecake and when it came out it had a large crack in it. Everything else about it was fine except for how it looked. She sent me a picture of it so I could see the problem. The crack was too big to do what I usually do. If the crack is small I usually make some mousse and pipe it on top and no one is the wiser, but this was a big crack. So I told her to cut away the crust. Stick it in a piping bag and pipe it into a fancy champagne glass and top with whipped cream. She called back later to tell me that it was a huge hit. So I got to thinking what would I do if my cheesecake got a huge crack in it, and thus came the invention of my Pumpkin Cheesecake Towers.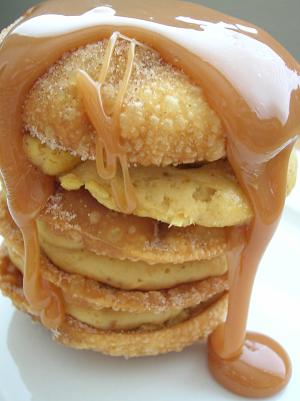 Pumpkin Cheesecake Towers 
Wontons:
package of wontons
cinnamon and sugar mixture
Caramel Sauce:
1 ¼ cup sugar
2/3 cup heavy cream
Pour the sugar into the center of a deep saucepan. Carefully pour 1/3 cup water around the walls of the pan, trying not to splash any of the sugar onto the walls. Do not stir; gently draw you finger twice through the center of the sugar, making a cross, to moisten it. Over high heat, bring to a full boil and cook without stirring, swirling the pan occasionally to even out the color, until the mixture is medium caramel in color, 5 to 10 minutes. Immediately turn off the heat and use a wooden spoon to slowly and carefully stir in the cream(it will bubble up and may splatter).
Pumpkin Cheesecake
Ingredients:
1-1/2 cups pumpkin
1 tsp. cinnamon
1 tsp. ground nutmeg
1/2 tsp. ginger
1-1/2 lbs. cream cheese
1/2 Tbsp. vanilla
1 cup sugar
4 eggs
2 Tbsp. sour cream
1/4 cup half-and-half
Instructions:
In a large bowl, combine cream cheese, sugar, vanilla, sour cream and half-and-half. Using an electric mixer, beat mixture until light and fluffy. One at a time, beat eggs into the mixture. Add remaining ingredients; beat until well blended. Pour mixture into the springform pan until the filling comes 1/4 inch from the top of the pan. Wrap outside of the springform pan twice with aluminum foil. Place the pan in another pan that has been partially filled with water. Place the cheesecake in the water bath in a 300-degree oven for 1 hour. Remove pan from the oven. Remove springform pan from the water bath. Let cheesecake cool before removing it from the springform pan.
To Assemble:
Fry wontons in oil(in either deep fryer or in a pan filled about 3 inches with oil). Take out when golden brown(place on paper towel) and sprinkle with cinnamon sugar while still warm.
Place one wonton on a plate.
Scoop your cheesecake into a piping bag and pipe a single layer of cheesecake. Place another wonton on top, and again follow up with the cheesecake. Place another wonton and repeat with cheesecake and finally top with a wonton. Drizzle caramel sauce over the top of the dessert.
Let this be a lesson to go ahead and make a mistake, you just might get something even better.
All text and images on this site have ALL RIGHTS RESERVED Copyright (c) 2006 by Peabody Rudd.