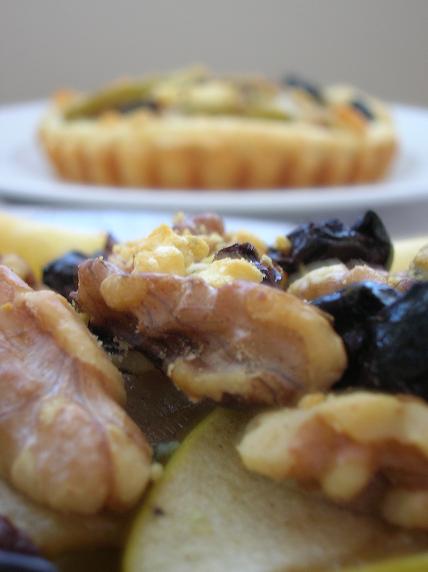 Well Donna Day is rapdily approaching once again and this time around savory tarts is the theme. I chose to make a tart that helps to welcome the upcoming Fall. My local Farmer's Market is slowly weeding out the fruits of summer to make way for the apples, pears and pumpkins that make up the Fall I know and love. I almost always bake with Granny Smiths(perhaps a rut I should get out of) and today was no exception to that rule. The dried cherries were added as my nod goodbye to the Summer fruits(they were the last of some ones from the Farmers Market and they are no longer carrying them till next Summer). To learn more about this event, visit Running with Tweezers, this month's host for more information.
Caramelized Apple, Onion and Roquefort Tart
2 TBSP unsalted butter
1 cup thinly sliced sweet onions
2 cups sliced apples, skins left on
1/4 cup dry white wine
1/2 tsp salt
1/4 ground black pepper
1/3 cup toasted walnuts
4 ounces dried cherries
2 sheets of puff pastry, thawed
4 ounces blue cheese, crumbled
Preheat oven to 400F.
In a large, heavy skillet, melt the butter over medium-high heat. Add the onions and saute until caramelized. Add the apples and continue to caramelize. Add the wine and cook untl dry, about 2 minutes. Add the salt and pepper, stir well and remove from heat. Add the walnuts and dried cherries and stir well to combine. Let cool.
On a lightly floured surface, 1 at a time, roll out the pastry sheets. You can cut them into rounds, rectangles or press them into tart pans…I did all three. Make sure to grease your pans.
Place the apple/onion mixture into or on top of(depending on which tart style you chose) your tart. Sprinkle blue cheese on top of each tart. Bake until golden and puffed, 20-25 minutes.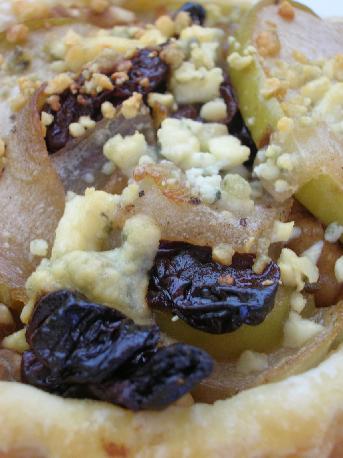 All text and images on this site have ALL RIGHTS RESERVED Copyright (c) 2006 by Peabody Rudd.