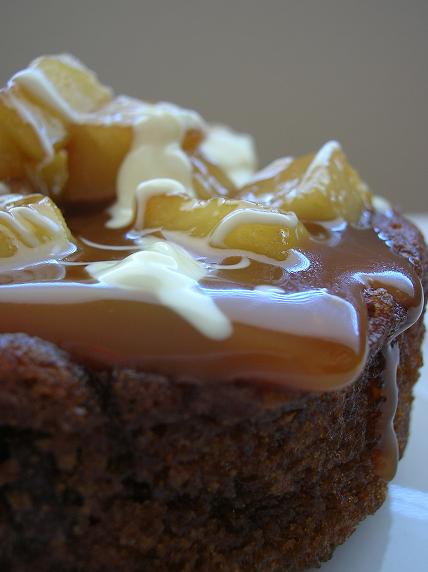 Well poor Ivonne is out of a oven for a month so she told me to bake for her….so I am. When I think of Fall foods I think of apples and pumpkin. I think it is a tad to early for pumpkin(though I have already been enjoying pumpkin lattes at Starbucks). I was inspired to do something caramel apple after reading/drooling over the caramel apple cupcakes made over at the Cupcake Bake Shop. These are so no where cute as the cup cakes but darn tasty none the less.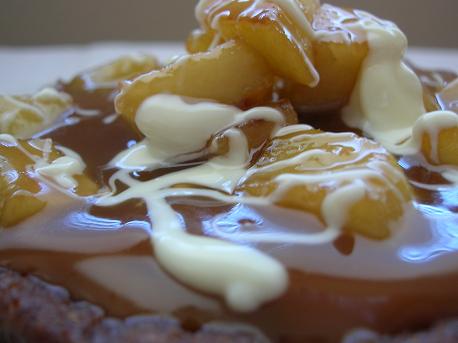 I had to get my baking done today for Thursday we leave for a little vacation to see my parents. It is a nice break for me, because even though I love to cook and bake it is nice every once and a while to have someone else do it for a bit. And who better to cook for me than my mom…. my real culinary trainer(I learned far more from her than I ever did in any of my culinary classes). I ran across a recipe for apple cake on the Food Network site while looking for something else(I am not a fan of how they organize recipes on that site). Anyway, it sounded like a good base but I did mess with it a bit. It is a good moist cake, which is exactly how I like my apple cake. I did make a completely different topping than what the cake called for though. I also caramelized some apples and drizzled white chocolate just to give it some contrast.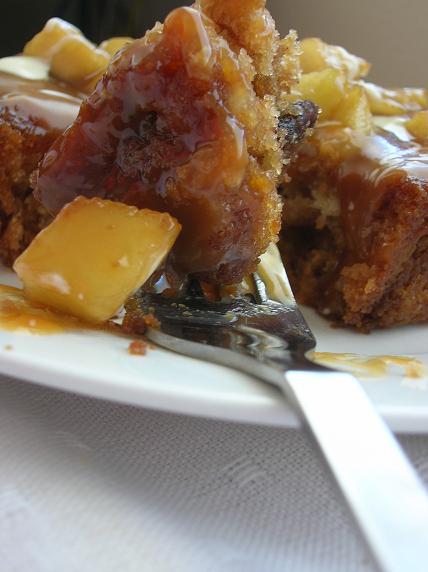 Grandgirl's Fresh Apple Cake(slightly adapted)by Paula Dean
Cake:
Butter, for greasing pan
2 cups sugar
3 eggs
1 1/2 cups vegetable oil(I hated to do it but that was what it called for)
1/4 cup orange juice
3 cups all-purpose flour
1 tsp baking soda
1/4 tsp salt
1 TBSP ground cinnamon
1 TBSP vanilla extract
3 cups peeled and finely chopped apples
1 cup walnuts, chopped
1 cup raisins
Preheat oven to 325F.
Generously grease a tube pan(I used mini cake pans)
In a large bowl, combine the sugar, eggs, oil, orange juice, flour, baking soda, salt, cinnamon and vanilla extract, and mix well. Fold the apples, raisins and nuts into the batter.
Pour the batter into the prepared pans and bake until a tester comes out clean about 1 1/2 hours.
Let cool.
Sauce: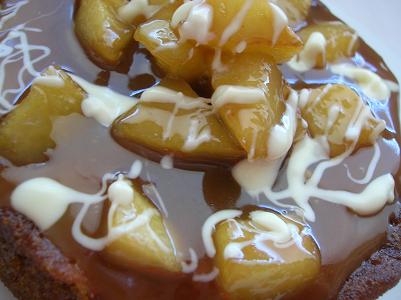 3.5 ounces granulated sugar
1 liquid ounce water
3 liquid ounces heavy cream, heated
Combine sugar and water in a heavy sauce pan and cook until amber in color. Slowly add heavy cream and whisk till smooth.
To assemble:
Remove cooled cake from pan. Place a pool of sauce onto the cake round. Saute some diced green apples with some sugar until the caramelize. Place on top of cake. Drizzle melted white chocolate where ever you so choose to do so on the cake.