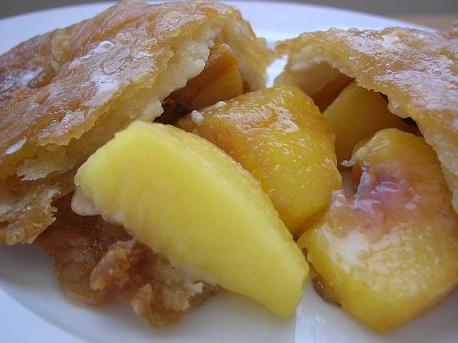 So the other day I decided to print out the very enormous list at the Traveler's Lunchbox , all 22 pages of it so far. I started going through and first marking things off that I had already experienced. Then I went through and marked off things that would never happen…like eating a raw tomato(it's so not worth the emergency trip….sorry). I also marked off things like eat my grandmother's apple pie(unless they post the recipe). And then I went through and picked out things to start making so that I can mark off yet another thing off the SUPER food list.
So in reading the list over at Bake or Break, she listed fried pies as one of her top 5…number 2 to be exact. I already had grease in the deep fryer from making donuts the other day and so I figured that would be a good place to start. I would have loved to had made apple pies but I had a large amount of peaches and felt it best to use what I had before going out and spending even more money. I had only seen one recipe for it in all of my cookbooks and so once again, out came the Pastry Queen. Now everyone keeps telling me that fried pies are from the South, as is my hubby, but he had never had one in his life, today was no exception(the man hates fruit desserts). I adaped the recipe a little(I used sugar with my fruit and they used jam) and halfed the amount of dough because I simply wont be eating THAT many pies, especially with no help.
They are quite tasty and I must admit much better than the Hostess pies that I grew up with(though I'm not knocking those either….they are after all a childhood treat). I was a little diappointed that my glaze was not as thick as the lovely photos they had in the book….I"ll work on that for the next time I make these.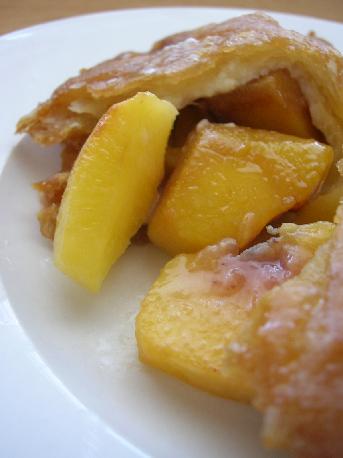 Fourth of July Fried Pies(adpated from the Pastry Queen by Rebecca Rather)
Peach Filling:
4 peaches, peeled and chopped into 1/2 inch pieces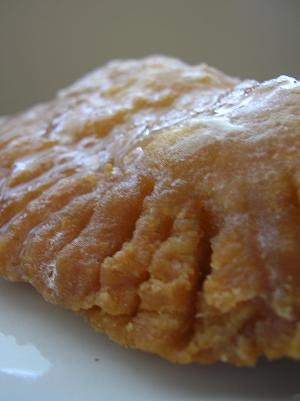 1/4 cup sugar
1 TSBP fresh lemon juice
Dough:
3 cups all-purpose flour
2 tsp baking powder
1/2 TBSP salt
1/2 cup unsalted butter(1 stick)
3/4 cup ice water
Glaze:
1 cup powdered sugar
2 TBSP milk
1/2 tsp vanilla extract
To make fruit fillings: In a bowl combine the peaches, sugar and lemon juice. Mix well to sugar looks to be disolved and set aside.
To make the dough: Combine the flour, baking powder, and salt in a large bowl. Cut the butter into 1/2 inch cubes. Wirk the butter into the dry ingredients with a pastry cutter or your fingers until the mixture resembles cornmeal. Add the ice water and gently form the dough into a ball. Divide the dough into two balls. Sprinkle a thin layer of flour on a pasty board or other flat, smooth surface. Roll out each portion of dough to 1/16 inch thickeness, a little thicker than a tortilla. Cut out dough circles with a 5 inch- diameter cutter. Each ball of dough should make 4-6 rounds. Put 1 TBSP fo the filing in the center of each dough round. Fold the dough rounds in half, wet your fingers and press to seal the edges with water. Crimp the edges with the tines of a fork.
To fry the pies: Pour about 3 inches of safflower oil(I used canola) into a deep-frying pan(I used my fryer) and set over medium heat. The oil is hot enough when a scrap of dough dropped in the pan sizzles and bubbles. Fry the pies, a few at a time, until golden brown(they float, so this should take about 2-3 minutes per side). Drain the pies on paper towels.
To make the glaze: Whisk together the powdered sugar, milk, and vanilla extract. Using a pastry brush, glaze the warm pies. Serve immediately.