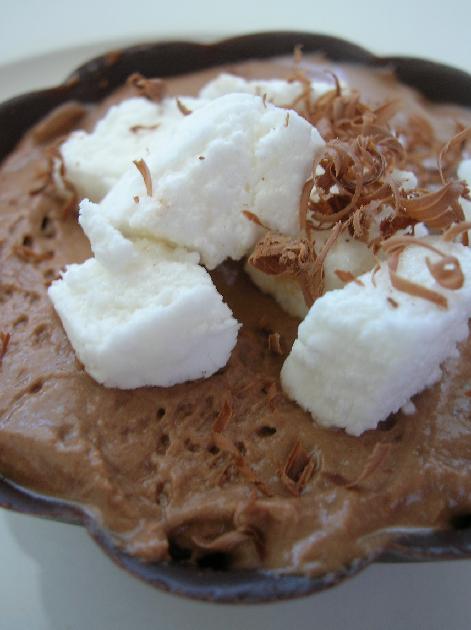 In light of my recent failure I felt like I need to jump right back in. I had run across some chocolate cups the other day and had inteded on using them for something for a girl's night out get together but ran out of time this week to do anything until now. Among the many things listed by my non food blogging friends was chocolate mousse. I knew that the chocolate cups would make a great container for the mousse. After all, how many times have I made chocolate cups(the oh so fun ones where you pop the balloon) but time was of the essence this week and so this short cut would simply have to do. Baking Gods, please don't strike me down.
Since I cheated in one area I knew I had to do some extra credit homework and so to accompany my mousse I made marshmallows that I had run across so very often while thumbing through the Barefoot Contessa Family Style Cookbook. I can't wait to make them at Christmas to go with my cocoa.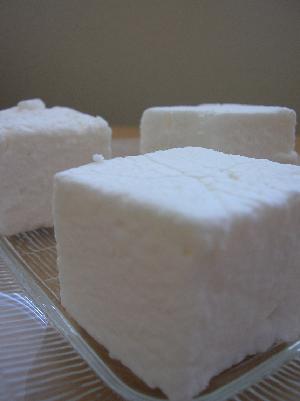 Marshmallows
Ingredients
3 packages unflavored gelatin
1-1/2 cups granulated sugar
1 cup light corn syrup
1/4 teaspoon kosher salt
1 tablespoon pure vanilla extract
Confectioners' sugar for dusting
Instructions
Combine the gelatin and 1/2 cup of cold water in the bowl of an electric mixer fitted with the whisk attachment and allow to sit while you make the syrup.
Meanwhile, combine the sugar, corn syrup, salt and 1/2 cup water in a small saucepan and cook over medium heat until the sugar dissolves. Raise the heat to high and cook until the syrup reaches 240 degrees on a candy thermometer. Remove from the heat.
With the mixer on low speed slowly pour the sugar syrup into the dissolved gelatin. Put the mixer on high speed and whip until the mixture is very thick, about 15 minutes. Add the vanilla and mix thoroughly.
With a sieve, generously dust an 8 x 12-inch non-metal baking dish with confectioners' sugar. Pour the marshmallow mixture into the pan, smooth the top and dust with more confectioners' sugar. Allow to stand uncovered overnight until it dries out.
Turn the marshmallows onto a board and cut them in squares. dust them with more confectioners' sugar.
Yield: 20 to 40 marshmallows, depending on cut size
Source: The Barefoot Contessa Family Style by Ina Garten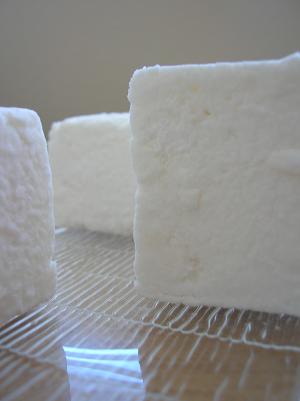 Chocolate Espresso Mousse:
2 cups heavy cream
8 ounces semisweet chocolate
5 ounces butter
5 egg yolks
2 ounces sugar
1 ½ Tablespoons water
¼ teaspoon salt
1 TBSP espresso powder
1 tsp vanilla
Whip cream to medium peaks and keep refrigerated. Melt chocolate and butter over a baine marie and keep warm. In an electric mixer bowl, whip yolks until thick. Meanwhile, add sugar to a small pot. Drizzle water over sugar to moisten. Bring to a boil. Remove from heat and slowly drizzle syrup into egg yolks while mixing on medium speed. Remove bowl from mixer. Wash the whisk and set aside. Place bowl over a baine marie at a bare simmer. Whisk constantly until mixture is hot. Return bowl to electric mixer and mix on high speed for several minutes with clean whisk. Reduce speed to low and slowly drizzle in warm chocolate-butter mixture. Add salt and vanilla extract and espresso powder, and mix until incorporated, scraping down sides as necessary. Add ¼ cup of whipped cream to chocolate mixture and mix until smooth. Scrape. Repeat 2 more times. Once mixture is smooth, fold in remaining cream. Refrigerate until firm enough to pipe.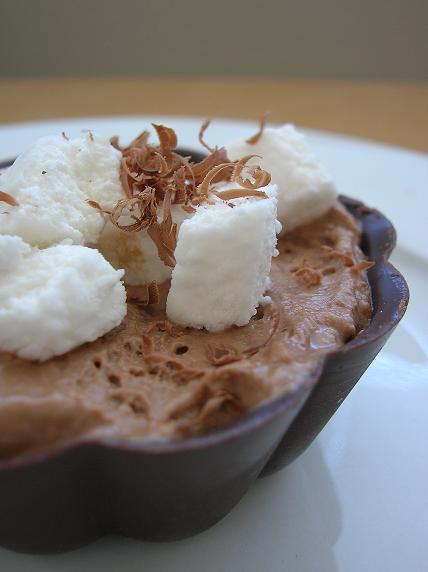 To Assemble:
Place mousse in cup(if you want to pratice your piping skills feel free to pipe the mousse in there). Chop up your marshmallow and throw a couple on there. Shave some dark chocolate and serve to the ones you love. 🙂