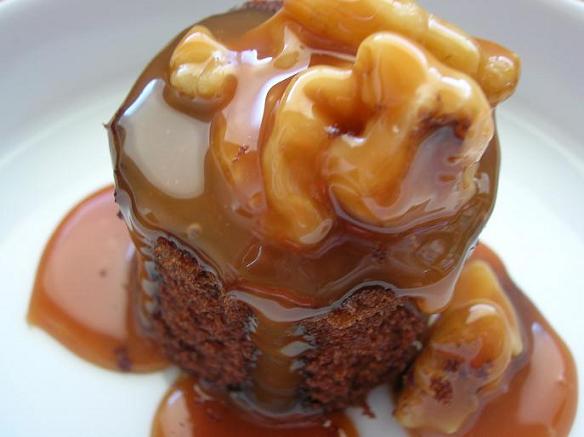 So it was hot on Saturday and my husband and I decided that it was best that we head out to find someplace with air conditioning. We chose Barnes and Noble since you can walk around for hours there. Every time we go I get to pick out one cookbook. I must limit myself or else who knows how much bigger my now 200 and something collection would be. After much scrutiny and going back and forth I chose Gale Gand's Just A Bite(I am a huge fan of the mini food movement). I fell in love with the photo on the cover of what looked like a chocolate cake covered in caramel and some sort of nut. I skimmed though it that night not really paying any attention to the ingredients. So when I went to make the cake today, bad me did not have vegetable oil. I'm not really a fan of cakes that use vegetable oil, so right away I was a little disappointed in the book. But I was still inspired by the photo and so I used what I had. I decided just to make a sour cream based chocolate cake(my no fail recipe) and make a caramel topping…hers had coconut and macadamia nuts, which sounded good, but are two more things my husband wont eat…but he will eat walnuts. I have to say it was quite yummy and I have not ruled out anything of my new cookbook. I plan on finding something else this week in it to post here(be on the look out).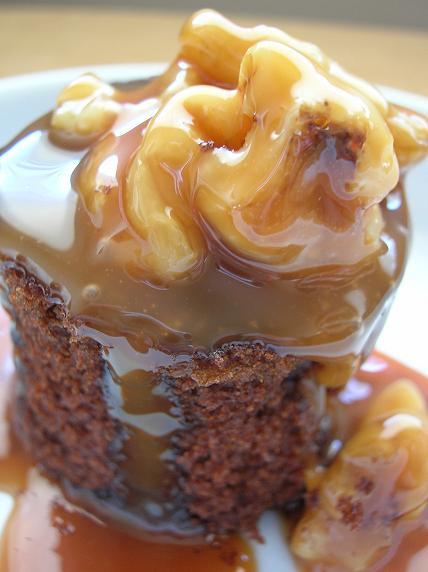 Old Fashion Chocolate Cake:
½ cup unsalted butter, at room temperature
2 ¼ cups lightly packed brown sugar
2 tsp pure vanilla extract
3 eggs
3 ounces unsweetend chocolate, melted
2 ¼ cups sifted cake flour
2 tsp baking soda
½ tsp salt
1 cup sour cream
1 cup boiling water
Preheat oven to 350F.
Place the butter, sugar and vanilla extract in the bowl of a mixer fitted with the paddle attachment and beat on high speed, scraping down the sides of the bowl often, until well blended, about 3 minutes. With the mixer on low speed., add the eggs, one at a time, scraping down the sides of the bowl and mixing well after each addition. Continue to beat for 5 minutes, until light and fluffy. Stop the mixer add the chocolate, and mix well. Combine the flour, baking soda, and salt. Add about half of the dry ingredients to the batter, beat on low speed until well blended, and then add about half of the sour cream and beat well. Add the remaining dry ingredients followed by the remaining sour cream, scraping down the sides of the bowl and beating well after each addition. Add the boiling water and beat until smooth.
Divide the batter between two greased 9-inch round cake pans and bake until the cake springs back when touched lightly in the center, 30-35 minutes. Let cool for about 10 minutes, then remove cakes from pan and let cool completely.
Source: Caprial's Desserts by Capril Pence and Melissa Carey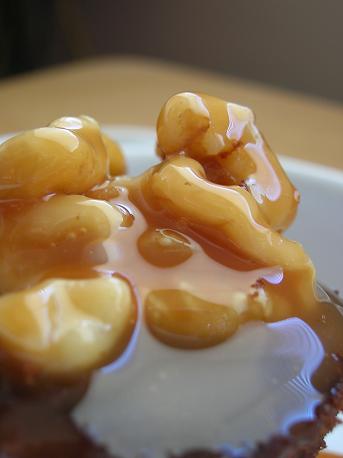 ">
For the Caramel:
1 ¼ cup sugar
2/3 cup heavy cream
½ cup walnuts, toasted and chopped
Pour the sugar into the center of a deep saucepan. Carefully pour 1/3 cup water around the walls of the pan, trying not to splash any of the sugar onto the walls. Do not stir; gently draw you finger twice through the center of the sugar, making a cross, to moisten it. Over high heat, bring to a full boil and cook without stirring, swirling the pan occasionally to even out the color, until the mixture is medium caramel in color, 5 to 10 minutes. Immediately turn off the heat and use a wooden spoon to slowly and carefully stir in the cream(it will bubble up and may splatter). Stir in the walnuts. Set aside.
Source: Gale Gand's Just a Bite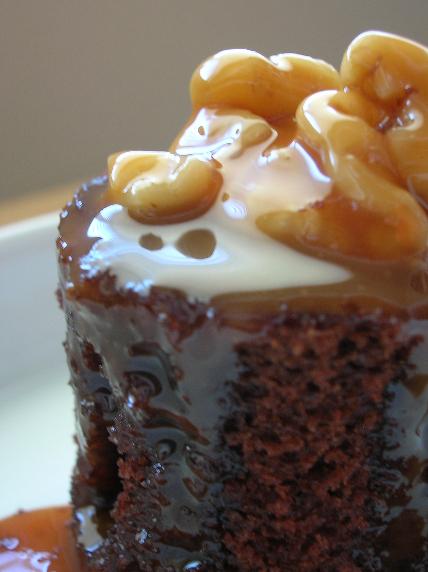 ">
To Assemble: Cut rounds of the cooled cake with biscuit(1 ½ to 2 inch round) or cookie cutters. Pour sauce over the cake and serve.