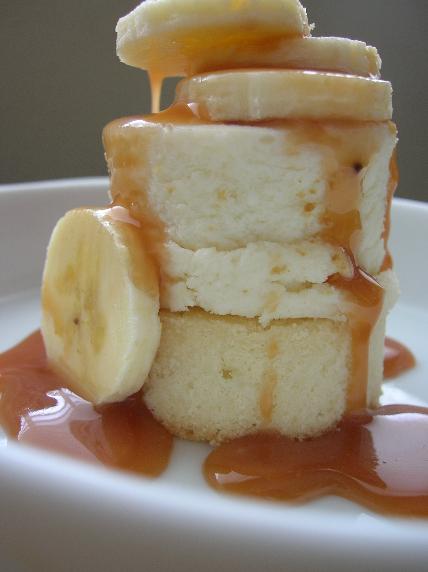 It must be the weather slowly changing into the best season of them all that has made me crave caramel for the past week. So I had made a good old fashion Philly Cheesecake the other day and decided that I wanted to have a little fun with it. Keeping in the spirit of doing bite size things(may be my theme for awhile…who knows) I decided to do something with the left over cheesecake. I didn't want the graham cracker crust so I whacked it off and decided that I would enjoy a cookie bottom much better to go with the caramel….after all this week, it is all about the caramel. It originally had a third layer, a frozen banana mousse and it just wasn't working for me(already too tall), I'm considering doing something else with that later on this week. The shortbread cookie was the way to go. It's buttery flakiness made a nice contrast to the creamy cheesecake. I think that caramel will make one last apperance this week before it goes on a little hiatus. For now, however, I will enjoy all it has to offer. 
Shortbread Cookies
INGREDIENTS:
8 ounces butter (2 sticks), room temperature
1/2 cup confectioners' sugar
2 cups all-purpose flour
1/2 teaspoon baking powder
1/2 teaspoon vanilla extract
PREPARATION:
Combine all ingredients; use hands to knead until ingredients are blended. Press into ungreased pans (or chill and roll out to about 1/2-inch on a floured board and cut into shapes). Bake at 325° for about 20 minutes, or until lightly browned.
Set aside.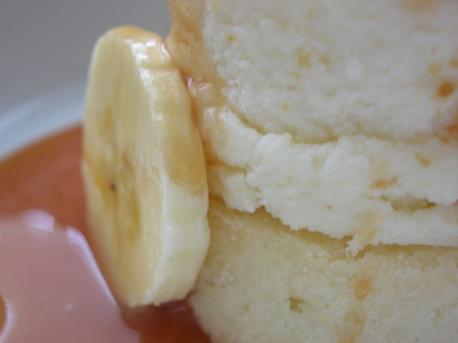 PHILADELPHIA® Classic Cheesecake
 
Prep Time: 20 min
Total Time:  5 hr 15 min
Serves:  12
Ingredients
1-1/2 cups HONEY MAID Graham Cracker Crumbs
3 Tbsp. sugar
1/3 cup butter or margarine, melted
4 pkg. (8 oz. each) PHILADELPHIA Cream Cheese, softened
1 cup sugar
1 tsp. vanilla
4 eggs
Preparation
MIX crumbs, 3 Tbsp. sugar and butter; press firmly onto bottom of 9-inch springform pan.
BEAT cream cheese, 1 cup sugar and vanilla with electric mixer on medium speed until well blended. Add eggs, 1 at a time, mixing on low speed after each addition just until blended. Pour over crust.
BAKE at 325°F for 55 minutes or until center is almost set if using a silver springform pan. (Or, bake at 300°F if using a dark nonstick springform pan.) Loosen cake from side of pan; cool before removing side of pan. Refrigerate 4 hours or overnight. Store leftover cheesecake in refrigerator.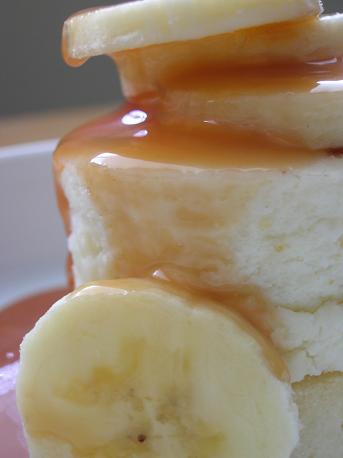 Caramel Sauce
I used the caramel sauce from the chocolate cake and with caramel sauce.
To Assemble: Use a biscuit cutter to cut out the shortbread. Set on plate. Take the cheesecake and cut off the graham craker crust. Then use the same biscuit cutter to cut out the cheesecake. Place the cheesecake on top of the shortbread. Thinly slice a banana and place however many slices you would like on top(I chose 3). Drizzle the caramel sauce over the entire thing and enjoy.