Carrot Cake Cinnamon Rolls are a delicious twist on a classic breakfast treat. Loaded with actual carrot cake mix, rum soaked raisins, and slathered in cream cheese frosting these cinnamon rolls will be sure to get your morning started off right.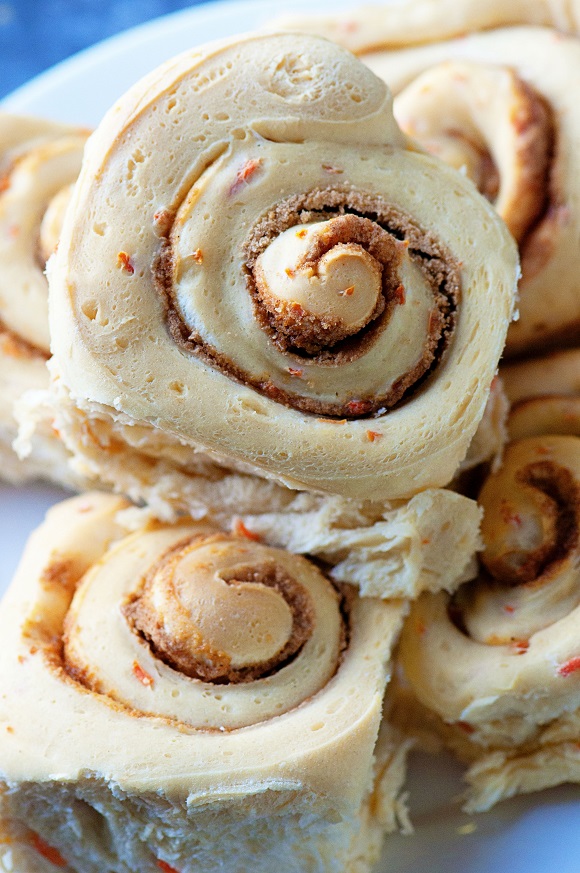 It's the third installment of baking with Red Star Yeast with my hubby. He was quite excited about the fact that we were going to make cinnamon rolls. Of course, in true fashion of this blog we couldn't just make any ol' cinnamon rolls; we had to make Carrot Cake Cinnamon Rolls.
Usually I make brioche based cinnamon rolls but since I taught him brioche for the bread pudding I decided to just to with a more classic cinnamon roll dough so he could learn something new…since that's the whole point of teaching him. 🙂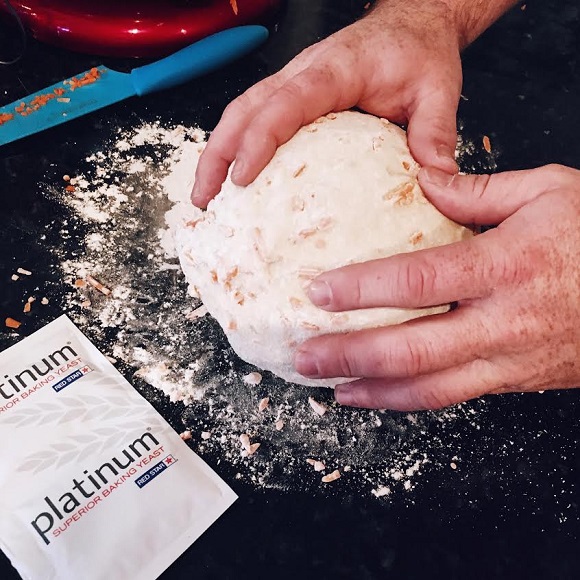 He was much more comfortable this time and other than rolling out the dough he was actually quite the champ. We once again went with the Red Star Yeast Platinum Superior Baking Yeast because it truly is superior…and I'm not just saying that because they sponsored this post. I have yet to have a failed yeast based baked good since I switched to it a while back. Cannot recommend it enough!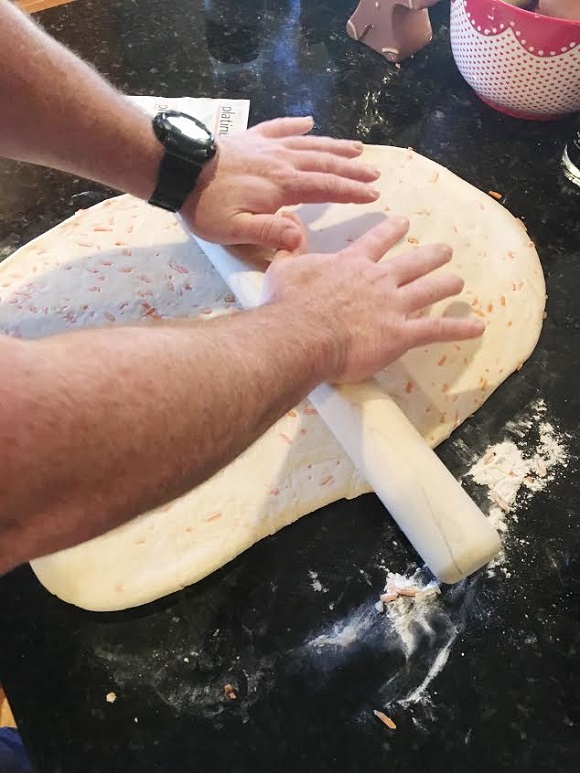 Rolling out the dough was a challenge because well, it's likes to spring back, and so you have to be patient and roll and roll and roll. He also stressed about it not being a perfect rectangle. Then I showed him my amazing trick…roll it out…cut it into a rectangle. 🙂 He said that was cheating and I said "you bet, but it works".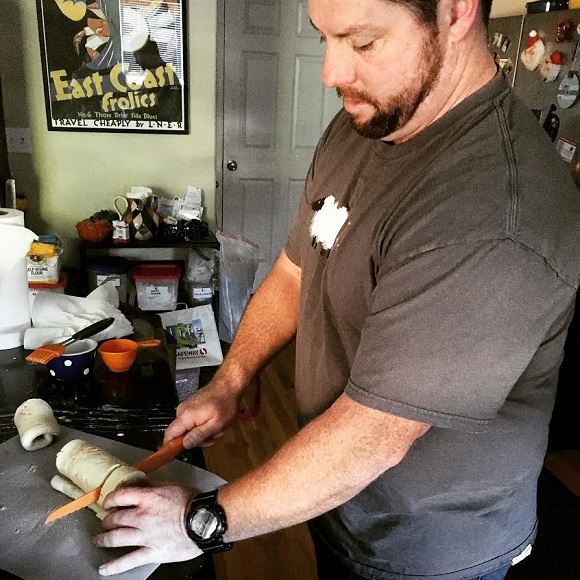 We decided that we wanted real carrot cake flavor and the only way to do that was to have carrot cake in there. We thought about making a carrot cake and sprinkling the crumbs but that seemed like a lot of unnecessary work and the mix worked out great. If you are anti-cake mix then feel free to go with the idea of making cake and sprinkling the crumbs.
We added raisins to half of our batch as not everyone likes raisins. We also soaked ours in rum to reconstitute the moisture in them. If you do not like the idea of rum, simply replace the rum with equal amount of hot water.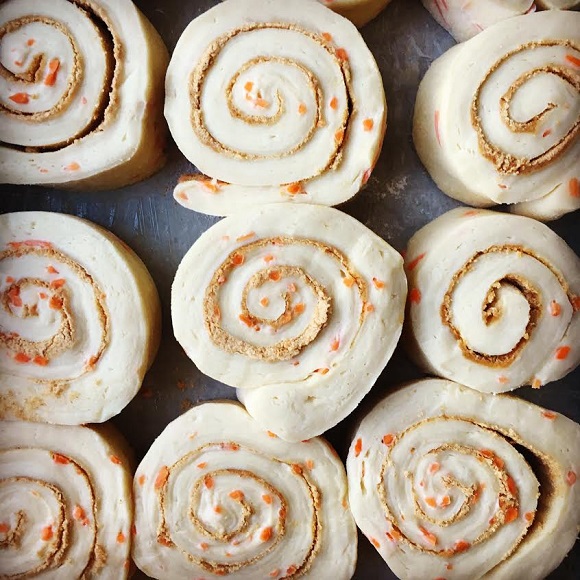 As you can guess these turned out amazing. The fact that they are slathered in cream cheese frosting doesn't hurt either. 😀 These Carrot Cake Cinnamon Rolls would be a great treat for your guest this holiday season.
This post was sponsored by Red Star Yeast. I have always used their product and I'm thrilled to be working with them as we teach my hubby (MDP) to get over his fear of baking with yeast! As always the opinions, bad grammar, and overuse of smiley emoji's are all mine. Please support those that support me. You can follow Red Star Yeast on FB, Twitter, and IG.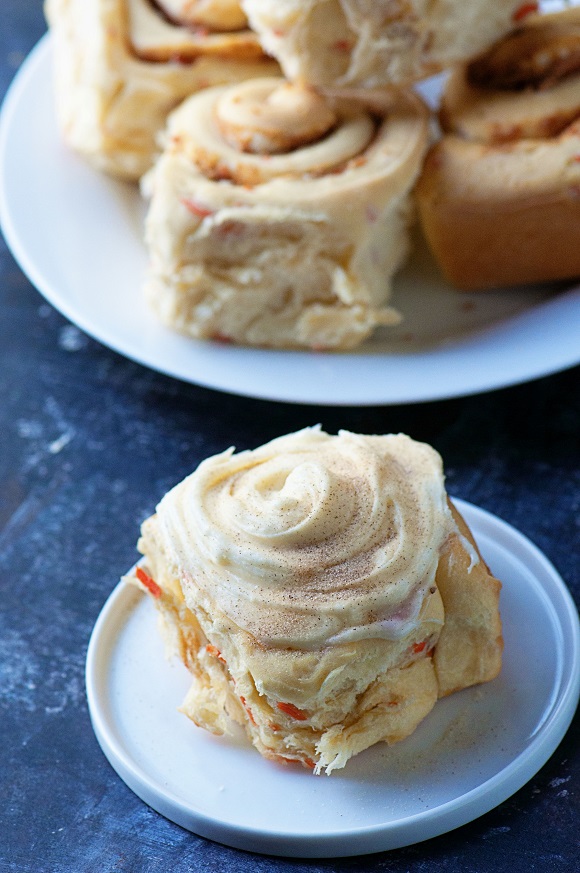 Carrot Cake Cinnamon Rolls
For the dough:
2 cups plus 3 TBSP whole milk
1 cup plus 6 TBSP granulated sugar
2 tsp. salt
1/4 cup unsalted butter
1 egg, slightly beaten
2 1/2 tsp. Red Star Yeast Platinum Superior Baking Yeast
6 cups all-purpose flour
½ cup finely chopped carrot
For the filling:
1/4 cup unsalted butter, melted
½ cup carrot cake flavored cake mix (without the carrot and raisin pack)
1 tsp. cinnamon
1/3 Raisins (optional)
½ cup warm rum (optional and in use with raisins)
For the frosting:
8 oz. cream cheese, at room temperature
2 oz. unsalted butter, at room temperature
1 tsp. vanilla extract
2 cups powdered sugar
For the rolls:
Place 2 cups of milk in a saucepan over medium heat and bring just to a boil.
Combine 6 TBSP of the sugar, the salt, and the butter in a large bowl, pour the hot milk over it, and let cool to 110-115F.
In a small bowl, mix together the egg and yeast.
Add to the cooled milk mixture, and mix well.
Add the flour and sugar, mix until the dough is soft. Transfer the dough to a well-floured board and knead until very smooth and elastic, about 5 minutes. You may also use your stand mixer fitted with a hook attachment.
Place the dough in a large, well-greased bowl, cover with plastic wrap, and let rise until doubled in volume, about 1 hour.
Grease a 9X13 inch pan; set aside.
Place the raisins (if using) into the warmed rum and let sit for 15 minutes. Drain the raisins and set aside. You can discard the rum or drink it as a shot. 😀
Punch the dough down, place on a well-floured board, and knead in the chopped carrot pieces. Do your best to evenly distribute them. 🙂
Then roll it out into a 10 X 14-inch rectangle and brush it with the melted butter.
Combine the cake mix and cinnamon and sprinkle the mixture over the butter.
Evenly distribute the rum soaked raisins if using.
Starting at one of the long sides, roll the dough up, and pinch the seam well to seal. Using a serrated knife, cut the dough into 2 inch thick slices, and then place them in the prepared pan.
Cover with plastic wrap and let rise one more time, until doubled in volume, about 1 hour.
Preheat the oven to 350F.
When the rolls have risen, bake until golden brown, about 25 minutes.
Let cool for about 5 minutes. While rolls are cooling, prepare the cream cheese frosting.
For the Frosting:
Using your stand mixer with a paddle attachment beat together the butter and cream cheese about three minutes.
With the mixer on low speed, add the powdered sugar a cup at a time until smooth and creamy.
Beat in the vanilla extract.
Frost cinnamon rolls.