These Chocolate Bat Cereal Treats have a vanilla Rice Krispie orange colored base filled with a semisweet chocolate bat.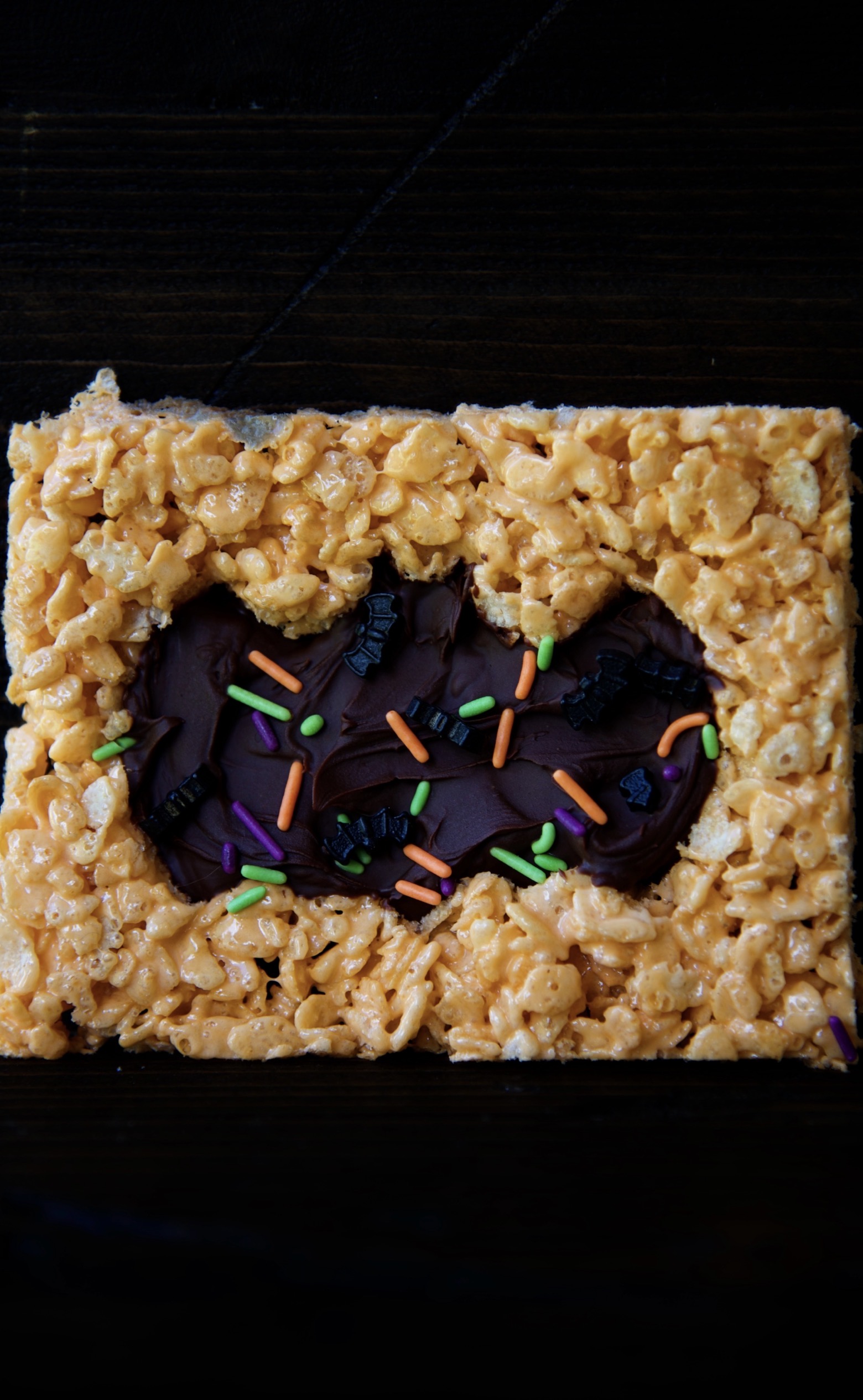 My Chocolate Bat Cereal Treats were inspired by something I saw on Instagram.
@loveisbakeable had these adorable cut out bat treats.
She used a bat cookie cutter and cut out that shape.
Then she filled the space where the bat was with what looked like black melting candy.
But I thought chocolate taste better so I went with that.
She finished them with putting sprinkles on top of the bat.
I had a pretty shallow cookie cutter so I chose to make thinner treats.
You can decide how thick you want yours.
Just remember you are going to have to cut through however thick your treats are going to be.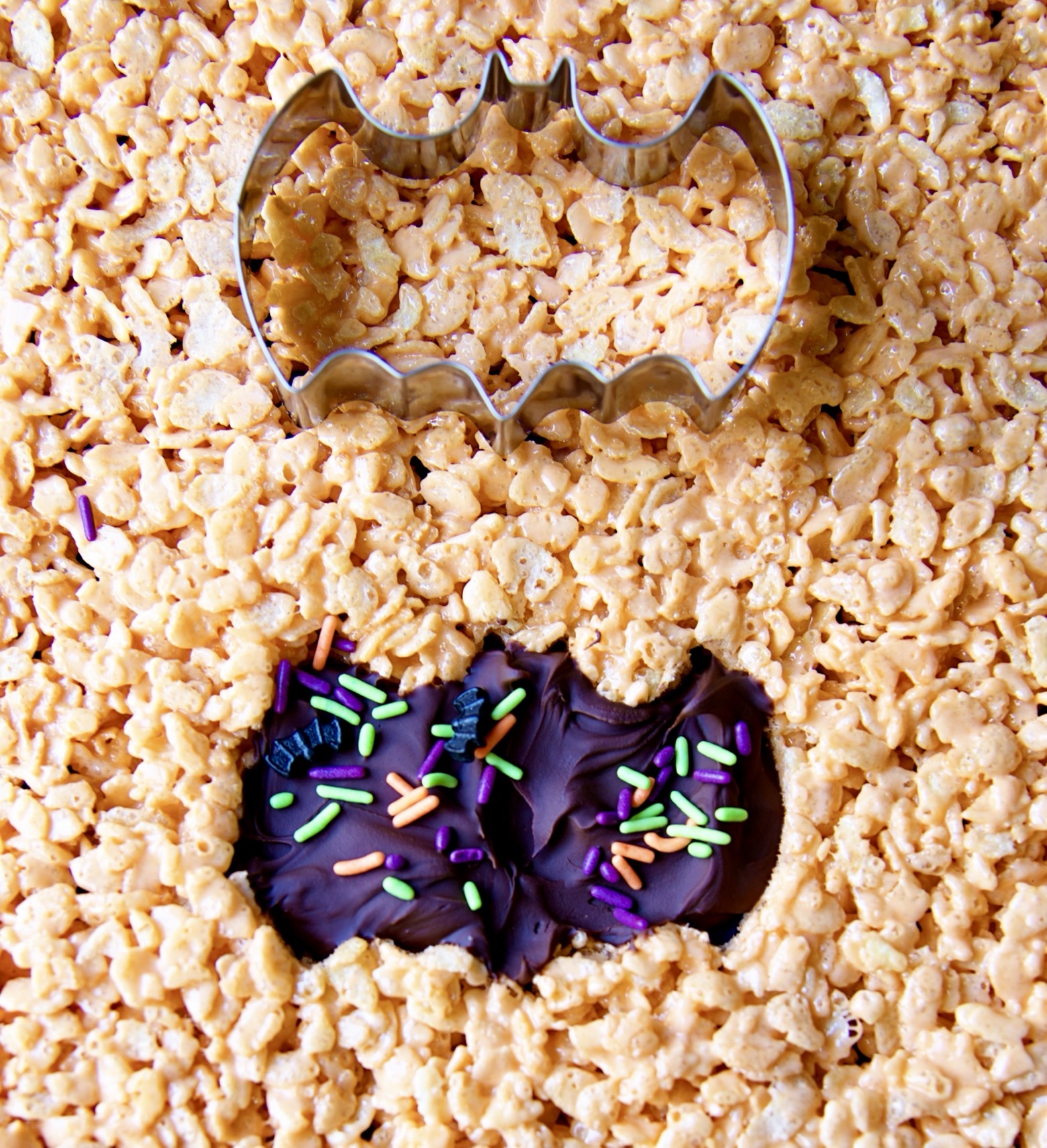 The great thing about these is they can be whatever shape you want.
Not into bats?
Make pumpkins.
Or ghosts.
Or whatever floats your boat…or cereal treat. 🙂
Don't want chocolate?
Use candy melts.
Don't want sprinkles?
Perfectly fine to skip it.
You can make these however you want to make them.
Don't want vanilla extract? Try almond extract.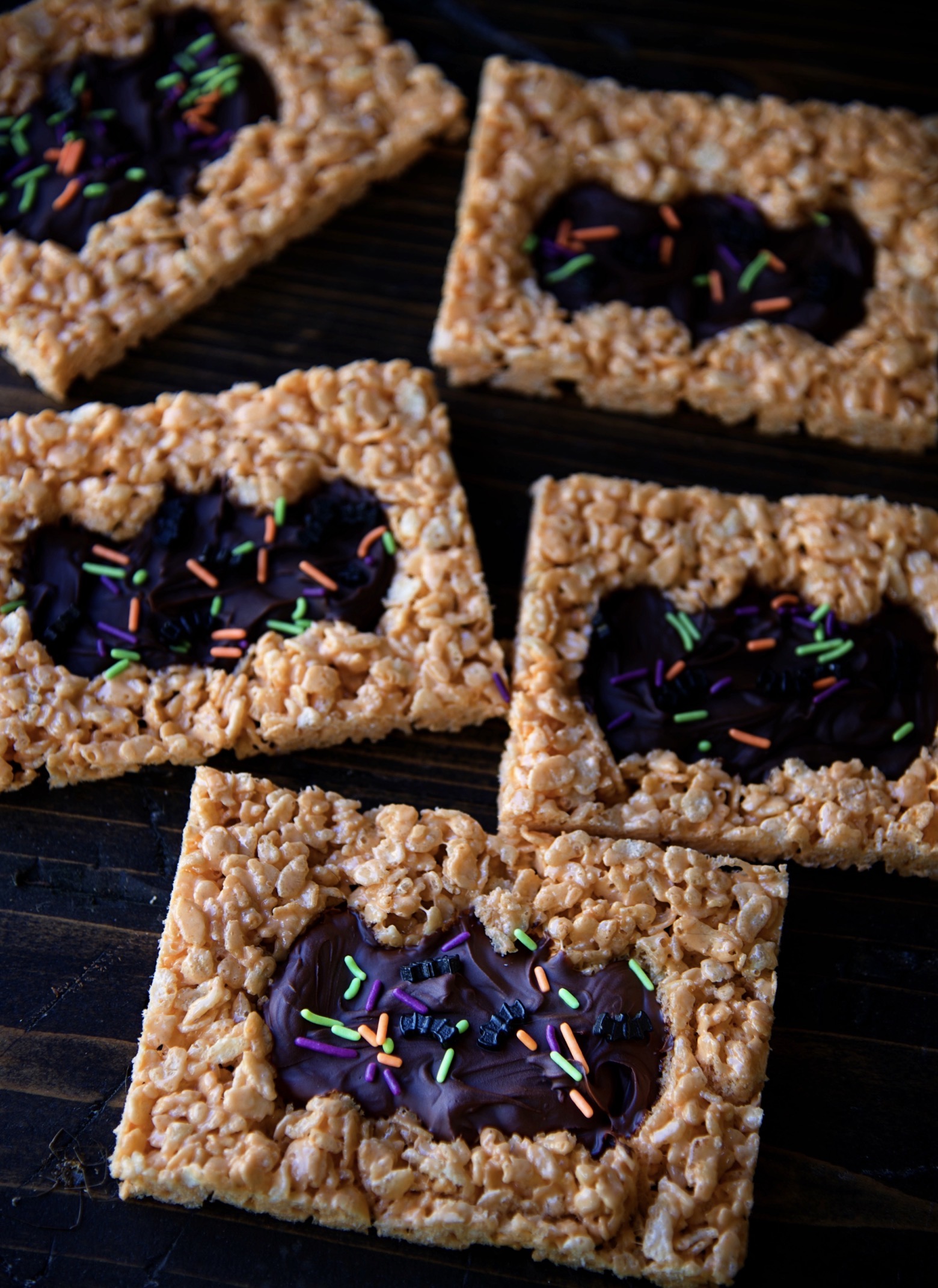 Ingredient Highlights:
Butter: Cereal treats are one of the few times I use salted butter in baked goods. It's also used in the chocolate filling.
Marshmallows: You need two 10-ounce bags (about 11 overflowing cups) of mini marshmallows.
Vanilla Extract: While not totally necessary I like to add vanilla to my cereal treats for extra flavor.
Salt: Salt is another little flavor enhancer I add to my cereal treats. In the words of Elle Woods, "I think it gives it a little something extra, don't you think?"
Rice Krispies Cereal: This time I used the classic Rice Krispies, you can also buy puffed rice cereal but I find in this case, name brand is best.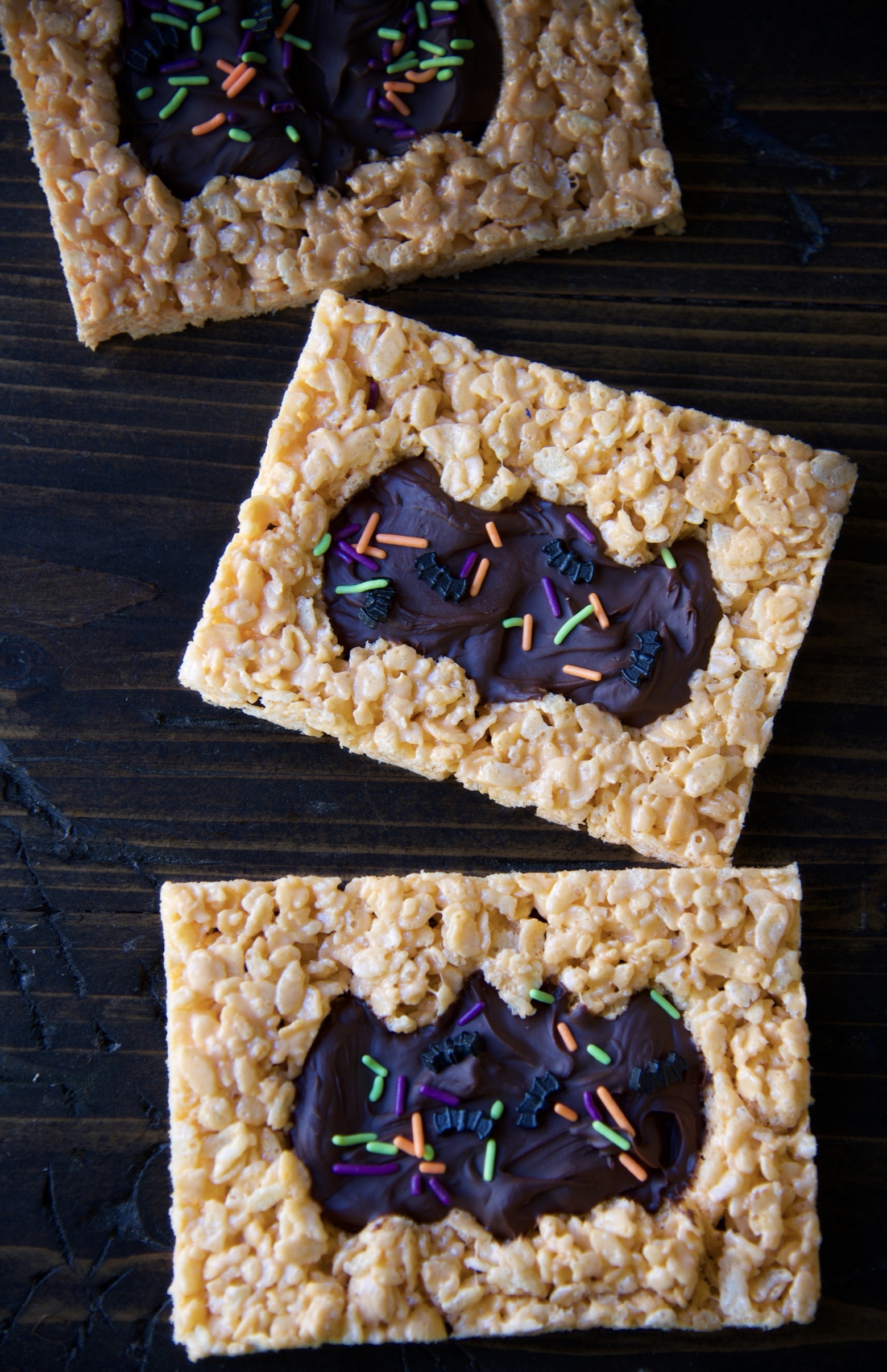 P.S. It's a great day to buy my cookbook Holy Sweet!
Did you make this recipe? Snap a photo and leave a comment!
Be sure to follow bakerpeabody on instagram and tag #bakerpeabody with your photo! You can also post a photo of your recipe to the Sweet ReciPEAs Facebook page. I'd love to see what you make!
HAPPY HALLOWEEN!!!
Welcome to 2023's #HalloweenTreatsWeek event!
If you're new here, Welcome! If you're a returning haunt, welcome back!
#HalloweenTreatsWeek is a yearly Halloween blogging event that is hosted by Angie from Big Bear's Wife . You'll find that this fun and spooky event is an online, week-long event that is filled with some frightfully fun Halloween treats and recipes from some fantastic Halloween loving bloggers!
For this years 6th annual #HalloweenTreatsWeek event we have 18 hauntingly talented bloggers that are sharing their favorite Halloween recipes throughout the week! You can following the hashtag #HalloweenTreatsWeek on social media to collect all of these frightful recipes to use at your own Halloween parties and events!
Make Sure to check out all of the fun Halloween recipes that we're sharing this week!
Today's Halloween Offerings: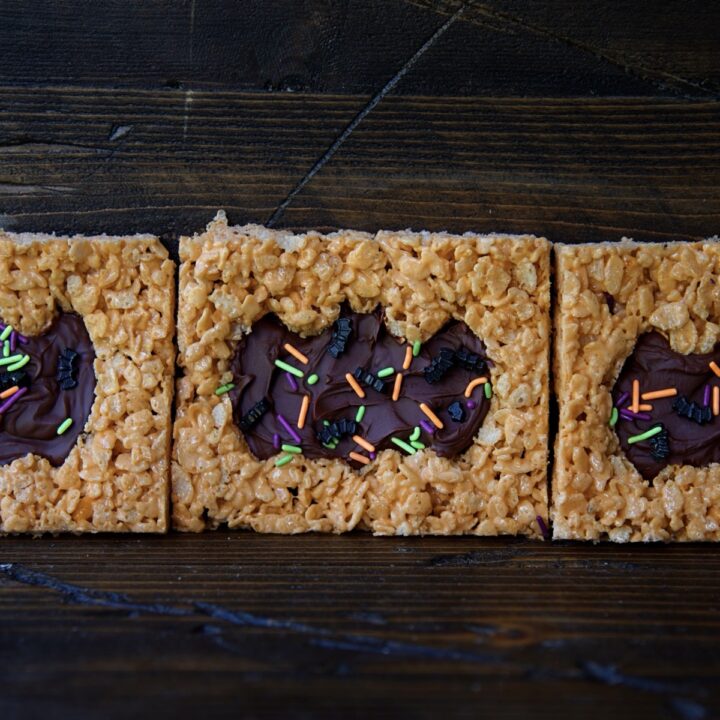 Chocolate Bat Cereal Treats
Ingredients
For the Rice Krispie Treats:
6 TBSP salted butter
16 oz mini marshmallows (fresh, not the stale ones hiding in the back of your pantry that you forgot about)
6 cups Rice Krispie Cereal
2 drops orange food coloring gel
For the Chocolate Filling:
12 oz semisweet chocolate chips (I like to use the mini)
3 TBSP unsalted butter
Halloween Sprinkles as garnish
Instructions
Butter a 9-x-13-inch or a 15-x-10-inch baking pan. Or be lazy like me and spray it with non-stick baking spray. Set aside. If you want thicker treats go with 9-x-13, if you want thinner like mine use a 15-x-10-inch pan.
Over low heat melt butter in a large pot (I like to use my stock pot because I am a messy person).
Once butter has melted, add marshmallows.
Continue to cook over low heat while they melt. It may take a little time. Don't turn up the heat to try and make it go quicker, you could end up with burned marshmallows or your treats could end up too hard once they firm up.
When most of the marshmallows have melted and they resemble marshmallow crème with a few lumps, remove from heat and add the vanilla extract and the orange food gel. Mix until the orange is fully incorporated into the marshmallow.
Add in the cereal.
Using a wooden spoon, stir, stir, stir some more, until all the cereal is fully coated and other parts of the pot are not hogging all the marshmallows (so evenly coated).
Pour into prepared baking pan. Take a rubber spatula and either spray it with non-stick spray or simply get some water on it (I just put mine under the faucet real quick). Using the spatula, press the cereal/marshmallow mixture down into the pan, attempting to create a flat, even surface.
Cover with foil and let sit for a few hours to firm up.
Take foil off. Place wax paper down that is a little bit longer than the baking pan. Flip the pan over onto the wax paper.
Using a bat cookie cutter, cut out a bat shapes.
For the Chocolate Filling:
In a microwave safe bowl combine chocolate and butter in a medium heat-proof bowl set over a medium saucepan of barely simmering water; stir until melted and smooth.
Pipe the chocolate filling where the bat cut out is. Use a butter knife to make sure you get chocolate into the bat ears.
Sprinkle the chocolate filling with sprinkles of your choice.
Let the chocolate top firm up, about 30 minutes depending on how cool it is in your house.
If they aren't firming up, put them in fridge.
Cut the cereal treats into large rectangles that are larger than the bat cutout. Sizes are going to vary but I got 12 large treats.
Keep in fridge until serving.