These Cranberry Bliss Sweet Rolls bring a favorite Starbucks treat to a breakfast sweet roll. A perfect way to start your day.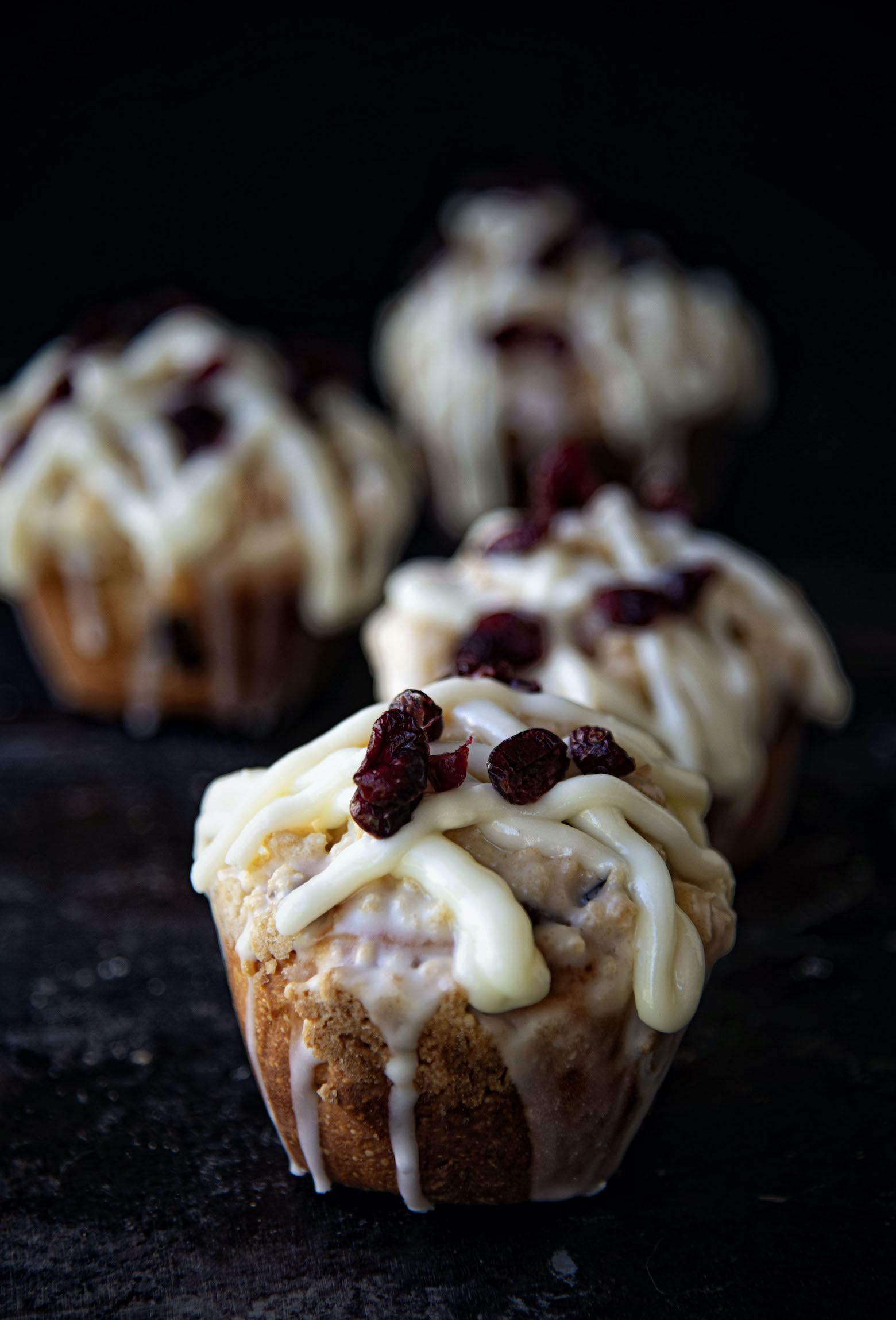 It's that time of year when I pivot to holiday baking.
While I will be doing some Thanksgiving and fall baking still you are going to see more and more holiday themed baking sneak in.
I think people need it extra early this year.
If Pinterest is any example people do want holiday treats now!
That's what they are searching for.
It's getting darker and we can all use a twinkle light or two in our lives.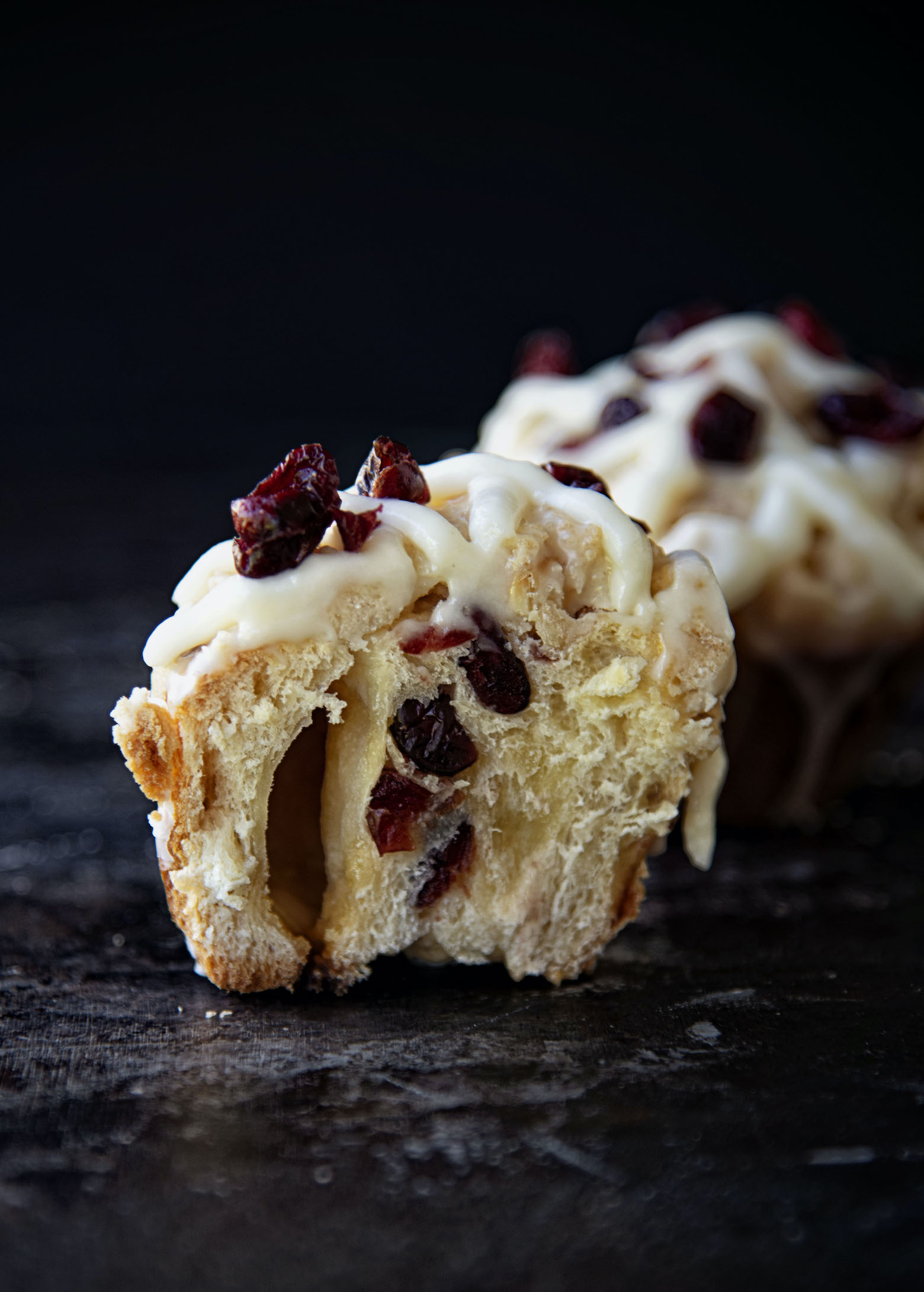 Starbucks has their Cranberry Bliss Bar.
Which I have only honestly had once.
It was good.
But often, as with many baked goods I have at a store, I go home and make it better.
Plus I almost always get a sugar cookie at Starbucks…they are so cute.
Their bars have a cake like base but I made mine have more of a shortbread base when I made them.
Because I love shortbread.
It's the Scottish in me.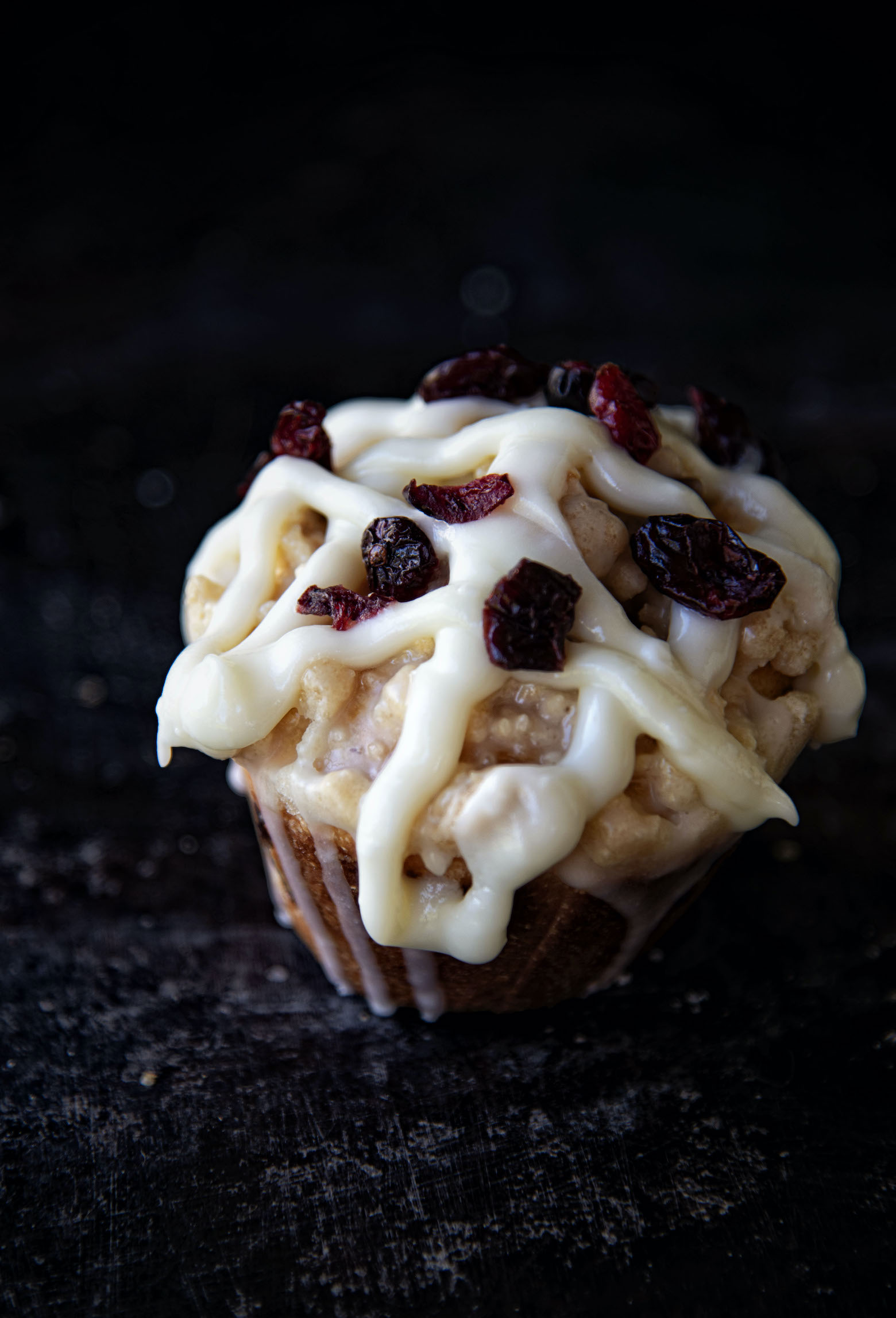 So when thinking about these Cranberry Bliss Sweet Rolls I decided they would need a shortbread crumb topping.
Because why not?
They also have a glaze and a frosting. 🙂
Overkill is one of my specialities.
They are just fine with only the orange glaze.
But if you want the true Cranberry Bliss experience you will need the cream cheese as well.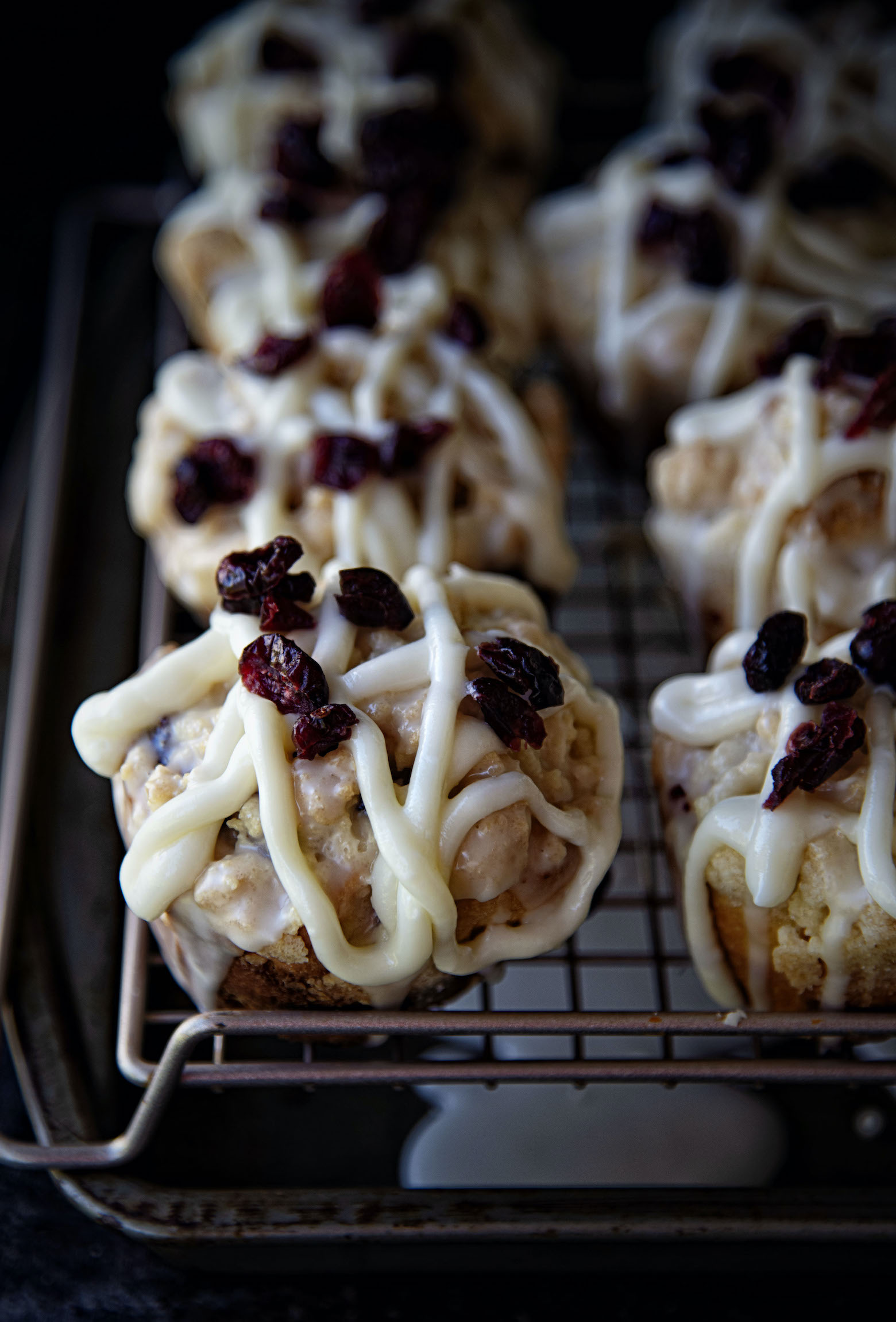 You only use 1/2 the dough for the rolls.
There will be another recipe later this week using the other half of the dough.
You can alway just make more of these or just bake off the other dough in a loaf.
I bet it makes for a great French toast.
In fact now that I say this I kind of want to make it as a loaf.
So yeah, you may see that on here too eventually. 😀
By the way, it's a great day to buy my cookbook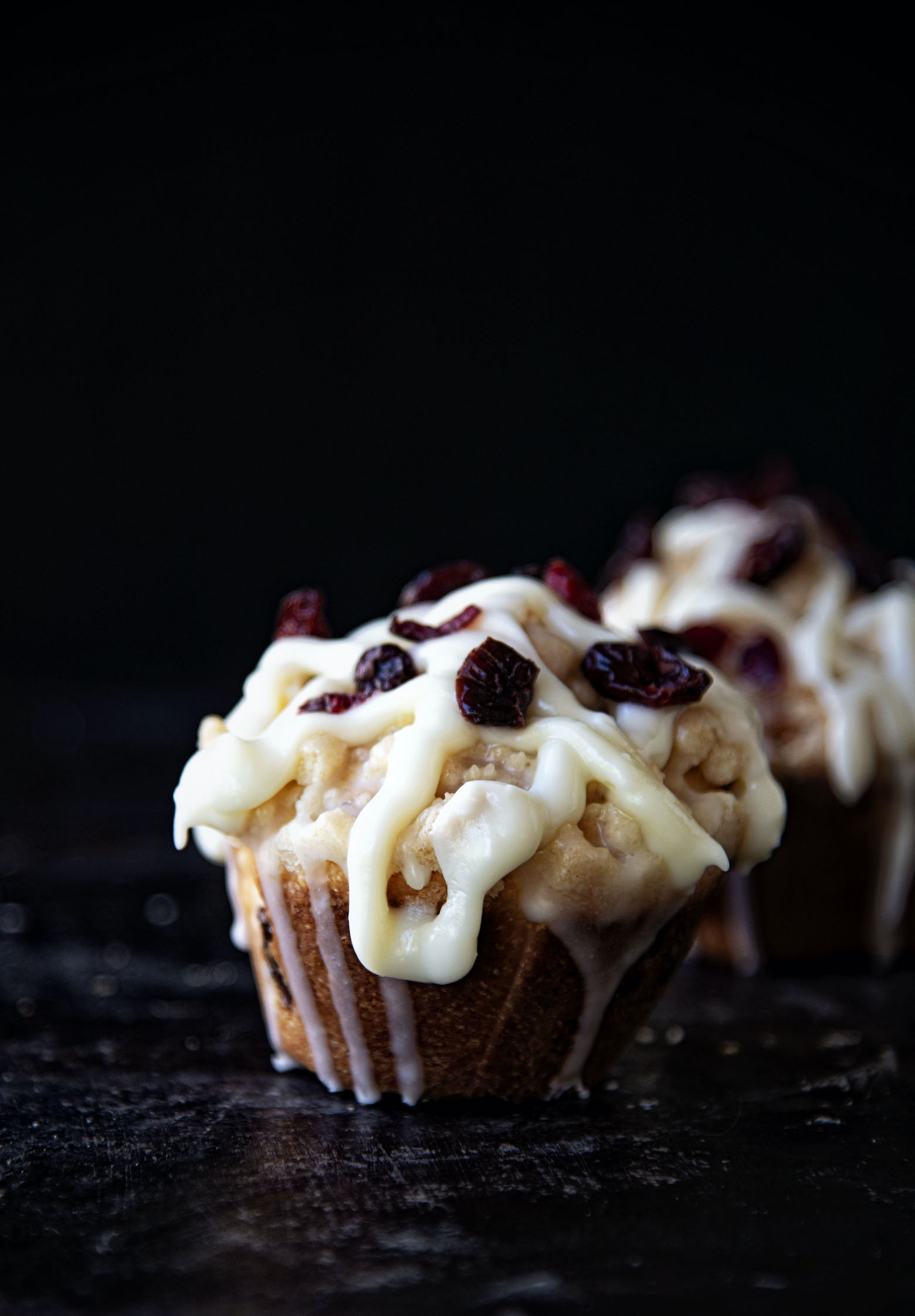 Want More Roll Recipes?
Pineapple Upside Down Sticky Buns
Bourbon Butterscotch Sweet Rolls
Chocolate Clementine Sweet Rolls
Bourbon Brown Sugar Caramel Peach Sweet Rolls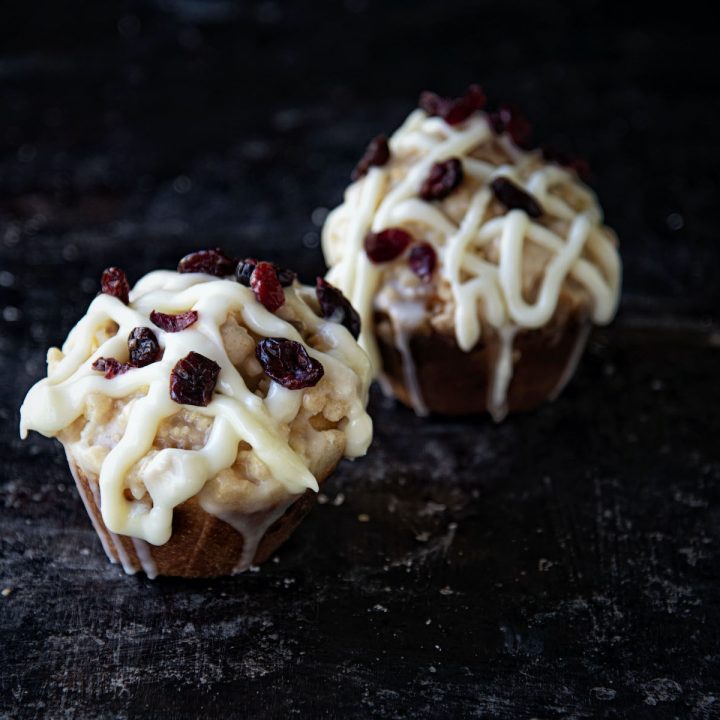 Cranberry Bliss Sweet Rolls
Ingredients
For the Sponge:
½ cup whole milk, at room temperature
2 ½ tsp. (1 envelope) active dry yeast
¼ cup granulated sugar
½ cup bread flour (or all-purpose)
For the dough:
3 cups bread flour (or AP)
1 ¼ tsp. salt
4 large eggs, lightly beaten
½ pound (2 sticks) butter, softened, but still cool
2 cups Craisins
For the Filling:
1 cup white chocolate, finely chopped or white chocolate chips
For the Shortbread Crumb Top:
2/3 cup all-purpose flour
3 TBSP granulated sugar
½ tsp salt
4 ½ TBSP unsalted butter, melted
1/2 tsp vanilla extract
For the Orange Glaze:
3 TBSP unsalted butter, at room temperature
1 ½ cups powdered sugar
1/3 cup orange juice (approximately)
For the Cream Cheese Frosting:
4 oz cream cheese, at room temperature
2 cups powdered sugar
3 TBSP orange juice to thin (this may need more or less depending on how thick you want it)
Extra Craisins for Garnish
Instructions
For the Sponge:
Combine the yeast and milk in the bowl of standing mixer fitted with a paddle attachment and whisk until the yeast is dissolved.
Stir in the sugar and flour, forming a thick batter.Cover with plastic film and let rest in a warm environment for 30-45 minutes.
As fermentation begins, bubbles will form.
For the Dough:
Add the bread flour and salt to the sponge, then add the eggs.
Mix on low speed for 2 minutes, or until the eggs are absorbed.Increase the speed to medium and knead the dough for 5 minutes.
The dough will eventually begin to slap around and pull away from the sides of the bowl.
Then it will form a ball on the paddle.
Finally it will relax and reach back out to the sides of the bowl.
At this point, it will be a shiny, satiny dough.
While all of this is going on, don't walk away.
Watch the transformation and hold on to the mixer when necessary, since it may jump around.
On medium speed, add the butter, 2 tablespoons at a time.
Stop the mixer and scrape down the sides of the bowl occasionally.
Knead until the dough is shiny and smooth, about 5 minutes.
Scrape out the dough, wash and dry the bowl, and coat it lightly with oil.Place the dough in the oiled bowl and turn it so the top is coated with oil.
Cover with plastic film and let rise at room temperature until doubled in volume, about 2 hours.After the dough has doubled in volume, press down to deflate, folding one half into the other.
Fold two or three times, either in the bowl or on a lightly floured surface.
Cover with plastic film and place in the refrigerator for at least 4 hours or overnight. (If you don't have that much time, you can let the dough rise for the second time at room temperature. It will take 45-60 minutes.)
This is the second rise.
Filling the Rolls:
Turn the dough out onto a lightly floured work surface.
Using a rolling pin, roll it into a rectangle approximately 12×18 inches.
Sprinkle the white chocolate evenly over the surface of the dough.
Starting from the long side closest to you, roll up the dough like a jellyroll.
Transfer the log to a baking sheet, cover withy plastic film, and freeze for 10 minutes.
This will make cutting the rolls clean and even.
Using a bench scraper or chef's knife, cut the log crosswise into 12 pieces, about 1 ½ inches thick.
Place a roll cut side up 1 inch apart in a muffin tin lined with tall cupcake liners. I use these.
Cover the dough with plastic film and let rise for 1 ½-2 hours (10 to 20 minutes if the second rise was at room temperature), or until the rolls have doubled in size.
Toward the end of the proofing, preheat the oven to 400F.
For the Shortbread Crumb:
While the dough is proofing, in a medium bowl, stir together flour, sugar, and salt.
Stir in melted butter and vanilla extract until it is evenly distributed and forms large, moist crumbs.
Crumb can be prepared up to 3 days ahead and stored, covered, in the fridge.
To bake the Rolls:
Adjust the rack to the center of the oven, with a baking sheet on the lower rack to catch drips.
Evenly distribute the Shortbread Crumb among the 12 rolls.
Bake for 10 minutes.
Turn down the oven temperature to 350F and bake for 15-20 minutes more.
Remove from oven and glaze.
Whisk all the ingredients together and drizzle over the rolls.
If too thick add more orange juice. If too thin add more powdered sugar.
For the Cream Cheese Frosting:
Using a stand mixer with the paddle attachment beat together the cream cheese and butter until fully incorporated and smooth.
Add the orange juice and beat until just together.
Add the powdered sugar 1 cup at a time.
When all powdered sugar has been added assess if you want your frosting thinner or thicker.
If you want thin use more orange juice.
If you want thicker add more powdered sugar.
Pipe the cream cheese frosting across the top of the rolls and add more Craisins if desired.