These Mini Mallomar Candy Corn Cookies have a sugar cookie base, topped with candy corn marshmallow, and then dipped in white chocolate.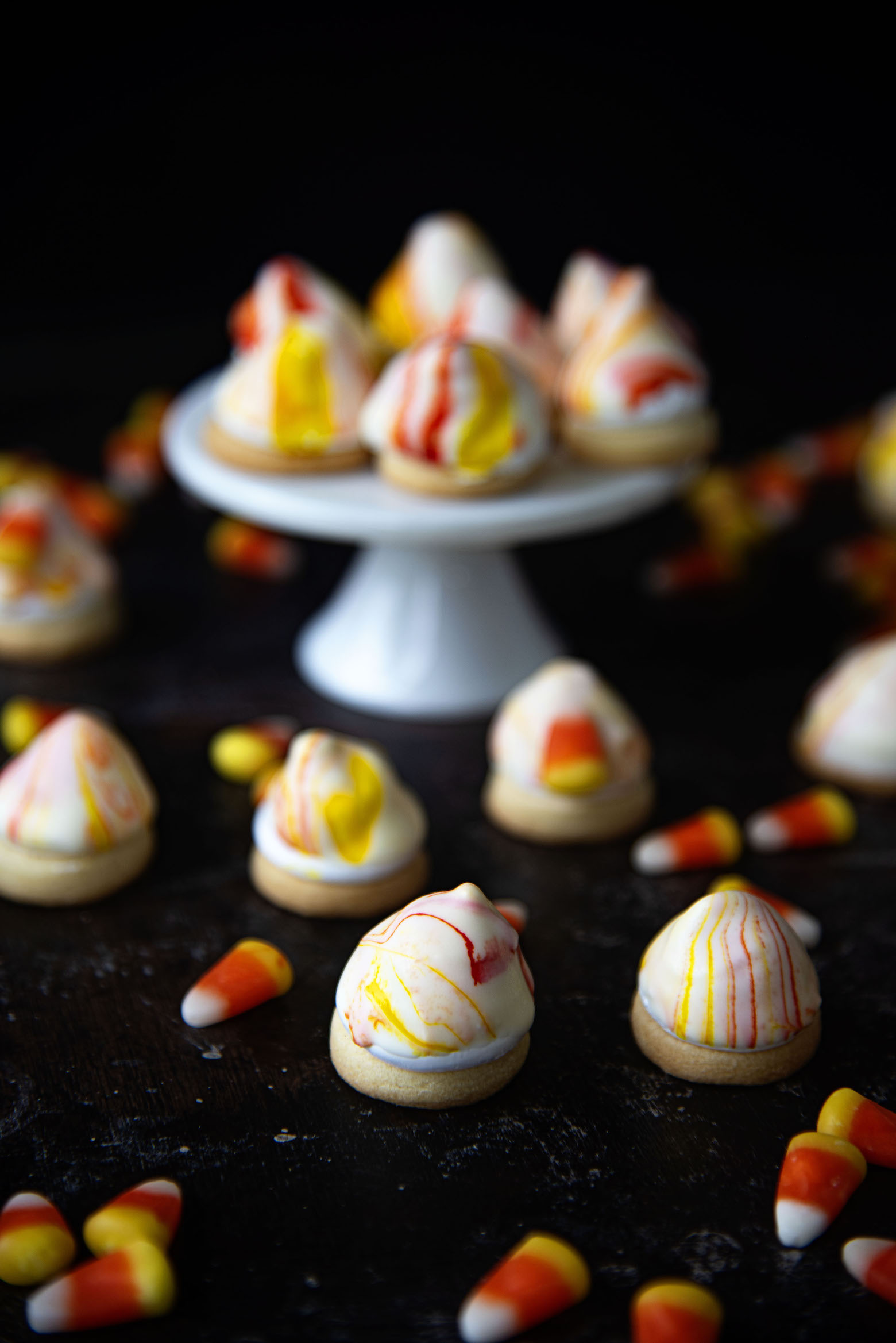 "This post and recipe was created for #HalloweenTreatsWeek!
I was sent samples by some of the sponsor companies but as always opinions are 100% mine."
It's not Halloween Treats Week without me making something with candy corn.
I am a candy corn lover.
If you search for candy corn on this site you will find a TON of candy corn recipes.
A TON. And I'm a proud candy corn lover.
I realize it's not for everyone but you can say that about any food out there.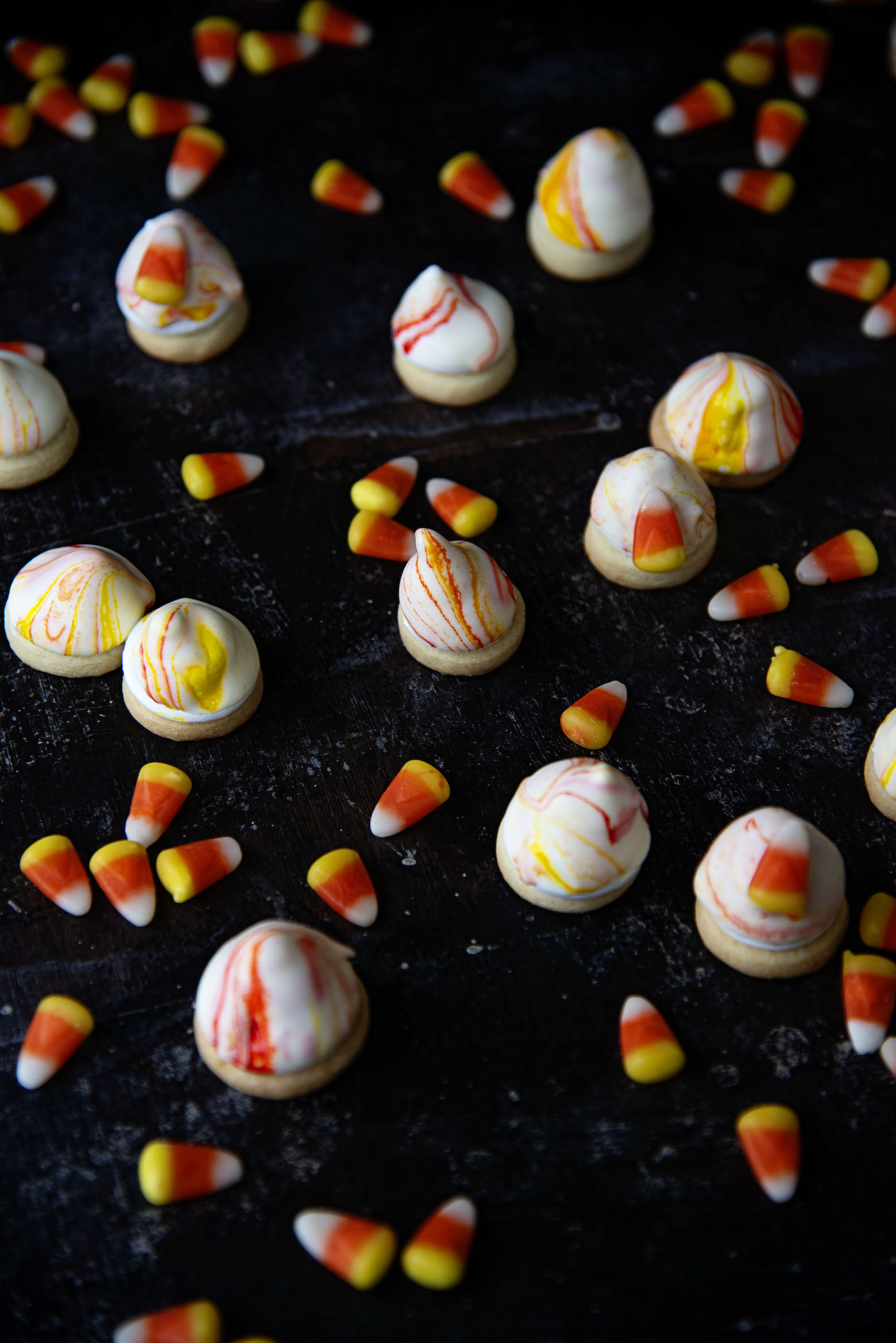 When I original decided to make these Mini Mallomar Candy Corn Cookies I thought I was going to make a yellow base and then have the chocolate be orange and with a white tip.
But that seemed like it was going to become very time consuming.
Plus the marble look is a lot of fun.
It's candy corn and art at the same time.
I did stick mini candy corn on some of them but wasn't loving the look so I just stuck with the swirl.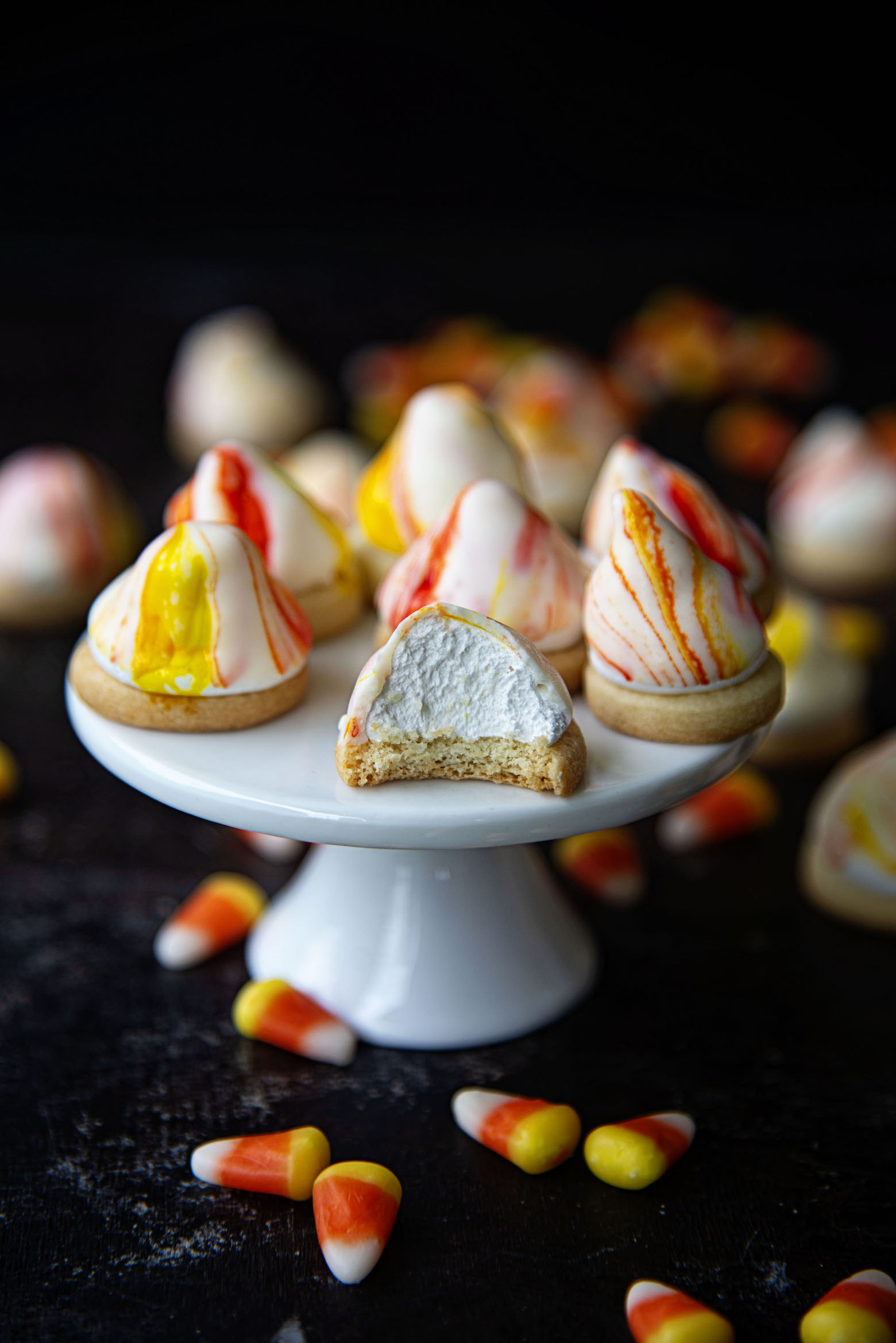 In the recipe I gave you the recipe for my roll out shortbread cookie dough.
Which flavorwise I prefer.
But I actually used the other half of the batch of sugar cookie dough that I used for the Voodoo Doll Cookies.
Either works.
It's just whatever your preference is.
The shortbread roll outs don't have to be chilled and so if you are in a time crunch I suggest those.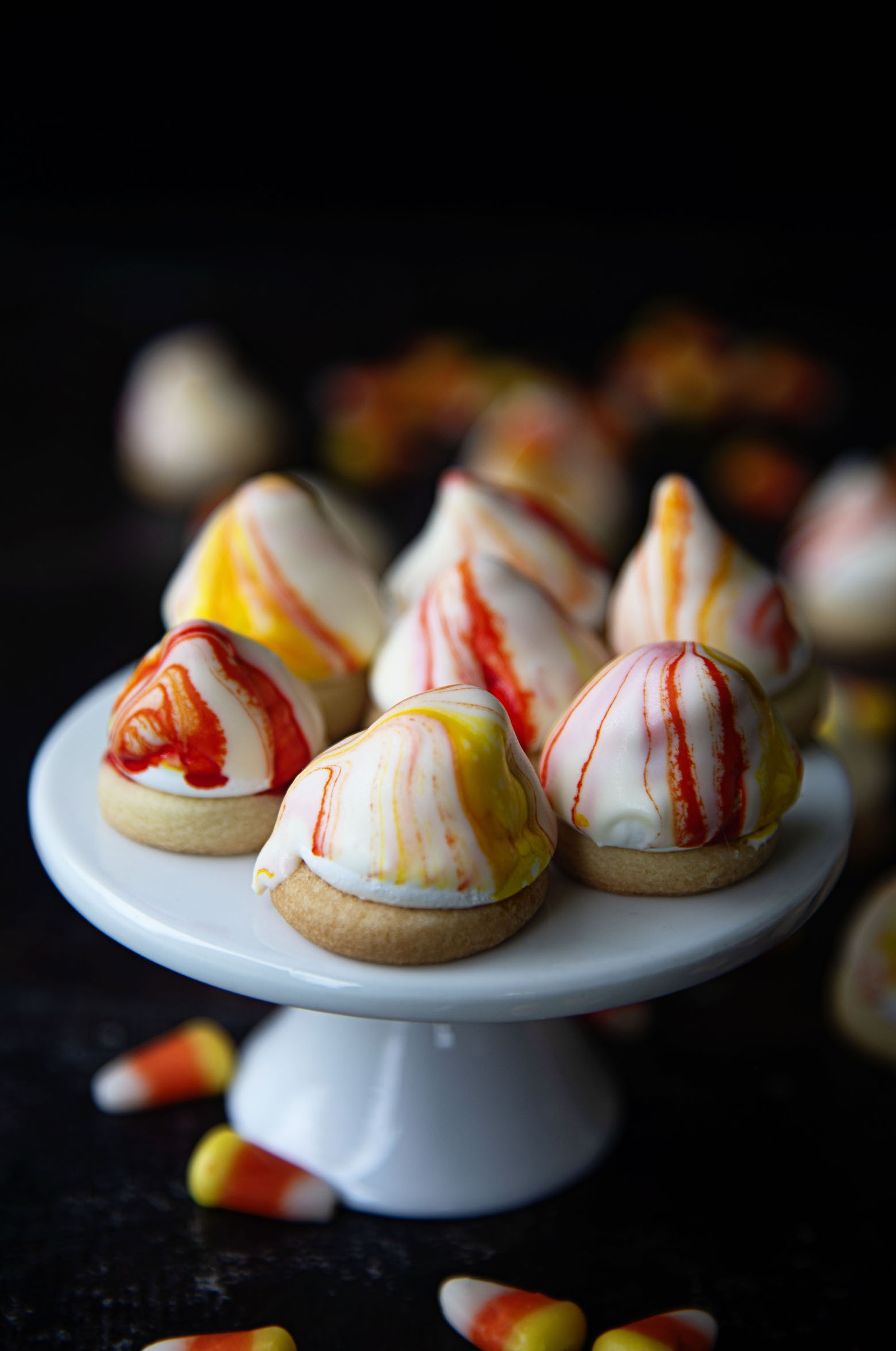 The Mini Mallomar Candy Corn Cookies recipe also calls for 2 TBSP of melted candy corn.
You can usually get it to melt on it's own but if you can't a tsp of water for every 4oz usually does the trick.
If you just want the look and not the flavor of the candy corn you can leave it out.
The marshmallow will still work without it.
P.S. It's a great day to buy my cookbook.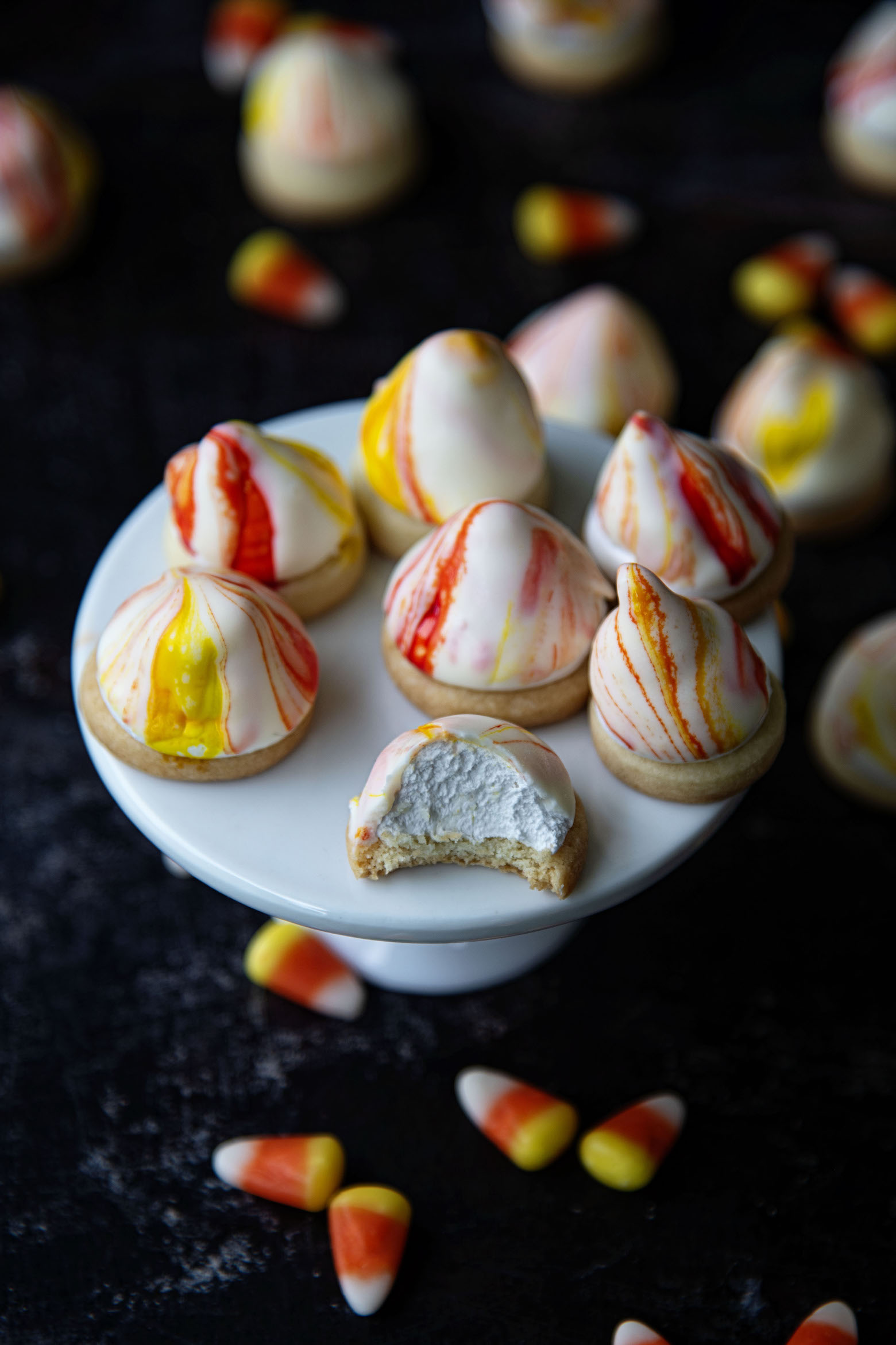 Take a look more spooky Halloween recipes from our #HalloweenTreatsWeek Bloggers today:
Halloween Cookies & Bars:
Halloween Cakes & Cupcakes:
Halloween Brownies:
Halloween Bread:
Halloween Drinks:
Sweet Halloween Treats:
Savory Halloween Recipes: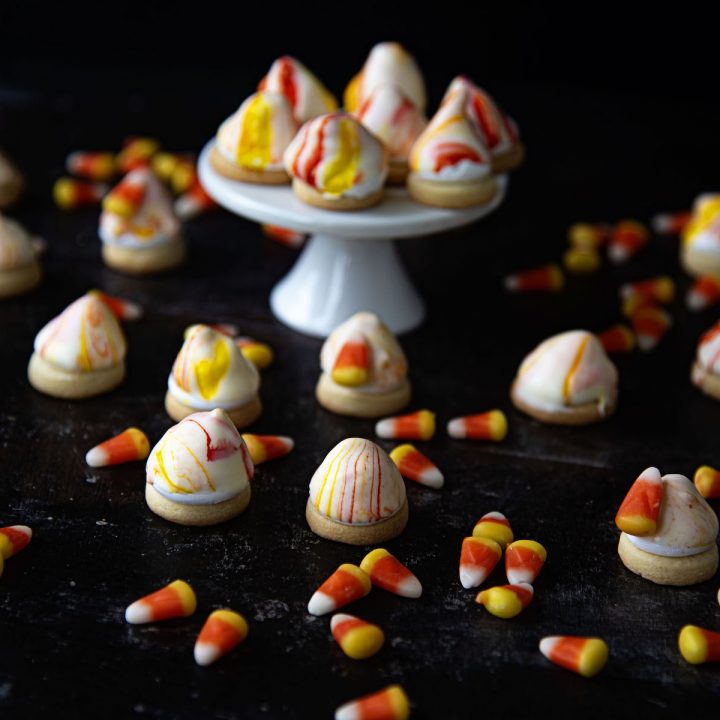 Mini Mallomar Candy Corn Cookies
Ingredients
For the Shortbread Cookies:
1/2 cup unsalted butter, at room temperature
1/4 cup granulated sugar
1 tsp vanilla
1 cup all-purpose flour
2 tsp cornstarch
For the Marshmallow:
3/4 cup granulated sugar
1/3 cup light corn syrup
pinch of salt
2 TBSP melted candy corn
6 TBSP cool water, divided
1 packet (2 1/2 teaspoons) unflavored gelatin powder
For the White Chocolate Coating:
12 oz white chocolate, finely chopped
3 TBSP vegetable oil
Orange and Yellow food coloring if desired
Instructions
For the Shortbread Cookies:
Preheat oven to 300° F.
Using a stand mixer with a paddle attachment cream together the butter and sugar until light and fluffy, about three minutes.
Add the vanilla and beat for another 30 seconds.
Add in flour, ½ cup at a time with mixer on low.
Repeat until all the flour is gone.
Add cornstarch and mix until combined.
Let mixer run on low until dough forms.
Divide dough in half.
Sprinkle flat surface lightly with flour.
Roll out the cookie to ¼-inch thickness or the best you can, I never get them all the same thickness level.
Cut with floured cookie cutters. If making minis like I did I used a 1.3" diameter round cookie cutter. If making a more standard size you can use a 2.7" or 3" round cookie cutter.
Place the cookies about 1 inch apart on ungreased baking sheets.
Bake for 16-20 minutes for minis, it will depend on how thin they are. Standard size need 20-22 minutes in the oven.
For the Marshmallow:
In a medium saucepan, stir together the granulated sugar, corn syrup, salt, 3 TBSP of the water, and candy corn syrup.
Turn the heat up to high and bring the mixture to a boil without stirring. Clip a candy thermometer (or use a digital) to the edge of the pan, and boil until it reaches 238F.
Meanwhile, add the remaining 3 TBSP of water to a large bowl and sprinkle the gelatin on top. Let sit for a few minutes without stirring.
When the sugar syrup reaches 238F, slowly begin to stream it into the gelatin mixture while constantly beating with a hand mixer (not a stand mixer). You can use a stand mixer but you have a much bigger chance of getting the sugar along the sides of the bowl and it will stick and harden immediately. Go slow, and take your time.
Beat the mixture for a full 10 minutes.
Stir in the vanilla extract or vanilla bean seeds and mix until combined.
Place marshmallow into a piping bag and pipe marshmallow on top of the shortbread cookie. Know that this will be sticky and you might end up with marshmallow stuck on you in random places.
Set the cookies on a wire rack with a baking sheet underneath (will need later for dipping in chocolate) while the marshmallow firms up, about 30 minutes.
For the White Chocolate Coating:
Combine chocolate and oil in a medium heat-proof bowl set over a medium saucepan of barely simmering water; stir until melted and smooth.
Transfer to a small bowl, and let cool about 15 minutes.
Swirl in orange and yellow food coloring but do not mix it in to the chocolate. This helps create a marble effect. You do not have to do this step if you don't want to.
Dip the marshmallow portion of the cookie into the white chocolate coating.
Place the cookies shortbread side down and let the chocolate firm up. About 30 minutes.
Happy Halloween! Spooky Season is here and it is time for 2020's #HalloweenTreatsWeek event! #HalloweenTreatsWeek is a yearly Halloween blogging event that is hosted by Angie from Big Bear's Wife & its a creepy and haunting week-long event is filled with some amazingly wicked Halloween treats, recipes and some frightfully fun giveaways.
"When witches go riding, and black cats are seen, the moon laughs and whispers 'tis near Halloween."