These Cinnamon Dolce Latte Sweet Rolls are a delicious take on one of my favorite Starbucks coffee flavors, Cinnamon Dolce Latte.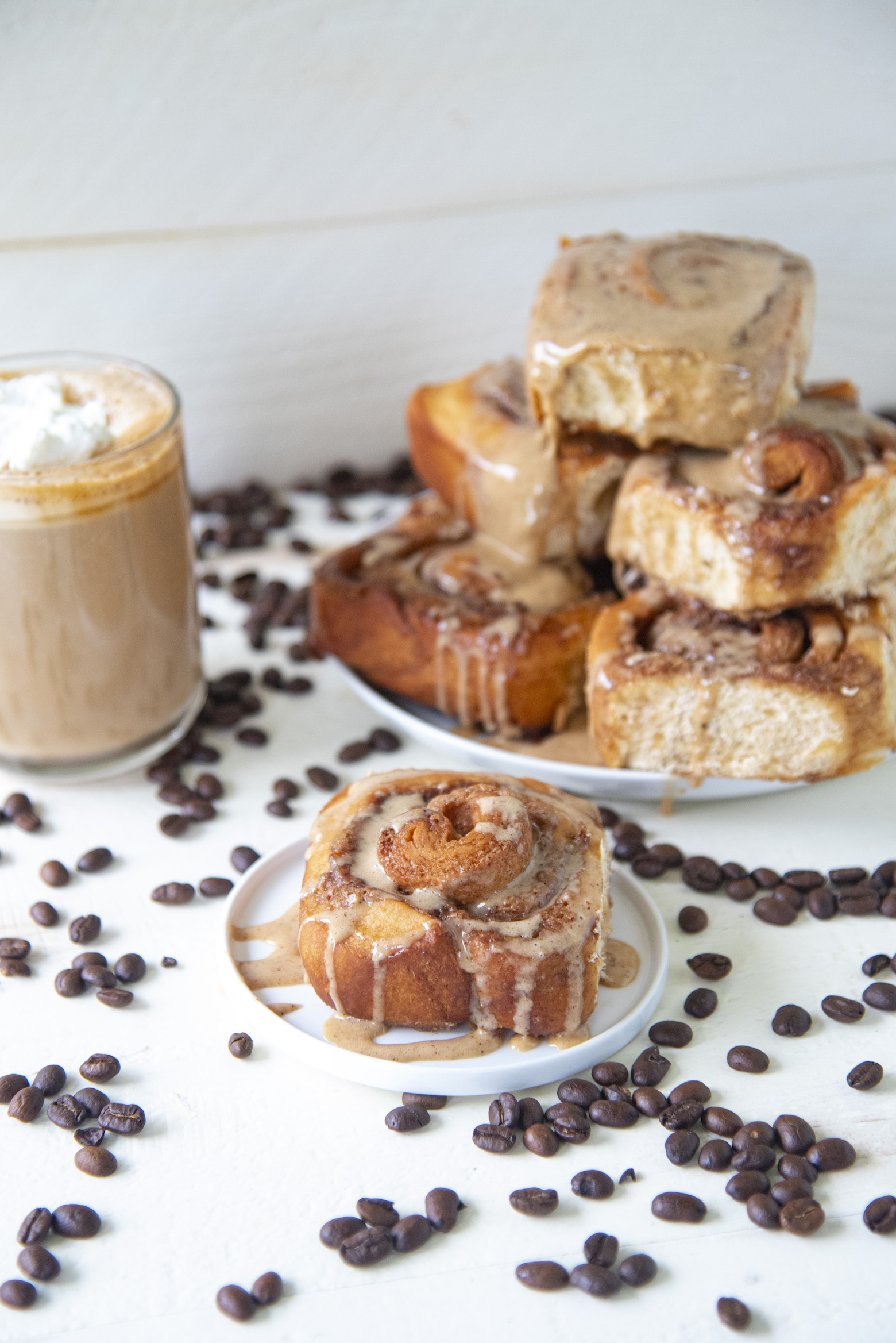 So I'm coming down to the wire now.
Before I know it I will be handing in my full manuscript to my editor.
Part of it was already submitted but the whole enchilada will be due soon.
And I'm in an excited panic about it.
Not as in will I get it done…it will.
But in the what if people don't buy it kind of thing.
Publishers want so many pre-sales.
And while I have until November to do that…this year is already flying by fast. 🙂
Speaking of pre-sale…my cookbook is on sale now!
You still won't get it until November but buying early will get you into the giveaways I'll be having coming up and makes my publisher happy. 🙂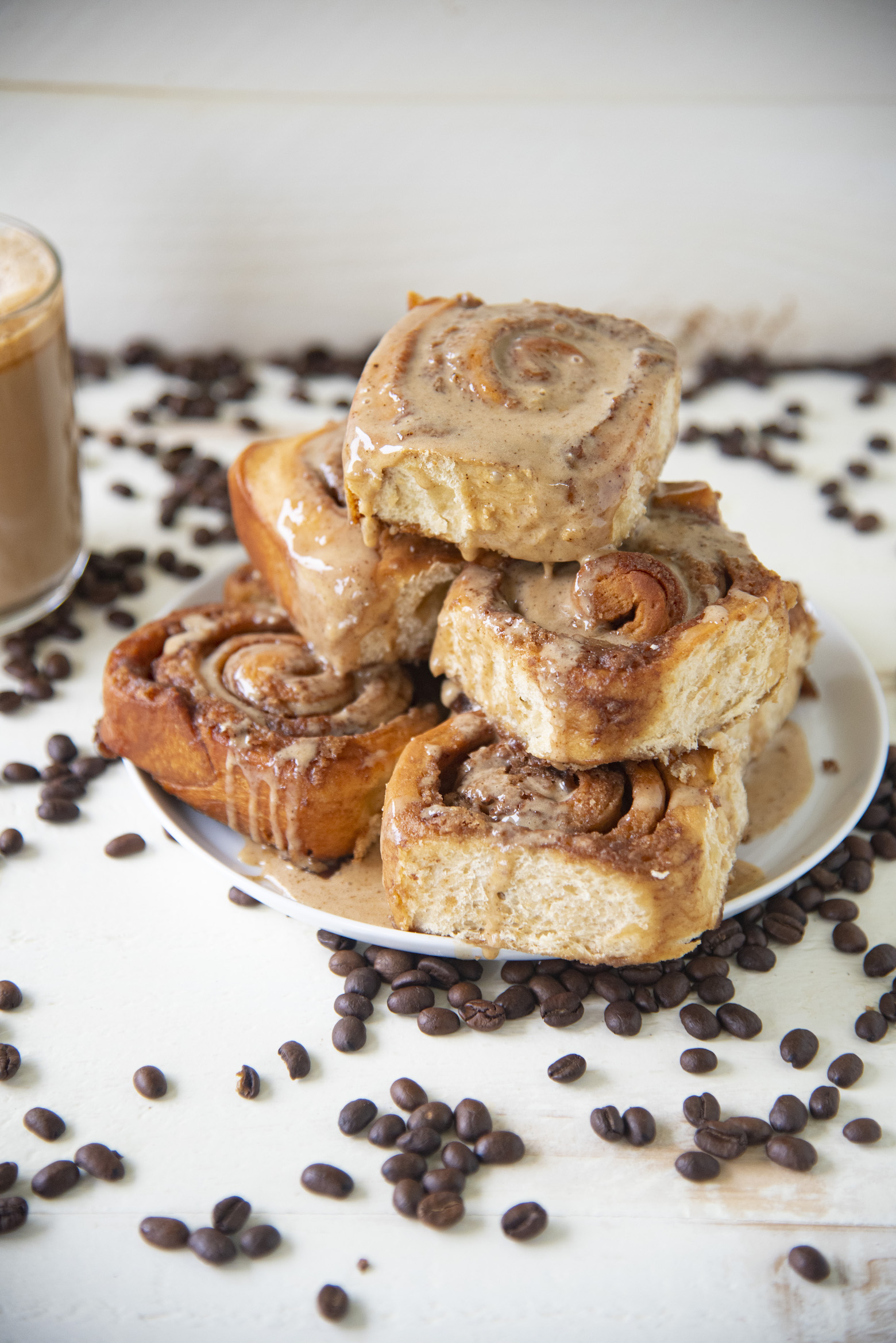 It's also different writing a book.
Far more than I expected.
I mean don't get me wrong a lot of it is like the blog.
I make the recipe.
Test the recipe.
Re-make the recipe.
If happy with that photograph the recipe.
Then put it on the blog.
But man am I waaaay more picky about the book.
I can't even begin to tell you how many times each recipe has been tested. Not just by myself but by other testers (friends, neighbors, a couple readers, and other bloggers).
While I always test my recipes several times…I tested 10 times that for each one.
Because unlike the blog I can't go back and change anything.
No reader is going to comment hey do you mean 3 tsp or TBSP of butter here?
So yeah, there are some nerves happening.
However, unlike the blog, I do have an editor to look over everything…feel sorry for her. 🙂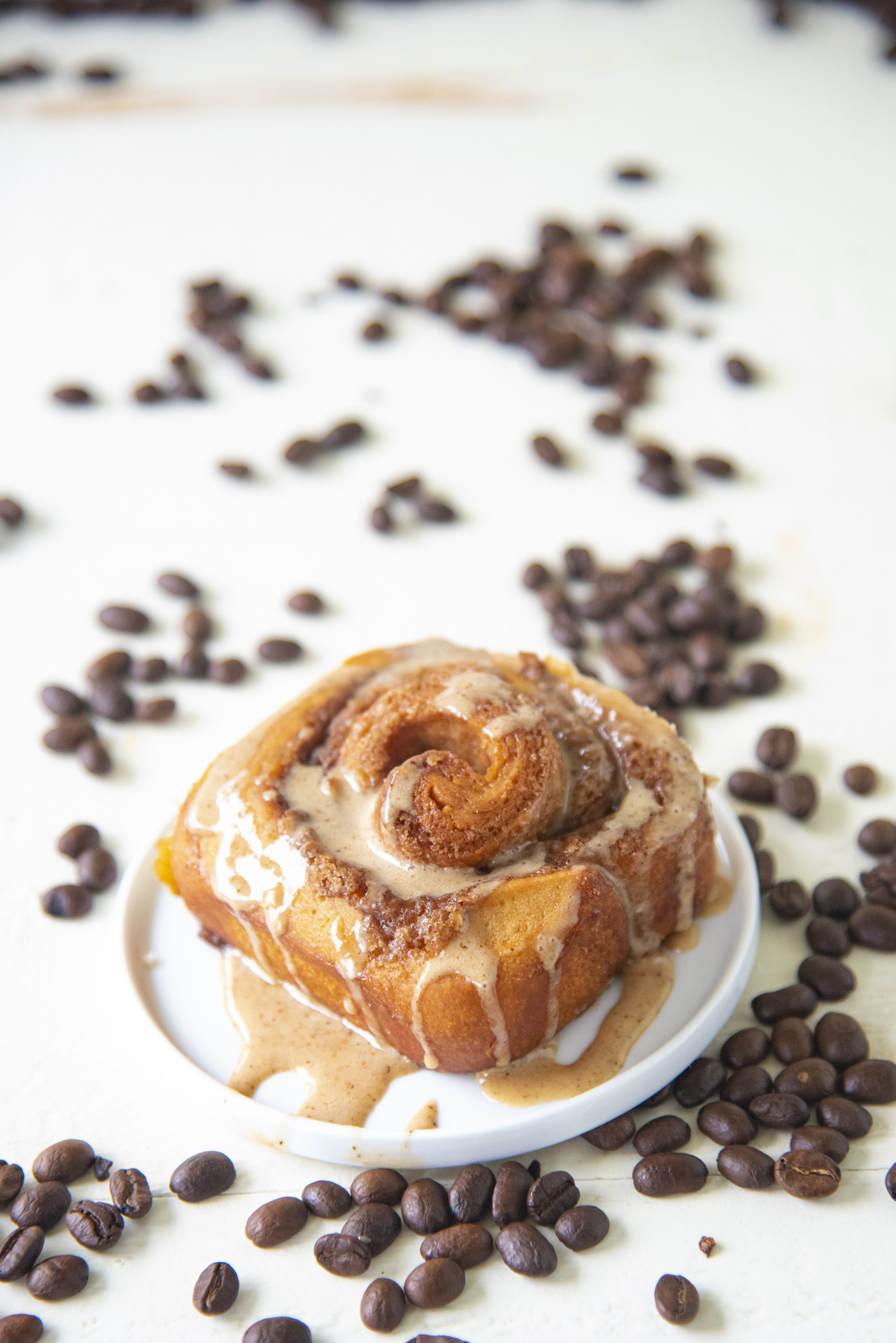 On to these rolls.
Since I have been making a dessert book my baking escapes is bread.
Or baking with yeast.
While these are definitely sweet just baking with yeast is doing something a little different than the book.
These Cinnamon Dolce Latte Sweet Rolls are in honor of one of my favorite Starbucks drinks that I have consumed a WHOLE bunch during the cookbook writing.
They are very tasty and you can add more or use less espresso powder depending on how strong you like your coffee.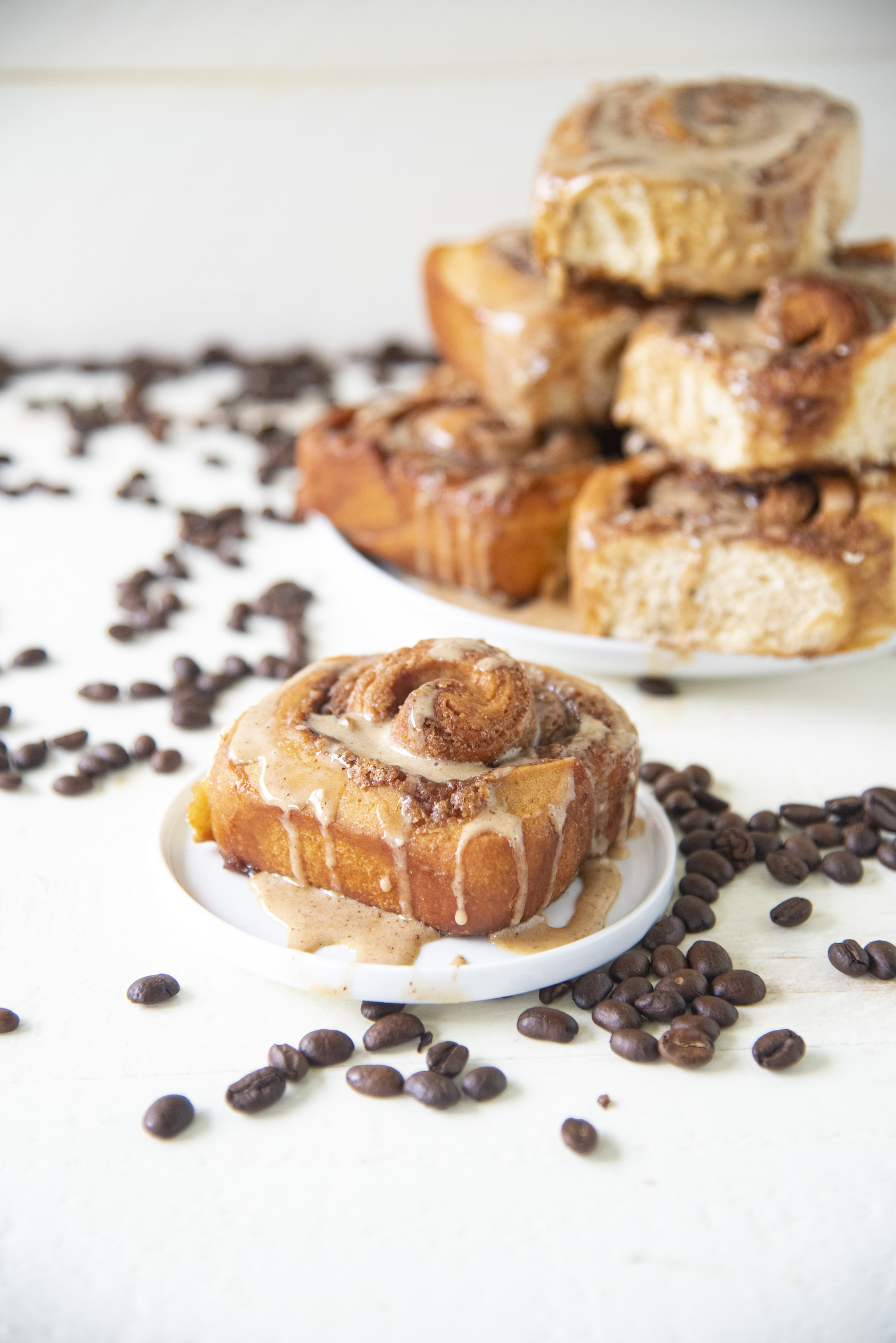 Want more Sweet Roll recipes?
Bourbon Butterscotch Sweet Rolls
Chocolate Clementine Sweet Rolls
Bourbon Brown Sugar Caramel Peach Sweet Rolls
Blackberry Laminated Brioche Brown Butter Crumb Rolls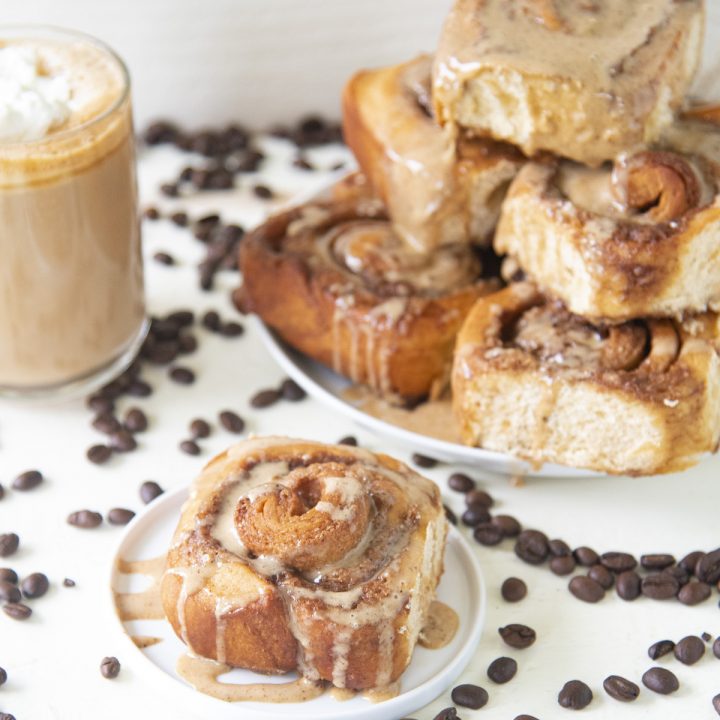 Cinnamon Dolce Latte Sweet Rolls
Ingredients
For the rolls:
1/2 cup warm water, 110 – 115F
1 TBSP active dry yeast (I used Red Star Yeast Platinum)
1/2 cup whole fat buttermilk, at room temperature
2 large eggs
1/2 cup plus 1/2 tsp granulated sugar, divided
1 tsp. salt
1 tsp. vanilla extract
6 Tbsp unsalted butter, melted and slightly cooled
3 1/2 – 4 cups bread flour
1 TBSP espresso powder
For the filling:
6 TBSP unsalted butter, super soft but not quite melted
1 cup packed brown sugar
2 TBSP cinnamon
For the icing:
2 TBSP unsalted butter
2 TBSP whole milk
1 cup powdered sugar, sifted after measuring
1 tsp espresso powder
Instructions
Using a stand mixer with the paddle attachment add the yeast, warm water, and 1/2 tsp. granulated sugar.
Let rest for 5-10 minutes to proof…the batter will puff up. If it does not then your yeast is bad and rolls won't rise so best to throw out and start again with different yeast.
Add in buttermilk, eggs, 1/2 cup granulated sugar, salt, vanilla, and melted butter and mix until fully combined.
Add in 2 1/2 cups of the flour and mix until fully combined.
Switch to a hook attachment then add another 1 cup flour and the espresso powder. Knead mixture until combined.
Continue to knead on low speed about 5 – 6 minutes while adding a little more flour as needed to reach a soft and moist dough (Dough shouldn't stick to the sides of the bowl but does stick to the bottom).
Transfer dough to an oiled bowl, cover with plastic wrap (I find press and seal works best) and let rise in a warm place until doubled in volume, about 1 1/2 hours.
Grease a 9-x-13-inch pan.
Punch dough down.
Dust a working surface lightly with flour and turn dough out onto surface.
Sprinkle top of dough with a little flour then roll dough out into an 20 by 18-inch rectangle.
Spread the 6 TBSP softened butter evenly over entire surface (hands work best).
In a small mixing bowl whisk together brown sugar and cinnamon. Sprinkle and spread brown sugar mixture evenly over butter layer (try to leave about 1/2-inch border uncovered along all edges).
Beginning on an 18-inch side tightly roll dough into a cylinder. Pinch the seam to seal (brushing a little egg white underneath helps if needed or I just use a toothpick).
Cut into 12 equal portions using a large sharp knife (they should be 1 1/2-inch each).
Arrange rolls, spacing evenly apart. Cover with plastic wrap loosely.
Let rise in a warm place until doubled in volume, about 1 1/2 hours.
Preheat oven to 350F near the last 20 minutes of rolls rising.
Bake rolls in preheated oven until centers are no longer doughy, about 25-30 minutes.
Remove from oven and set on a wire rack while you make glaze.
For the glaze:
In a small saucepan over low heat, warm the butter and milk, stirring occasionally, until the butter is melted and the liquid is gently simmering.
Remove the pan from the heat, add the powdered sugar, and use a small rubber spatula to stir the icing until it's thick and creamy.
Add the espresso powder and whisk until fully combined.
Using a small spoon, drizzle about a tablespoon of the icing in the center of each roll and use the back of the spoon to spread the icing over the tops of the rolls.
Let the icing set for about 10 minutes, then separate and serve the rolls.