The Grinch Green Jell-O Salad made with lime Jello, cream cheese, Sprite, Cool Whip, pineapple, marshmallows, and a tiny cherry Jell-O heart.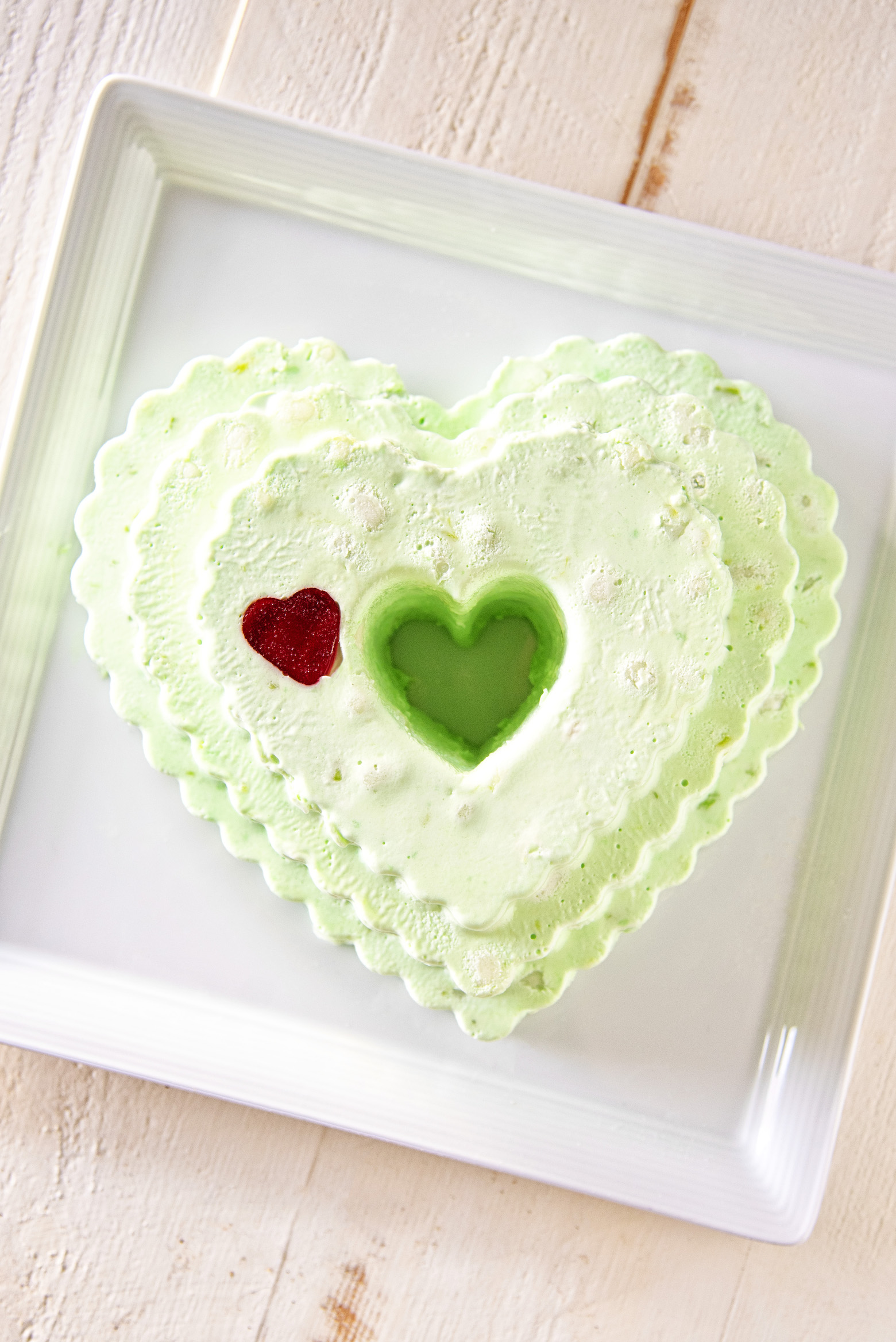 So I finally got around to watching Illumination Presents: Dr. Seuss' The Grinch.
I rarely go see things in the theater, with the exception of Star Wars, and so I didn't see it last year.
And while it released to DVD in February I just wasn't in the mood for it then.
But we watched it over the long holiday weekend and I thought it was a very cute modern take on the story.
Of course, nothing can replace the original, but I definitely like it better than the Jim Carey version.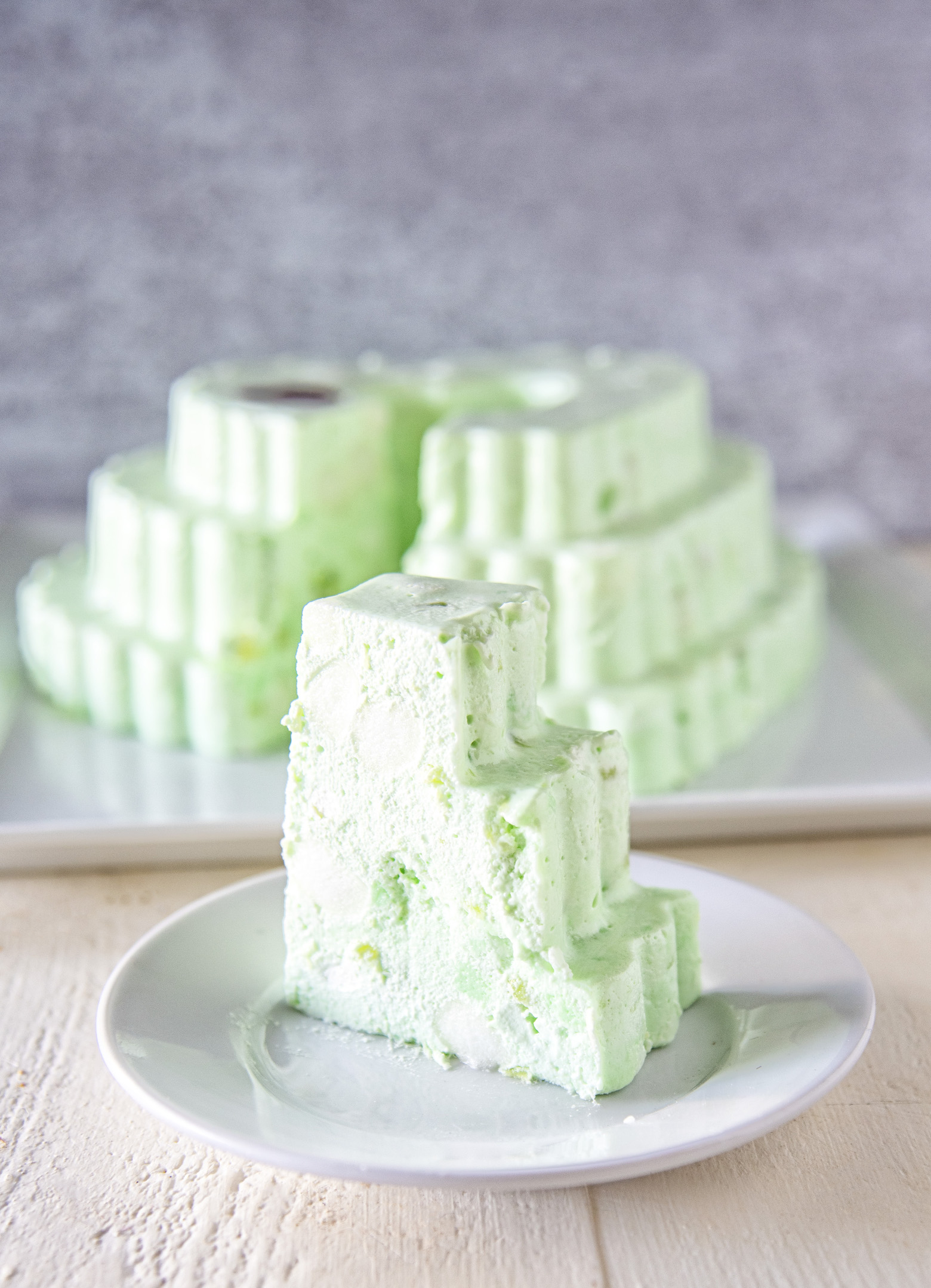 I had already been thinking about what Grinch items I would make this year.
Usually I make at least one Grinch themed baked good or drink.
This year is no exception and I set out to see if I could make Grinch Jell-O Shots.
I can. And did.
They will be up on a Tipsy Tuesday.
But because I made the Jell-O shots I had leftover mini heart shaped Jell-O jigglers.
For the recipe on how to make Jell-O Jigglers go here.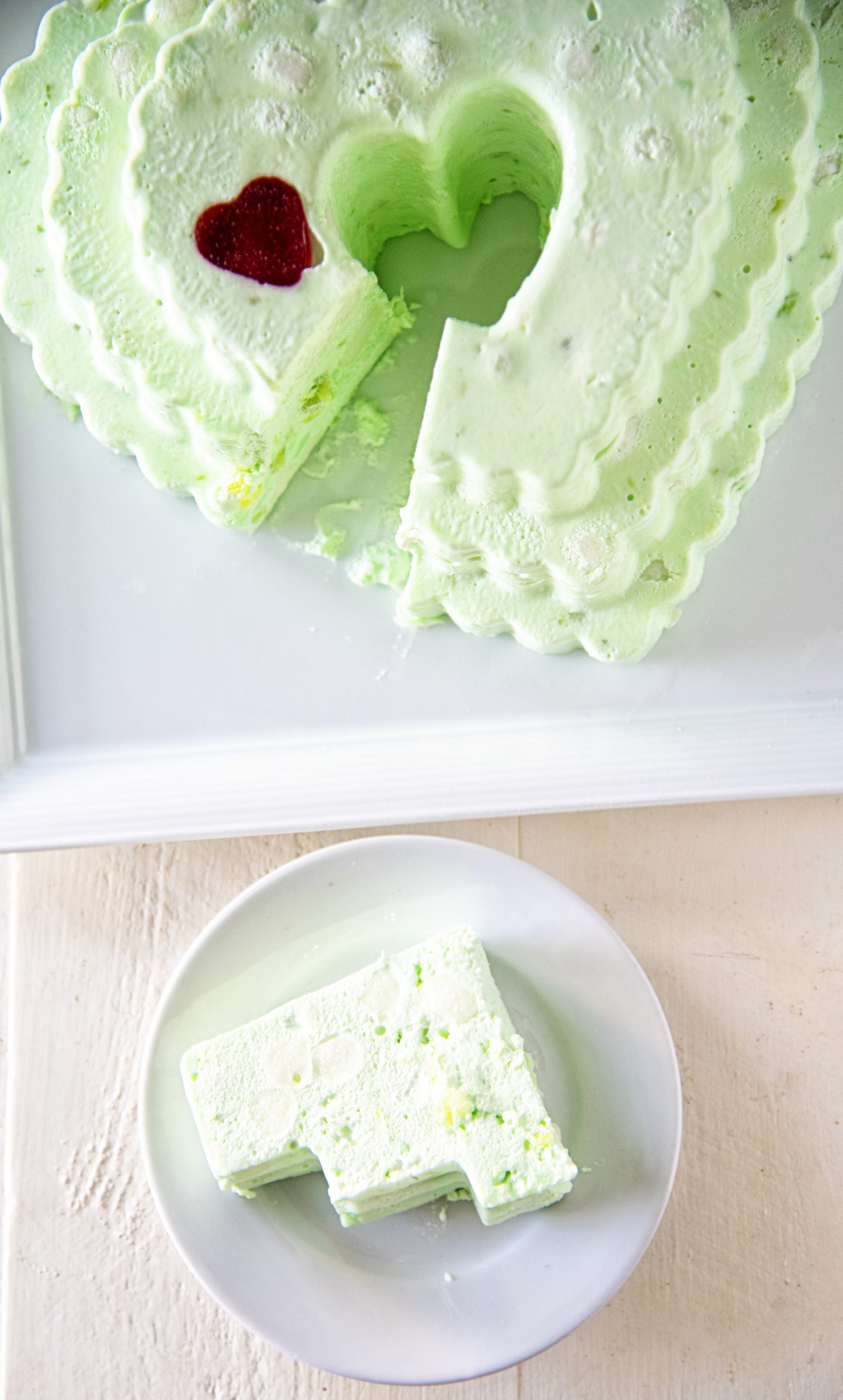 I had quite a few hearts left over and so I thought I would make a good ol' Jell-O Salad.
They are very popular on my Pinterest page and so I figured one more couldn't hurt.
Plus The Grinch Green Jell-O Salad is just fun.
I used this Nordic Ware Bakeware Tiered Heart Bundt and really suggest you do too.
It's best for this recipe because the tiers are flat and so the heart can lay flat as well.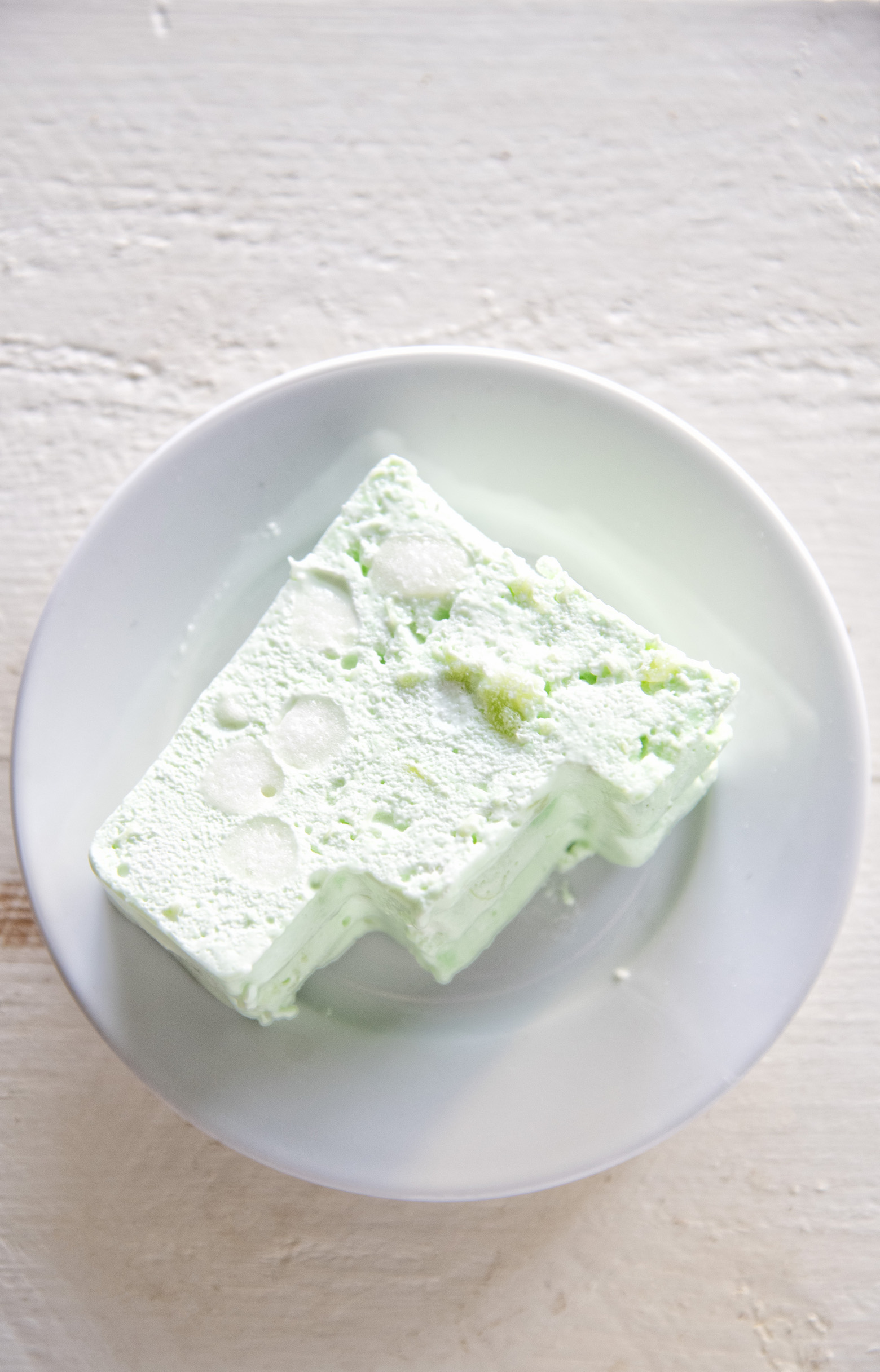 You can use an Bundt pan however if you don't want to invest in this pan but really, this is a great pan.
If Bundt pans aren't your thing you can make this in a 9-x-13-inch pan.
However, instead of placing the mini heart on the bottom of the pan you will need to place it on top.
The pan size and shape also allows for you to have a much larger heart cut out if you desire.
If you are using the mini heart shape these are the cutters I used.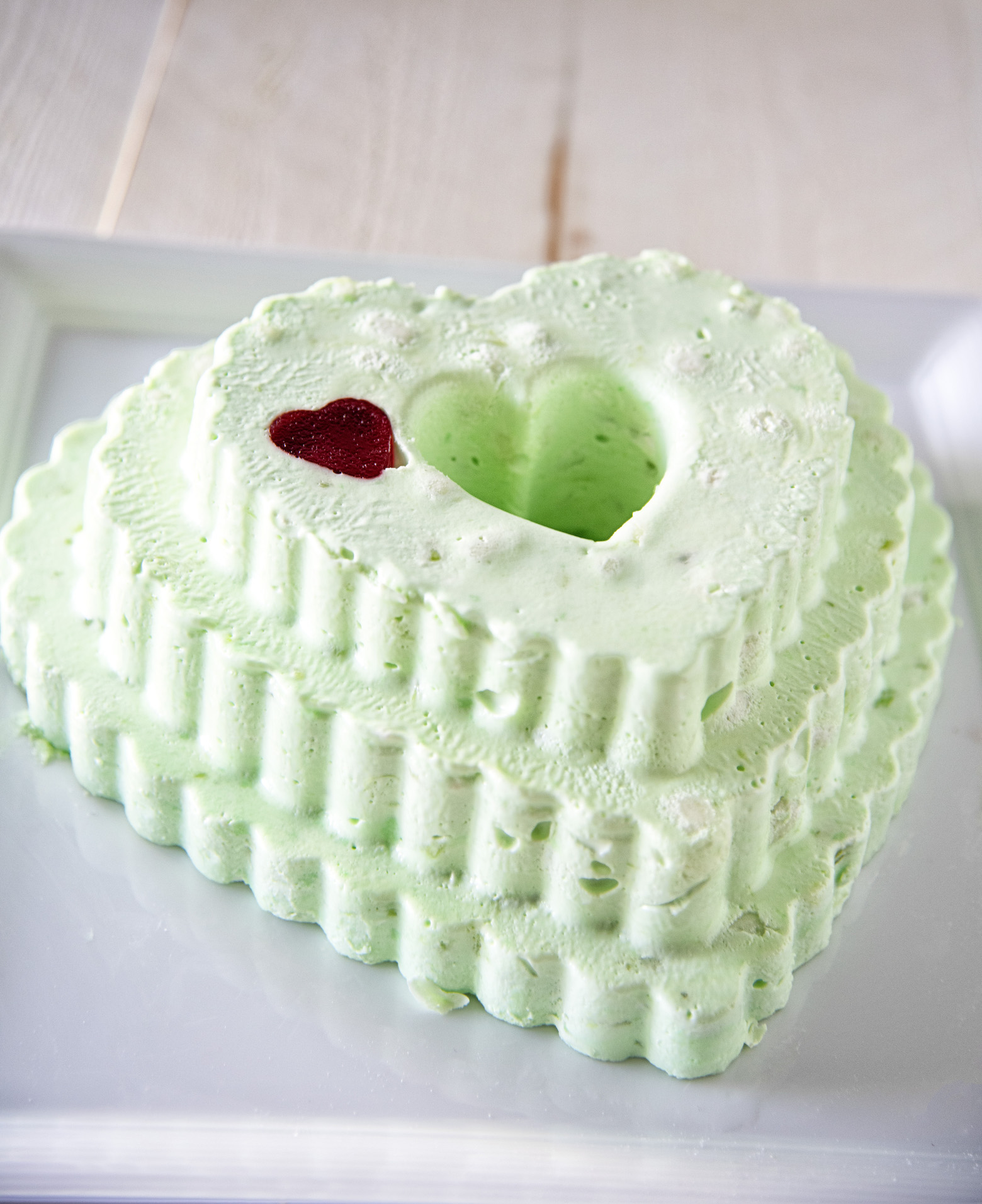 Want More Jell-O Salad recipes?
Cherry Coke Float Jell-O Salad
Creamsicle Marshmallow Jell-O Salad
Lemon Meringue Pie Jell-O Salad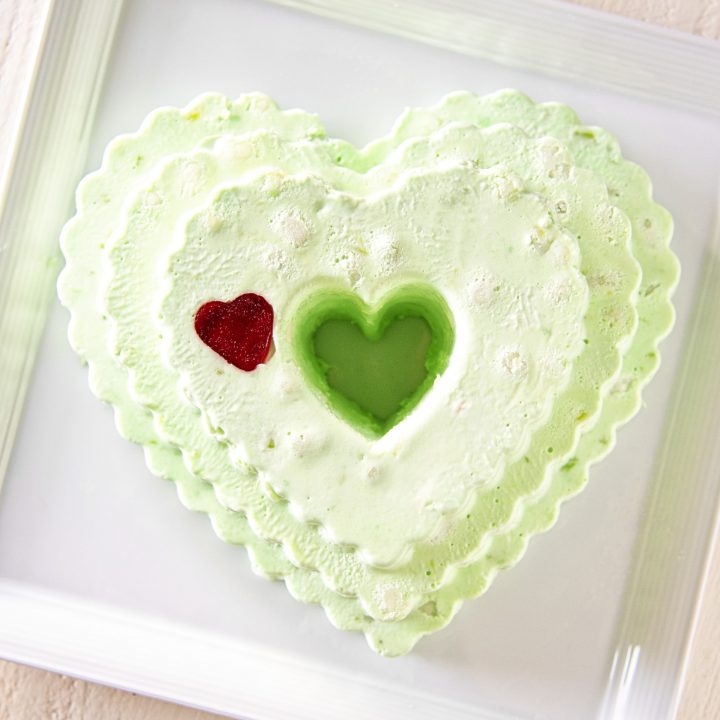 The Grinch Green Jell-O Salad
Ingredients
1 (6 ounce) package Lime Jell-O
1 cup boiling water
1 (8 ounce) package cream cheese, at room temperature
1/2 tsp vanilla extract
1 (8 oz) can crushed pineapple, drained
2 cups mini marshmallows
1 cup Sprite
1 (8 ounce) carton of Cool Whip (or whipped cream)
Cherry Jell-O Jigglers mini heart
Instructions
Dissolve Jello in water.
In a mixing bowl, beat the cream cheese and vanilla until fluffy.
Stir in Jello and beat until smooth.I usually put it in the blender to fully mix.
Add pineapple and soda and mix until incorporated.
Chill the mixture in refrigerator for about 30-40 minutes, so that when you lift it with a spoon it is clumpy.
Fold in the Cool Whip and mini marshmallows.
If using the heart shaped Bundt pan place the little red Jell-O heart on the top tier of the Bundt pan. If you want to use a 9-x-13-inch pan wait until the Jell-O filling is poured and place on top of that.
Once the mini Jell-O heart is in place pour the lime Jell-O mixture into the Bundt pan.
Refrigerate for 3-4 hours or until firm.
If serving in pan, will make about 16 squares for 9-x13 pan or about 8 for a Bundt.