This Cinnamon Sugar Pumpkin Brioche Twist is soft pumpkin brioche filled with cinnamon sugar and pumpkin pie spice all rolled up and twisted.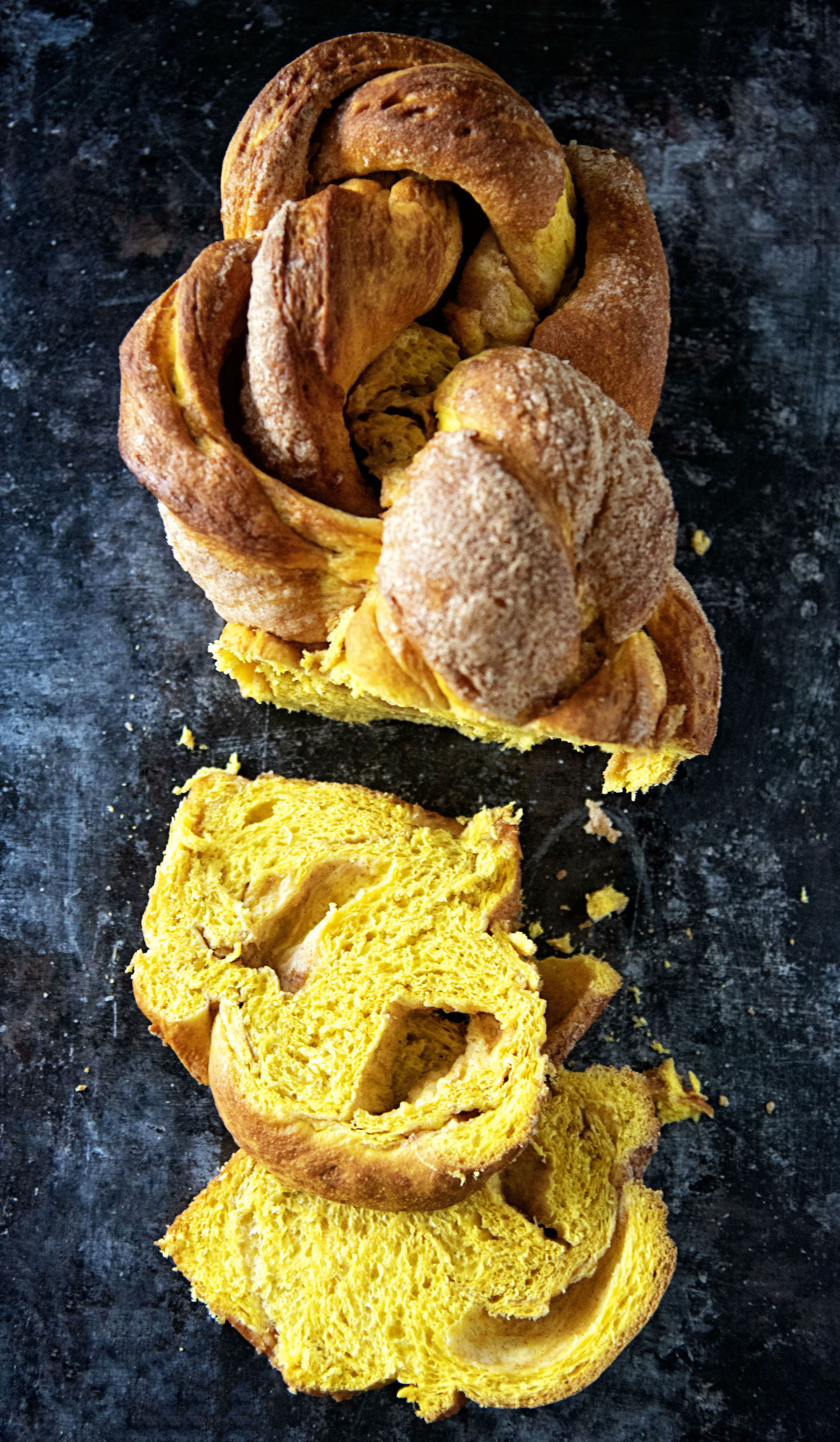 I have always been a big promoter of body positive.
There is even a section on this blog for all thing body positive because it's so important to me.
So when Bill Maher this last week said we need to bring back fat shaming people to help them have the desire to lose weight I was rather pissed off.
Then James Corden went on his show to address it and addressed it well.
And I will touch on some of what James said.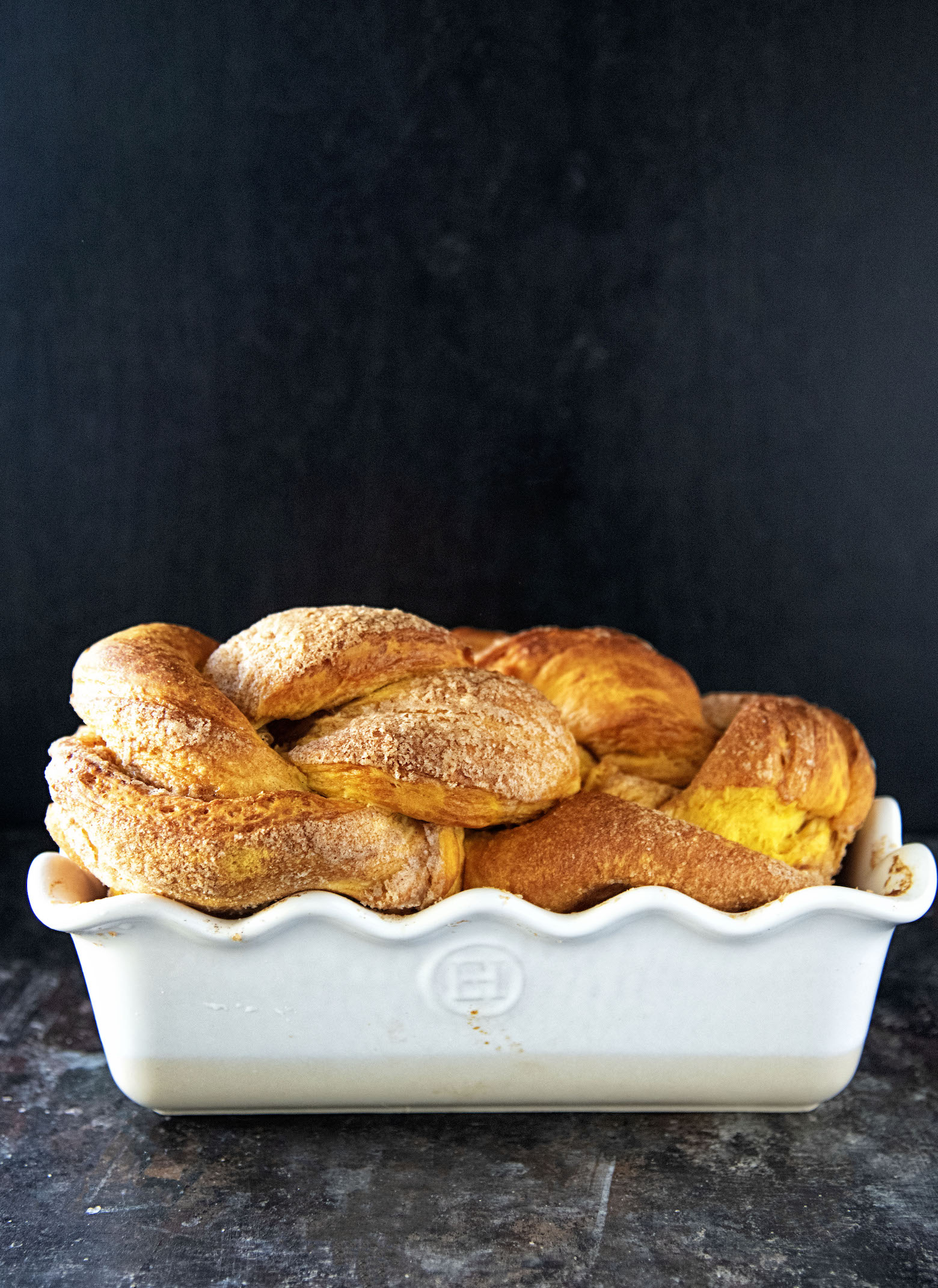 Fat shaming can't make a comeback because it never went away.
People who are overweight know they are overweight.
It's not a surprise.
Pointing it out to us does not help.
And even when people try to do something about it there is outrage about that. 
Just look at the recently outraged people over Nike having plus sized mannequins and plus size exercise clothing. 
Which people chimed in to tell Nike they were promoting people to be accepting of fat people and how wrong that was.
No, they just realized that people of every shape and size might want to workout.
If you tell overweight people to do something about their weight and then they are and you mock that…you are probably an asshole.
Well, not probably…you just are.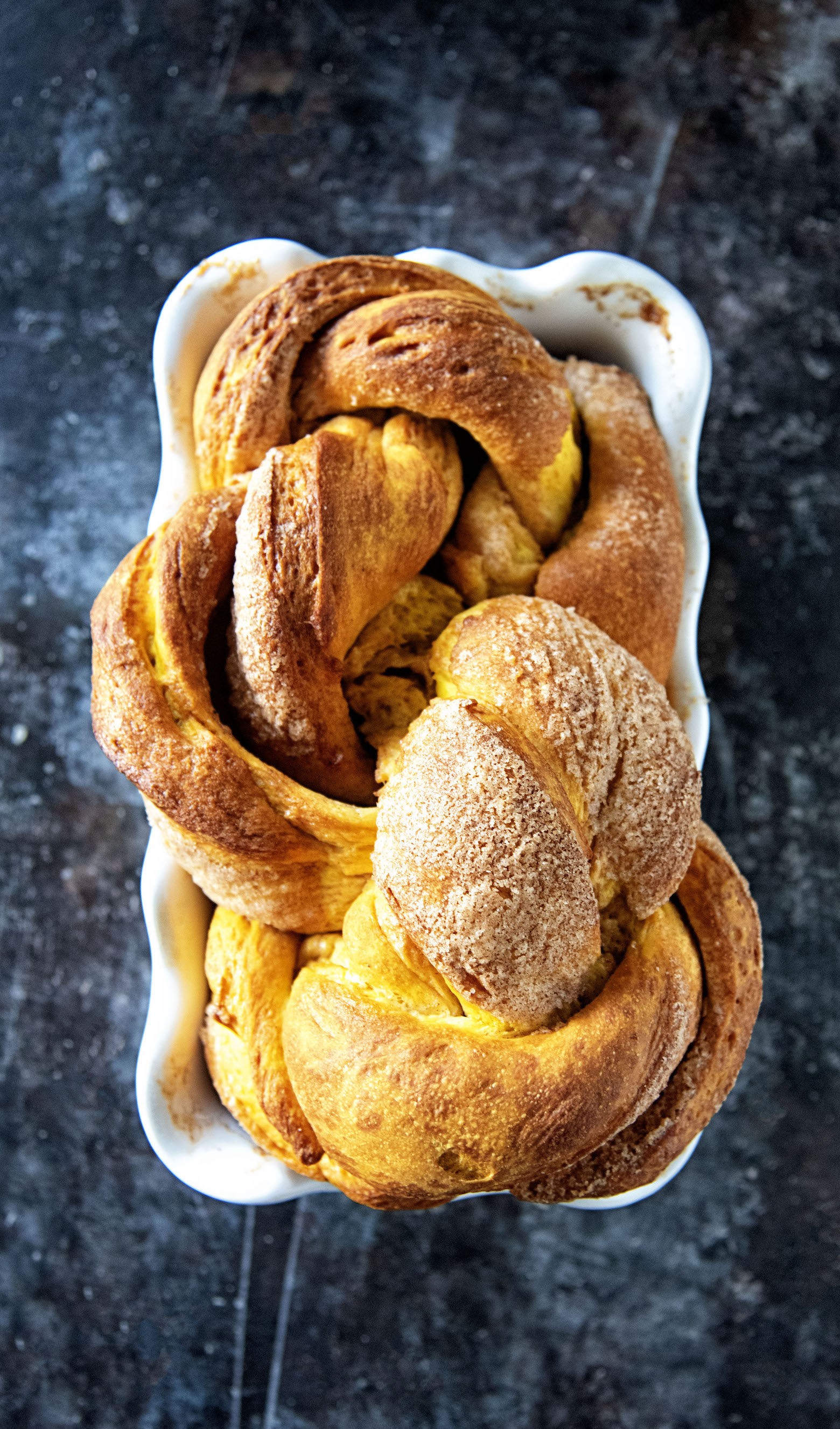 Does Fat Shaming Work?
If fat shaming worked we would have no fat people.
But instead it tends to make things worse.
No fat person ever went home after someone calling them fat or a pig or whatever jerk thing they said and decided they would throwback some celery sticks and water.
No, they most likely stress ate.
There are studies that prove that time and time again.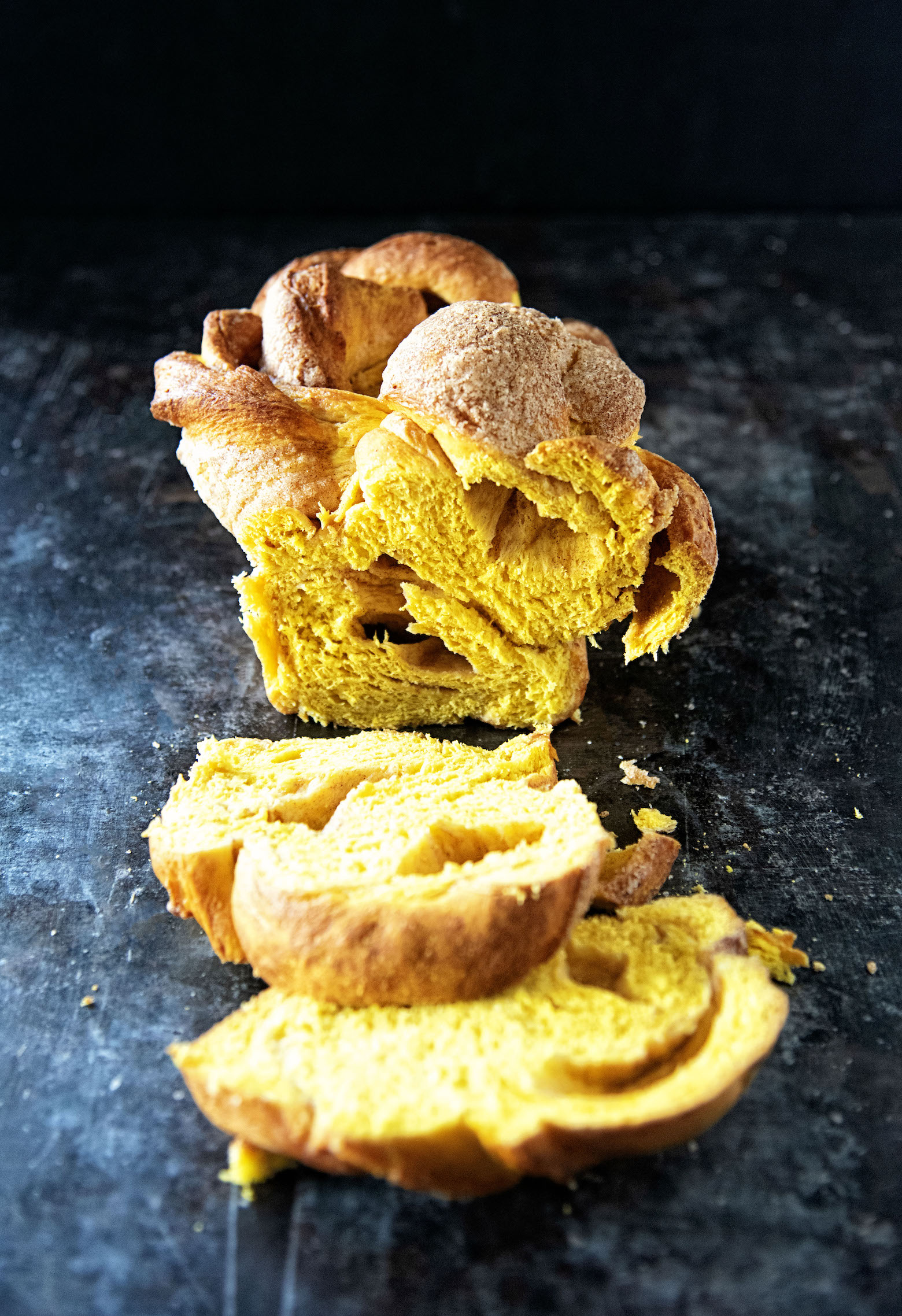 You have people chime in that they are so concerned about that person's health.
And maybe you are.
But did you know that the BMI category that survives the most heart attacks, strokes, cancer, etc…are those in the overweight category.
Does that mean I should go around telling my friends with a "normal" BMI or below their BMI that they need to gain weight to be healthy?
I'm quite sure that wouldn't go over very well.
James really does address it well and it's worth a watch.
Those of us still eating carbs…I present this Cinnamon Sugar Pumpkin Brioche Twist.
I made it originally thinking I would turn it into bread pudding.
Which I ended up turning cinnamon rolls into bread pudding.

What I did turn this into was French toast.
You can use it for both.
Or you can just eat it because it's good that way too. 
It's a great day to order my cookbook.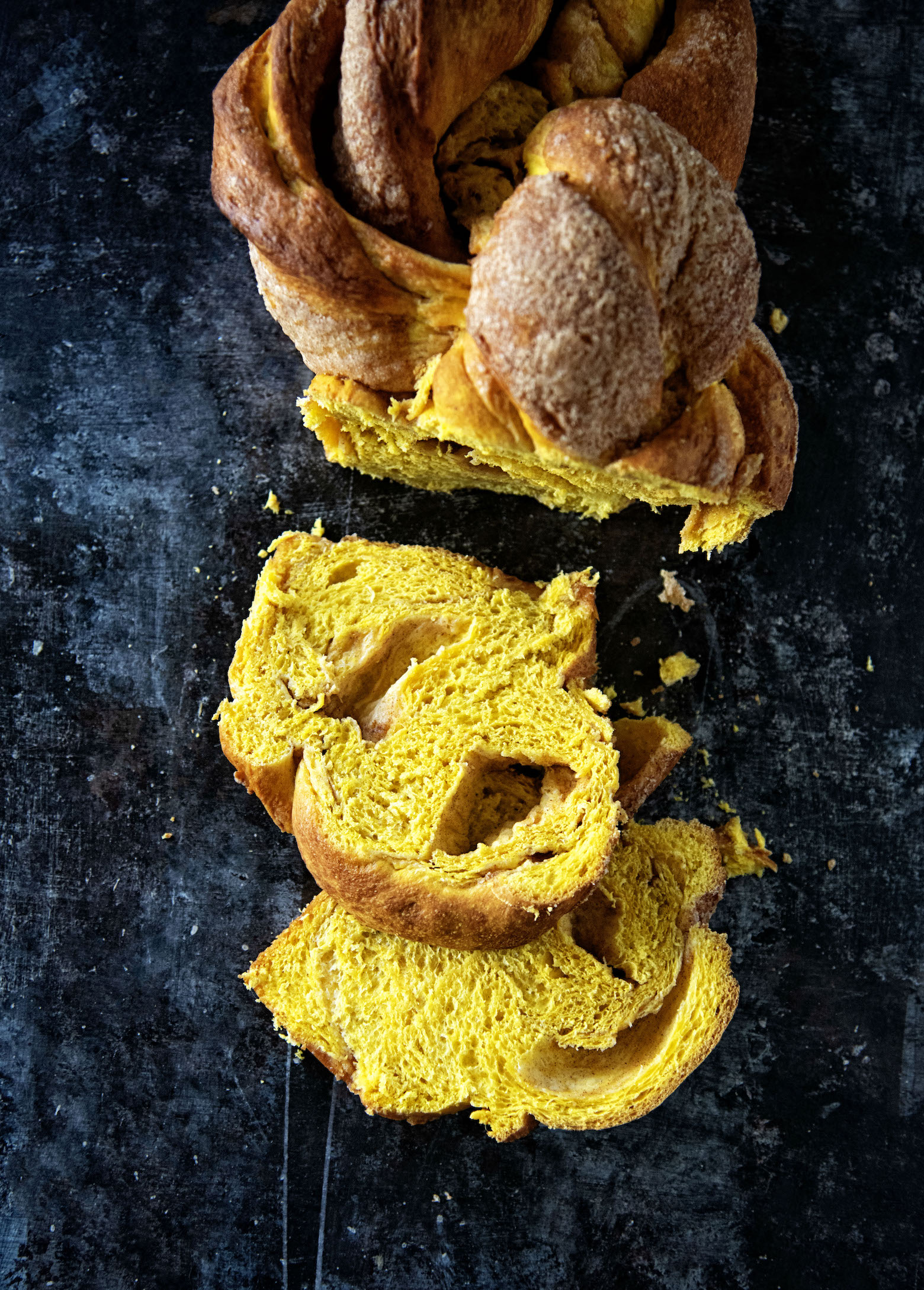 Want More Recipes? Try these:
Maple Glazed Pumpkin Pie Cinnamon Roll Loaf
Pumpkin Pie Whiskey Sticky Buns
Apple Cider Whiskey Glazed Pumpkin Pull Apart Bread
Honey Pear Jam Walnut Swirl Bread
Apple Cider Cinnamon Roll Loaf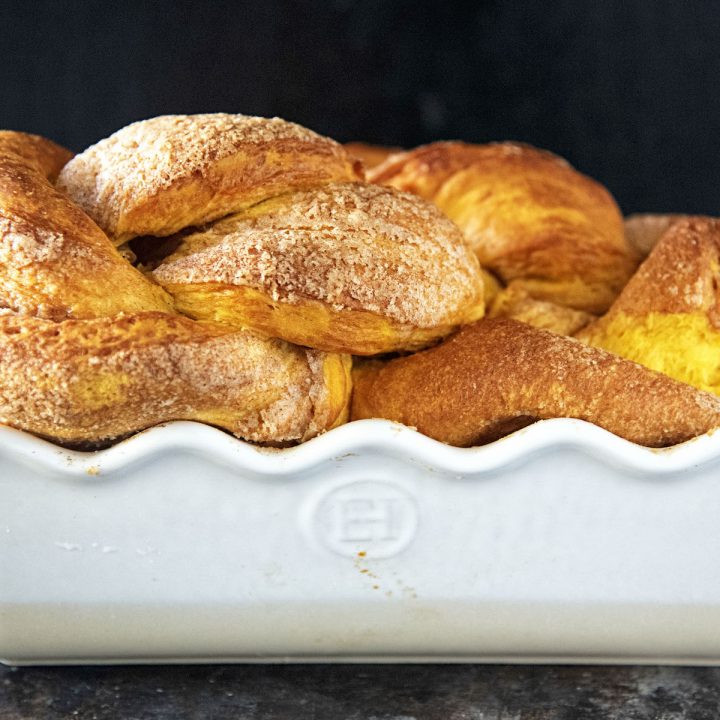 Cinnamon Sugar Pumpkin Brioche Twist
Ingredients
For the Sponge:
¼ cup whole milk, at room temperature
2 ½ tsp. active dry yeast (I used Red Star Yeast Platinum)
1 cup pumpkin puree
1/3 cup granulated sugar
1 cup bread flour
For the Dough:
5 cups bread flour
2 tsp. salt
6 large eggs, lightly beaten
8 ounces (1 cup) unsalted butter, at room temperature
For the Filling:
3 TBSP unsalted butter, melted
1 cup cinnamon sugar
3 tbsp. pumpkin pie spice
For the Top:
2 TBSP cinnamon sugar
Instructions
Note that the dough recipe makes two loaves. I only tell how to make one loaf in the instructions. That is because I used the other half to make cinnamon rolls.
For the Sponge:
Combine the milk and yeast in the bowl of a standing mixer fitted with a paddle attachment and whisk until the yeast is dissolved.
Let stand for 5 minutes, then stir in the pumpkin puree, sugar, and flour, forming a thick batter. Cover with plastic film and let rest in a warm environment until bubbles form, 30-40 minutes.
For the Dough:
Add the flour and salt to the sponge, then add the eggs.
Mix on low speed for 2 minutes, or until the eggs are absorbed.
Increase speed to medium and knead the dough for 5 minutes. The dough will begin to slap around. Hold on to the mixer when necessary.
On medium-low speed, add the butter, 2 TBSP at a time.
Stop the mixer and scrape down the sides of the bowl occasionally.(Recipe did not say to, but I switched to the dough hook at this point).
Knead until the dough is shiny and smooth, about 5 minutes.
Scrape out the dough, wash and dry the bowl, and coat it lightly with oil.
Place dough in the oiled bowl and turn it so that the top is coated with oil. Cover with plastic film and let rise at room temperature until doubled in volume, about 2 hours.
After the dough has doubled in volume, press down to deflate, folding one half into the other.
Cover with plastic film and refrigerate for at least 4 hours or overnight. This is the second rise.
Remove brioche dough (that has chilled overnight) from the fridge.
Turn the dough out onto a lightly floured surface. Using a rolling pin, roll it into a rectangle as thin as you can get it.
Use a pastry brush(or your hands if you like to get messy) to spread 3 TBSP of butter around the rolled out dough, leaving an 1-inch margin at the top edge with no butter.
Combine the cinnamon sugar and pumpkin pie spice. Sprinkle evenly over the butter, rubbing in with hands to make sure that it sticks.
Starting from the long side closest to you, roll up the dough like a jellyroll.
Cut roll in half crosswise.
Make an "x" with the pieces.
Twist each end together.
Place dough twist in prepared pan.
Cover the dough with plastic film coated with pan spray and let rise at room temperature until it has doubled in size and filled the pans completely, 1 ½ to 2 hours.
Sprinkle top with 2 TBSP cinnamon sugar.
Toward the end of proofing preheat the oven to 400F. Adjust the rack to the center of the oven.
Bake for 10 minutes.
Turn down the oven temperature to 350F and bake for 30 minutes more until it has a golden crust and an internal temperature of 180F.
Remove the brioche from the pans as soon as they come out of the oven and cool it on a rack before serving.
Notes
This recipe makes two loaves.