Chocolate Spider Cheesecake Cheeseball: A fun Halloween dessert cheesecake cheeseball filled with two kinds of chocolate and all made up to look like a very friendly spider.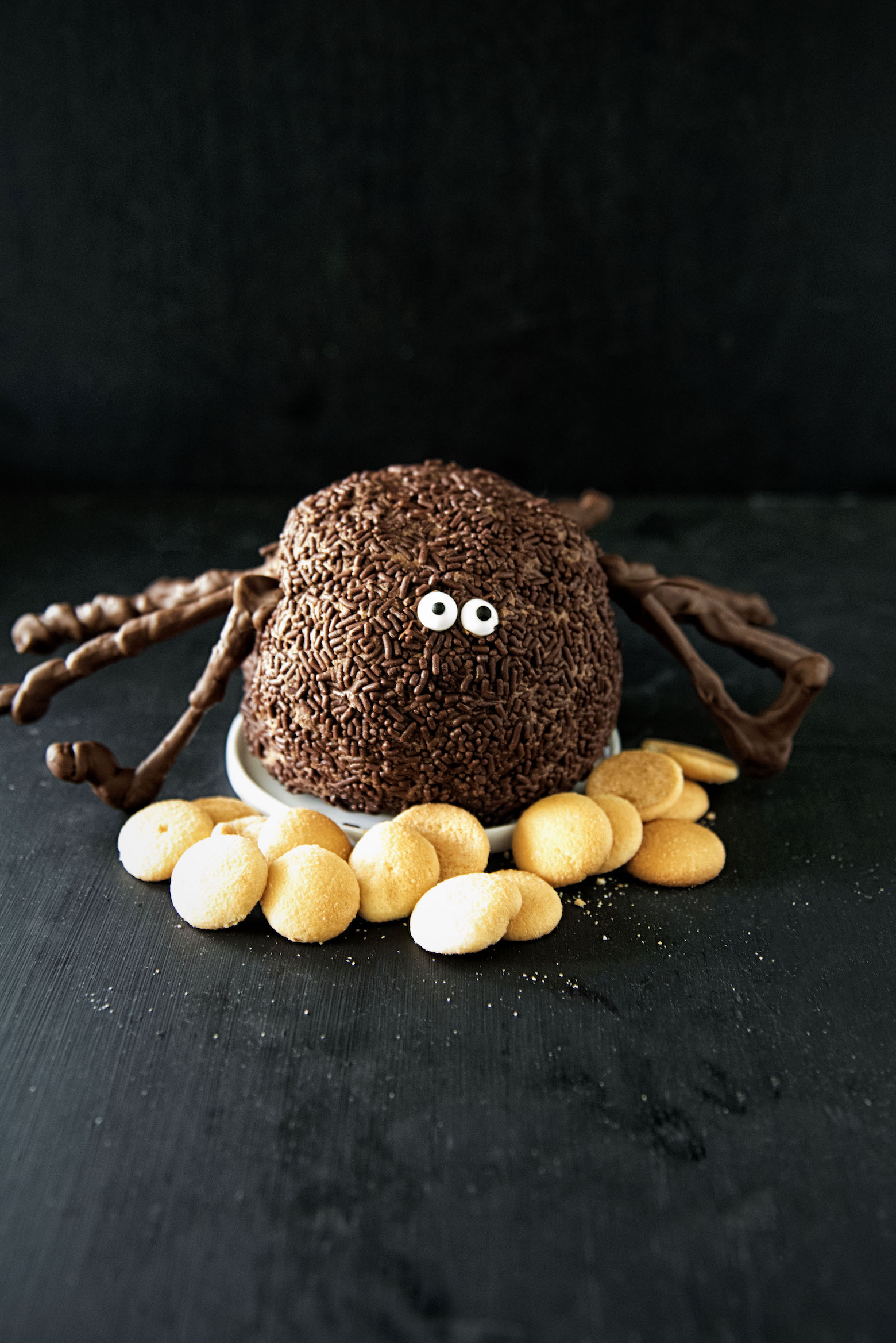 This post and recipe was created for #HalloweenTreatsWeek! I was sent products by some of the sponsor companies but as always opinions, bad grammar, and overuse of emojis are 100% mine.
In this post I used Dixie Crystals Sugar powdered sugar (from a previous dessert week) as well Wilton Candy Eyes which were sent to me free by both companies for free for participating in #HalloweenTreatsWeek.
So I hate spiders.
I am aware that they eat other bugs and we need them.
But I still hate them.
Mostly because I fear them.
People tell me all the time that they are harmless, but for me they are not.
Whenever a spider decides to take a bite out of me…whether they are poisonous or not…my body reacts.
And not in a good way.
In a get out your epi-pen kind of way.
Also, they are creepy.
*FYI-while making the cheeseball ironically a spider the size of a half dollar ran across my kitchen floor.
Luckily I was wearing shoes and bravely (it's brave to me) stomped on him. Now I just pray he doesn't come back as a zombie spider later.
So it may seem odd for me to choose to do a Chocolate Spider Cheesecake Cheeseball for my second #HalloweenTreatsWeek dessert.
Well, this way I make sure the spider has no mouth to bite me from. In fact, I get to eat him.
And I get to make him way cuter than the real things.
I'm guessing also tastier.
Sorry, I'm not willing to eat a spider to see what they taste like…this isn't Fear Factor.
I make dessert cheesecake cheeseballs all the time now.
Every time I bring one they are always a hit.
This is a rather simple one that is just chocolate.
The cheeseball is super easy to make and would be something that would be fun for you to make with your kids.
For those of you who have far superior decorating skills than me (which is pretty much everyone) feel free to make your spider legs more interesting than my basic chocolate sticks.
Check out the amazing #HalloweenTreatsWeek recipes from our bloggers today!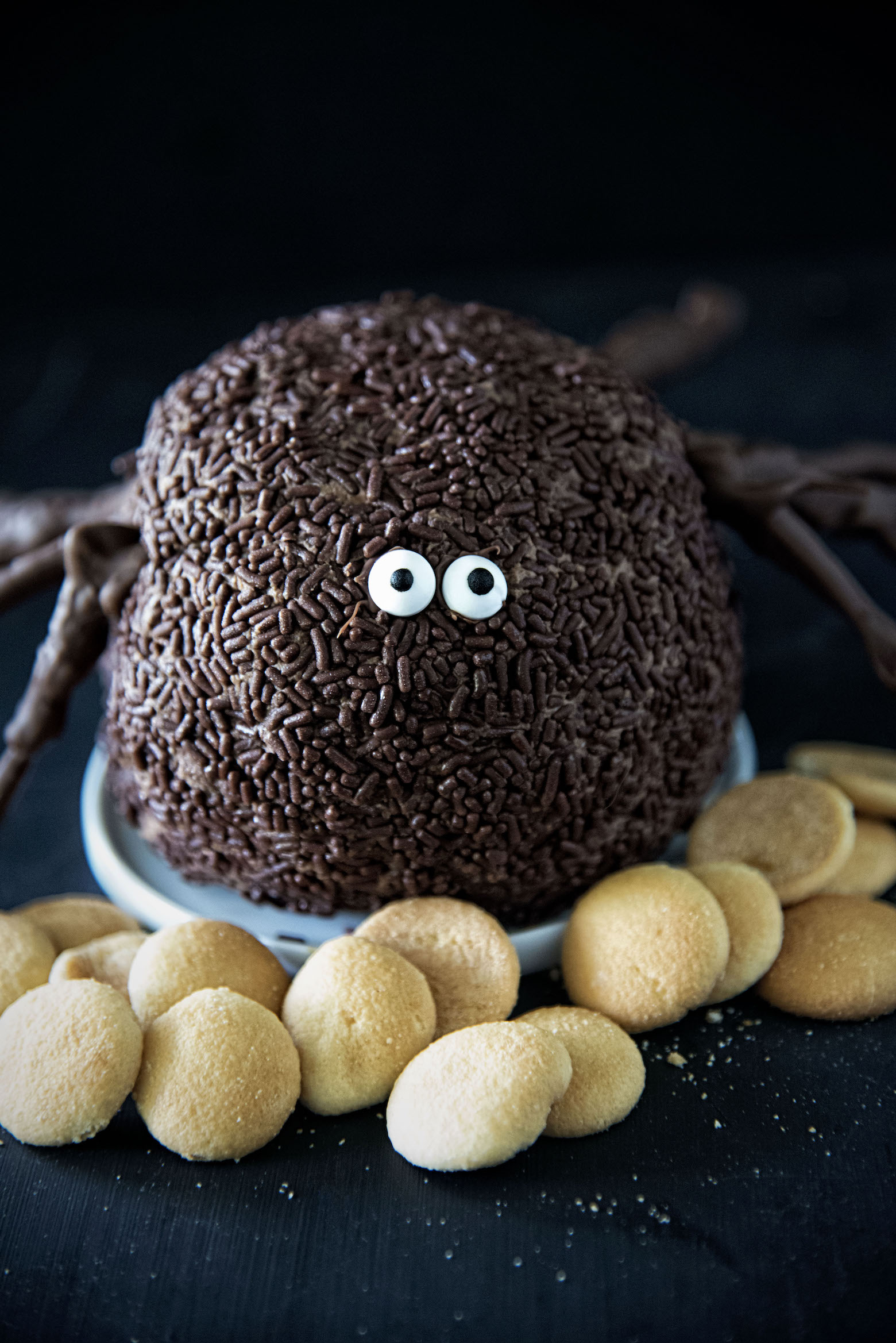 Chocolate Spider Cheesecake Cheeseball
16 oz. cream cheese, at room temperature
1 cup unsalted butter, at room temperature
1/2 cup unsweetened cocoa powder
10 oz semisweet chocolate, melted
½ tsp. vanilla extract
3 cups powdered sugar (I used Dixie Crystals)
1 ½ cups chocolate sprinkles
2-4 Wilton Candy Eyeballs (2 if making one cheeseball, 4 if making 2)
1 cup milk chocolate chips (for legs)
Instructions:
For the legs:
Melt milk chocolate chips in microwave or over a double boiler.
Place in a piping bag and snip the tip off to the size of the width that you want for your spider legs.
Pipe legs onto wax paper.
You can make them whatever shape you like. I went for simple because I lack the decorating gene.
Make extra legs in case they break off.
For the cheeseball:
Using a stand mixer with a paddle attachment beat together the cream cheese and the butter until fully incorporated.
Add the sugar, and vanilla extract and beat until fully incorporated.
Beat in ½ cup sprinkles until somewhat evenly distributed.
Lay out a piece of plastic wrap and scoop the cream cheese mixture onto it.
Do your best to form a ball, then wrap up the ball in the plastic wrap. Do an extra layer of plastic wrap to help it keep its shape.
Freeze for about 2 hours.
Take the ball out of the freezer and unwrap.
Place the sprinkles in a low shallow baking dish or jelly roll pan (I find a plate too small).
Roll the ball in the sprinkles making sure you cover as much of it as you can.
Wrap the ball back up into some plastic wrap and place in the fridge.
If not serving that day, place back in the freezer and then take out an hour before serving to come up to room temperature.
Once at room temperature add the legs and eyes to the cheeseball.
If they eyes are not sticking, melt a little chocolate and place them on that way.
Serve with assorted cookies.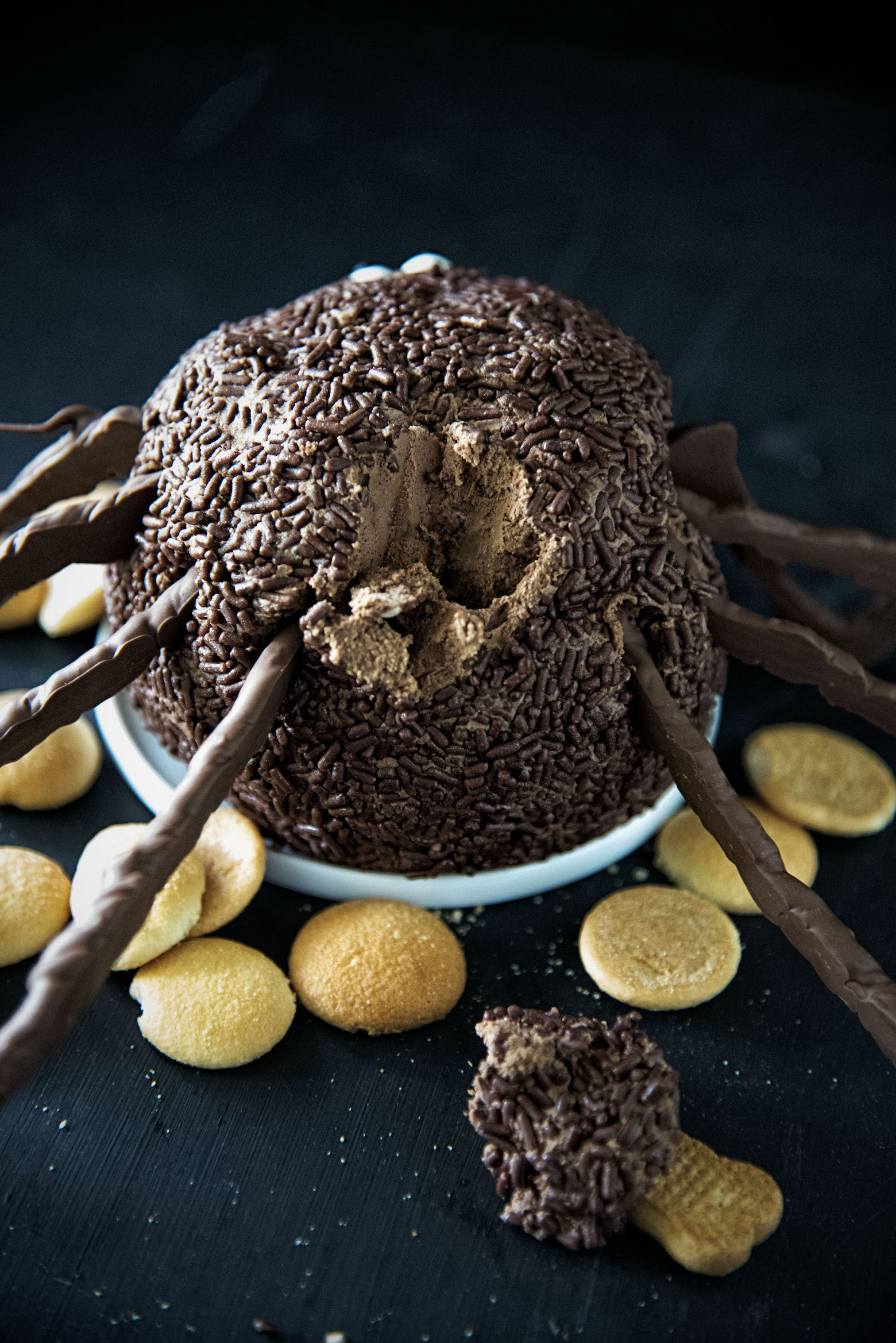 Happy Halloween! We hope you're ready for a spooktacular event as we celebrate Halloween with the first annual #HalloweenTreatsWeek event hosted by Angie from Big Bear's Wife. This haunting week-long event is filled with fantastic Halloween treats, recipes and some frightfully fun giveaways.
"When witches go riding, and black cats are seen, the moon laughs and whispers 'tis near Halloween."
For our very first #HalloweenTreatsWeek event we have 30 talented bloggers that are sharing their favorite Halloween recipes throughout the week! There are going to be over 100 Halloween themed recipes shared during this year's #HalloweenTreatsWeek and we can't wait for you to see them all!
Plus, don't forget that we have 5 (five) great giveaways for you this week thanks to our amazing sponsors!
Scroll down to take a look!
Prize #1
Prize #1 — Dixie Crystals is giving away one (1) Instant Pot (8 Qt) to one lucky winner!
Prize #2
Prize #2 — Adam's Extract is giving away – 1 Gift Pack – including Pure Vanilla Extract, Ground Cinnamon, Caramel Extract, Almond Extract, Pumpkin Pie Dip Mix and Adam's Best Twice as strong Vanilla
Prize #3
Prize #3 —Wilton is giving away a Wilton Gift Pack – including – Halloween Cookie House Bat, Tombstone and Skull 3-Piece Cookie Cutter Set, Halloween Skull Tube Pan, Zombie Cupcake Liners, Skull Sugar Decorations
Prize #4
Prize #4 — Sweets and Treats Shop is giving away 1 (one) 1.5lb Sprinkle Mix Kit from their shop
Prize #5
Prize #5 — Treat Street USA is giving away a $25 Visa Gift Card
Giveaway open to US Residents 18 years or older. All entries will be verified. No PO Boxes Please. Prizes will be sent directly from sponsors to winners, bloggers are not responsible for prizes. This giveaway runs from October 1st – October 6th at 12AMEST. Winners will be selected soon afterward and contacted by e-mail. Winners will have 48 hours to respond or a new winner will be chosen. There are a total of 5 (five) prizes and therefore we will have a total of 5 (five) winners. No purchase necessary. Void where prohibited by law.
Disclaimer: These posts and recipes are part of the week-long event, #HalloweenTreatsWeek but all opinions are 100% mine! We would like to Thank our amazing sponsors: Dixie Crystals, Adam's Extract, Wilton, Sweets and Treats Shop and Treat Street USA ! These wonderful sponsors provided the prize packs for our giveaways and also sent samples and products to the #HalloweenTreatsWeek bloggers to use in their recipes.