Banoffee Breakfast Buns have a banana dough filled with Dulce de Leche, toffee pieces, dried banana pieces topped with Dulce de Leche glaze.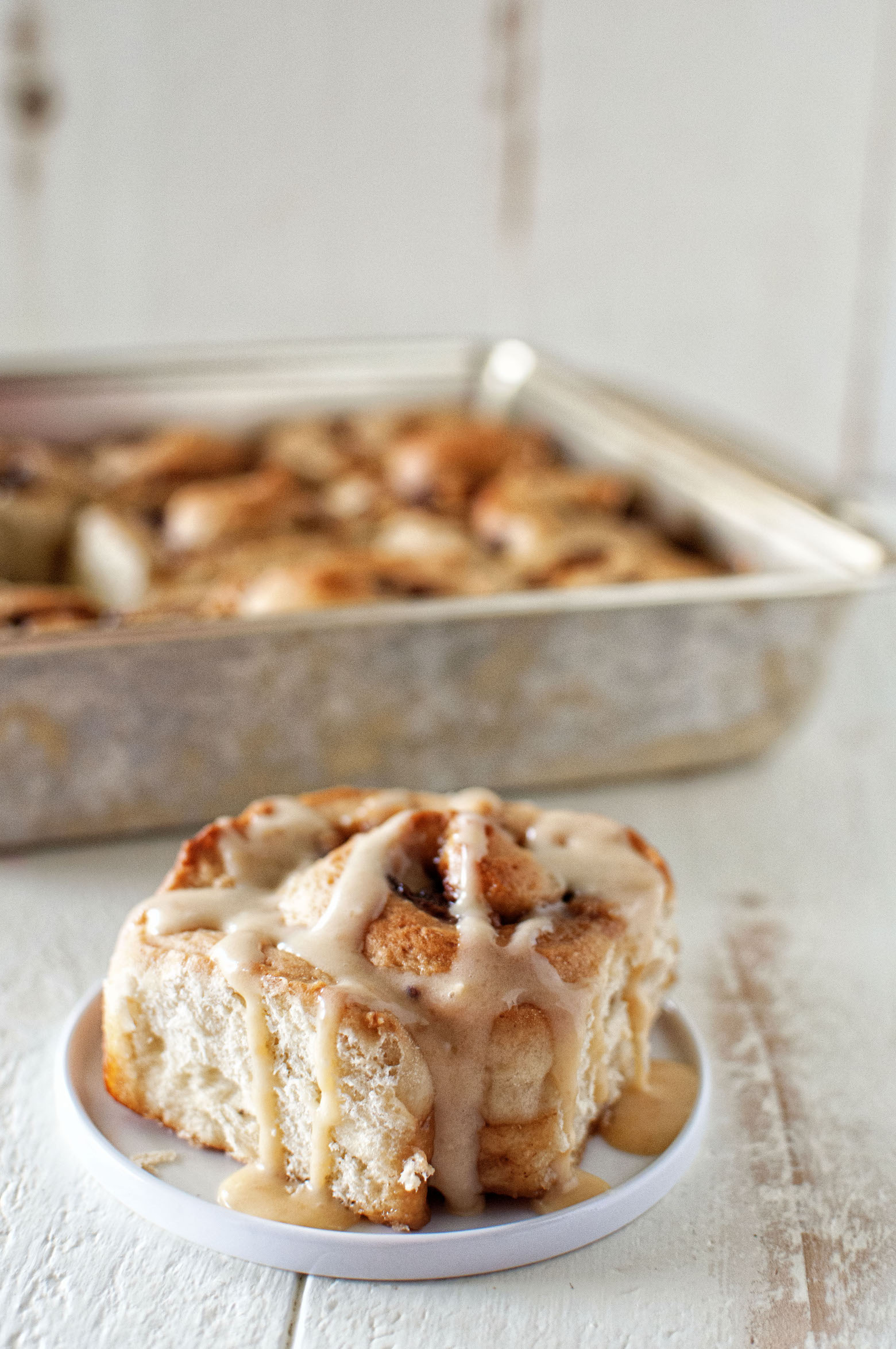 Normally over Christmas time I watch certain movies to get me in the mood for the holiday season.
This year I only got to watch Elf and Love Actually.
Love Actually when it first came out I hated.
Yet for some bizarre reason I watched it again and again.
I'm guessing because it kept coming on TBS and I was too lazy to change the channel. 🙂
Now, of course, I love it.
I often watch it even when it's not Christmas time.
There is a scene where Keira Knightley brings as a bribe Banoffee pie.
Now I have never had Banoffee pie.
I almost did once but the pie looked sad and the bananas were super brown and so I thought I would pass.
While never having it I can get behind the flavors it combines big time.
Ban (banana) and offee (toffee…though I feel that it could lead people to believe coffee).
It's basically a pie shell (some seem to use traditional pie crust some seem to use graham cracker), a layer of toffee (which is Dulce de Leche) and they topped with fresh bananas and a ton of whipped cream.
I had wanted to make banana bread using the Dulce de Leche and I still want to I just have to go buy more bananas.
But before I got started something made me want to make something with yeast instead.
Enter these Banoffee Breakfast Buns.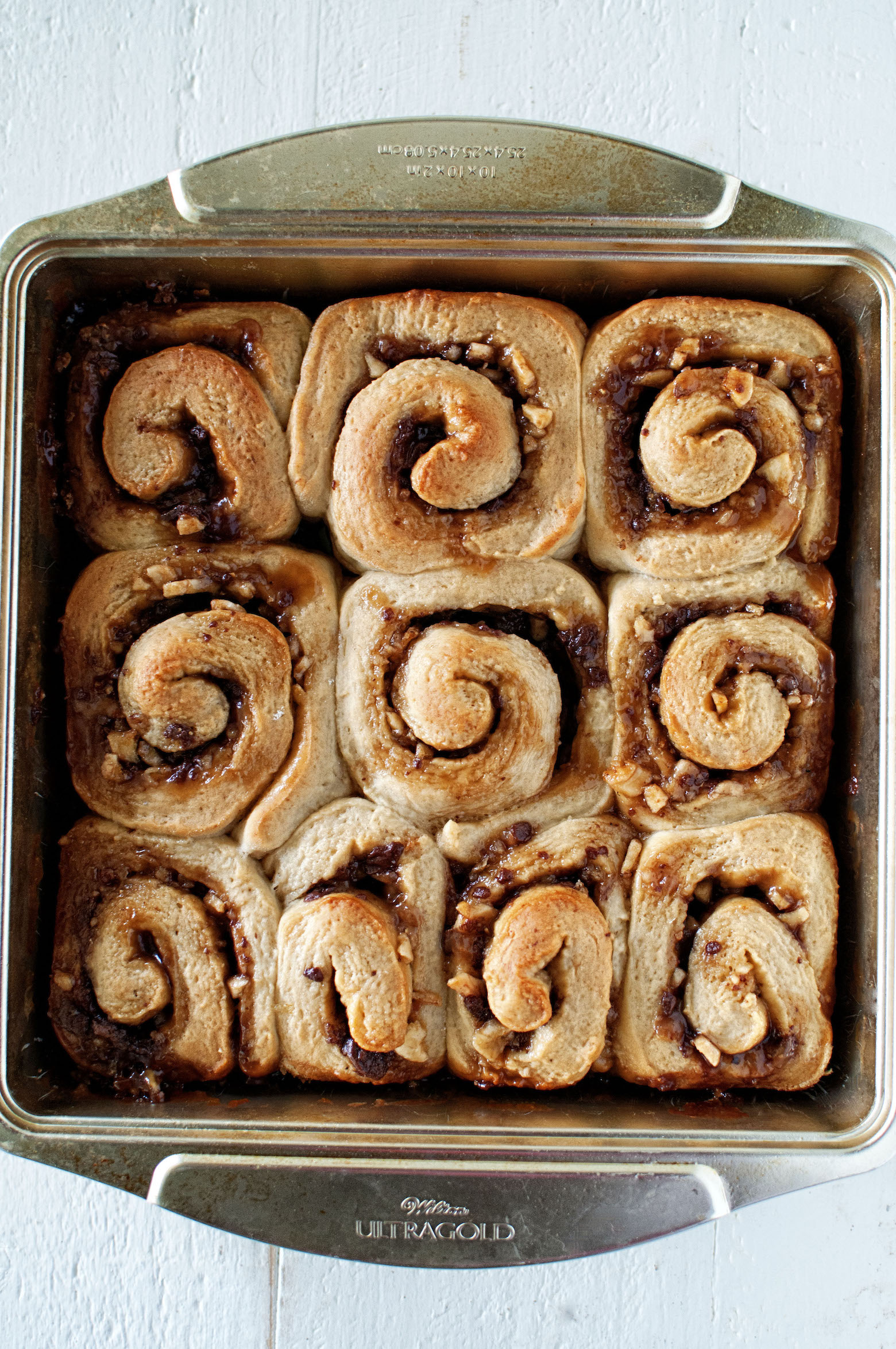 You can either make Dulce de Leche using condensed milk and a lot of time or you can buy it.
Nestle makes one that is usually in the Hispanic food section of your grocery store.
Be careful though as they also make just a condensed milk.
Which I was not paying attention and bought that.
So then I had to make the Dulce de Leche myself.
Which FYI, this is my favorite way to do it because I am lazy.
I had to laugh as I did not tell my husband what they were and I had not eaten one yet.
So he ate one and had a perplexed look on his face and I got nervous.
He asked what flavor those were and I said Banoffee to which he responded with what the heck was that?
When I told him banana and toffee he was like oh, yeah, that is totally what it is.
Whew, okay good. 🙂
P.S. It's a great day to buy my cookbook Holy Sweet!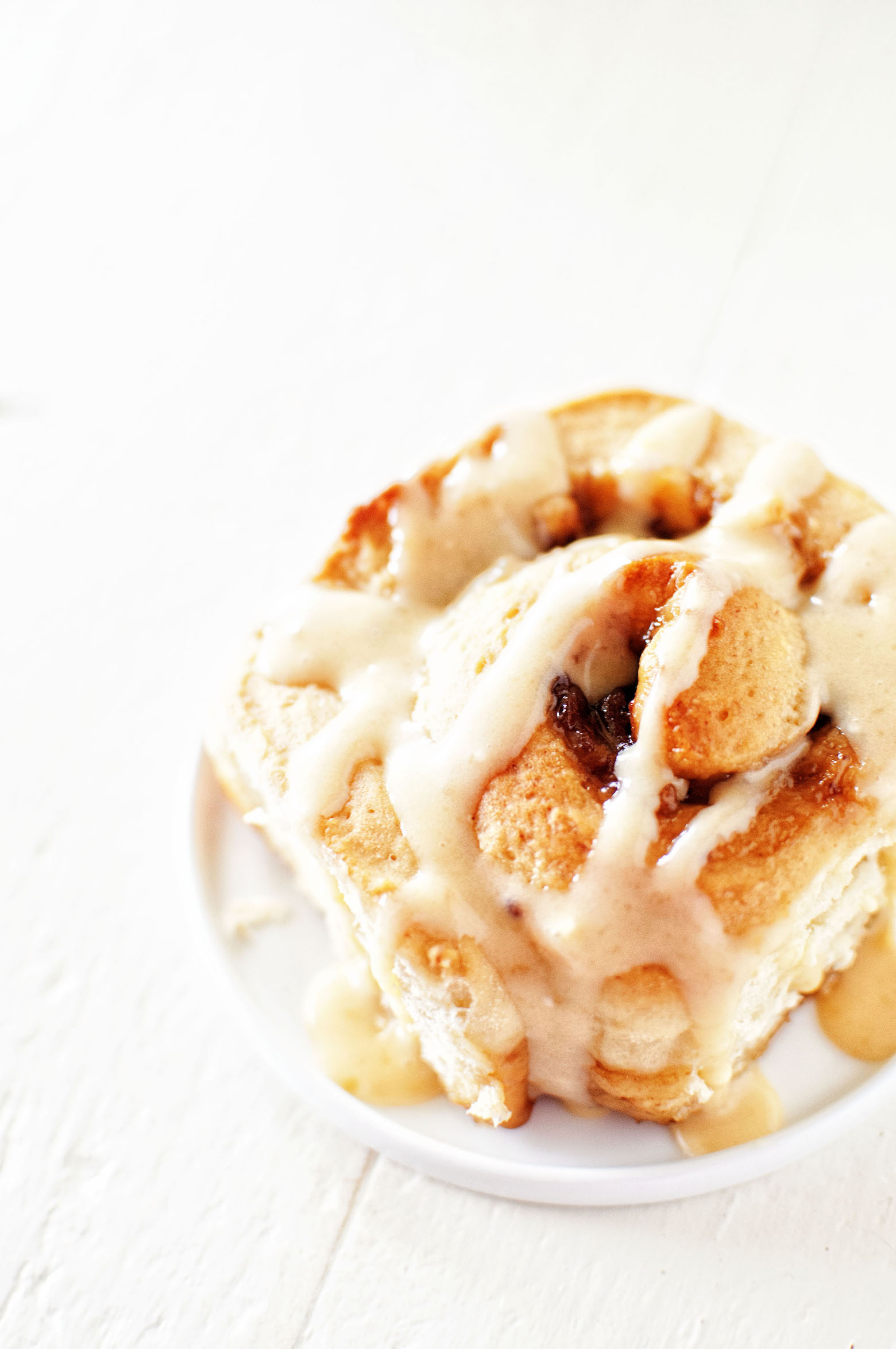 Want More Sweet Roll Recipes?
Bourbon Brown Sugar Caramel Peach Sweet Rolls
Salted Caramel Apple Sweet Rolls
Cinnamon Sugar Apple Babka Buns
Coconut Cream Pie Breakfast Buns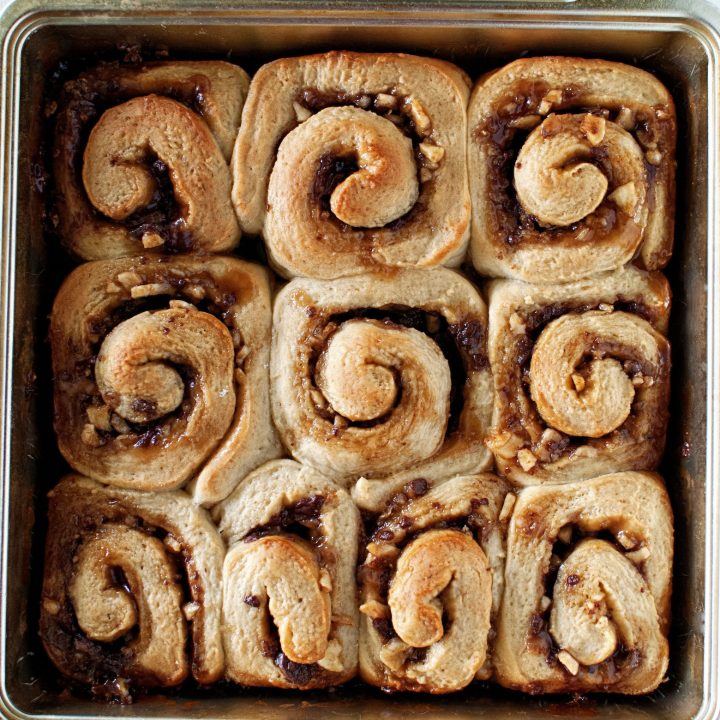 Banoffee Breakfast Buns
Ingredients
For the Banana Bread Dough:
½ cup whole milk
¼ cup unsalted butter
2 TBSP brown sugar
2¼ tsp. yeast (one packet) (I used Red Star Yeast Platinum)
3 ½ cups all-purpose flour
1 tsp. salt
2 large ripe bananas, mashed (about 1 cup)
For the Filling:
⅓ cup brown sugar
1/3 cup dulce de leche, melted
1/3 cup toffee pieces
1/3 cup dried banana pieces, chopped finely
For the Dulce de Leche Glaze:
1 cup powdered sugar
1 TBSP vanilla
2 TBSP Dulce de Leche, melted
1 TBSP milk
Instructions
For the Dough:
Put the milk and butter in a small bowl and heat to temperature is 110F (you will need a thermometer if it's too hot it will kill the yeast).
If it gets too hot, just let it cool for a few minutes.
Pour into the bowl of a stand mixer.
Place the brown sugar and then the yeast and whisk to mix all the ingredients.
Let this mixture stand for about 5 minutes, or until it begins to foam.
Put together two cups of the flour, the salt, and the bananas to the yeast mixture and beat well.
Add the remaining flour, ½ cup at a time, stirring well after each addition.
When the dough has just pulled together, turn it onto a lightly floured surface and knead until smooth, about 5 minutes (alternately, use the dough hook on a stand mixer).
If using the dough hook (I did) when the dough has pulled away and forming a ball on its own and no dough is sticking to the sides it is ready.
Place the dough in a greased bowl and cover with plastic wrap.
Allow dough to rise until double, about 1 hour.
For the Filling:
In the meantime in a small bowl add the brown sugar and Dulce de Leche and mix together to incorporate.
When the dough has risen, sprinkle flour out on a flat surface and roll out the dough into a 12 X 9-inch rectangle.
Then spread the brown sugar/Dulce de Leche mixture evenly on the dough leaving a ½ inch edge..
Sprinkle banana chips and toffee pieces.
Roll up the dough from the long side and pinch seam to seal. Cut into 12 equal sized pieces.
Place the dough pieces cut-side down.
Cover and let rise until doubled (or refrigerate overnight).
Bake rolls at 375 ° F. for 25 to 30 minutes or until browned.
Remove and let rest for 5 minutes.
For the Glaze:
Whisk all the ingredients in a bowl and pour over breakfast buns.