These Pumpkin Gingersnap Nutella Muffins are a perfect for fall muffin with the addition of Gingersnap cookies and swirled with Nutella.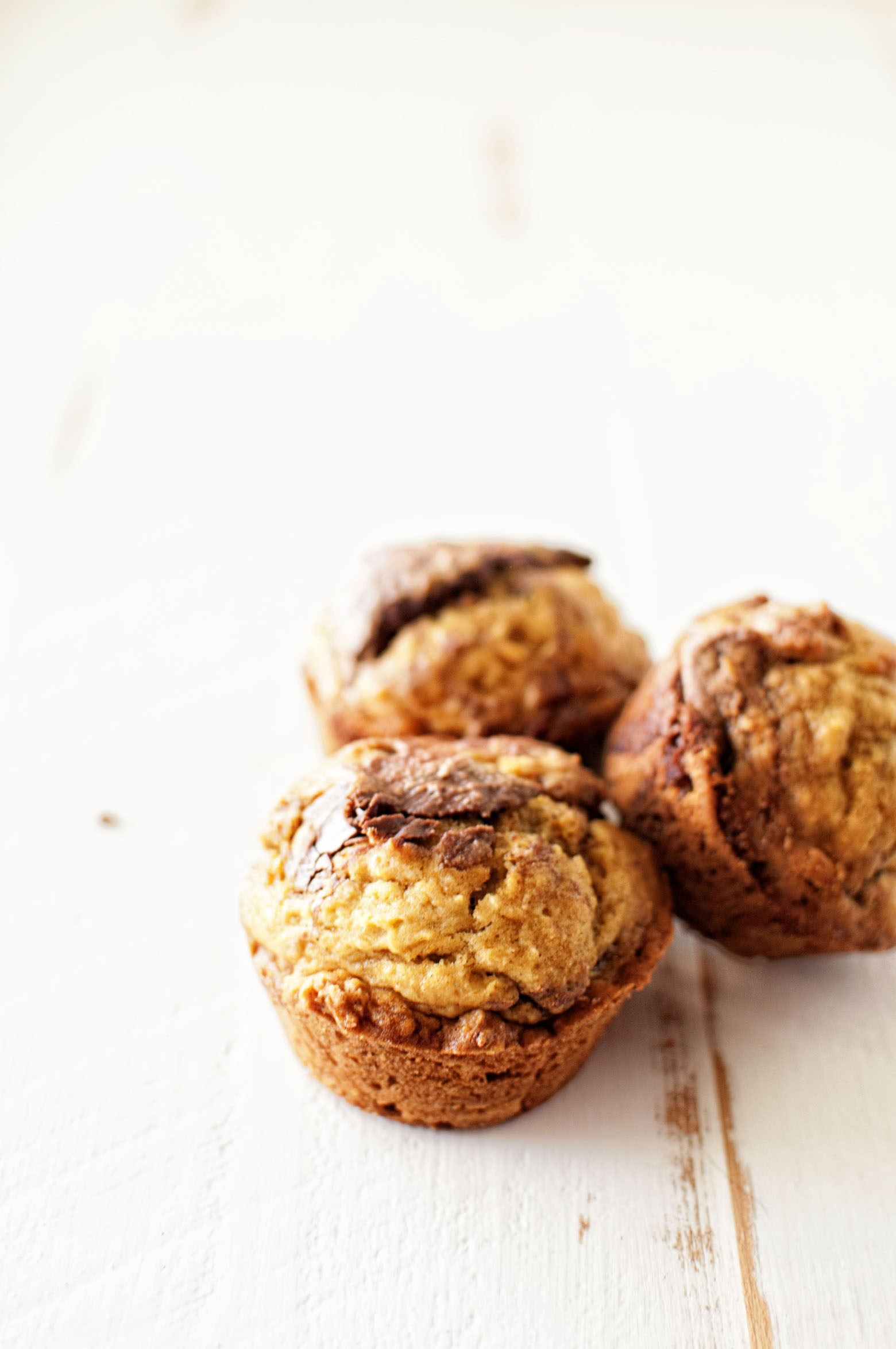 Before we moved to our new house our cable bill was creeping up to just shy of $200.
We also had Netflix in that mix as well.
Our carrier, Comcast simply could not reduce it any lower the told me…even though for like the last 5 years they had. 😛
So we looked into what the alternatives were.
There are a lot of them these days.
Now this isn't a sponsored post or anything like that I just thought that I would share what it's like not having cable TV when you had it most of your life.
First off we still have to have Comcast as they are the only high speed internet carrier in my area.
But the internet was never they high part of the bill.
We got the highest speed possible because of the streaming needed to watch TV.
We got a simple antenna for channels like NBC and what not but we have hardly used that.
Mostly because we also have Hulu so I just watch it on Hulu the next day after it airs.
I rarely watched live TV when I had cable and so this is about the same experience.
Our main TV is Sling TV.
We chose them because they cover NHL network and do not carry FOX news on the basic channels.
While I love my parents if FOX news or any news station is on my dad will watch it ALL day.
So I've eliminated that option for their visits. 😛
Am I saving a ton of money? No.
Am I happy that Comcast is not getting all that money? Yes.
Sling TV was costing me $30 a month.
I had the Blue ($25) option plus Lifestyle added (extra $5)…you know the cooking channels.
But now that hockey is on I had to add the sports package so that we could get the NHL network and so that added $10.
Then I added the orange package too as I am told that ESPN shows Hockey Night in Canada (that added $15).
If it turns out that is not true I will drop the orange package.
So before we paid $210 for Comcast and Netflix.
Now we pay $50 (first year then up to $80) for internet.
Hulu is $11. We still have Netflix ($10) and Sling TV ($55).
So now we pay $126.
So that is a savings but again like I said, I mostly love that I don't have it all going to Comcast.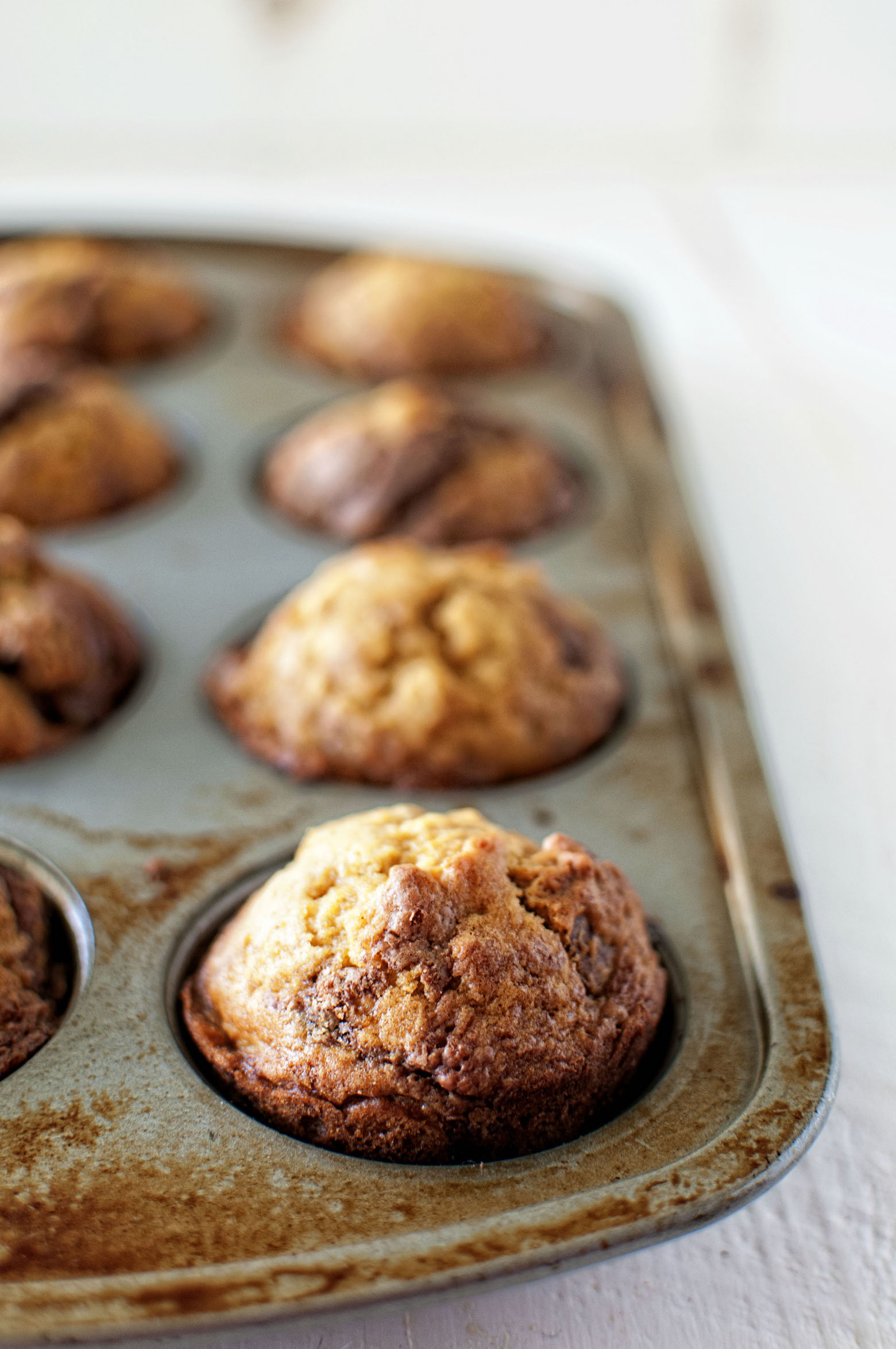 The pros?
I really prefer binging shows so this works better for that.
I've been watching shows I would have never discovered, like American Pickers (yes, I am getting old), Community, Atypical, Ozark, and I saw the movie Chicken People which both my husband and I are obsessed with (if you get Amazon Prime or Hulu it's free on those or at least it was).
I still get all my old shows. I get to shamelessly rewatch shows like The OC, Party of Five, Felicity…etc.
The cons?
Our biggest one is that NHL Center Ice is only through cable or dish.
So we are going to miss games.
I will say though that even though it's preseason we have found a game to watch every day.
So it might still work out.
Anyone else out there ditch cable?
Do you like it?
With the cool weather and all the hockey on I tend to bake a bunch at night now that I can bake and watch hockey.
I made five things last night.
That means I'm baking nothing tonight. 🙂
Mostly because I don't have anywhere for it to go and I don't want to eat it all. 🙂
These muffins were made when I was hungry. Hence all the throw ins that sounded good at the time…gingersnaps and Nutella. 🙂
But I will say it worked.
The gingersnaps will actually breakdown and get absorbed in so you don't have crunchy pieces FYI.
Nutella is well, Nutella. So that always makes things better.
Also, can you tell it's fall? I had four recipes in 7 days up. Haha.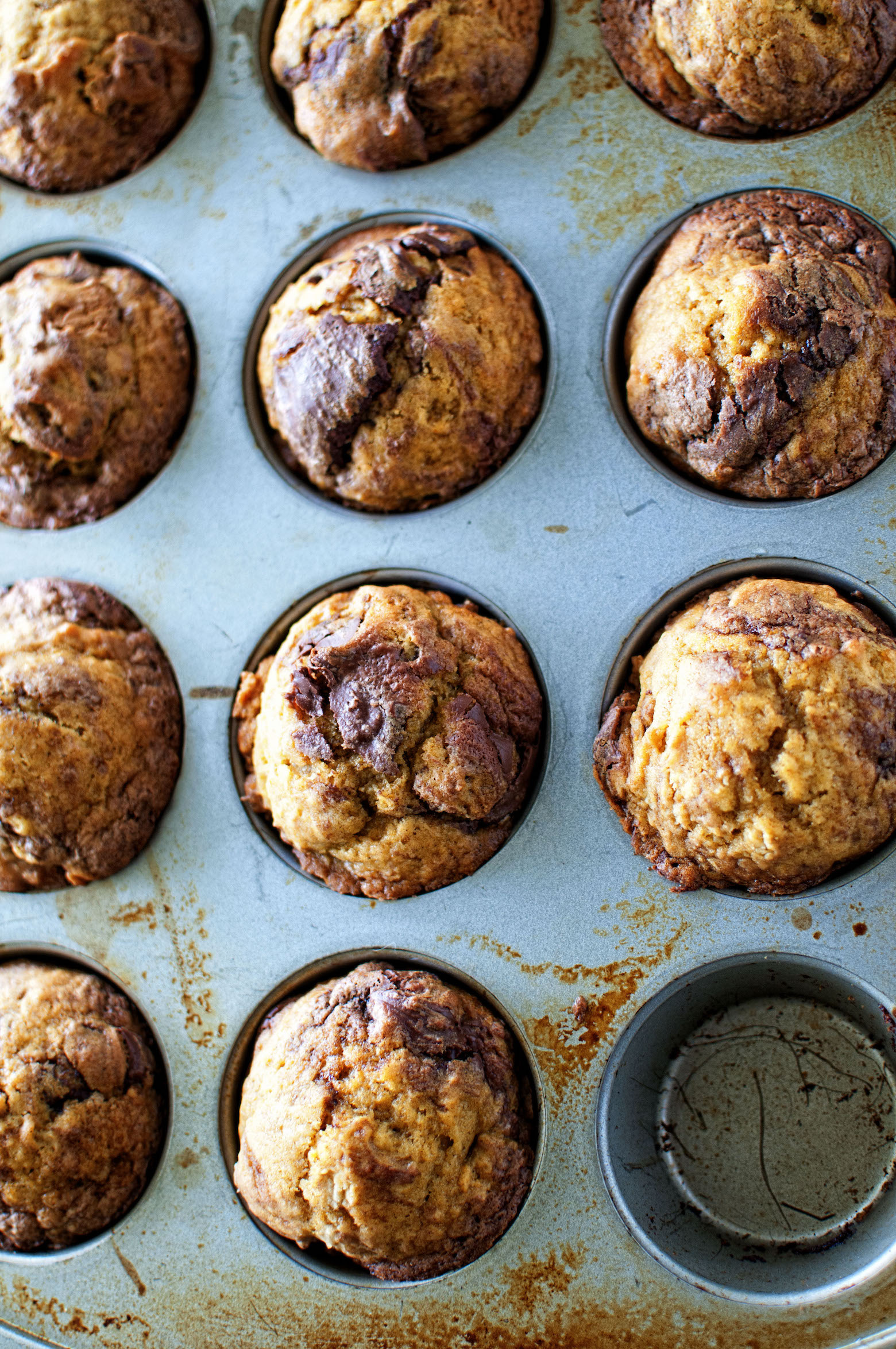 Want More Muffin Recipes?
Clementine Chocolate Chip Muffins
Cider Glazed Apple Fritter Muffins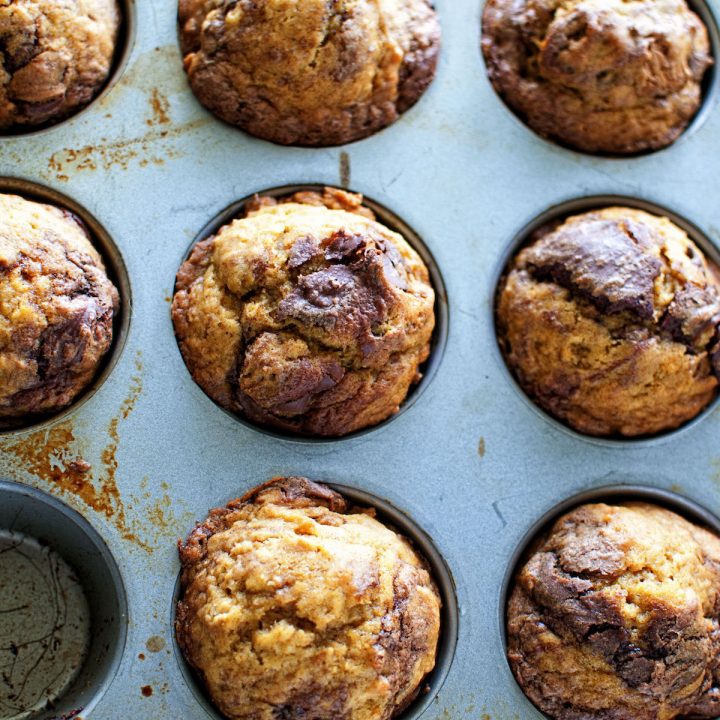 Pumpkin Gingersnap Nutella Muffins
Ingredients
1 2/3 cup all-purpose flour
1 cup granulated sugar
1 tsp. ground cinnamon
1/2 tsp. ground ginger
1/2 tsp. ground cloves
1 tsp. ground nutmeg
1 tsp. baking soda
1/4 tsp. baking powder
1/4 tsp. salt
2 eggs
1 cup pumpkin
1 tsp. vanilla bean paste
4 oz unsalted butter, melted
1 cup gingersnaps, crushed
1/2 cup Nutella spread
Instructions
Preheat oven to 350F.
In a large bowl, mix the flour, sugar, spices, baking soda, baking powder and salt.
In another bowl, mix together the eggs, vanilla bean paste, pumpkin, and unsalted butter just until ingredients come together.
Fold in the gingersnaps.
Combine the wet and dry ingredients and mix until the dry ingredients are moistened. Do not over mix.
Place Nutella in a piping bag or Ziplock bag.
Pipe Nutella across the batter in the bowl in a zig-zag pattern until you run out of Nutella.
Using a ice cream scoop, scoop batter into greased or paper cup lined muffin cups.
Bake for about 20-22 minutes or until puffed and springy to the touch.
Cool then remove from cups.
Makes 12 muffins.