Strawberry and Cream Cupcakes have a strawberry nectar and are topped with delicious Strawberry Swiss Meringue Buttercream.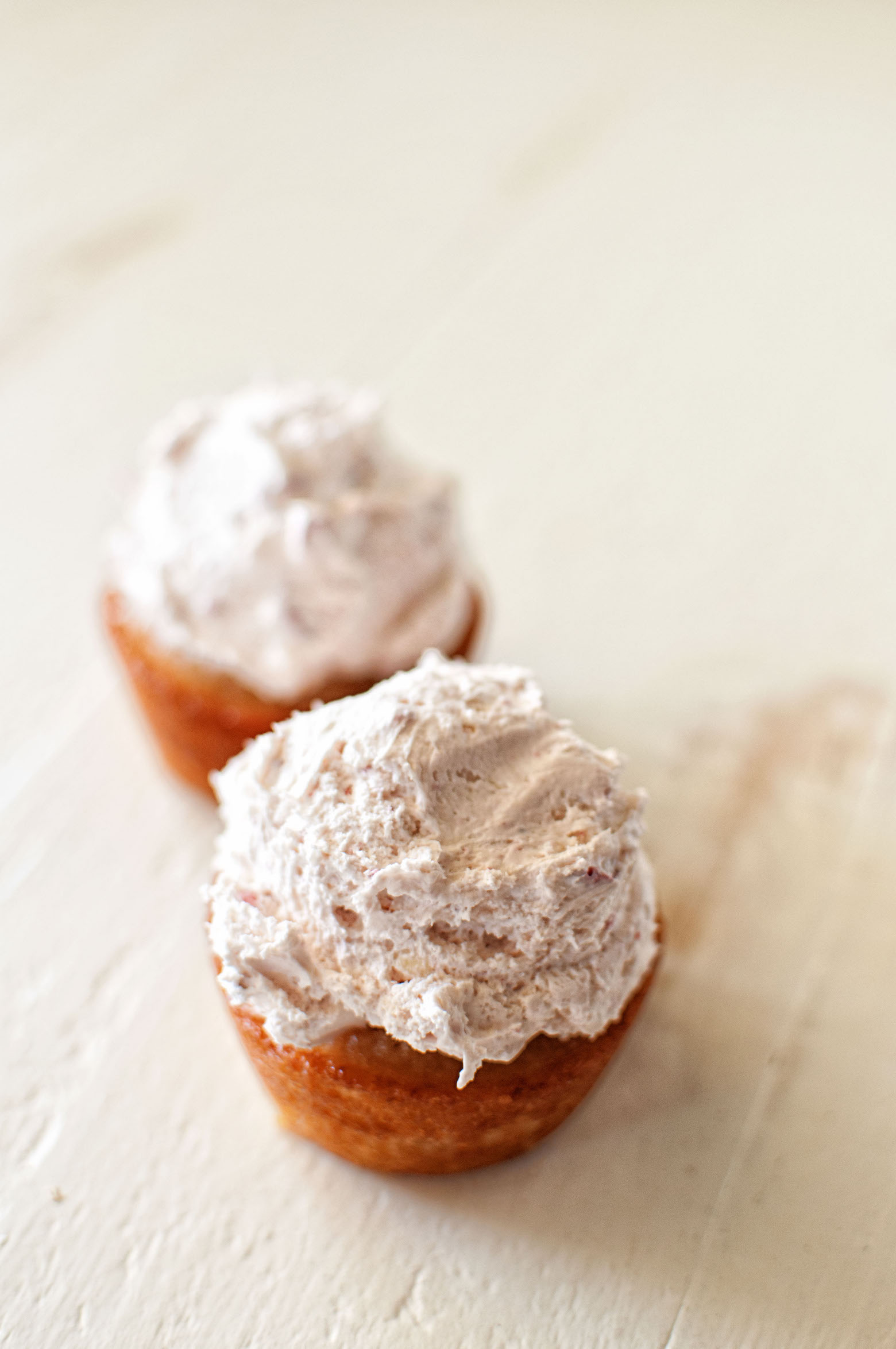 I keep going and sitting down with my laptop hoping something will pour out of me.
But it doesn't.
I'm mostly just numb.
We are now in a world where if your old enough Duck and Cover will pop into your head.
A world where nuclear threat is real again.
And a world where I don't feel safe.
Even after 9/11 when President Bush came out and spoke he calmed me.
I felt we would be okay.
Now after every time our current President speaks I think better eat as much bacon and cinnamon rolls as I want and hug my husband and dogs tight because this may be it.
Then this weekend happened.
I honestly can't gather words to talk about the direction the country is going.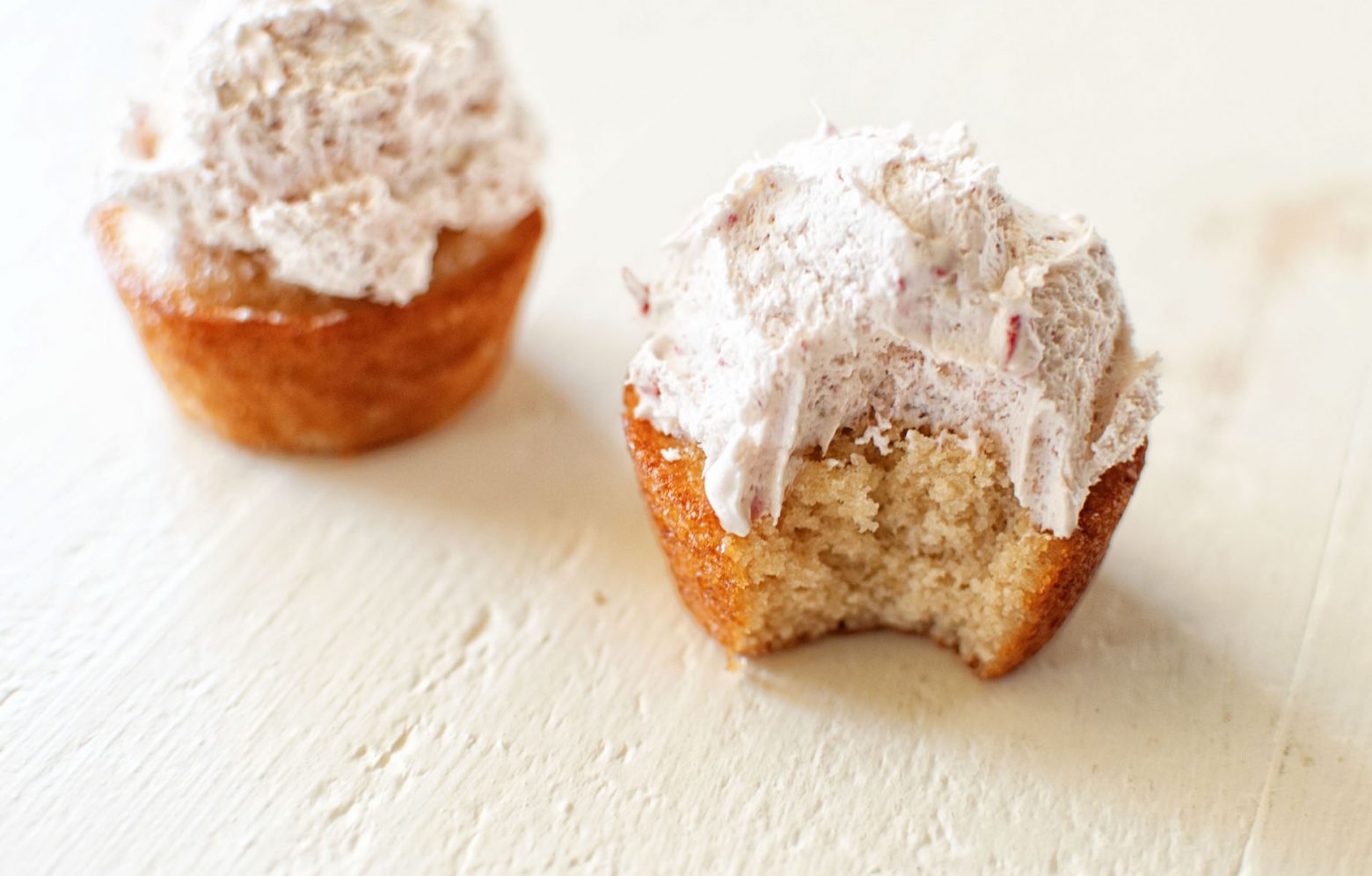 So instead I'll make Strawberry and Cream Cupcakes.
Because buttercream makes everything better.
And not just any buttercream.
But Swiss Meringue Buttercream.
Which is always the best.
P.S. It's a great day to buy my cookbook Holy Sweet!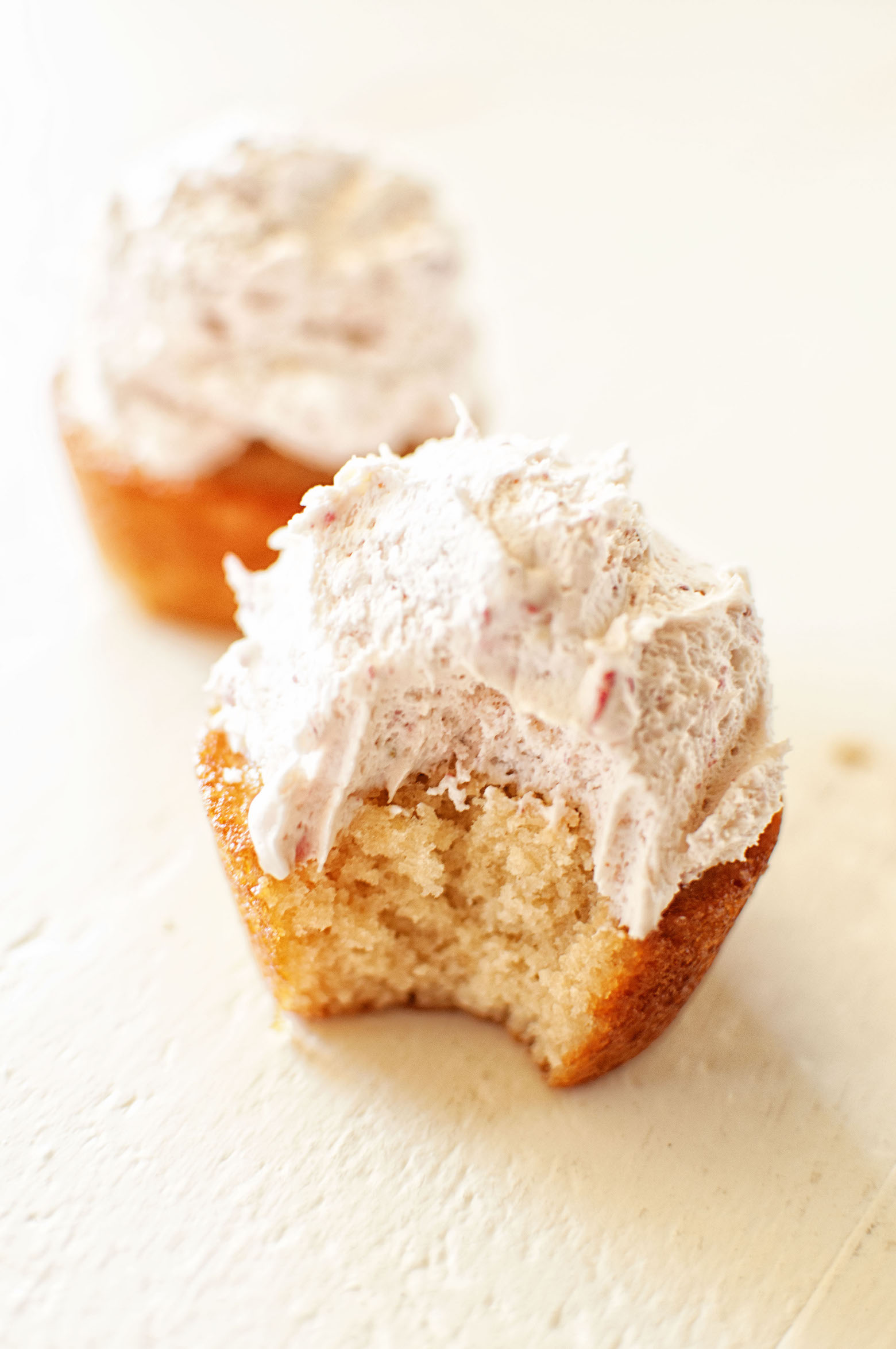 Want More Cupcake Recipes?
Chocolate Root Beer Float Cupcakes
Strawberry Pretzel Cream Cheese Cupcakes
Dark Chocolate Butterfinger Cupcakes
Strawberry Buttercream Neapolitan Cupcakes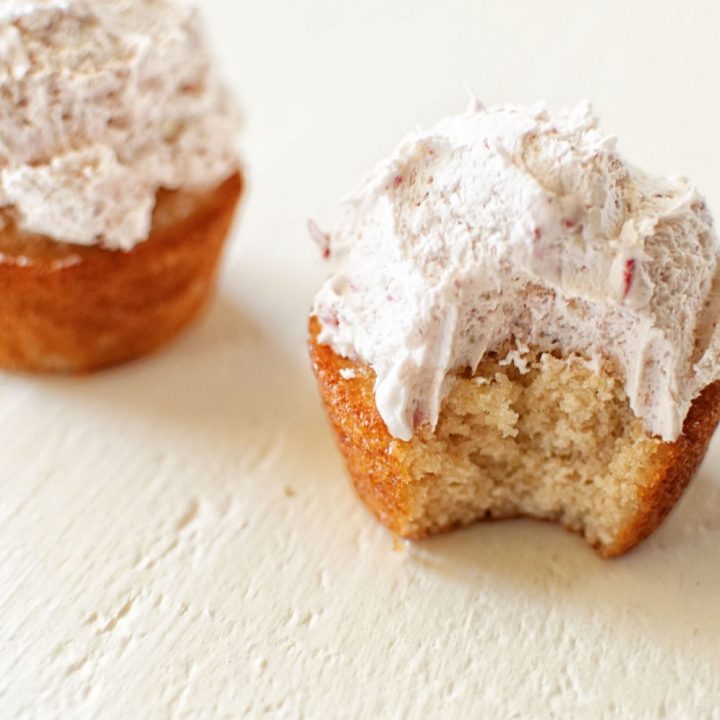 Strawberries and Cream Cupcakes
Ingredients
For the cupcakes:
12 TBSP unsalted butter, at room temperature
4 large eggs
1/2 cup Strawberry Nectar
1/2 cup buttermilk
1 tsp. vanilla extract
1 tsp. salt
2 cups all-purpose flour
1 3/4 cup granulated sugar
2 tsp. baking powder
For the Strawberry Swiss Meringue Buttercream:
7 large egg whites
2 cups granulated sugar
1½ cups unsalted butter, softened but still cold
2 tsp. vanilla extract
pinch of salt
1 1/2 cup freeze dried strawberries, crushed finely
Instructions
For the cupcakes:
Preheat oven to 350F.
Spray cupcake pan with baking spray or line with cupcake liners.
Using a stand mixer with a paddle attachment cream together the butter and sugar until light and fluffy, about 3 minutes.
Add the eggs one at a time, scraping down the bowl after each addition.
Add the vanilla and beat for 30 seconds.
Combine the dry ingredients into a small bowl.
Add half the dry ingredients and mix on low.
Add the Strawberry Nectar and beat until combined.
Add the remaining dry ingredients and mix until combined.
Add the buttermilk and mix well until fully combined.
Remove from mixer.
Scrape the bottom, and sides of the bowl to ensure that everything is well mixed.
Fill prepared pan 2/3 of the way for each cupcake spot.
Bake for 20-25 minutes rotating the pan halfway through.
Remove cupcakes from oven and let cool for 5 minutes.
Remove from pan and let cool on a wire rack.
For the buttercream:
In a medium pot, bring about an inch of water to a simmer.
Thoroughly wash and dry the stainless steel mixing bowl from your stand mixer.
Add 7 egg whites and 2 cups sugar and whisk together.
Place mixing bowl over pot of barely simmering water, creating a seal over the pot (bowl should be over the steam, not touching water).
Whisk constantly until mixture reaches 160˚F.
Sugar should be fully dissolved (you should not feel any sugar granules when rubbing mixture between finger tips). Mixture will feel hot to the touch.
Wipe water from bottom of mixing bowl and transfer bowl to stand mixer fitted with whisk attachment.
Beat on medium-high speed until stiff glossy peaks form (about 15-20 min) and bottom of the bowl feels completely at room temp and not warm (important: warm meringue will melt the butter).
Once bowl is at room temp, switch to paddle attachment, reduce to medium speed and add butter 1 Tbsp at a time, adding it just as fast as it is absorbed by meringue.
Once all butter is in, scrape down the bowl and continue beating until it reaches a thick whipped consistency (3 min on med-high speed). If it looks lumpy or liquidy at all, keep beating until smooth, thick and whipped. Don't panic it comes together.
Add 2 tsp vanilla extract and ¼ tsp salt and mix on med-high until incorporated.
Add the freeze dried strawberries and whip until incorporated.