This Honey Lime Cake is a moist and tender cake using local honey and key lime to make a simple summer time treat…and yes the pan makes it extra cute.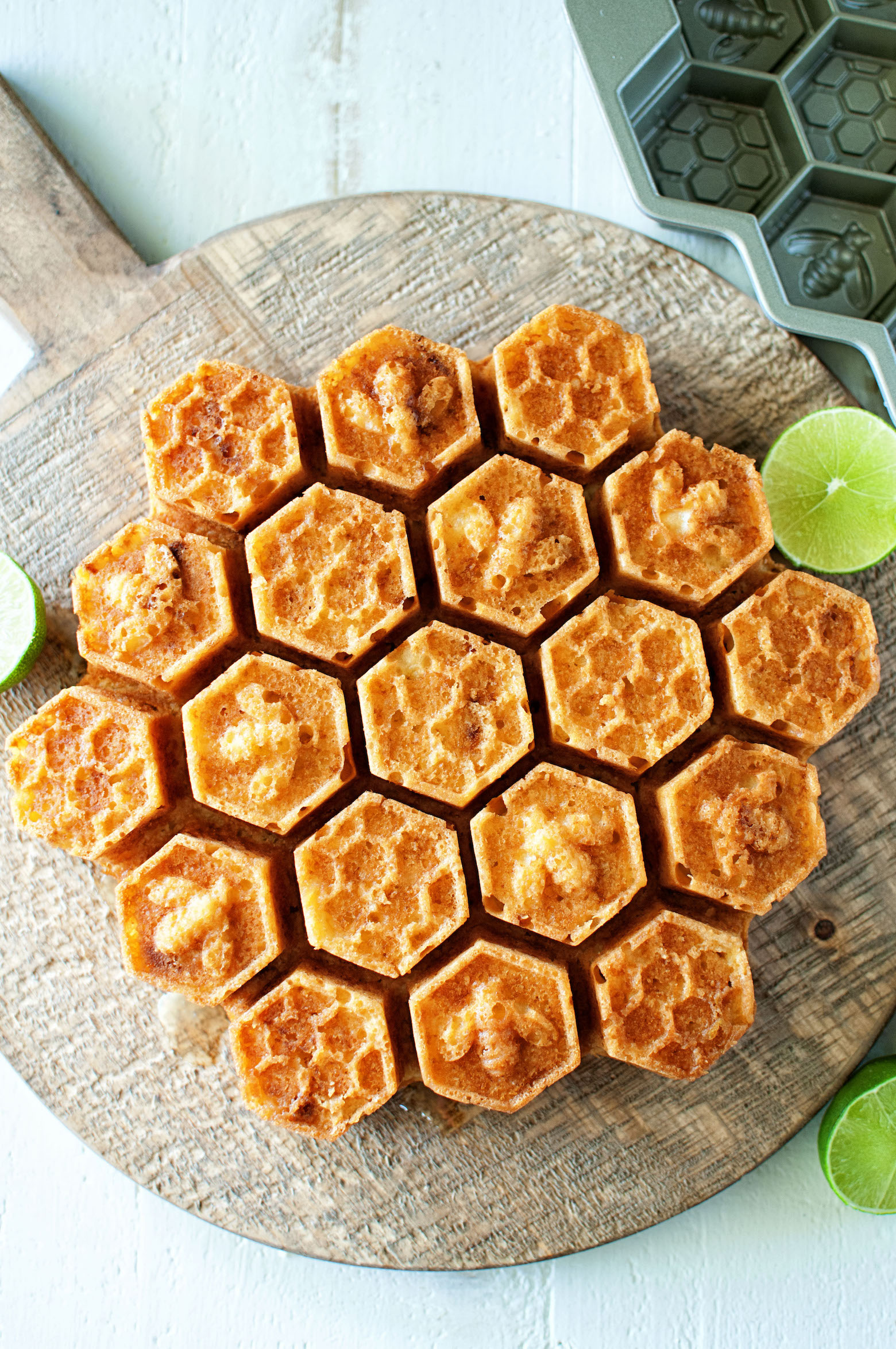 Forty-Five.
My age I turned last week, not the president. 😛
Here's what I learned this year….
You never really know how much you DON'T know the words to a song until you stand up to sing karaoke…what you know is the chorus…not the whole song. 🙂
It takes two strong drinks to convince me to sing karaoke.
All those who encouraged me to do so regret that immediately as I sound like I am beating a cat to death when I open my mouth to sing.
When I quit teaching I used to wonder if I would have a purpose.
While having a blog is nice it's not very purpose driven.
Oh sure, I talk about body image on here and that has helped people but it wasn't until I started helping and educating people about the awesomeness that is senior dogs that I felt purpose again.
Speaking of those old dogs, I am once again participating in the Walk for Old Dogs next weekend.
Last year I was the leading fundraiser and hope to be again this year.
Some of you helped out with that, if you would like to do so again I would greatly appreciate it.
It is a tax deduction and good karma. 😀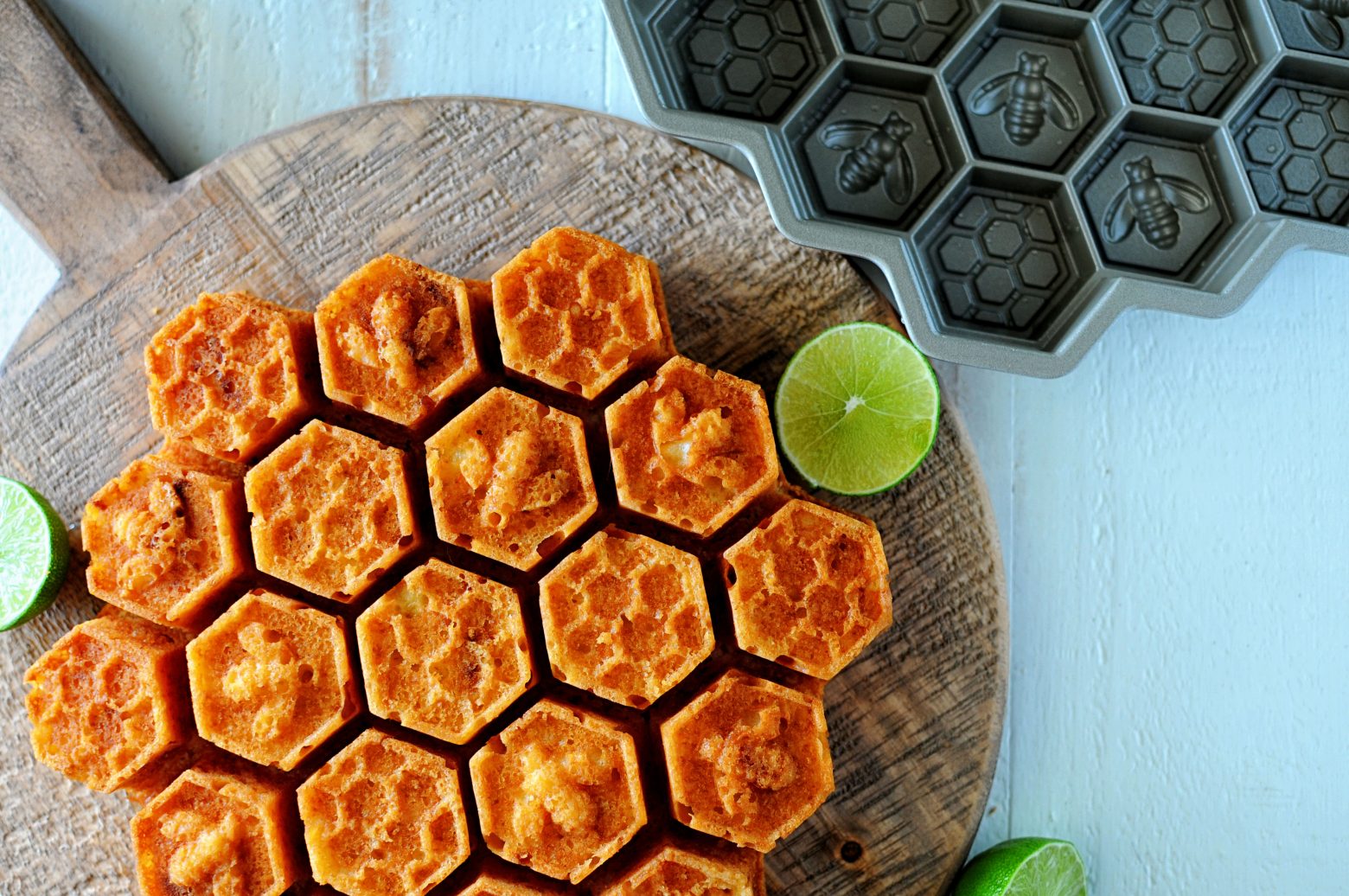 My husband is seriously useful.
In buying a fixer upper this year I am in awe all the things that he can do/fix/make…you name it.
And FYI, when you buy a fixer upper one of the best things you can be is married to an electrician who can also do plumbing.
I did not get the fixer upper gene.
What I got was the supervisor gene.
Can't even really paint trim well.
But gosh I excel at pinning things on Pinterest for the hubby to do. Haha.
I used to think 50 was old.
Until I realized in 5 years I will be 50…then it doesn't seem so old.
Things on your body hurt. Often.
When you go to the doctor and tell them this they tell you "well, you are over 40 now" as an answer. Gee, thanks.
I try and try to be a morning person.
What I am is a night owl.
And I need to just deal with it.
I get so much more done at night than I do when I wake up at 7am and take three hours to get going. 😀
I'm not very good at scaling back kitchen stuff. I saw on the King Arthur Instagram a Honey Lemon Cake using the bee pan.
I love this pan.
But I don't use it often because you miss the detailing when you make a frosted cake.
I tend to use it for cornbread a lot.
Do I need this pan? No. But come on…it's a great pan. You need it too.
We didn't have lemons and I had just finished making key lime ice cream and decided to go lime with this cake.
I'm sure it's great with lemon too.
I used local honey from my friend (hockey buddy) Nick's farm Raising Cane Ranch down the way from me.
I love buying his honey because it helps with my allergies.
That and it's good honey.
This is not a super sweet cake and I served it with fresh berries and whipped cream.
The original recipe called for part almond flour but I didn't have any. I felt with the glaze and use of cake flour that it was more than moist enough.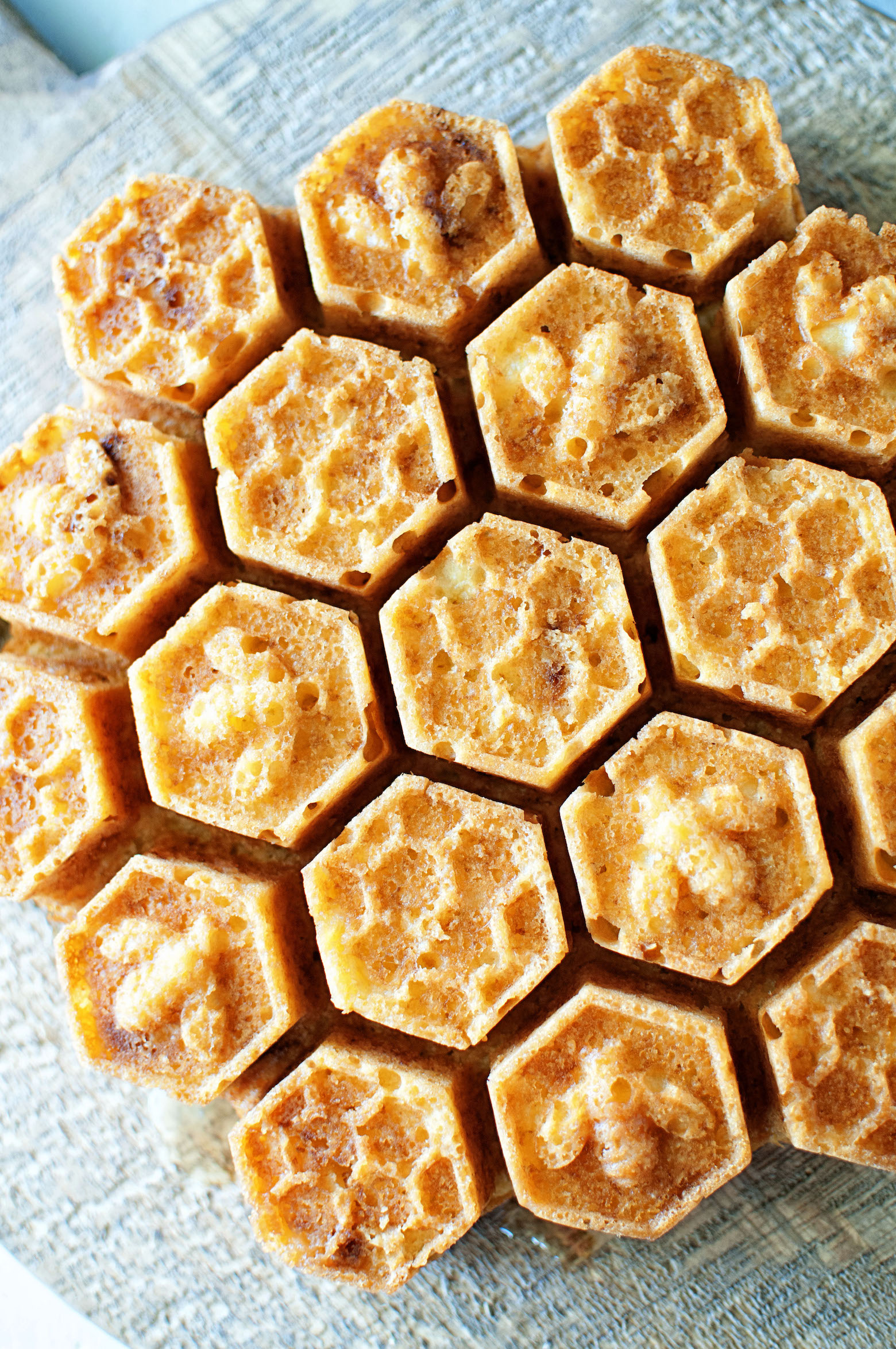 Want More Citrus Cake Recipes?
Cranberry Lemon Poppyseed Loaf
Strawberry Lemonade Bundt Cake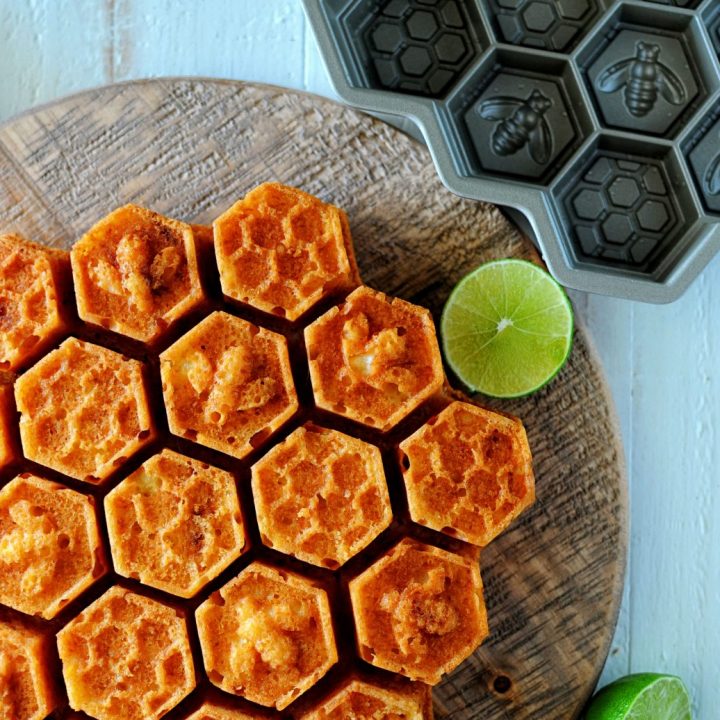 Honey Lime Cake
Ingredients
Cake Batter:
2 cups Cake Flour
1 1/2 tsp. baking powder
1/2 tsp. baking soda
1/2 teaspoon salt
1/2 cup unsalted butter, at room temperature
1/2 cup granulated sugar
2 large eggs
1/4 cup honey
(zest) of 1 lime
1 tsp. vanilla extract
4 TBSP key lime juice
1 cup buttermilk
Glaze:
1/4 cup honey
2 TBSP unsalted butter
1 TBSP Key lime juice
Instructions
Preheat the oven to 350°F.
Grease a honeycomb pan or 9" round cake pan with baking spray.
In a medium bowl, whisk together the flours, baking powder, baking soda, and salt.
Using a stand mixer with a paddle attachment beat together the butter and sugar until light and fluffy, about three minutes.
Add the eggs one at a time, beating for a minute or two and scraping the sides and bottom of the bowl between additions.
Beat in the honey, zest, juice, and extract.
Stir in the flour mixture in three additions, alternating with the buttermilk, beginning and ending with the flour mixture.
Spread the batter into the prepared pan; if you're baking in the honeycomb pan, I recommend tapping the pan firmly on the counter to help eliminate any air bubbles at the bottom.
Bake the cake for 30 to 35 minutes, until it's a deep golden brown and a cake tester inserted into the center comes out clean.
Remove the cake from the oven, allow it to cool in the pan for 10 minutes, then turn it out onto a rack.
To make the glaze:
Combine the honey, butter, and lemon juice in a small saucepan set over medium-low heat. Heat until the butter is melted and stir until smooth.
Brush the glaze onto the warm cake.
Allow the cake to cool completely before cutting.
Store leftover cake, well wrapped, at room temperature for several days. Freeze for longer storage.