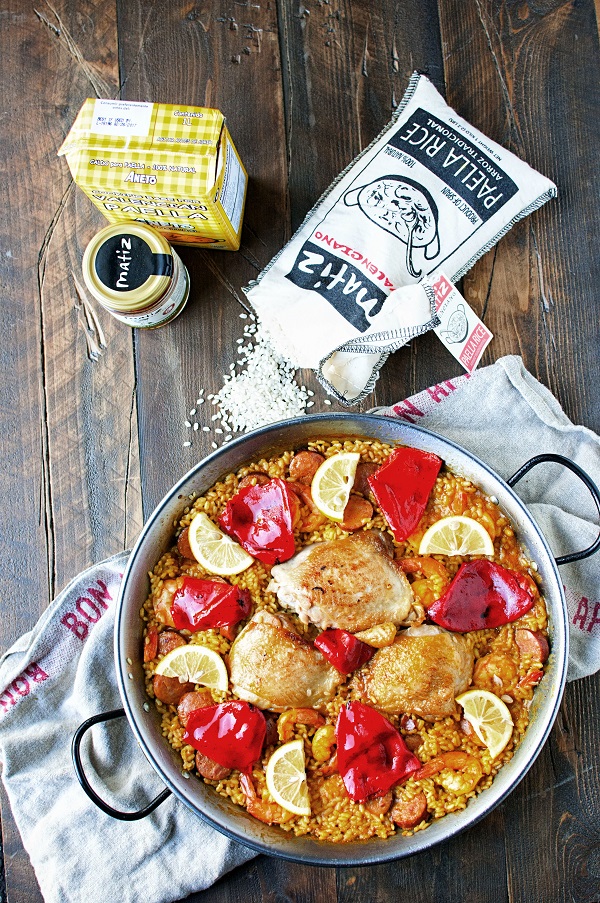 When I first moved out into my first apartment I'm not quite sure what I expected but I had grandiose idea of my friends hanging out all the time and us having dinner parties. I don't know why I thought that but I did. I really don't know what I thought that because I was a teacher and made hardly any money. One day a catalog came to the house and there were all these people gathered around the table all enjoying Paella. Oh, I thought, I need a paella pan, and then all my friends will gather around like that. But alas my friends were not adventurous and fast food was pretty much all they ate. So the pan sat. I dragged it through every move and finally when moving from AZ to WA state I decided since I had never actually made paella it was time for the pan to be donated away.
Fast forward to a couple weeks ago when Culinary Collective asked me if I wanted to make paella in honor of National Paella Day, which is March 27th FYI. I really, really did since I never got to. I pointed out to them that I no longer had my paella pan then and they said no problem we will send you one. They sent me a Vaella Paella Pan which was smaller (aka more manageable) that the one I bought when I was 22). So they did, along with some ingredients to make simple and delicious paella.
They sent me Matiz Paella Rice which is the traditional short grain rice from the Valencia region in Spain (aka where paella originated) and absorbs large amounts of liquid and therefore all the flavor of the liquid sinks in.
I received a container of Aneto Natural Paella Base (I had used Aneto's chicken stock before and really liked it). It's an all-natural broth made from fresh whole vegetables, meats and saffron that have been slow-cooked for hours, producing a rich and flavorful base for paellas and stews.
And lastly they sent me a jar of Matiz Organic Piquillo Peppers. They are grown and roasted in Spain where the piquillo peppers originated (though they are now grown around the world). They are D.O.P, ensuring the highest quality and most intense flavor. They are fire roasted and peeled by hand.
There are so many combos of paella it's impossible to put a number on it. Most of the ones I have had have chicken, sausage, and seafood of some kind and that is what I used in mine. You can use whatever proteins you would like. The base makes this paella SOOO easy to make. 20 minutes later and you have dinner for friends. Throw out some Marcona almonds and Spanish olives and you are good to go!
If you are saying hey I want to make this where do I get a paella kit, you can go here to get one here. I am also giving one away. See below: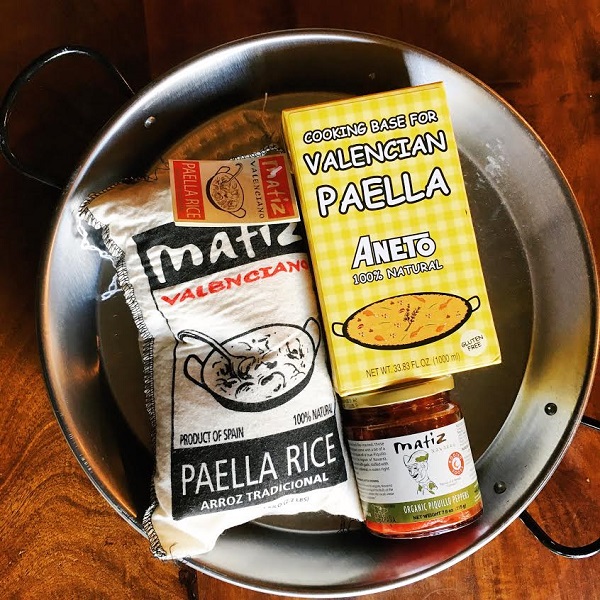 To win the kit you need to comment and tell me you like to serve at gatherings in the comment section. You also need to like Matiz AND Aneto on Facebook. Winner will be picked at random (using a random number generator) on Thursday March 31st at 5pm PST.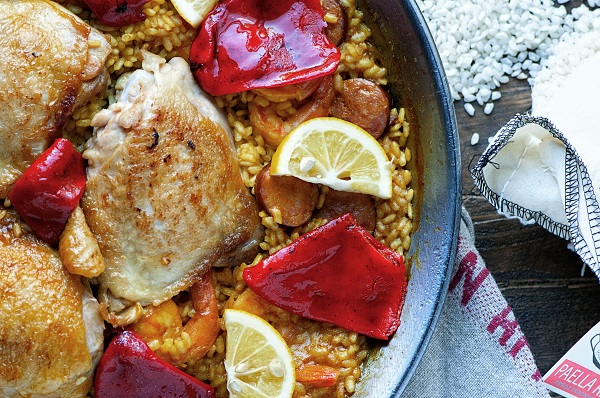 Peabody's Paella
3 chicken thighs (skin left on)
25 large shrimp, raw
1 kielbasa sausage, sliced in rounds
1 medium onion, finely diced
250 grams short grain paella rice (I used Matiz)
1 box Aneto Valencian Paella Base
6 jarred piquillo peppers (I used Matiz Navarro Piquillo Peppers)
Olive oil for frying
In the Paella pan add about two TBSP olive oil and add the onions and chicken thighs.
Brown the chicken thighs and cook until the onions are translucent.
Add the shrimp and cook until just opaque.
Add the kielbasa sausage rounds and cook for about a minute.
Add the rice to the pan.
Smooth all the ingredients with a spatula to make flat.
Add the cooking base and turn to high heat for 10 minutes.
Then simmer on low heat for an additional 10 minutes.
Remove from heat and let sit for several minutes.
Serve and enjoy.