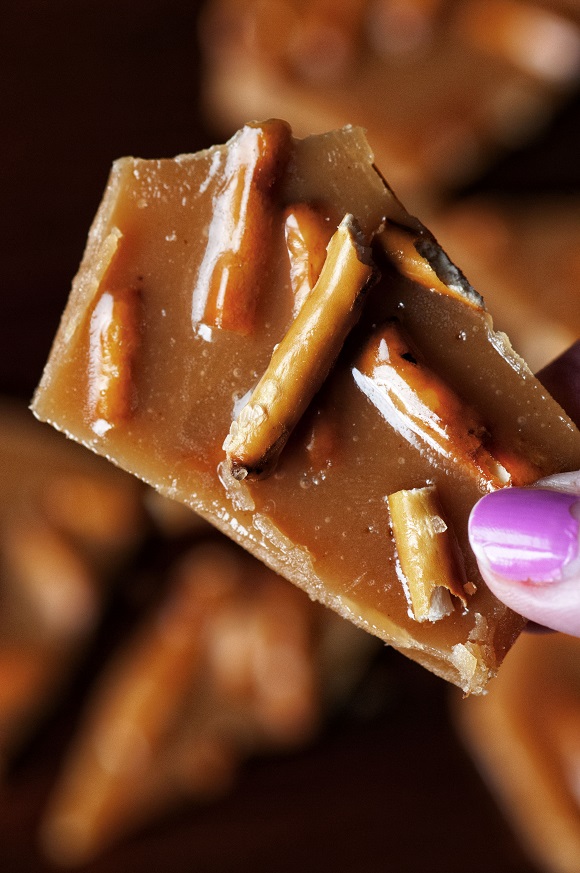 Let's just first address the elephant in the room. Yes, I am in dire need to a manicure which became super clear to me when editing photos. 🙂
Now on to our toffee. I have wanted to make this toffee for a long time. But for the longest time I was not a candy maker. I tried toffee many years ago and it was an epic, epic fail. However, over the last couple years I have become more and more comfortable with candy making and decided okay, let's give it another shot. Very glad I did.
Candy making is like teaching your grandma how to use her Smart phone…patience is greatly needed. Honestly, I think that's the hardest part of candy making is the waiting. Well, that and getting the temperature right. I quit using a traditional candy thermometer years ago when MDP handed me an infrared thermometer, the joys of living with an electrician. At first I was nervous that it would not work with candy. But I have been using it for a good solid two years of candy making no problem. I think the kind I own isn't available but this Fluke 62 MAX Infrared Thermometer, AA Battery, -20 to +932 Degree F Range
is the next one they make. They make cheaper ones (not by this company) but I don't know how those will work since I have never used them.
I love the salty/sweet of this toffee and because of all the butter in it; it just melts in your mouth. If you make this and say hey it's not the color of Peabody's toffee that's because you didn't photograph it and use Photoshop. 🙂 The toffee color in real life was way too pale for a food blog so don't panic if yours is not the rich of a color. You know, the right way to use Photoshop. 😛
If you are wondering what to use this for…the next blog post after this one will show you how. It's part of a great Father's Day dessert idea.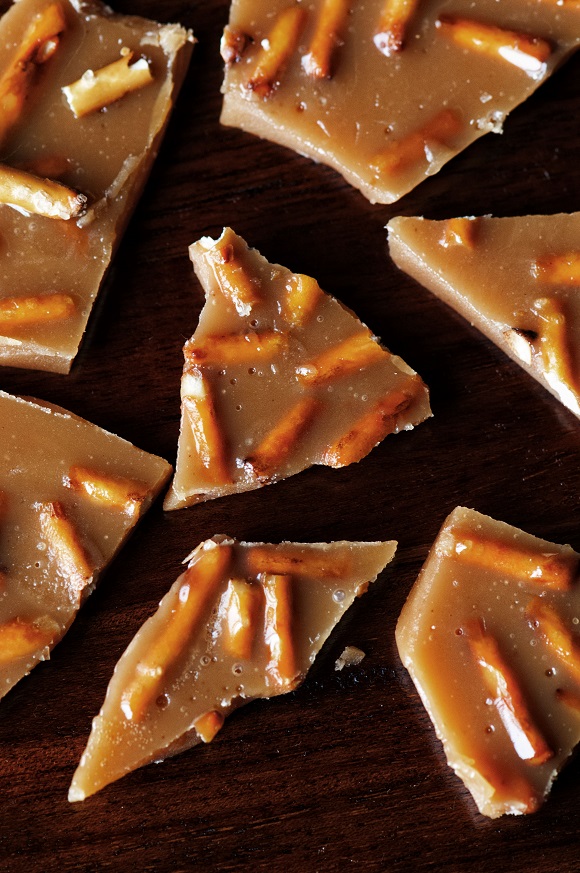 Pretzel Toffee
2 1/3 cups sugar
2 cups unsalted butter (I used Plugra)
1/4 cup water
2 TBSP light corn syrup
¼ tsp. salt
1 1/2 cups chopped pretzel sticks
Butter 15x10x1-inch baking pan; set aside.
Combine all ingredients except pretzels in a heavy 3-quart saucepan. Cook over medium heat, stirring constantly until butter is melted.
Reduce heat to medium-low.
Cook 25-40 minutes, stirring occasionally until candy thermometer reaches 300°F or a small amount of mixture dropped into cold water forms hard brittle strands.
Stir in the pretzel pieces.
Pour mixture into prepared pan; spread to desired thickness.
Cool at least 3 hours. Break into pieces.
Store in container with tight-fitting lid, in cool dry place, up to 3 weeks.