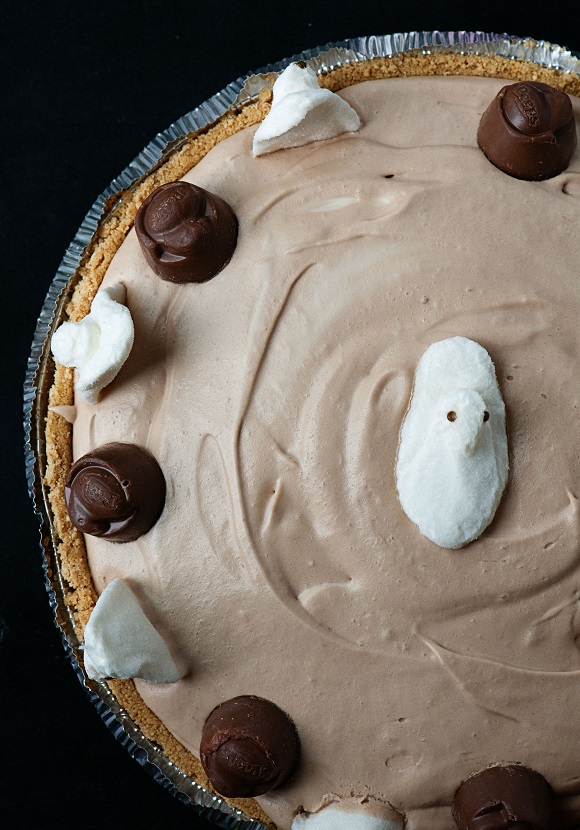 It's April. I'm honestly kind of in a panic about that. I just don't really know how that's possible. I mean I know how it's possible, but still. Easter is in a handful of days and I've done nothing. I kept putting it off in my mind because it was late this year and then the next thing you know it's here.
I had all sorts of grandiose ideas about what I was going to make for Easter recipes for this blog…haha, yeah so that didn't happen. With the exception of today's recipe.
My podcast partner in crime Kita (Pass the Sushi and Girl Carnivore) knows that I am a fan of Peeps. Like a FAN. They used to have a fan club where you got a card to carry saying you were a member of the fan club. I carried mine in my wallet just because I loved people's looks on their face when you would show them here's my driver's license, a credit card, a debit card, and oh yeah my official Marshmallow Peep fan club card. Anyway, Peeps kept contacting her to want to give her Peep stuff. She let them know they were talking to the wrong person and re-directed them to me.
They sent me some of the new Peep flavors I asked to try, MDP is a huge fan of the Orange Delight kind. They also sent me Peepsters which I had never really tried before. But once tasting one I knew it would be perfect in a recipe that I made a few years back using Cadbury Crème Eggs. It was a good call. The texture of this pie is the best. It's so light and airy. Which can be a tad dangerous as you think gee I haven't hardly eaten anything…same thing happens to me when I eat Rice Krispie Treats. 🙂 Feel free to use a chocolate crust instead, I went with graham cracker because that is what I had on hand.
Hopefully you are more on top of things than me and if you celebrate Easter have your game plan and items already bought.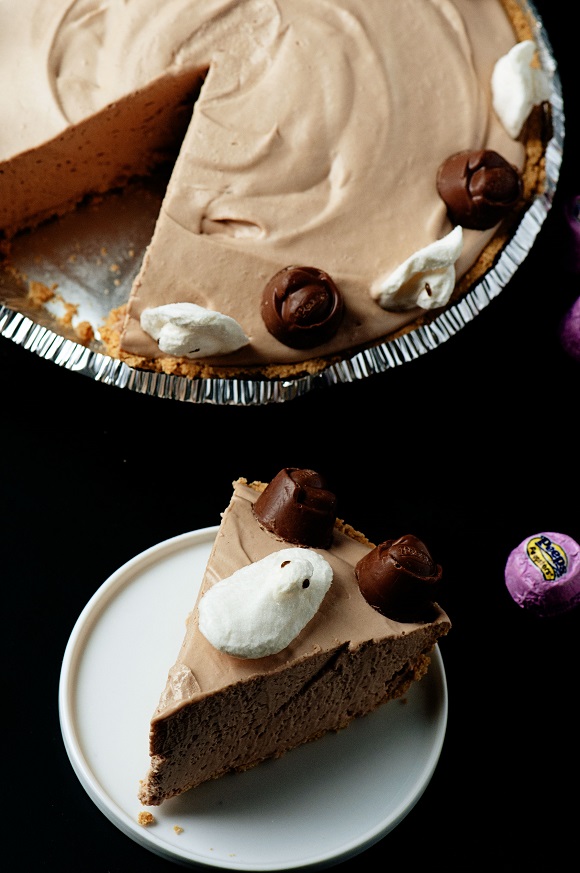 Chocolate Peepster Pie
1 envelope unflavored gelatin
1 cup cold water, divided
1 tsp. vanilla extract
1 TBSP unsweetened cocoa powder
10 ounces Peeps Milk Chocolate Peepsters , melted over a double boiler
1 cup Marshmallow Cream (Fluff)
2 cup heavy whipping cream, whipped
1 Graham Cracker Crust
In medium saucepan combine ½ cup cold water and gelatin; let stand 1 minute.
Cook stirring constantly, until gelatin is completely dissolved. Remove from heat.
Stir in vanilla and remaining water.
Beat in melted Peepsters, cocoa powder, and marshmallow cream.
Chill until mixture mounds when dropped from spoon (this was about 20 minutes).
Fold in whipped cream. Mix until fully incorporated.
Fold into crust. Spread evenly and top with mini Peeps and extra Peepsters if desired.
Refrigerate for at least 4 hours. Serve cold.