Crazy Cocker Spaniel is very sick. I ask for you to send good thoughts as you all know how loved she is. We took her to the emergency vet Sunday night thinking she was having a stroke. Luckily it was not that. They think as of right now that it's Vestibular Disease, which often occurs in seniors.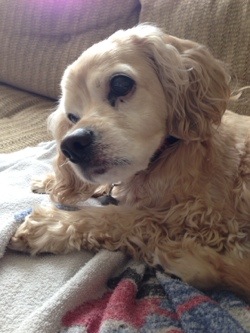 Her symptoms were vomiting, unable to stand or walk (when waking stumbling and walking like drunk), head tilt ( you can see that in her photo), won't eat (they have nausea), nystagmus (which is when the eyes shift side to side and up or down rapidly), and shaking…all similar to that of vertigo.
Since the initial night (Sunday) she has improved in walking, though still stumbling and often falling when walking. She is eating some and drinking which is all positive. We go to her regular vet on Thursday. It could be simply that she is old (which is what we are hoping) and she will adjust though the head tilt will most likely go away.
But it can also be caused due to tumors/cancer, middle ear infection, and other lesions. Things I'm hoping are not the case.
Right now she's almost like an infant and taking up all my time which I happily give her so if you are wondering where I am, that's the reason.