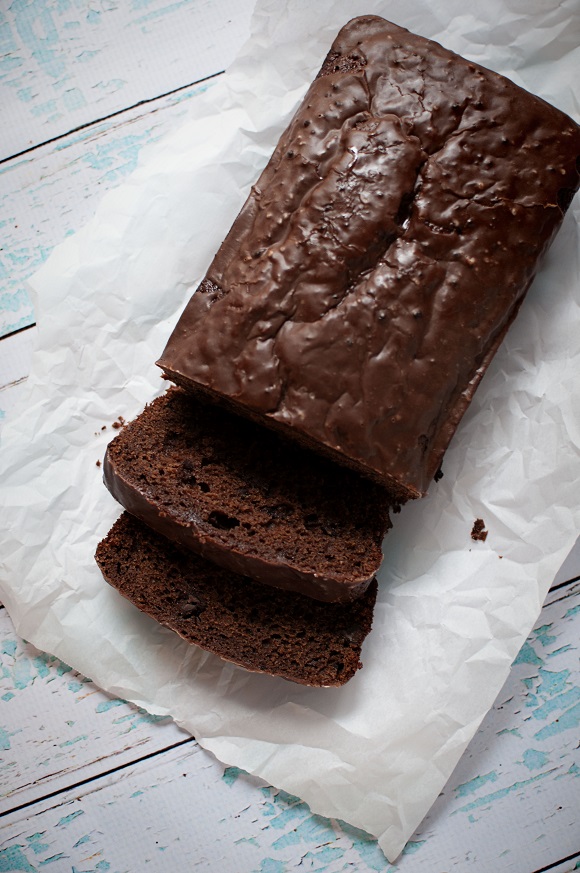 This past Sunday was my bridal shower. My bridesmaid B loves a good theme and so I chose Happy Homemaker (1950's Housewife) as the theme….they went with it and the shower was totally adorable.
I embraced the theme and did my best to look the 50's housewife part…you can't see them but I was even in Mary Jane heels.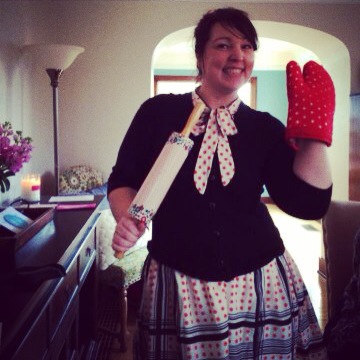 These are adorable apron cookies were made by my other bridesmaid's aunt. Too cute and amazingly she freehanded all the decoration. I got a couple cute aprons…all of course was suggested that I wear just the apron for MDP. 😉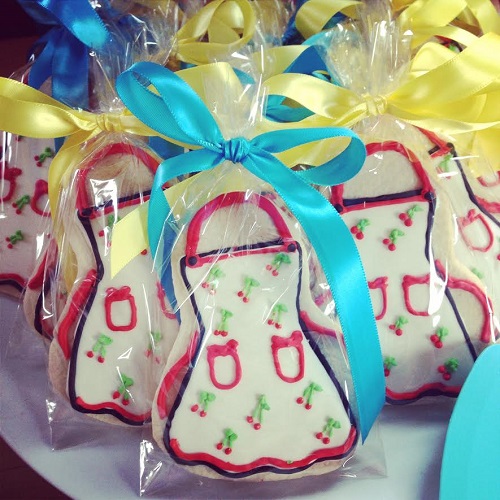 And speaking of adorable…these cake pops! We are lucky enough to have a friend who is cake pop queen. She should be doing them as a business but her family and kiddos keep her too busy to do that. But she still makes them for friends and family, lucky us. And yes she is making some for my wedding.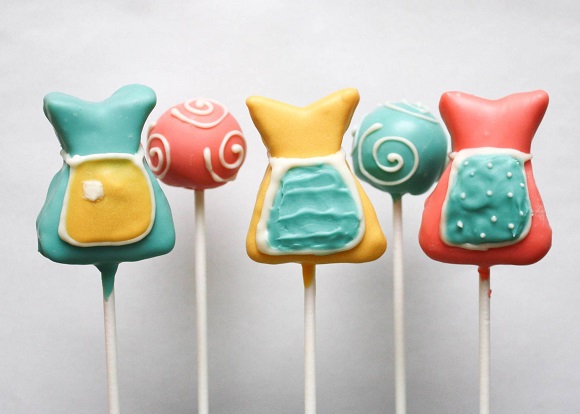 As you can see the theme was carried out in every detail. And since they know me so well there were only two "games" played. Bridal Bingo and a game where people had to write down a memory they had of us together and everyone else had to guess who it was. Some of them were funny and some were downright sappy (like the one from my MIL to be which was super sweet). And the favors sent home were colorful kitchen aid utensils with my Apple Pie Dump Cake recipe attached. Too cute.
Everything was wonderful. B and M did a wonderful job…I would expect nothing less from the two of them. My Matron of Honor living across the otherside of the country of course was not there…but she's sending towels since ironically I had a shower to get me towels but no one got me towels because they assumed everyone else got me towels. Was very touched though that my friend E who I haven't seen in forever drove up from Portland (that's 3 1/2 by car) to be there for the shower!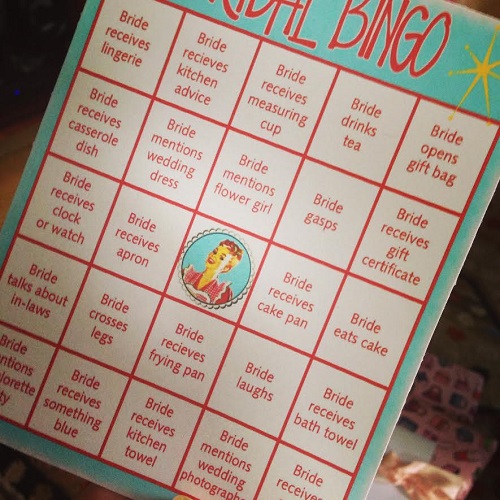 And of course no 1950's Housewife Shower would be complete without The Good Wife's Guide out of Housekeeping Monthly (May 13, 1955). My favorites out of the fine suggestions are:
"Greet him with a warm smile and show sincerity in your desire to please him. Listen to him. You may have a dozen important things to tell him, but the moment of his arrival is not the time. Let him talk first-remember, his topics of conversations are more important than yours."
*how were there not more homicides in 1955 with this kind of thought? 🙂
"Don't ask him questions about his actions or question his judgment or integrity. Remember, he is the master of the house and as such will always exercise his will with fairness and truthfulness. You have no right to question him."
*bahahahaha
"Don't complain if he's late for dinner or even if he stays out all night. Count this as minor compared to what he might have gone through at work."
*I have to complain if MDP is late for dinner…he's the one that usually makes it. 😛
And of course… "A good wife always knows her place." *Don't I though. 😀
My place is to make cake. 🙂 Which I did. Harry and David sent me some lovely Honeybell Tangelos which I love and look forward to every year! I love making a citrus yogurt cake and thought they would go great in the cake. I mixed things up by adding some Rodelle cocoa powder and chocolate chips to go for the classic Orange and Chocolate combo. Since this is a yogurt cake it by definition is tender and moist. Make it for your husband to make sure you are pleasing him in every way. *cough, cough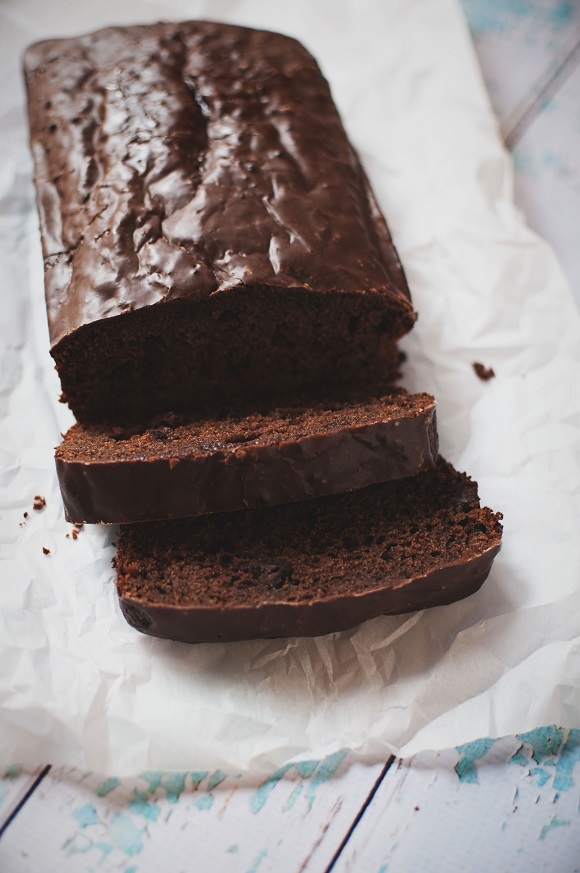 Tangelo Chocolate-Chocolate Chip Yogurt Cake
Ingredients
For the cake:
1 1/2 cups all-purpose flour
2 tsp. baking powder
1/2 tsp. salt
1/3 cup unsweetened cocoa powder (I used Rodelle)
1 C. plain whole-milk yogurt
1 cup granulated sugar
2 large eggs
2 large egg yolks
2 tsp. grated tangelo zest (or orange)
1/2 tsp. vanilla extract (I used Rodelle)
1/2 cup vegetable oil
1/3 cup freshly squeezed tangelo juice (or orange)
1 cup semisweet chocolate chips
Glaze:
1 cup powdered sugar
1 heaping TBSP unsweetened cocoa powder
2 TBSP. freshly squeezed tangelo juice
Instructions
For the cake:
Preheat the oven to 350 degrees F.
Grease an 8 1/2 by 4 1/4 by 2 1/2-inch loaf pan with baking spray.
Sift together the flour, baking powder, unsweetened cocoa powder, and salt into 1 bowl.
Using a stand mixer with a paddle attachment beat the eggs, egg yolks, and sugar until the mixture becomes light in color and increases in volume, about three minutes.
Add the yogurt and vanilla extract and mix until incorporated.
With the mixer on slow add half of the flour mixture. Mix until combined.
Add the tangelo juice and vegetable oil and mix until combined.
Add the remaining flour mixture and mix until full combined.
Fold in the chocolate chips.
Pour the batter into the prepared pan and bake for about 50 minutes or until a cake tester placed in the center of the loaf comes out clean.
When the cake is done, allow it to cool in the pan for 10 minutes. Carefully place on a baking rack over a sheet pan. Let cake completely cool before adding glaze.
For the glaze:
In a medium bowl, whisk together the powdered sugar, unsweetened cocoa powder, and juice. Pour over cake. Let the glaze set up (about 30 minutes) before serving.
https://www.sweetrecipeas.com/2014/02/18/tangelo-chocolate-chocolate-chip-yogurt-cake/