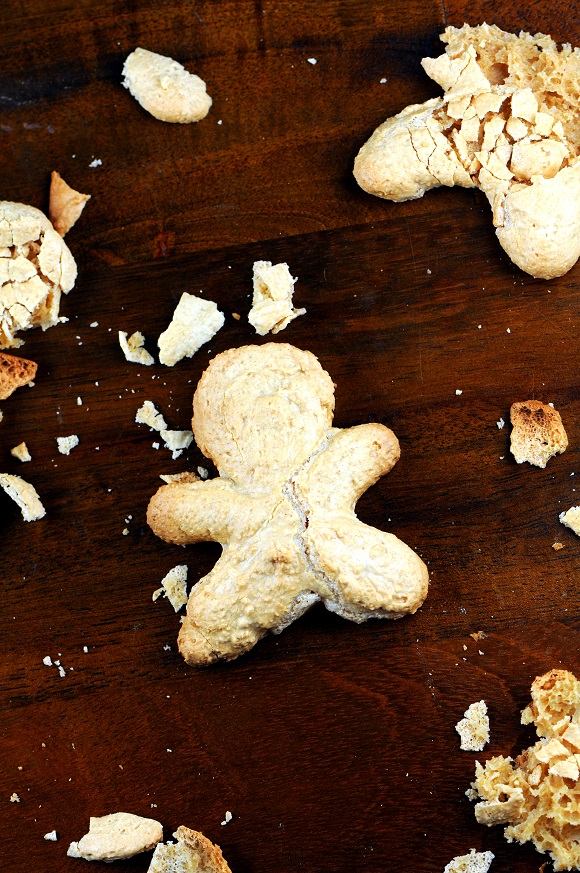 I tend not to show epic fails on my site (I like to give you recipes you can be successful with) this one just needed to be shared. I will say the epic fail is on me. I think the recipe (which was by Sherry Yard) was not the issue…as my dad likes to say it was "pilot error".
While when you taste a French Macaroon you get why they have become popular but most people hate the idea of making them at home. Here's why:
#1. You only seem to have them at your stuck up "friends" house when she hosts book club. Where she goes on and on telling you about the amazing bakery she got them from. That they know the chef personally, so much so that the chef there insisted on coming out of retirement from cake baking just to make your wedding cake. Oh and then proceeds to bite into one and say this is why (her size negative zero ass) is soooo fat. Punch her in the face and move on.
#2. The ingredients cost a crap ton. Almond flour (aka ground up almonds) is like $14 for that tiny ass bag. Trader Joe's carries some that is cheaper but not everyone has one of those around the corner. You hate to spend all that money and screw up. I get that. Start a Twitter campaign right now and bug the crap out of Bob's Red Mill until they send you some.
#3. You have to use a variety of equipment and techniques….and you only like that in the bedroom. 🙂 I kid, we all know you are boring in the bedroom. 😛 You need a food processor, a stand mixer (well you can get away with an electric but I didn't give instructions for that so you are screwed), a candy thermometer, piping bags, etc…
#4. You are supposed to use a stencil to pipe them…they even sell templates for that. I throw caution to the wind and free hand those babies. Why? Because when you screw up with a stencil you have only yourself to blame. When you screw up without a stencil you can blame it on the fact that you are no artist and should have used the stencil. Making the gingerbread men shape was even harder since you have to match up two cookies at a time. Remember that what one cookie looks like the other. Which was hard because I accidently gave one of them a penis and I had to sit there and think about removing his penis or just make another gingerbread man with a penis. I went with two penises because I know how unhappy my rabbits were when they had their penises (well technically balls but you see where I am going) removed. I just won't give those to anyone. Well maybe that bitch from book club. 😀
#5. Most of the recipes are in metric methods of measurements. The metric system scares people here in the states. Which it should. I mean it makes more sense than the method we use and common sense certainly scares people. But in reality people just buy a food scale. Seriously they are cheap and you don't have to annoy bloggers by asking them how many cups is 120 oz…you could just measure it yourself. This recipe I used did it in cups…maybe that was the issue. But it was Sherry Yard and her stuff is usually good.
#6. You aren't supposed to make them if there is humidity. Which means if you live in say Seattle you aren't ever supposed to make them. Well we may not have good weather for macaroons but we have moisture in the air and that is why our skin looks good even in winter…just saying.
#7. You have to leave them out to create a "skin". Which normally whatever but I made penis gingerbread men and felt dirty letting their penises form a skin. Again, just saying.
#8. Some recipes suggest leaving the oven door cracked with a wooden spoon or something of the likes. I only suggest that to single people who can hope the spoon catches on fire (if you have a gas oven) and you can meet yourself a good looking fireman. 😉
#9. The failure rate is high. Honestly I kind of expected mine to fail. I've only made them twice in my life other than this batch. The first ones were major fail. The second turned out good actually. And well then there was these…which clearly I got too cocky from the second batch turning out okay. So I'm no master. It was raining out. And then there was my oven. After just 6 minutes in the oven I smelled burning to which I was like WTF. Sure enough the bottoms and some of the sides already were burnt to a crisp. They were supposed to get 12 minutes and then rotate pans and go another 12-14 minutes. So six minutes until Cajun style or as someone mentioned I should make them into gingerbread ninjas. I did get a few decent ones …the penis ones turned out naturally.
#10. If you are actually successful you have to pipe filling in them and then WAIT 24 hours to eat them. Screw that.
So if you are feeling brave and are better at macaroon making than me (I'll stick to the coconut kind) then by all means give the recipe a try…here's the link.
Just wanted you to know that even seasoned bloggers screw up. 🙂