These Peppermint Bark Red Velvet Cupcakes with Hot Chocolate Whipped Cream Frosting are a festive twist on traditional red velvet cupcakes.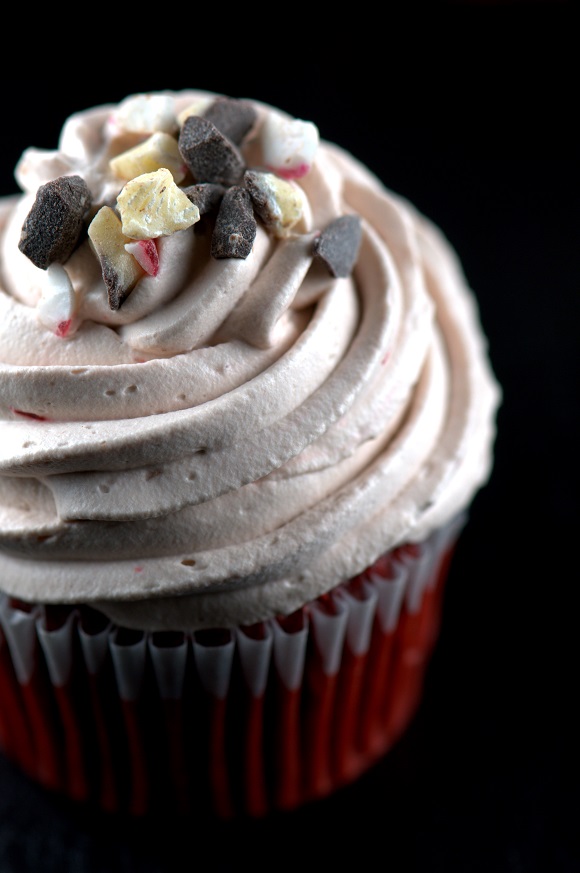 It's the time of year where the cameras come out.
I have blocks of years where I didn't take photos of myself and now that I am older I am very sorry about that.
I mean I have been on vacations where the only photos were of places and food (of course) but not one of me in the photos.
Because why?
Well because clearly I was fat and if I saw myself in a photo I would have to realize I was indeed fat.
Oh the horror.
I'm sure we all have had moments where we swore we were soooo fat…then 10 years later we see that photo and think oh I wish I were that "fat" again.
You are smiling right now because you know exactly what I am talking about.
The camera has a way of always finding our double chin, making our arm look 2 times its actual size because we didn't angle it right, our thighs seem to keep on running, etc.
Okay. So?
If this is your fear go find a portrait photographer (a higher end one)…they know how to get you to pose to look your best.
That's what people in magazines do.
They stage them to look good…and why gossip magazines love to post photos of the real women and men.
Everyone, and I mean everyone, has a bad angle.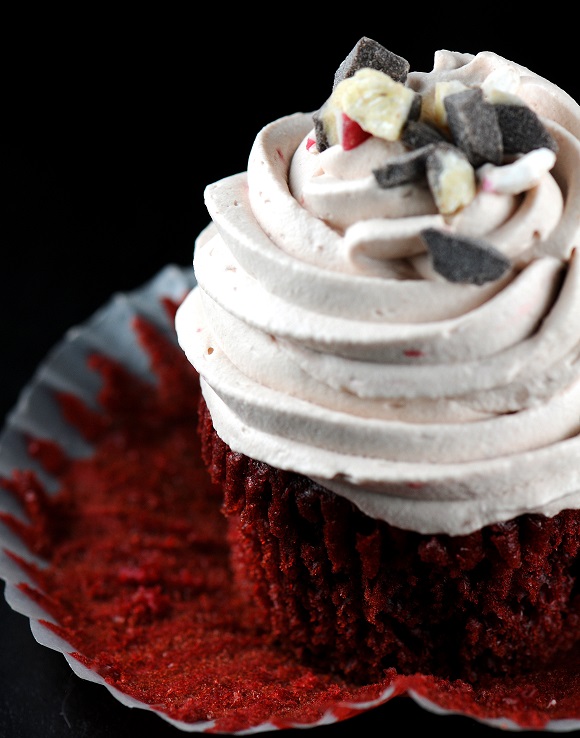 I actually almost beat up a guy I know because he commented that Jennifer Aniston in the movie We're the Millers "thighs shook a little too much for him to really be turned on".
W.T.F. dude…I don't even really like Jennifer Aniston and will tell you she has a seriously hot body in that movie (and in life in general).
Bodies are made to jiggle when you are thrusting them around doing stripper moves.
I would like to point out that this guy has no girlfriend and wonders why…and no he is not in awesome shape.
If you expect us to look like Victoria Secret Models (who FYI don't even look like that in real life) then you best be in equally impressive shape yourself buddy. 😛
This is who you are at the moment in your life.
Capture it.
Embrace it.
Stand proudly in your photo (instead of ducking in the back behind people…you know who you are).
If you are going to a family event where you know people are going to want photos and you worry about how you look, take the time to wear a well-fitting outfit and take a little time to do the hair and makeup (or whatever you do).
I will say that I am quite happy to see a trend in body acceptance as of late.
I have noticed quite a few food bloggers promoting that and I am hoping that I have a little bit to do with that.
The more people we can get on board with wanting to like their bodies they better the world can be!
But don't shy away!
And now the photo worthy food….last week I was addicted to all things eggnog and this week it's peppermint bark. 🙂
Enter the Peppermint Bark Red Velvet Cupcakes with Hot Chocolate Whipped Cream Frosting.
You can of course just leave out the peppermint bark and make red velvet cupcakes with hot chocolate frosting but this is holiday time and that's my excuse for getting to throw peppermint bark into anything I want.
I personally use Trader Joe's peppermint bark baking pieces that they sell but if you don't have that as an option you can always make your own or buy some.
These are obviously good.
I mean red velvet.
Good.
Hot chocolate in whipped cream form.
Good.
Peppermint bark.
Good.
All together.
Extra good.
P.S. It's a great day to buy my cookbook Holy Sweet!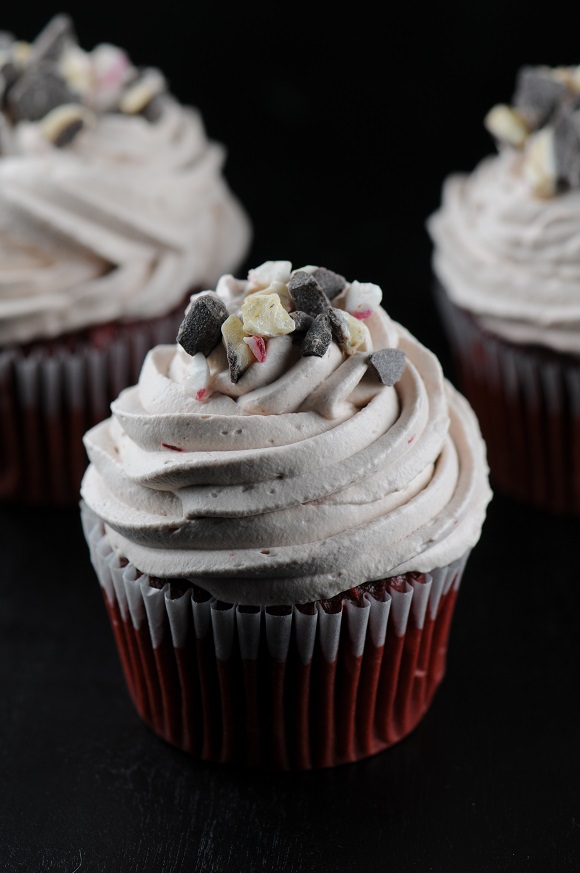 Want more Peppermint Recipes?
Peppermint Mocha Latte Sweet Rolls
Peppermint Bark Red Velvet Cupcakes
Milk Chocolate Peppermint Fudge
Chocolate Dipped Chocolate Peppermint Cupcakes
Peppermint Mocha Blossom Cookies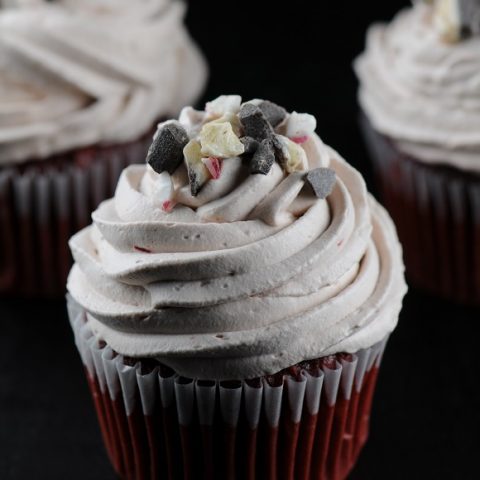 Peppermint Bark Red Velvet Cupcake with Hot Chocolate Whipped Cream Frosting
Ingredients
Cupcakes:
2 1/4 cups all-purpose flour
1 cup granulated sugar
1 tsp. baking soda
1 tsp. salt
1/4 cup unsweetened cocoa powder (I used Rodelle)
2 eggs1 cup buttermilk
1 tsp. distilled white vinegar
1 cup vegetable oil
2 TBSP red food coloring
1 tsp. vanilla extract (I used Rodelle)
1 cup peppermint bark, chopped into small pieces (think chocolate chip size)
Frosting:2 cups heavy whipping cream
½ cup powdered sugar
½ cup peppermint hot chocolate (I used Stephen's)
1 cup peppermint bark, chopped into small pieces (for garnish)
Instructions
For the cupcakes:
Position a rack in the center of the oven and preheat the oven to 350 degrees F.
Line a 12-cup muffin pan with paper liners and set aside.
In a bowl of an electric mixer set on medium speed, lightly beat the eggs.
Add the buttermilk, vinegar, oil, food coloring and vanilla, beating until well-combined.
Slowly add the dry ingredients, mixing until combined.
Fold in the peppermint bark pieces
Pour the batter into the prepared muffin cups, filling each cup about 2/3 full.
Bake for 25 to 35 minutes, or until a wooden skewer inserted near the center of a cupcake comes out clean.
Remove the muffin pan from the oven and cool on a wire rack for 10 minutes.
Turn the cupcakes out of the tin, and place them on the wire rack to cool completely. Frost when cool.
For the frosting:
Using a stand mixer with the whisk attachment beat the heavy cream until soft peaks form.
Add the sugar and the cocoa.
Continue to whip until thick and frosting consistency.
Frost cupcakes and garnish with extra peppermint bark.