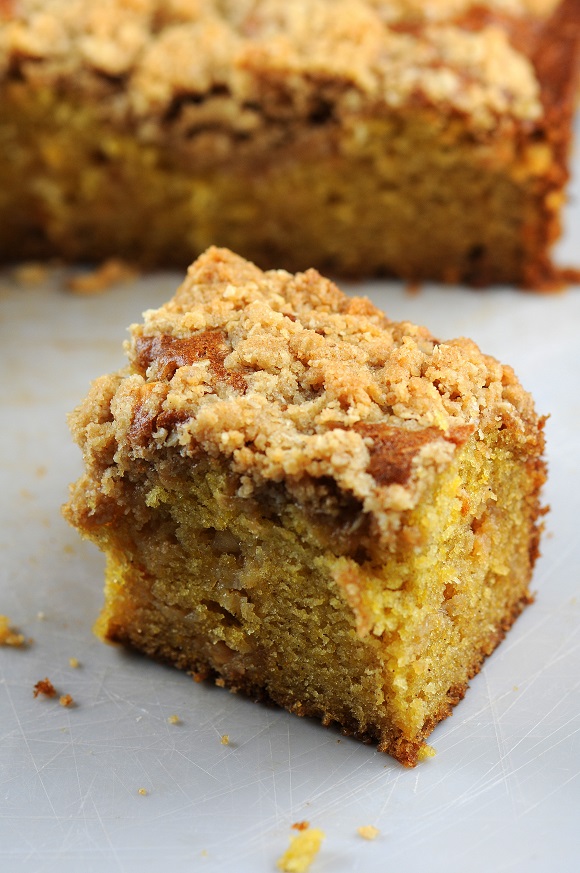 November is in full swing, feel free to panic. I know I am. 🙂
November is the month of being grateful. I have much to be grateful and thankful for.
I'm thankful for many things but I'll start this month by thanking the wonderful companies that I am currently working with: Plugra, Rodelle, Microsoft (can't tell you what yet), Red Star Yeast, Tablespoon, and Oreo. All of them are companies I truly believe in and feel proud to be in partnership or working with. If you don't know about these companies (I mean I'm sure none of you have heard of Microsoft :P) I encourage you to check them out.
So one of the things I made with my freshly roasted pumpkin was this oatmeal cookie crusted pumpkin snack cake. It's great for breakfast…I sliced it open and ended up buttering it and pouring a little maple syrup on. Super yum.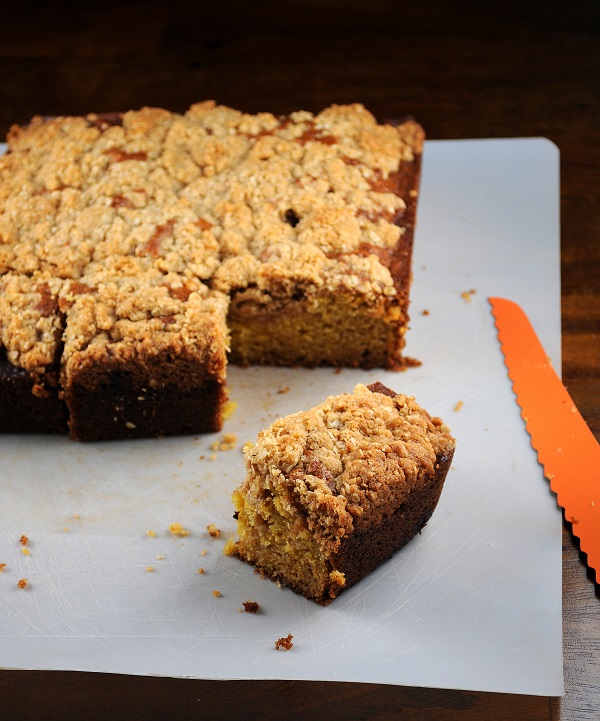 Roasted Pumpkin White Chocolate Cake with Oatmeal Cookie Crust
Ingredients
For the cake:
1 2/3 cup all-purpose flour
1 cup sugar
1 tsp. ground cinnamon
1/2 tsp. ground ginger
1/2 tsp. ground cloves
1 tsp. ground nutmeg
1 tsp. baking soda
1/4 tsp. baking powder
1/4 tsp. salt
2 eggs
1 cup pumpkin puree (fresh roasted)
4 oz. unsalted butter, melted
6 oz. white chocolate chips
For the Top:
1 cup Oatmeal Cookie Mix (I used Betty Crocker)
¼ cup unsalted butter, melted
Instructions
Preheat oven to 350F.
Spray a 9x9-inch pan with baking spray.
In a large bowl, mix the flour, sugar, spices, baking soda, baking powder and salt.
In another bowl, mix together the eggs, pumpkin, and unsalted butter.
Add in the white chocolate chips.
Combine the wet and dry ingredients and mix until the dry ingredients are moistened. Do not over mix.
Scoop batter into the prepared pan.
Sprinkle oatmeal cookie mix evenly on top. Then pour ¼ cup melted butter over the top of the cookie mix.
Bake for about 30-35 minutes or until puffed and springy to the touch. Cool then remove from pan.
Cut into squares.
https://www.sweetrecipeas.com/2013/11/02/roasted-pumpkin-white-chocolate-cake-with-oatmeal-cookie-crust/