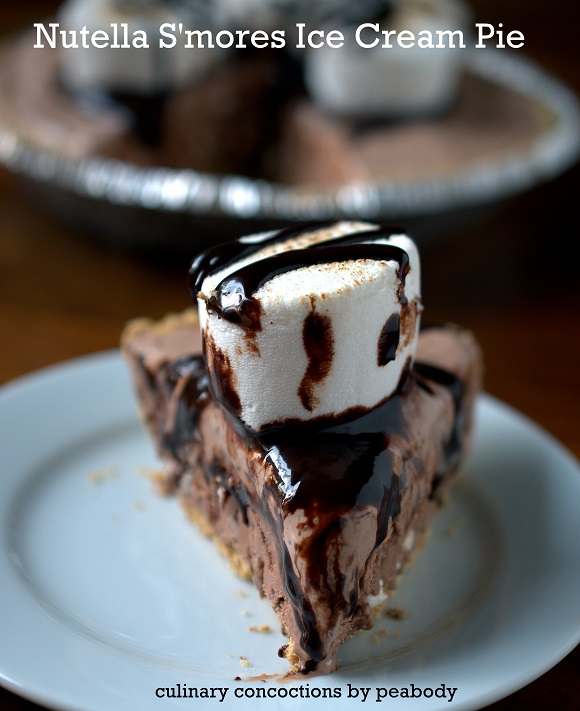 Summer is flying by. The school supplies are out in full force (as is the Christmas paper???). Back to school commercials are on TV. Fall clothing is gracing the covers of magazines. That means your chance to get in S'mores is dwindling….or is it?
I'm not sure when the idea that S'mores were only a summertime activity. Perhaps it's because firemen frown on you starting a fire pit in your house (though that is a great way for you single gals to meet firemen…a tad costly though). Thanks to the invention of the culinary torch we have S'mores pretty much whenever we want…or you can even make them in the microwave when desperate.
But Susan of Doughmesstic is helping you get your S'mores fix year round. From Black Forest S'mores (how did I not think of that), to S'mores Turnovers, to S'mores Coffee Cake there are plenty of ways to get your S'mores on. Inspired by her book and fueled by the warm weather and not wanting to bake I decided to make a Nutella S'mores Ice Cream Pie.
Super easy to make. I use a premade graham cracker crust (you can make your own but it was literally cheaper to buy one premade as they were on sale) and store bought ice cream (feel free to make your own…I was lazy). If you aren't a Nutella fan (the horror) you could do peanut butter as well. I plan on making this in the Winter with a peppermint theme (must be all the Christmas stuff at Costco making me think this way).
So if you are feeling like not baking due to the heat and are pretty lazy like I'm feeling this is the yummy pie for you. And if you want lots of S'mores ideas check out Susan's new book The S'mores Cookbook: From S'mores Stuffed French Toast to a S'mores Cheesecake Recipe, Treat Yourself to S'more of Everything
.
*I was given a complimentary copy of the cookbook but opinions are all mine.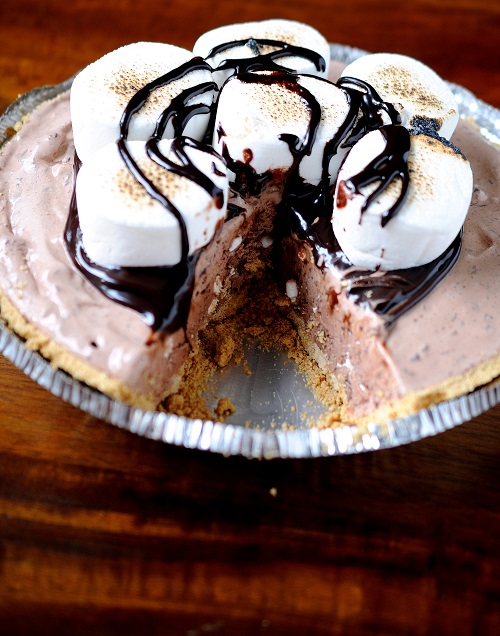 Nutella S'mores Ice Cream Pie
Ingredients
1 quart Chocolate Ice Cream, softened
1 cup Nutella
1 cup Jet Puff Mallow Bits
1 premade graham cracker crust
Chocolate sauce to garnish
7 large marshmallows to garnish
Instructions
Using a stand mixer with the paddle attachment, add the softened ice cream and Nutella and mix on low speed until fully incorporated.
Add the Mallow Bits and mix for another 30 seconds or until the Mallow Bits are evenly distributed.
Pour the ice cream into the prepared graham cracker crust.
Smooth with a spatula.
Place in freezer for an hour to firm up.
Top with chocolate sauce.
Top with marshmallows. Using a culinary torch…toast the marshmallows.
https://www.sweetrecipeas.com/2013/08/09/nutella-smores-ice-cream-pie/