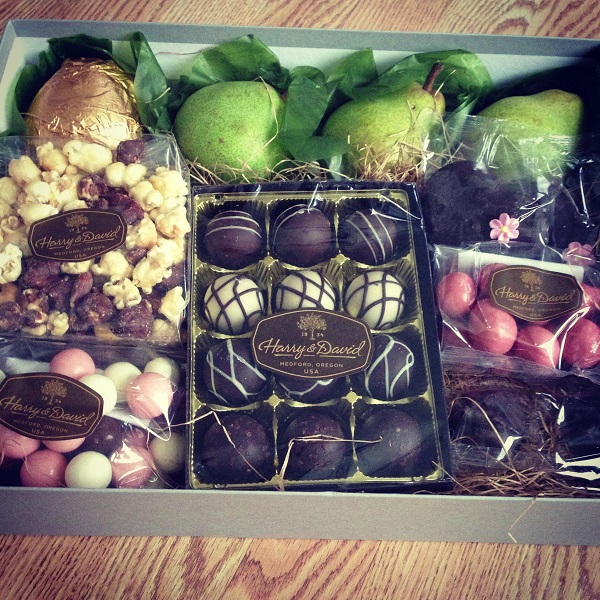 Mother's Day will soon be upon us. The day that we celebrate the woman that gave birth to us. I of course celebrate that every day. 🙂 But in all seriousness I do try and let my mom know how wonderful she is. It's pretty hard to find someone that doesn't like my mom and if they don't like her it's probably because they are a rotten person (for reals) and she probably chose not to deal with their bull crap! She's kind, funny (well she doesn't do it on purpose but we laugh at her a lot 🙂 ), she's charitable ALWAYS doing something for her community center or church. She's one heck of an entertainer always having her friends over, especially those who don't have family around. She's a fundraising fool for all her causes, especially Relay for Life.
So when Harry and David asked me if I wanted to do a Mother's Day Giveaway I thought heck yeah I do. And what a giveaway it is! I love this basket. It's a $60 (well $59.95) value! Such great stuff:
4 Royal Riviera Pears (because every basket should have at least one of Harry and David's pears!)
Milk Chocolate Moose Munch Popcorn (6 oz.) (because every giveaway I must give this…when I went to their store (they have a ton of flavors there) I tried my best to buy them out of Moose Munch. I love it sooo much)
2 Chocolate-enrobed Heart-shaped Raspberry Galettes (1.75 oz. each) (because you need something heart shaped to show your mom the love)
Chocolate Strawberries (4 oz.) (these are not dipped but chocolate covered dried strawberries and yeah, they are tasty)
Assorted Truffles (8 oz.) (LOTS of truffles)
2 Chocolate-dipped Coconut Haystacks (0.5 each) (I wish there were more of these…gone in like 10 seconds flat)
Neapolitan Maltballs (6 oz.) (I loved that there was strawberry and vanilla ones)
Net Weight: 3 lbs. 14 oz.
Now you don't need to give it to your mom. If you are a mom to be, a current mom, a fur-baby mom, a step mom, or if you mom has passed (you can eat the treats and think of her fondly) I won't blame you for wanting to keep the basket for yourself. Or if your mom lives near you invite her over and you can share the treats and time together!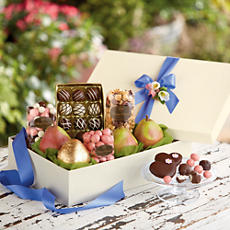 Harry and David Mother's Day Gift Box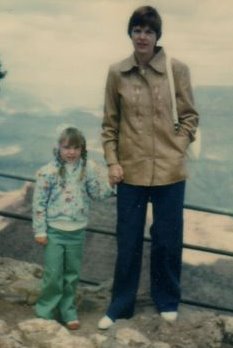 (My mom and I at the Grand Canyon…the 70's were a cruel wardrobe time. :P)
However you want to use the goodie box is up to you! But if you would like to enter here's how. First live in the United States. Second leave a comment telling me something about your mom…good or bad. 🙂 If you want extra chances go and like the Harry and David Facebook page and come back here and leave a separate comment saying you did so. Or follow Harry and David on Twitter and come back here and leave a separate comment. Winner is picked randomly using a random number generator.
So you have three chances to win. So good luck. You have between now and next Wednesday, April 24th 2013 at 6 pm PST to get your entry in!