Summer is coming and try as I might I simply won't be able to keep up with all the ThinSpo. I have been on a pinning crusade to Pin Positive Body Image posts for every ThinSpo pin I see…and well I am seeing a lot of them. Everybody wants a thigh gap…guess what? That has to do with your hip bone placement more than starving yourself. Everybody wants to be bikini ready. Technically I'm bikini ready…I own a bikini and it fits….bikini ready. Pins saying "I'm not going to be perfect but I'm sure as hell going to get close"…who decides what perfect is? Sadly I think most people are letting society define that for them instead of themselves. Sadly even me asking if people where in a sugar coma today led people to feel to tell me that they were but they were going to sweat it all out at the gym. We don't need to justify why and what we eat.
Since I started my crusade I have been getting a lot of really nice emails and PM's telling me how much they support and appreciate me pinning what I am pinning (surprisingly not an ounce of hate mail…just email asking for nude photos which I take as an odd compliment). And telling me how they really wish they could have the body confidence I do. I wish you all could have that too…that's why I keep trying. But I am here to tell you that I was not always like this of course. But how did I get that way?
I can't really say there were defining moments so to speak. For me it was mostly coming to terms with an illness that I have (and do not share on here, respect my choice please) that often has me on a lot of Prednisone. If you have never been on it then you cannot relate. But if you have then you know it immediately fills you up with fluid and you are hungry ALL. THE. TIME. When my mom had cancer they put her on Prednisone. Up to that point she would say oh just eat healthy (I was gaining weight big time and was not happy when I first went on it) and I would explain that I was eating healthy but 6 chicken breast was still a lot of calories. It only took her three days on it to call and tell me how the heck do you deal with this? That I was on 4 times the amount she was on and she was starving. Yep. You just get used to it. And you get used to the idea that part of why my weight fluctuates is because of the medication I take. But part of it I fully admit is the food I eat as well. 🙂
Since I am on the medication often (like right now) when I am not on it I do try and diet down a bit mostly so I can stay in the wardrobe that I have…it's an economical thing for me over a vanity thing. One of the first times I was off Prednisone I was a mad dieting fool. I probably had exercise anorexia often being at the gym 4-5 hours a day. And no matter how badly I starved myself down I would not go down a dress size. Oh I had gone down a ton of pants size but no matter what I could not go below a size 10 in a dress. I was a size 4 in jeans but could not do it. I had bought myself a "motivation" dress that I hung on my closet door. I became obsessed with getting into that dress. Out of frustration I went to my doctor thinking he would have some magical answer /solution for me as to why this was happening. He did. Remove some of my ribs. I looked at him with an are you kidding me look and he said that's the only way you are going to get into the dress you are talking about. That my rib cage was not going to change size. He asked me if I was wearing a smaller size in dresses that were not structured (the dress I was obsessed with was very structured). The answer was yes. He told me I simply just picked the wrong dress. The same thing happened when I bought my first wedding dress. They measured me and the woman looked up and said you have the waist size of a bridal 10, hips are a 6, but that my rib cage was a 16 and they would have to order me a 16. Lucky for me I was well into body acceptance and told the girl okay. It came in and fit in the ribs…and I was swimming in the rest. I can't change my ribs, I just have to accept them.
Fat is relative. Not matter what size you are someone out there would love to be your size. Really. I am considered fat by today's standards. I mean I shop at regular stores I am not plus size but I think society would call me fat. I mean plus size models are now a size SIX through a size 12!!!! Ummm, WTF? A size 8 was what the great supermodels of the 80's were. Cindy Crawford back then would have been fat in today's standard. I would much rather look like 1980's Cindy Crawford than the models of today. So my size 10/12 body is considered fat in the industry. We are made to believe we are fat because people profit off of people being miserable if they don't think they are living up to the standards the beauty experts put out for you . If you become happy with yourself as you are they don't make money. Diet pill pushers can't get you to spend hundreds of dollars a month in the hopes that you might drop a few pounds. Hair is curly? Go spend $300 to make it flat because flat hair is what is considered beautiful right now. Getting wrinkles? Run out and spend $200 on eye cream that doesn't really help but it helps the company make $200 each time you buy eye cream. Now don't get me wrong I am all for people wearing make up(I do) and doing their hair how they want (I get mine colored) but I recognize that part of why I do it is because it's what society has made us to believe we do to be pretty. People are always going to try and put us down because happy people don't buy stuff to compensate for what they feel is missing in their life. Happy people are content with who they are and what they have.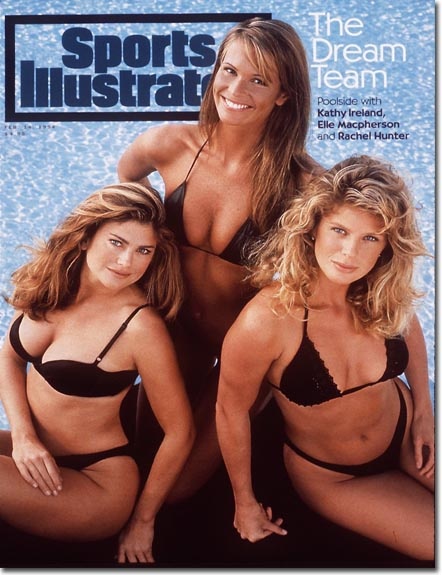 These supermodels would now most likely be made fun of for not being toned and for being too big. I doubt they have a thigh gap. These ladies are beautiful!
My fat body played hockey three times last week. My fat body did pilates three times last week. It went for several walks and a couple workouts at the gym. It ate some healthy stuff and it ate far more Easter candy than I probably should have. Should I punish myself for eating more Robin's Eggs than I should have? No. I'm not weak because I ate that. It's what I wanted at the time. It tasted good. And no I don't believe that nothing tastes as good as skinny feels. You know what feels good? The feeling after a hockey game that I have played well. Sprawling out on fresh clean sheets out of the dryer when they are still just a tad warm. Being kissed by the man you love. Having my dog rest her head on my leg and look up with those sweet puppy eyes. That's what feels good. Skinny never feels like that. I can tell you that if you don't like who you are now…you aren't going to like who you are skinnier…you just might like your wardrobe more. Gee, how awesome.
I will say however if you are "fat" and have health issues related to that then yes, you need to do something about that. I have always been fortunate that my numbers for all the important vitals have always been really good. Just like with anything. If you are diabetic take medication for it. If you have a mental illness take medication for that (this is hard since most mentally ill people feel that they don't need the medication). And if you have high blood pressure, cholesterol, anything where losing a few pounds might help…try that first before going on medication with all sorts of side effects.
So there you go. My rambling on about how I came to terms with the body I have. The body I appreciate. The body with a large tummy that expands even if I just drink water. The body with scars from having chicken pox when I was 17. The body with my short waist and muscular legs. The body with my chunky arms. The body with beautiful eyes. The body with way too many allergies. The only body I get. The only body I have to love.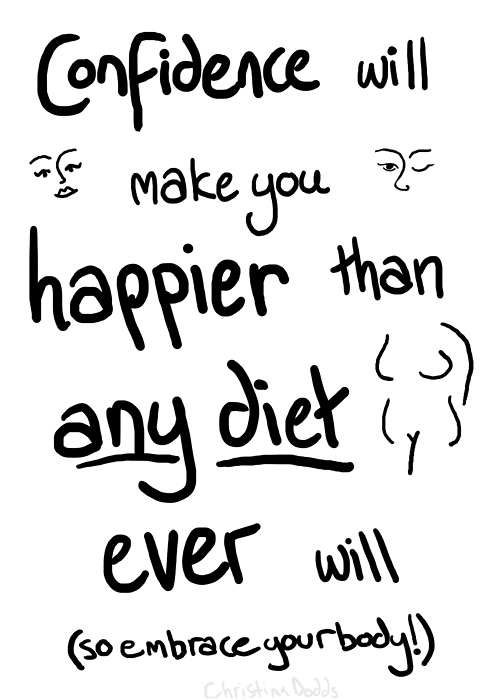 I've tried to find the source of this last photo. If you know the original source please tell me and I will happily credit them.