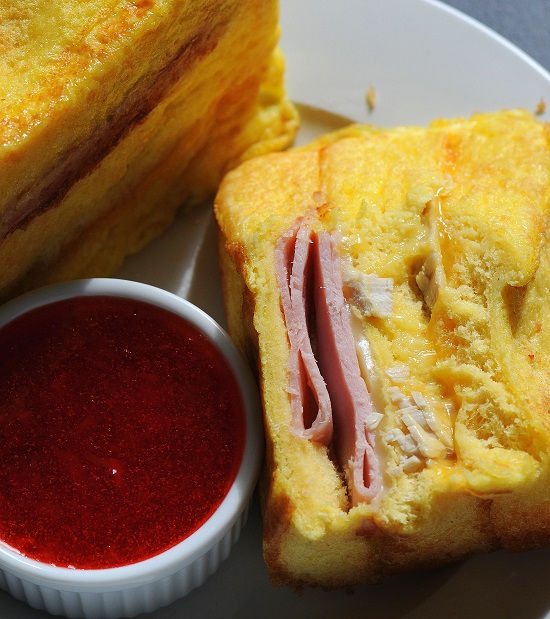 Happy Easter to those who celebrate it! And if you don't celebrate it Happy Sunday. Reminder that Easter candy goes on sale tomorrow! Also a reminder that it is April Fool's Day so watch out for those pranksters.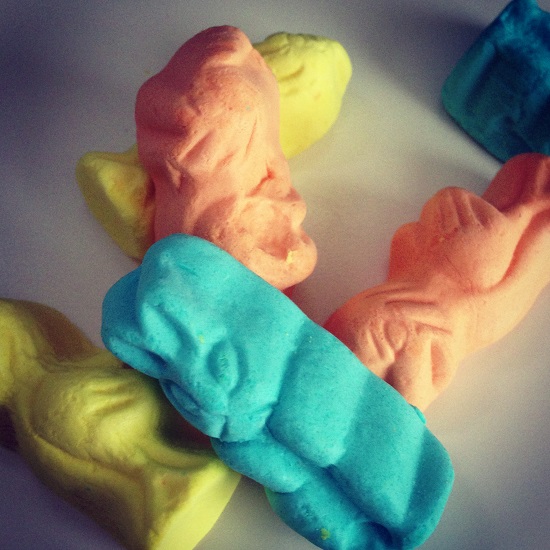 Speaking of Easter candy…my shame candy so to speak (or the one I am ashamed to like) is Chicks and Bunnies (Brachs). Do you have one you are afraid to admit to liking?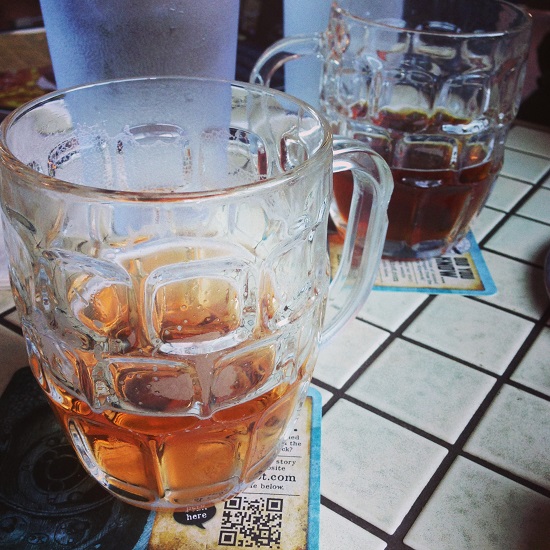 Our favorite local watering hole (The Diamond Knot) got a remodel and opens back up next week but we got to go for a sneak peak night and see the new digs as well as try out the new menu. We are very in favor of the cheesy garlic bacon tater tots and their chicken and waffles dish!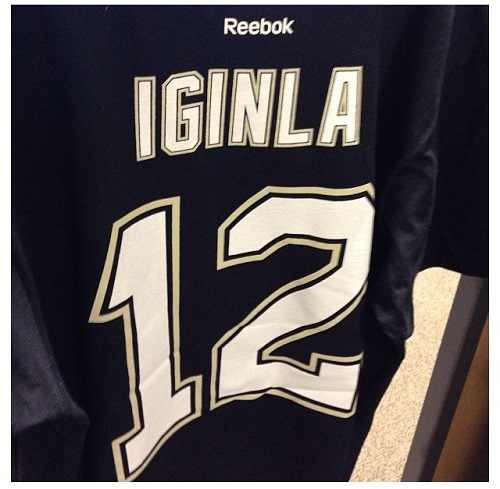 Most people will find this one silly. But Jarome Iginla got traded this last week. After Briere he is my favorite player and Jerome played for my favorite team the Flames. Iginla has played his entire career with the Flames (16 years) and I can't really think of a time when I don't remember him being in a Flames uniform.
The silly part you will think is that after watching his press conference I bawled my eyes out for about 30 minutes and teared up a few more times through out the week after that. Luckily since MDP is a hockey guy he totally understood why I was so upset. Anyway he is now a Penguin in hopes of winning a Stanley Cup…though they just lost their captain on Saturday so that will hurt their chances.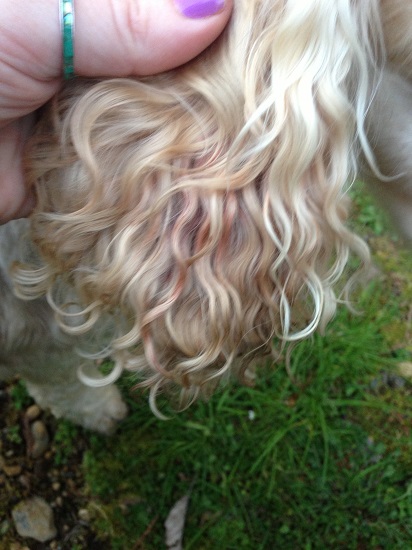 13 years and Crazy Cocker Spaniel has never had anything that made me panic until yesterday when we took her to a BBQ. We were told she was going to be the only dog so we brought her. CCS is really timid around other dogs and so she tends to get picked on by other dogs, especially bigger ones so I tend not to bring her places if there is going to be other dogs. But two other dogs were there, mini Schnauzer's. One dog was chill but the other one right away came at CCS who was not really prepared for that and she sadly got her ear pieced in three spots by the dogs teeth. She bled for awhile but luckily it stopped and she didn't seem too traumatized other than when she saw the dog she would hide under my feet.  Later a smaller dog who was totally chill came along and she was fine with that pup and they played nicely together. But this mama bear was in super protective mode for the remainder of the day.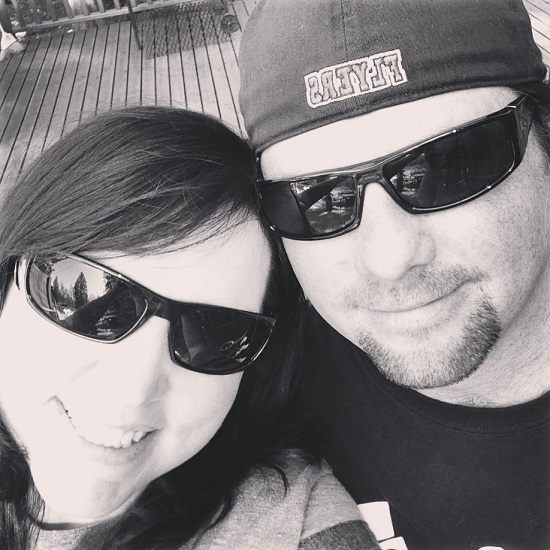 Awwww….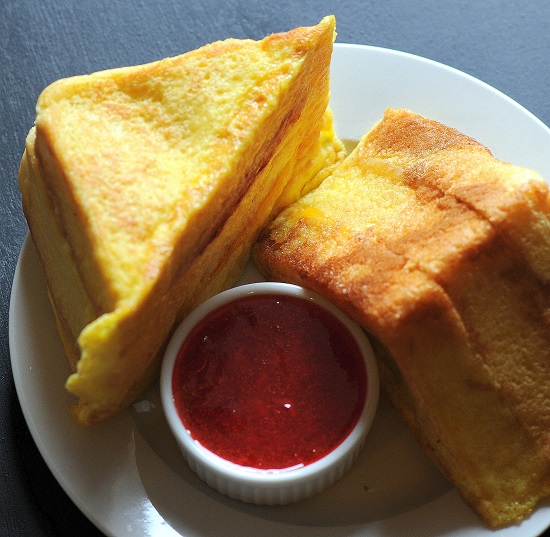 If you have never had a Monte Cristo Sandwich you are missing out. It's French Toast meets a Club Sandwich (minus the bacon). It's my favorite sandwich that doesn't involve bacon and if I see it on a menu (which isn't often) I usually order it. The best one I ever had was at Disneyland which several people made the comment that was their favorite as well. So I looked up their recipe on line to give it a try. I'm not totally sure it was the recipe as I think restaurants never fully give their secrets away but it was good all the same. It was interesting that there was baking powder in the mix. I added an extra layer of bread because I love bread…and I like to separate the ham and turkey layers. The original only called for Swiss cheese but I added some American with the turkey because more cheese is always the answer.
Monte Cristo Sandwich
1 egg
1 3/4 cups plus 2 TBSP water
1 3/4 cups all-purpose flour
1/4 tsp. salt
1 tsp. baking powder
9 slices egg bread (challah works well), sliced 1/2-inch thick
6 slices ham
6 slices turkey
3 slices Swiss cheese
3 slices American cheese (you can use Cheddar…it's what was in the house)
3 cups canola oil
Strawberry freezer jam
Line a cookie sheet with paper towels; set aside.
Whisk the egg and water together in a mixing bowl. Add flour, salt, and baking powder and whisk thoroughly for 2 to 3 minutes or until smooth, scraping sides of bowl.
On one slice of bread, arrange 2 slices of ham and 1 slice Swiss cheese, covering the bread evenly. Place another slice of bread on top and add 2 slices of turkey and 1 slice American cheese. Slice each sandwich in half diagonally.
Heat oil to between 365 degrees F and 375 degrees F in a 10-inch pan. Do not let the oil reach a higher temperature than this; if the oil starts to smoke, turn the heat down. Dip half of the sandwich into the batter, allowing excess to drain, and very carefully place into the oil.
Repeat with the other sandwich half. Cook 3 minutes on each side, or until golden brown. Place the cooked sandwich on the prepared cookie sheet in a warm oven until ready to serve. Repeat with the other two sandwiches.
Cook one at a time, and allow the oil to reach the desired temperature between each.
Serve with freezer jam, I like strawberry best but you can use your favorite flavor. Also not pictured (added later after I photographed) is powdered sugar. You can skip it but traditionally it is sprinkled on there.
Adapted from The Blue Bayou Restaurant Disneyland