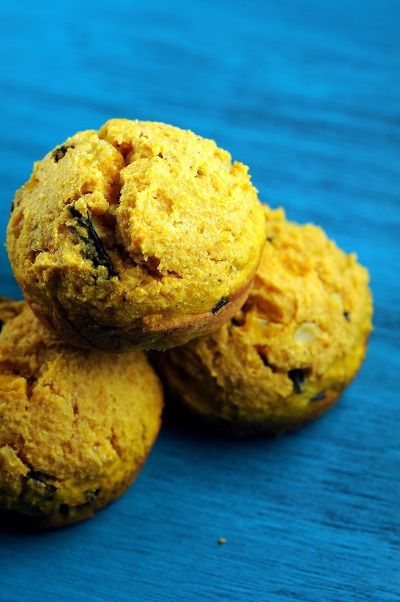 It's Election night. Hopefully if you live in the US you exercised your right to vote. I basically voted in a manner that is the complete opposite of my parents. 🙂 I'm sure they are wondering where they went wrong.
These muffins were made to go alongside some Chorizo Chili (yes you will be getting that recipe later this week) and they complement the chili nicely. Or so I am told. Since technically I am allergic to the chili and the muffins. Sigh. And while some food allergies I fudge on a little (cow dairy) peppers are not one that I can mess around with. Well I can I just have to stab myself with an epi pen as my throat closes shut.
I would like to say that all of you out there threatening to move to Canada if you don't like the election results don't do it. We don't want you. Stay where you are. Work on making the world and country a better place…not fleeing from it.


Pumpkin Pasilla Pepper Cornbread Muffins
½ cup melted unsalted butter
2/3 cup granulated sugar
2 eggs
½ tsp. baking soda
½ cup buttermilk
2/3 cup pumpkin puree
Pinch of salt
1 ½ cups masa harina
1 cup all-purpose flour
1 pasilla pepper, roasted and diced
1 ½ cups frozen corn, thawed
Preheat oven to 350F.
Spray a muffin tin with baking spray or use liners.
In a large bowl mix together the butter and sugar.
Whisk in eggs.
Add the buttermilk and pumpkin puree. Whisk until incorporated.
Add the baking soda, masa harina, flour, and salt.
Mix until the ingredients just come together.
Fold in the corn and peppers.
Use and ice cream scoop to scoop out batter. The batter is thick. You should get 12 muffins.
Bake for 25-27 minutes or until a knife comes out clean.
Goes great with the Chorizo Chili.
Adapted from The Comfort of Cooking