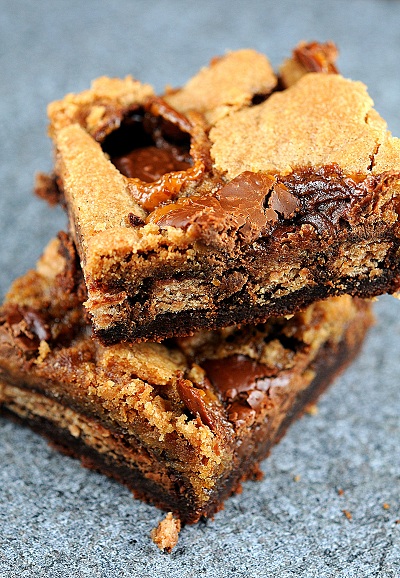 I randomly noticed that this was my 1000th post. Some bloggers reach that much quicker than me…some never do (so sad that many of my favorite old blogs are long gone). It took me 7 years and 6 months to get to this point. Had I known that I had hit this milestone I might have done something more exciting but alas I did not. I did use up my Kit Kat's though. 🙂 If you want to be nice and you haven't feel free to like my Facebook page in honor of my 1000th post!
Continuing on with highlighting blogs I am thankful for:
Blog #5 Not a food blog but a blog that always makes me laugh…always out loud and usually with snorting involved. The Bloggess is not for the faint at heart though. If you can't handle the f-bomb this is not the blog for you. She also wrote a book which was the best book I have read in a long time…Let's Pretend This Never Happened: (A Mostly True Memoir)
.
Blog #6 What's Cooking Chicago. Part I love it because Joelen has great dinner ideas on her blog and partially because I just love her as a person! She is an amazing and lovely human being!
Blog #7 Sprinkle Bakes. Another one of those sites that inspires me. She has a book SprinkleBakes: Dessert Recipes to Inspire Your Inner Artist
that I reviewed and loved…she not only can bake but got the decorating gene that I did not.
Blog #8 Sweetapolita. Just a fun and whimsical baking site.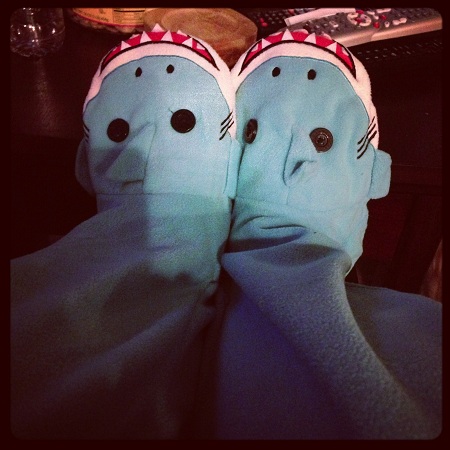 These were frivolous and unnecessary and a total want and not a need. But I am a shark lover galore and never in my life have I EVER seen shark pj's (in adult) before let along footie pj's. So I robbed from my food budget this week and bought them (Target for those wondering if you need some as well). Luckily Frankenberry was on super sale and I can live off of that all week.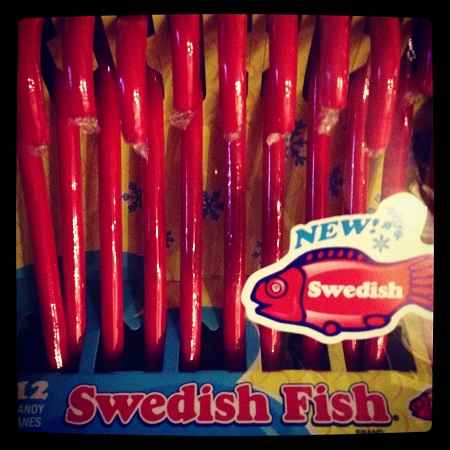 Speaking of Target I went looking for the Gingerbread Oreos and Peppermint Marshmallows (did not find…if you do I will PAY you to send them to me!!! I am in need I tell you…need!!!). Anyway there in the holiday section were Swedish Fish Candy Canes. Shut the Front Door…and the Back Door…and the Garage Door for that matter! You know I had to buy these! And in the interest in science I have already eaten one. Yes, ladies and gentlemen these taste like Red Swedish Fish. A couple people asked…they are not gummy, they are candy cane texture. If you love the Swedish Fish like I do run don't walk because who knows how long these bad boys will be there.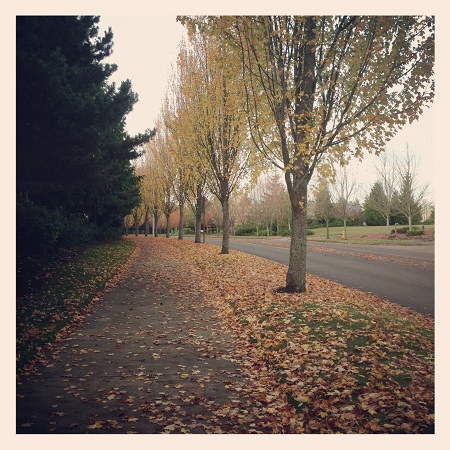 Oh I just love this time of year…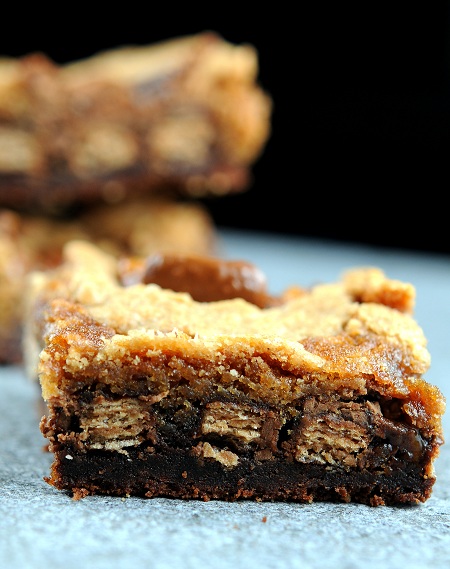 Kit Kat Brownie-Sugar Cookie Layer Bars
For brownie base:
½ cup unsalted butter, melted
1 ½ cups granulated sugar
1 tsp. vanilla bean paste
2 eggs
3/4cup all-purpose flour
½ cup unsweetened cocoa powder
Pinch of salt
For cookie base:
½ cup unsalted butter, at room temperature
1 cup granulated sugar
1 egg
½ tsp. vanilla bean paste
1 ¼ cup all-purpose flour
½ tsp. baking soda
Pinch of salt
24 Fun Sized Kit Kats
9 (really 10…but one sort of went in my mouth) Fun Sized Milky Way Bars, chopped in half
Preheat oven to 350F
Lightly grease a 9×13 baking dish with baking spray.
For the brownie layer:
Using a stand mixer with paddle attachment cream together the melted butter and sugar until fully combined.
Add eggs and vanilla bean paste.
Add cocoa powder, flour, and salt and mix until fully incorporated.
Spread the brownie layer evenly in the pan. Lay the Kit Kat bars on top of the brownie layer. You should get 8 rows of 3 Kit Kat bars.
For the cookie layer:
Using a stand mixer with a paddle attachment cream together the butter and sugar and mix until light and fluffy.
Add egg and vanilla and beat until combined. Scrape down side of bowl.
Add flour, baking soda, and salt to the mixture. Add and mix on slow until fully incorporated.
Carefully spread the cookie batter on top of the Kit Kat layer.
Bake for 30 minutes. Remove from oven. Place Milk Way pieces randomly on top of the sugar cookie part. Put back into oven. Bake for another 5-10 minutes depending on your oven. Mine sucks so it took longer.
Let completely cool before cutting.