These German Chocolate Whoopie Pies are filled with a caramel pecan coconut filling and a milk chocolate ganache.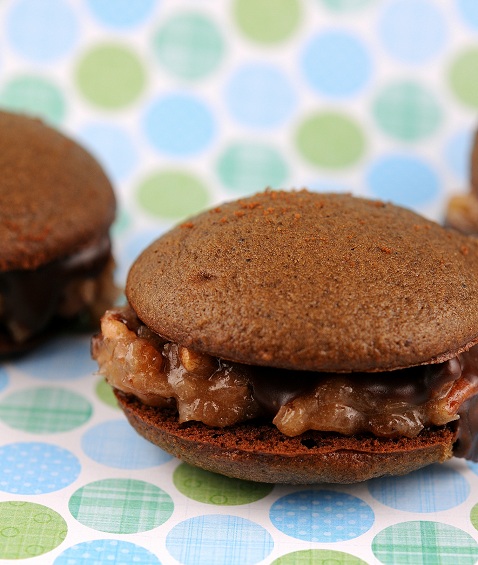 "If you walked out of bed today and had a job to go to, and a home to come back to, and someone waiting there who cares about you? Folks, the game's over, and you've won."–Larry Miller
It's really that simple.
People don't think it is.
They get distracted by what they think they need.
More like what society tells you that you need.
I stick out like a sore thumb in my area.
For one thing I don't wear the uniform as the men who know our area call it.
Let me start by saying it's not an ugly outfit…it's just that every woman around here wears it or some version of it every freaking day.
I walked into the grocery store one time and it was like I was fresh out of the Stepford Wives movie.
For those wondering the uniform in question is LuLulemon Black Yoga Pants, a long t-shirt, either a North Face or Patagonia Puffer Black Vest Jacket, Uggs (unless coming from gym then running shoes are acceptable) and usually a Nike baseball hat of some sort (though usually also black).
Always sporty to show people that at any moment could be working out or driving their SUV's into the mountains for an adventure.
I on the other hand am usually in jeans and a hoodie sweatshirt…even in Summer. 😛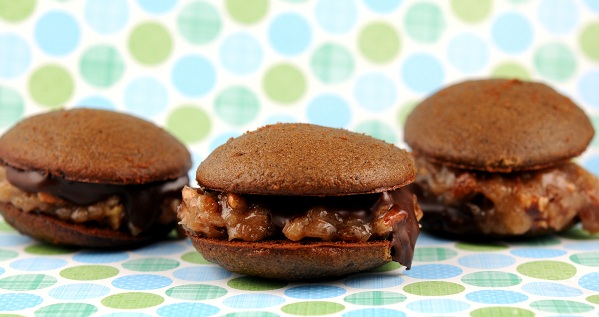 My fiance went to buy me a North Face Puffer Vest as a joke and came home almost choking on the price tag of the one that is on sale.
Don't get me wrong, I am all for expensive taste (just look at my Pinterest boards) but most of these women own yoga pants after yoga pants and Puffer Vest after Puffer Vest.
How many of these things do you need?
I know someone who owns so much North Face wear she could open her own shop.
She hikes like three times a year…and not in extreme weather…thank God she owns that gear/wear.
But that's what people wear around here and so the women literally buy into it.
I wish more people could be comfortable wearing what they truly wanted but in a society of don't wear that wear this I don't see that happening anytime soon.
There is nothing uniform about these German Chocolate Whoopie Pies.
I saw a version of them on Confessions of a Cookbook Queen.
Hers used cake mix but I was making these as a special treat for someone and decided to be crazy and make the full deal.
To see Kristan's version (the much more simple…aka what I should have done 🙂 method) go here.
I on the other hand used the Bon Appetit recipe that was multi step.
Though really if you broke it down it wasn't really hard just time consuming.
P.S. It's a great day to buy my cookbook Holy Sweet!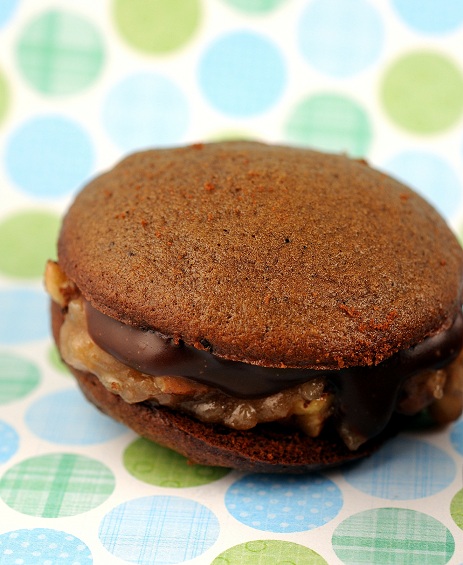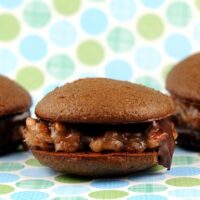 German Chocolate Whoopie Pies
Ingredients
For the Whoopie Pie:
2 cups all purpose flour
5 TBSP unsweetened cocoa powder
1 1/8 tsp baking powder
1 tsp baking soda
1/2 cup solid vegetable shortening or unsalted butter (1 stick), room temperature
1 cup granulated sugar
2 large egg yolks
1 TBSP vanilla extract
1 cup whole milk
For the Filling:
1/2 cup evaporated milk
2 large egg yolks
1 tsp vanilla extract
3/4 cup granulated sugar
1/2 cup (1 stick) chilled unsalted butter, cut into 1/2-inch cubes
1 1/2 cups sweetened flaked coconut
3/4 cup chopped toasted pecans
For the Ganache:
3 TBSP heavy whipping cream
1/2 cup milk chocolate chips
Instructions
For the Whoopie Pies:

Preheat to 375°F.

Line 2 large rimmed baking sheets with parchment paper.

Sift flour, cocoa powder, baking powder, and baking soda into medium bowl.

Using stand mixer with the paddle attachment or an electric mixer, beat shortening, sugar, egg yolks, and vanilla until well blended, about 2 minutes.

Add flour mixture in 3 additions alternately with milk in 2 additions, beating until blended after each addition.

Drop dough by very rounded tablespoonfuls (I used a mini cookie scoop) onto prepared baking sheets, spacing 3 inches apart.

Bake 1 sheet at a time until cookies are slightly puffed and spread but are still soft, 8 to 10 minutes.

Cool on sheets 10 minutes.

Carefully transfer cookies to racks and cool completely.

Repeat with remaining dough.

Whoopie pies can be made 1 day ahead.

Store airtight in single layer at room temperature.

For the Filing:

Whisk evaporated milk, egg yolks, and vanilla in heavy large saucepan to blend.

Whisk in sugar and pinch of salt.

Add butter.

Stir constantly over medium heat until mixture thickens and turns golden and instant-read thermometer inserted into mixture registers 175°F to 178°F, 8 to 10 minutes (do not boil).

Remove saucepan from heat, stir in coconut and pecans.

Transfer German chocolate filling to bowl and cool completely, stirring occasionally.

Cover and chill until filling is slightly firmer, about 1 hour.

Can be made 1 days ahead.

Keep chilled.

For the Ganache:

Line 2 large rimmed baking sheets with parchment paper.

Bring cream to simmer in heavy small saucepan.

Remove from heat.

Add chocolate and whisk until melted and smooth.

Cool ganache until lukewarm but still spreadable, about 15 minutes.

To assemble the pies:

Spread about 1 TBSP filling on bottom (flat side) of half of whoopie pie.

Place whoopie pies, filling side up, on prepared baking sheet.

Spoon 1 tsp milk chocolate ganache onto bottom (flat side) of remaining half of cookies.

Place 1 ganache-topped whoopie pie, ganache side down, atop each filled whoopie pie, pressing slightly to adhere.

Can be made 1 day ahead.

Cover and refrigerate in airtight container.