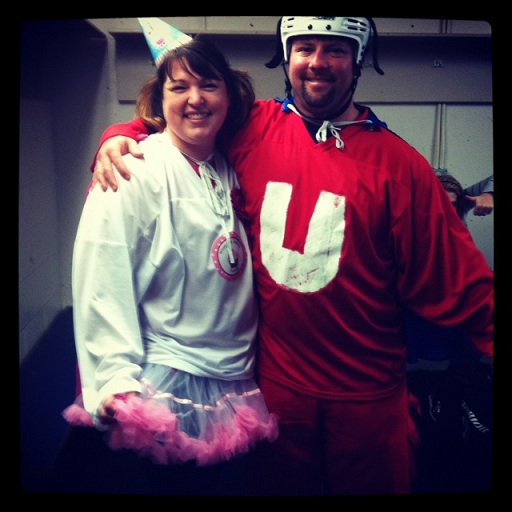 A few months ago I found something called The Birthday Project.
A woman Robyn Bomar decided that when she turned 38 she would spend her birthday doing 38 random acts of kindness.
I was impressed with this idea.
Forty is a big one…or so everyone keeps telling me. 🙂
I thought about doing 40 random acts of kindness on my 40th birthday and then came to the very large conclusion that I am far too lazy to do that.
So I figured that I would do 40 random acts of kindness this year.
I hope to continue this each year as I get older, adding one extra act a year. Seems doable. Hope it is.
Today I turned 40.
I got up with a little dog breath in my face and I knew it would be a good day.
A quick trip to the gym as I have this weird thing about exercising my heart each birthday as a "gee thanks for still working heart" kind of thing.
Then I had my breakfast donut (pink with Sprinkles) and got off and running (okay…not actually running).
I already did my big birthday thing on Saturday.
My hockey peeps were kind enough to throw me the ultimate birthday party for me…a mini hockey tournament…in my honor.
Not a lot of people get to say that. To say it was fun is an understatement.
As I am sure you can tell from the photo (MDP went as Underdog and I was just dressed as Birthday Girl…there was a "Superhero" theme…superhero being loosely interpret).
Nonetheless, since I already did the celebrating and my birthday is on the ever so exciting Monday I decided I should start on my Birthday Project.
I drove about 15 minutes south of me to find a less than great neighborhood and went to the Safeway there.
I kind of stalked people trying to figure out who I was going to help.
And then there she was. A woman who looked a little haggard and had five children tugging on her, saying "mom" about 50 times, and circling her as she pushed her cart down the way.
I got in behind her at the check-out lane. She was buying the staples: bread, eggs, cheese, peanut butter, cereal.
The kids were trying to convince her to let them have candy and she said no. She knew the cashier and they were talking and saying that she had just got off working the night shift.
She went to pay using her EBT card (food stamps).
I told the cashier "I got this, I will pay for her groceries".
Both the cashier and the woman looked at me and said almost in unison "are you serious?"
And I said yes.
I whispered to the mom that if it was okay with her each kid could pick out their own candy bar if they liked.
She smiled.
The kids picked out their candy bar and I got a whole lot of thank yous and quite a few hugs.
It was only $63. Which I don't mean only because I've been poor enough to know that $63 can be a whole bunch.
But I mean only in the fact that the outcome was sure greater than the income put towards it.
The woman asked me why I was doing it?
I told her it was my 40th birthday.
She said "aren't people supposed to give you stuff on your birthday?" and I told her that she just did.
She didn't get it. I didn't need her to.
I still have a full day ahead of me but so far it's off to one heck of a birthday start. So hello 40…I welcome you with open arms!