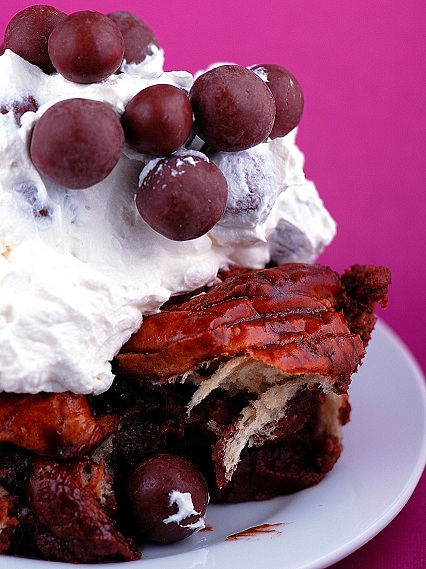 First off congrats to #41 Lynn G for being the winner of my absent minded cookbook ordering. Please see the contact section of this blog and email me your address and get it out to you! Congrats. To those who are sad about not winning coming up next week (on the blog birthday) there will be some other opportunities. 🙂
Also my first post is up over on Tablespoon. If you would like to show me some support over there that would be awesome. And for those who were wishing I was sharing my cocktail making skills of my youth you are in luck as pretty much every post over at Rock UR Party involves a cocktail of some sort. 😀 You know you love that.
In other news while making this bread pudding I learned the valuable lesson of not putting whole Whoppers into the bowl when the whisk is at full speed. In good news I evented the Whopper comet…which could probably take an eye out. So if you don't like someone invite them over and put Whoppers into your mixer when they are standing near it.
In sad panda news my camera has decided it wants to retire early. Or for those of you who are Bruins fans…it wants to take a year off to reconnect with the three F's "friends, family and faith". You will only get that if you are a hockey fan FYI.
Busy week ahead as I rush to make sure everything gets done before the blogger conference starts on Friday morning. If you are headed to BlogHerFood12 make sure to find me and say hi. I only bite on Tuesdays so you will be in luck! 😛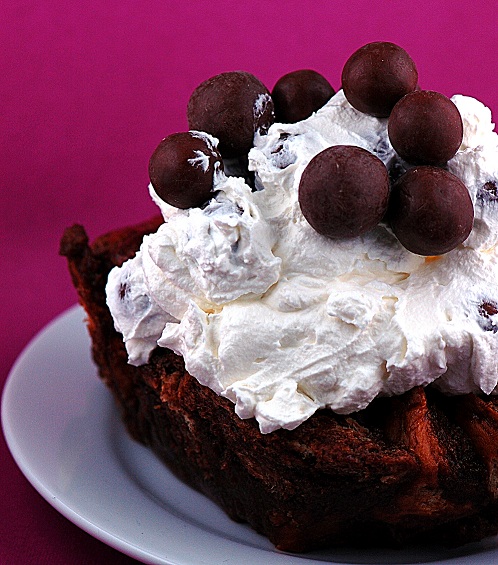 Whopper Chocolate Malted Bread Pudding
12 butter flake rolls (or 12 small croissants), day old
2 cups heavy cream
½ cup milk
½ cup granulated sugar
½ cup malted milk powder
1 cup semisweet chocolate chips
1 tsp. vanilla extract
3 eggs
2 egg yolks
Pinch of salt
Butter a 2 quart rectangular pan and set aside.
In a medium saucepan add the cream, milk, malted milk powder, chocolate chips, and sugar and heat over medium until chocolate has melted. Whisk to incorporate. Remove from heat and let cool to room temperature.
Whisk together the eggs, egg yolks, vanilla extract, and salt in a medium bowl. Add the chocolate cream mixture into the eggs and whisk until fully incorporated.
Tear up 6 rolls and scatter them on bottom of pan.
Pour cream mixture over rolls and push down on the rolls to make sure they are absorbing the liquid. Add the remaining rolls and repeat. You may not end up using all of the cream mixture. It really depends on how stale your rolls are will depend on how much liquid they will take.
Bake in a water bath for 50-55 minutes at 350F.
Top with whipped cream with a little sugar and Whoppers thrown in (crush them and fold them in later as when you add them while whipping you get Whopper comets).