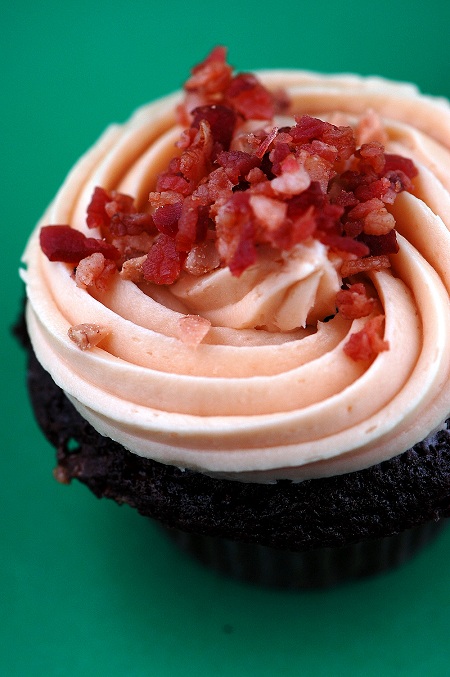 First off I want to give a big thank you to those who donated so far to this week's unexciting but needed telethon (don't worry I am stopping any and all bugging on Saturday and won't ask for a year). 🙂 I know a lot of you don't believe me but I truly mean it when I say that I appreciate any amount you give. The dollar donations are just as meaningful as any larger amount. There are more than enough times in my life where a dollar was a precious thing and I get it…especially the single moms/dads and starving students out there. As well as anyone who has been hit hard with the economy.
We were having a discussion on my FB page the other day about if you had to be allergic to either chocolate or bacon which and therefore could never have it again, which would you chose? BTW- if you are not a fan of the FB page you are missing out on life shattering discussions such as these. 😛 Most people said they couldn't give up chocolate. I couldn't give up bacon. Milk chocolate is sooo yummy but is filled with dairy and I become more and more sensitive to dairy as I get older. So my vote was for bacon. 🙂 I liked the person who asked if suicide was an option since they couldn't chose. 😛
I thought about making a chocolate bacon cupcake with a toffee frosting. So I did. The favor was good but the texture was odd. So I tried again. This time though I saved the bacon for a topping and put the toffee in the cupcake. That worked better this time. I think the bacon grease may have affected the outcome last time the first round of cupcakes. Plus this way if you have people who are anti-bacon on their baked goods you can leave it off…more for me.
All this week I will torture you with the sad Crazy Cocker Spaniel eyes asking you for your dollar donation….so here she is.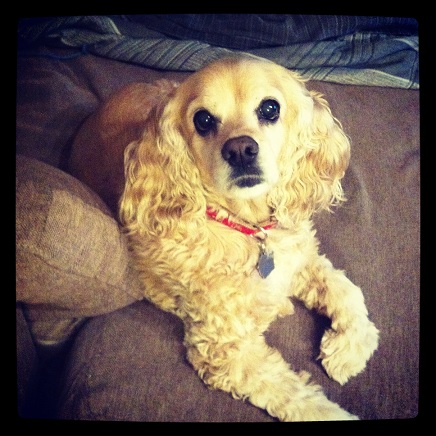 Chocolate Toffee Cupcakes with Salted Caramel Frosting and Bacon
Chocolate Cupcake Recipe of your Choice (I used this one)
1 cup toffee pieces
1 cup unsalted butter, at room temperature
¾ cup salted caramel sauce (I used Trader Joes)
4 cups powdered sugar
Milk to thin
Bacon pieces
Toffee pieces
Preheat to the temperature your recipe calls for. Line cupcake tin with liners.
Prepare your favorite chocolate cupcake recipe but add toffee piece to it. Bake according to the recipes instructions.
Remove from pans and let cool on wire rack.
Using a stand mixer with paddle attachment add the butter and salted caramel and beat until fully incorporated. Add powdered sugar a cup at a time and beat until you reach desired consistency. If still too thick add milk to thin out.
Top with toffee pieces and bacon.